While the Florida sun heats up, guests of Walt Disney World are looking for ways to cool down. If you aren't visiting one of the two Disney water parks or taking a day to swim at your resort pool, a cold treat is a great way to cool down and lift spirits! Here are 10 sweet spots where you can find ice cream in Walt Disney World.
1. L'artisan des Glaces
You'll find more than just your usual one or two scoops of handcrafted ice cream in a waffle cone at this spot located in the France pavilion at Epcot. Savor the unique tastes of my personal favorite, the macaron ice cream sandwich, or the richness of the brioche ice cream sandwich! Guests can also indulge in a iced cappuccino float or an ice cream martini! L'artisan de Glaces is a must-stop for our family!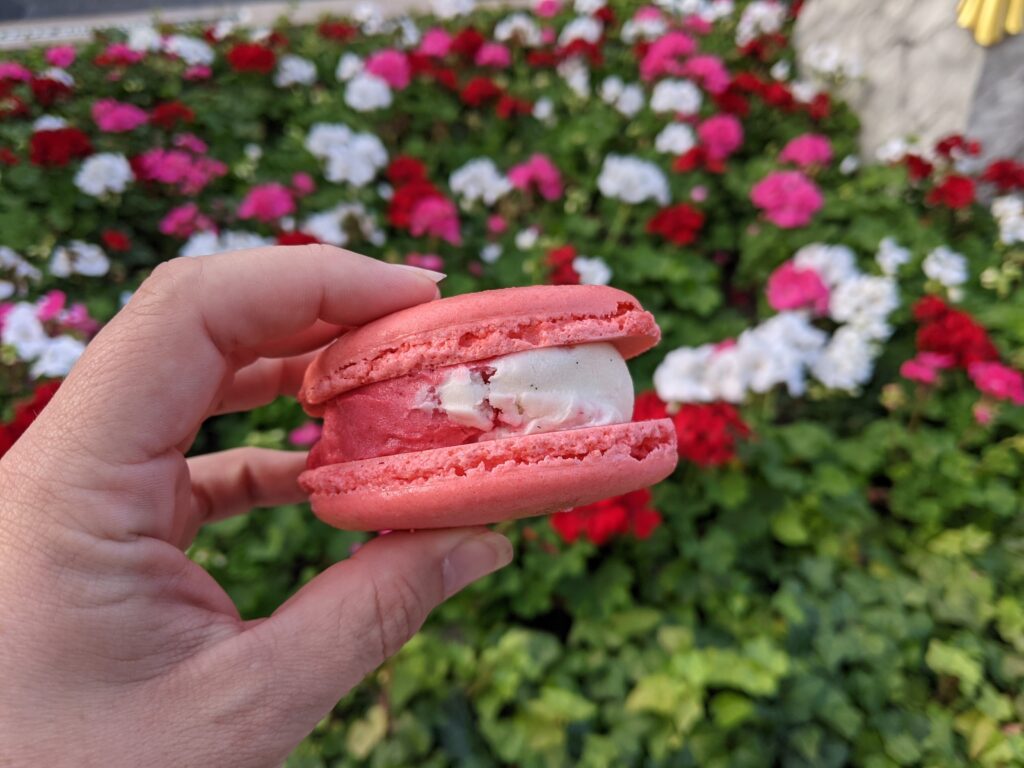 2. Gelateria Toscana
In true Italian fashion, food talks straight to our hearts in the form of smooth and creamy gelati served in a cup or waffle cone at Gelateria Toscana in the Italy pavilion at Epcot. For a fruity and dairy free option, choose from strawberry or lemon sorbetti. Guests can also enjoy a root beer or coke float and gelati creations similar to an American sundae. Delicious Italian pastries like tiramisu and cannolis are also available as well as red or white frozen sangria.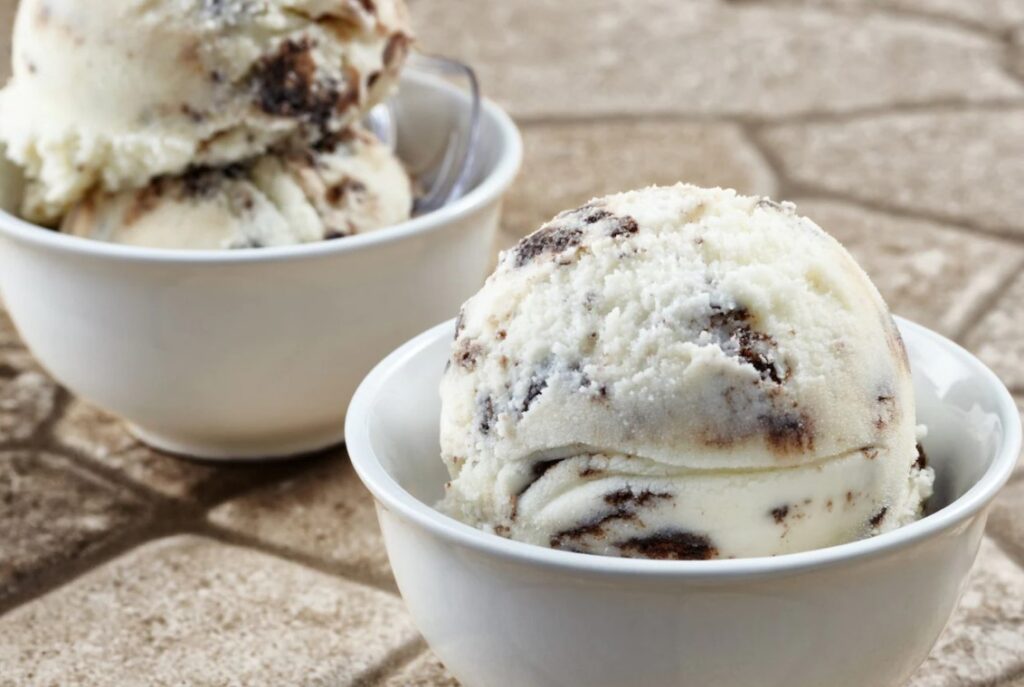 3. Beaches & Cream Soda Shop
Located adjacent to Epcot at Disney's Beach Club Resort, make a reservation or use the walk-up window to grab a cool treat from this retro-themed soda shop. Known for their oversized specialty milkshakes and nostalgic soda shop favorites like the banana split, guests can also purchase double scoop ice cream cones and sundaes at Beaches & Cream Soda Shop. Have a big appetite or a family to share it with? You must get the kitchen sink, a 5-scoop sundae topped with one of everything!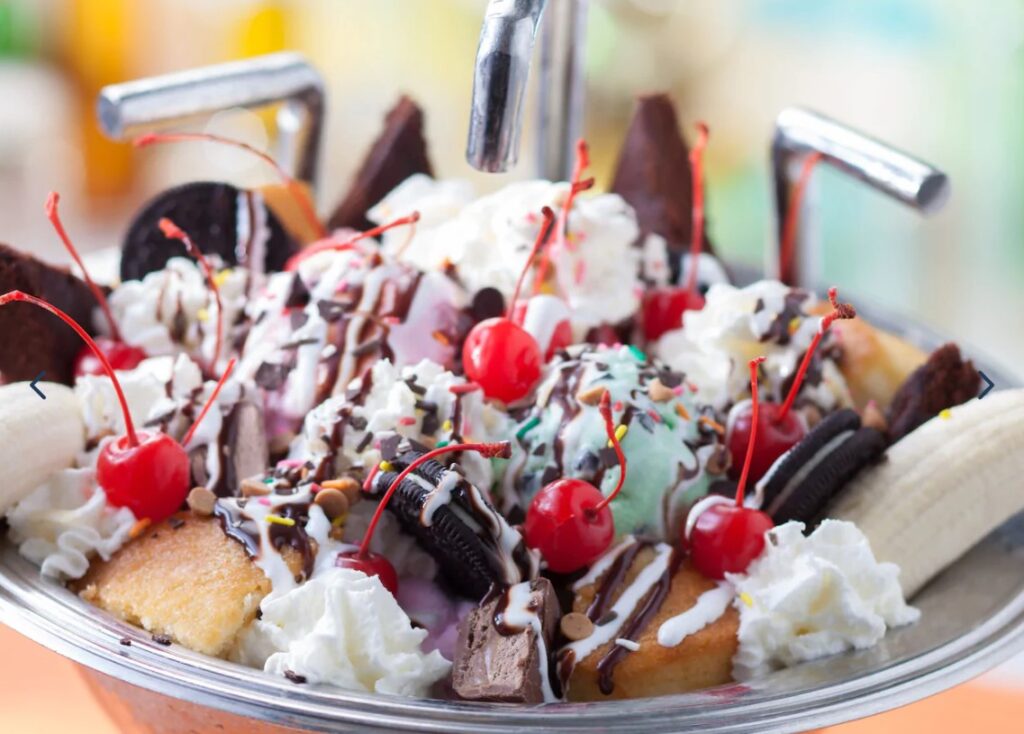 4. Plaza Ice Cream Parlor
Making our way into Magic Kingdom, Plaza Ice Cream Parlor is your stop for a treat while you wait for the parade or the fireworks to begin. Located on Main Street U.S.A., guests can order a double scoop cone, sundae, or banana split with traditional ice cream, sorbet, or plant-based ice cream!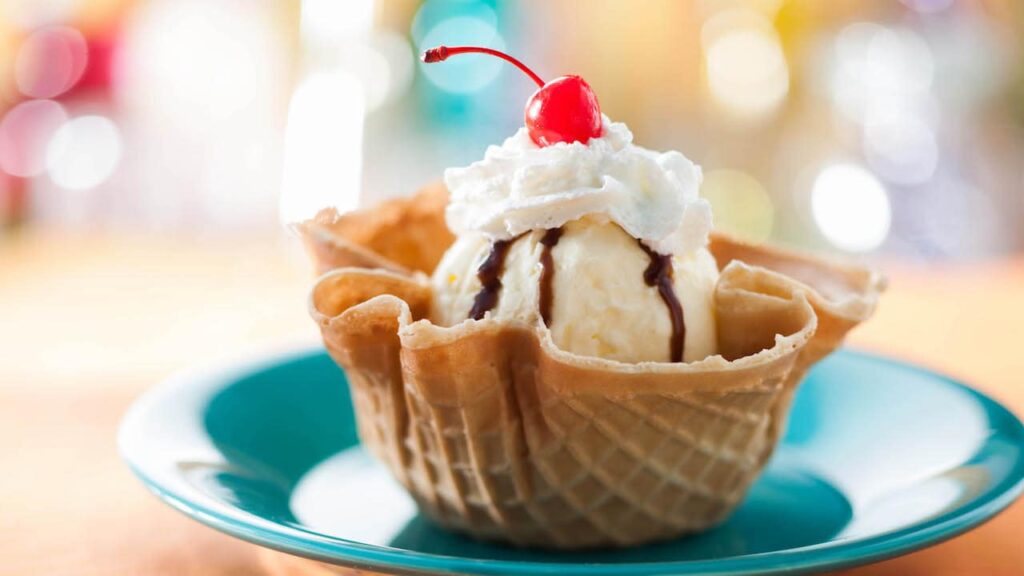 5. Aloha Isle
Another highly coveted cool treat in Walt Disney World is the Dole Whip! Visit Aloha Isle in Adventureland to indulge in this pineapple frozen treat that is able to be swirled with vanilla and other seasonal flavors! Guests can also order Dole Whip floats in various flavors, including the Tropical Serenade which comes with pineapple-orange-guava juice, coconut soft-serve, and an upside-down pineapple cake pop. Did you know that Pineapple Dole Whip, and many of the fruit flavors, are dairy free? Dole Whip is found at other locations all throughout Walt Disney World including Marketplace Snacks at Disney Springs, Tamu Tamu in Animal Kingdom, and at the Polynesian, Art of Animation, and Pop Century resorts. Orange Dole Whip is served at the Sunshine Tree Terrace, also located in Adventureland in Magic Kingdom.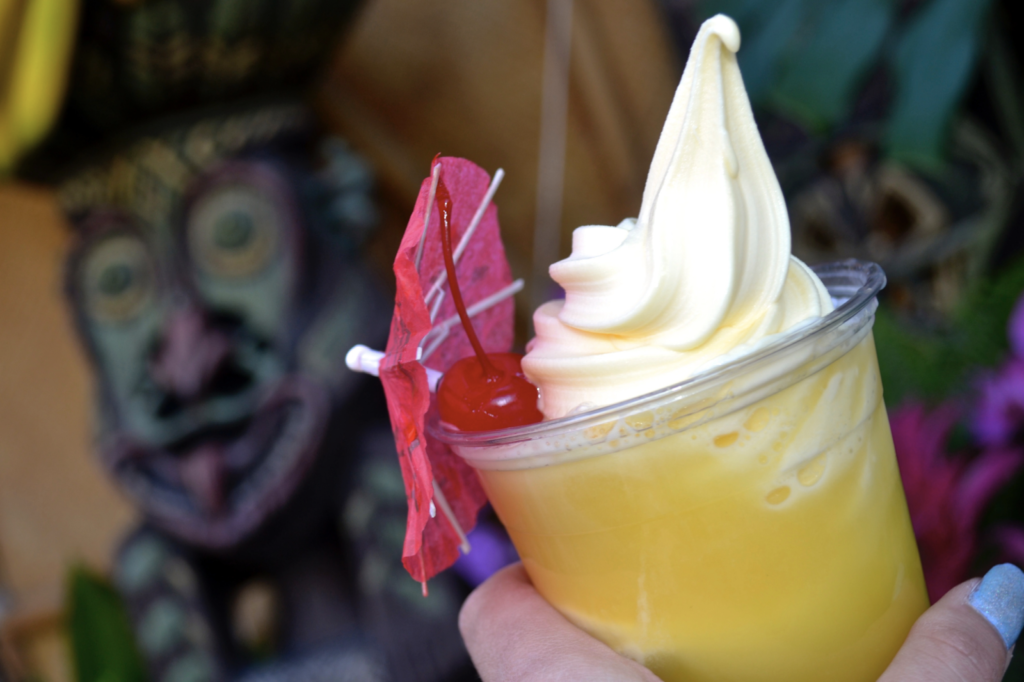 6. Storybook Treats
On the opposite side of Magic Kingdom, guests will find delicious soft serve ice cream at Storybook Treats in Fantasyland between The Many Adventure of Winnie the Pooh and Princess Fairytale Hall. Order a cone, sundae, or float including the adorable Snow White Cone featuring Lemon Dole Whip, a blue cone, a chocolate bird, and a sugar bow. For Walt Disney World's 50th anniversary, a rotating Seven Dwarf's Cone is also available featuring a seasonal flavor of soft serve twisted with vanilla, a chocolate buckle, and a white chocolate medallion of one of the dwarf's faces!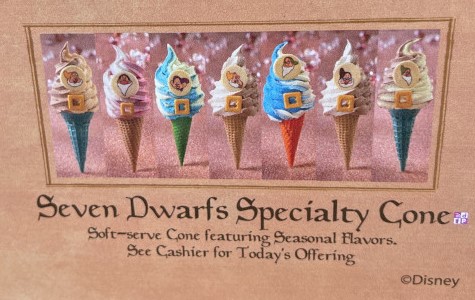 7. Hollywood Scoops
Over at Hollywood Studios, you'll find the best variety of ice cream at the end of Sunset Boulevard near the entrance to Rock 'n' Roller Coaster and the Tower of Terror. Enjoy your frozen treat from Hollywood Scoops in a cup or cone, indulge in a sundae, or sip on their signature Orange Blossom Shake. Made with orange sherbet and vanilla ice cream, it is garnished with orange-white chocolate swirls and topped with an orange doughnut!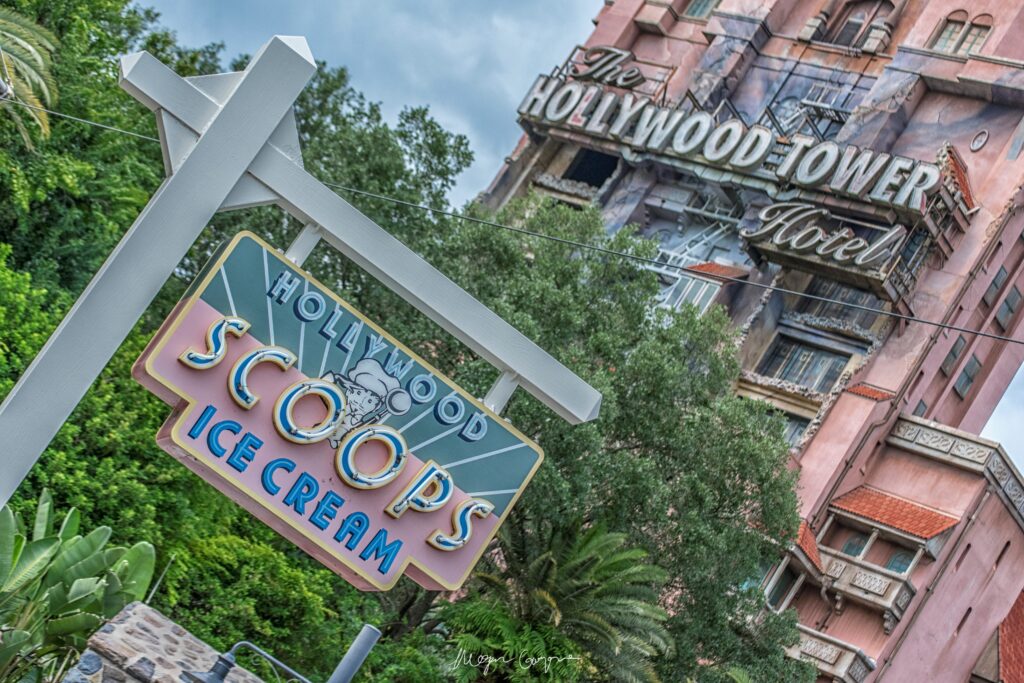 8. Anandapur Ice Cream Truck
While appreciating the beauty of Animal Kingdom, you may be wondering where you can find something to cool you down. Make your way to Anandapur Ice Cream Truck for soft serve ice cream, a float, and a special Yet sundae. Made with chocolate and vanilla soft-serve, topped with blue cake crumbs, sugar, sweet snowflakes, and a chocolate Yeti image, it's the perfect treat for fans of Animal Kingdom's coaster, Expedition Everest. Located near the stadium seating at Discovery River Amphitheater, enjoy your sweet treat while giving your feet a rest or catching the KiteTails show!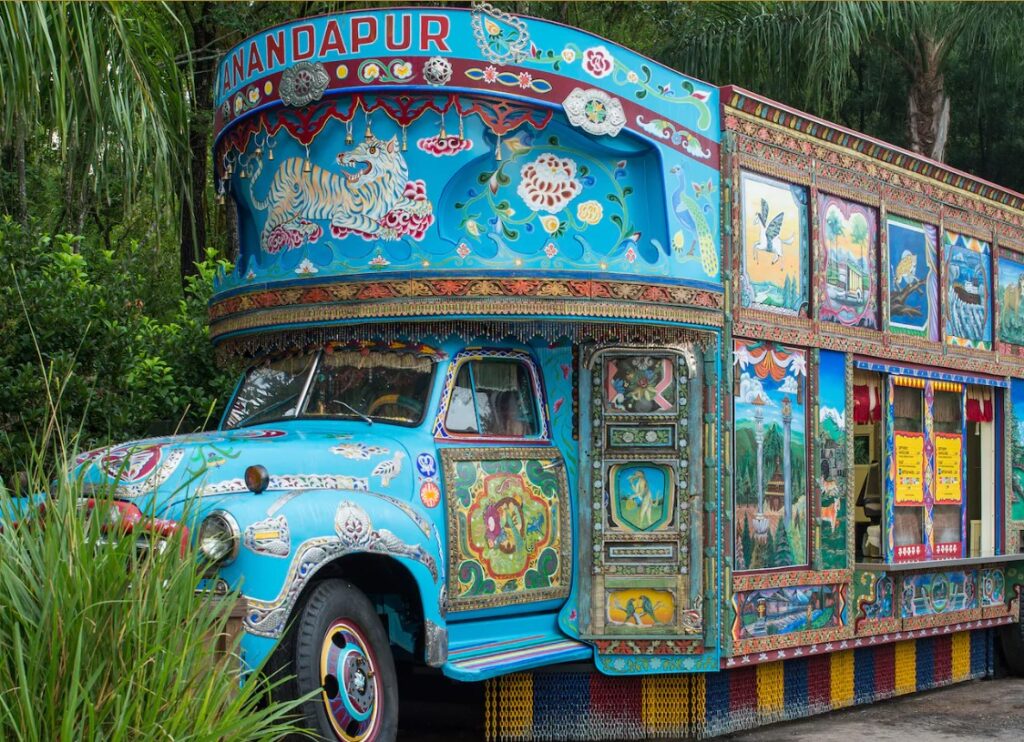 9. Ghirardelli Soda Fountain
While at Disney Springs, why not grab an ice cream and people watch, enjoying the atmosphere of vacationing at Walt Disney World? Ghirardelli Soda Fountain is the perfect place to indulge in all of your chocolate and ice cream dreams! With a large selection of sundaes and milkshakes, guests can also choose to make their own creations. Find this soda shop in the Marketplace!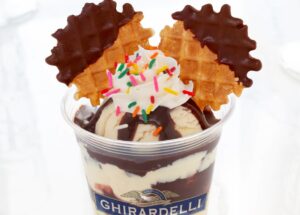 10. Salt & Straw
A new ice cream spot recently opened in Disney Springs! Salt & Straw is family-run and offers guests an interesting menu of ice cream flavors. From flavors developed by children, others named for social causes, and still others including ingredients you would be shocked to find at an ice cream store, Salt & Straw invites you in for a cool treat with their menu developed in conjunction with chefs and farmers! Located on the West Side, head in their direction to enjoy staples like Double Fold Vanilla and Chocolate Gooey Brownie or test your palette with Strawberry Honey Balsamic with Black Pepper or The Salty Donut Guava + Cheese!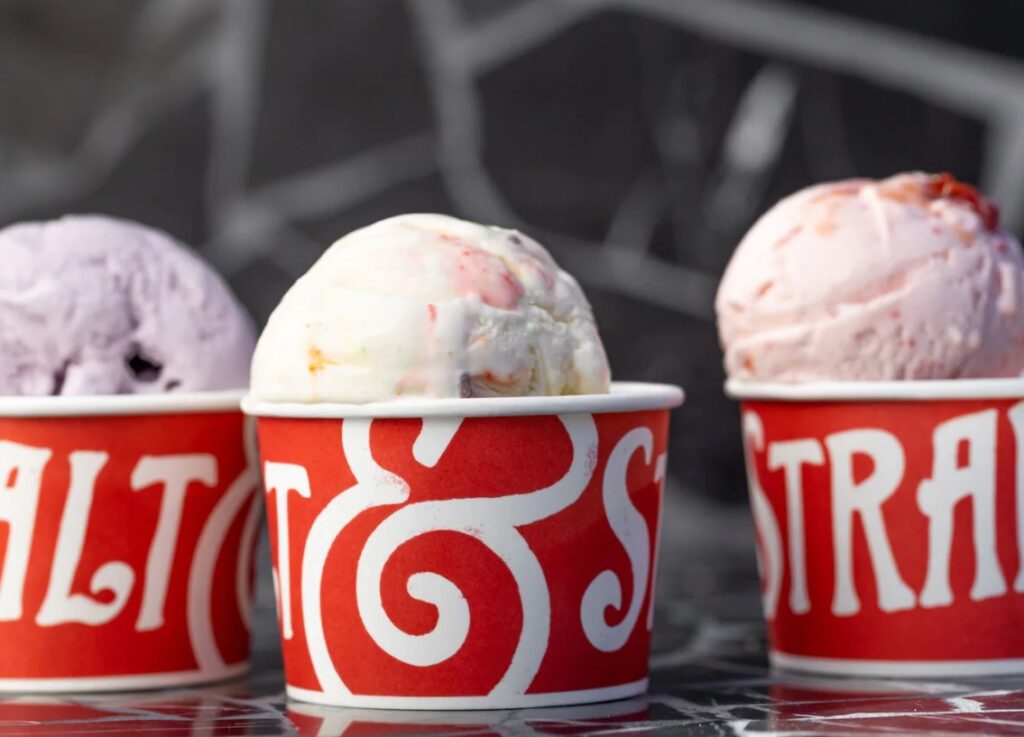 When talking about ice cream and Walt Disney World, I would be remiss if I also didn't mention the beloved Mickey Ice Cream Bars or Mickey Ice Cream Sandwiches that are found all over Walt Disney World parks in small kiosks. But if you're looking for something with more variety, be sure to stop by one of the spots listed above and even save time by using Mobile Order! Where is your favorite place to get ice cream in Walt Disney World? Tell us in the comments below!
Feature Photo Courtesy of Disney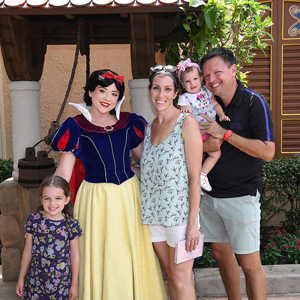 Written by
Shelley Wehler
Contributing Writer
Shelley is a stay-at-home mother of two girls living outside of Charlotte, North Carolina. Her love of all things Disney has grown even more as she sees the magic come alive through the lens of her young daughters. She spends her free time keeping up with the latest in Disney news and daydreaming of her next trip to the parks!