DOLE Whip® –  the signature snack that for many is an absolute must-have during their Disney vacation! So light and refreshing, this cold, creamy concoction hits the spot after a day of fun in the sun! Found in both Walt Disney World and Disneyland, this pineapple soft-serve treat has been pleasing guests for more than 3 decades!
The History of DOLE Whip® at Disney
DOLE Whip® arrived at the Tiki Juice Bar in Disneyland in 1986 and afterwards Dole became a sponsor for the beverage service location in 1972.  Initially pineapple juice with pineapple spears was served as a refreshment, until Dole Whip came long!  Then, the soft serve was offered in a cup or in a float with pineapple juice. DOLE Whip® arrived in Disney World to Aloha Isle in Magic Kingdom also in 1986 where it is still served today and in may other places around Walt Disney World.  Over the years, patrons have also been able to swirl the pineapple with vanilla ice cream as well as other fruit flavors which are available seasonally throughout the year.
Recipe for Copycat DOLE Whip®
So, whether you're daydreaming about your next trip to Disney or just need a simple dessert for a summer cookout, this copycat DOLE Whip® recipe is a delightful dish for you and your guests! You won't believe that you only need a few ingredients for this tropical treat. Most sources of published recipes and chefs all agree the following is all you need!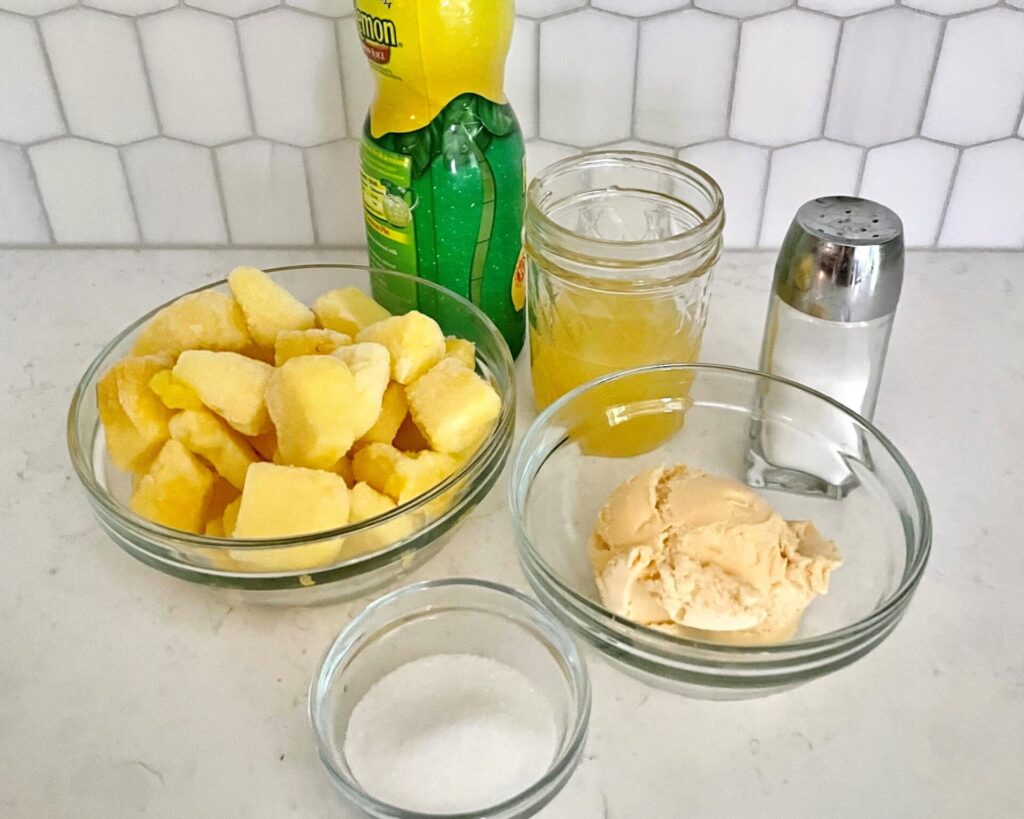 Ingredients
2 cups of frozen pineapple
3/4 cup of vanilla ice cream or coconut milk
4 ounces of pineapple juice
2 tablespoons of sugar
pinch of salt
splash of lemon juice
This recipe is so easy, you'll be asking yourself, "Is this really it?" I followed this recipe by BellyFull and the results were delightful!
Instructions
Combine all ingredients in the blender. While mixing, some chunks of pineapple may make their way to the top, so be sure to  stop the blender and push them back down to the bottom and blend again to achieve a completely smooth texture.
Transfer the 'mixture to a freezer-safe container and freeze 30-60 minutes.
Serve anyway you like – scooped, swirled, or as a float! Put on some Disney tunes like Disney Hits on Sirius XM , close your eyes, and your taste buds will tell you you're in the most magical place on earth!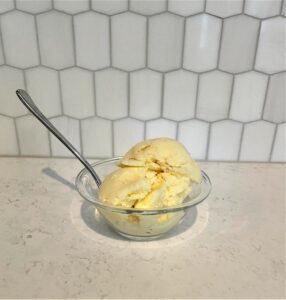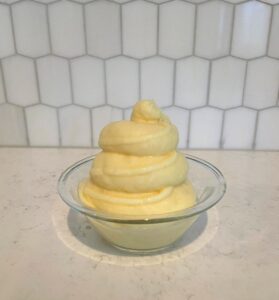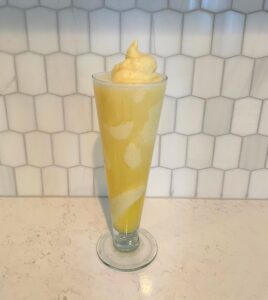 Recipe notes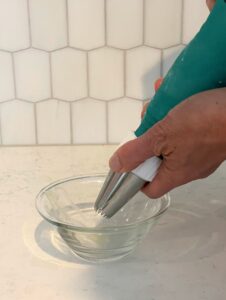 I attempted this recipe with both full-fat vanilla ice cream and full-fat coconut milk. The coconut milk definitely gave it a more tropical and authentic taste as the dish that Disney serves is one of their allergy friendly and dairy free desserts (fruit flavors only are dairy free)! However, I found that using the vanilla ice cream gave it more of a smooth and creamy texture like that of the soft serve.
Because the coconut milk is so thick, it was helpful to make sure it was well blended in the can before adding it and also to let the pineapple thaw about 10 minutes .
The added sugar can be left out, but you may miss the added sweetness as it cuts the tartness of the pineapple juice.
This really is best enjoyed as a make and serve dessert! Freezing longer than the recommended time can cause it to taste too icy and make it difficult to scoop and swirl. If it does freeze solid, then let thaw up to 60 minutes until it is soft enough to handle . You can even remix in a blender if you have trouble scooping to recreate the smooth texture.
Use a piping bag with a star or round tip or place mixture in a ziploc bag and cut a corner to make a swirl!
Is DOLE Whip® one of your favorite snacks at Disney? Try this recipe at home and share your thoughts in the comments below!
Featured image courtesy Jessica Hall.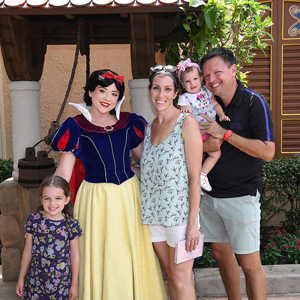 Written by
Shelley Wehler
Contributing Writer
Shelley is a stay-at-home mother of two girls living outside of Charlotte, North Carolina. Her love of all things Disney has grown even more as she sees the magic come alive through the lens of her young daughters. She spends her free time keeping up with the latest in Disney news and daydreaming of her next trip to the parks!