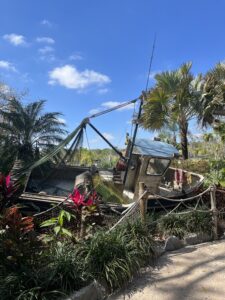 Typhoon Lagoon and Blizzard Beach are the two waterparks at Disney World, and are a great way to add a day of relaxation and cooling off tp your Disney vacation! As the temperature rises in Florida, visiting one of the water parks becomes a must! Typhoon Lagoon reopened it's doors January 2, 2022 after almost two years of being closed due to COVID-19 restrictions and refurbishments. Although currently Blizzard Beach is closed temporarily for refurbishments, there are times when both water parks are open and you need to make the hard decision of which one to visit.  Both parks offer fun and thrilling waterslides, wave pools, delicious treats and a relaxing lazy river. But how do they compare? Let's dive into these body cooling Disney parks and see which one to choose!
As the legend goes a horrible typhoon reeked havoc on a pristine tropical paradise, creating Typhoon Lagoon. The water park transports you into a lush tropical island with washed up ships, fishing gear and surf boards.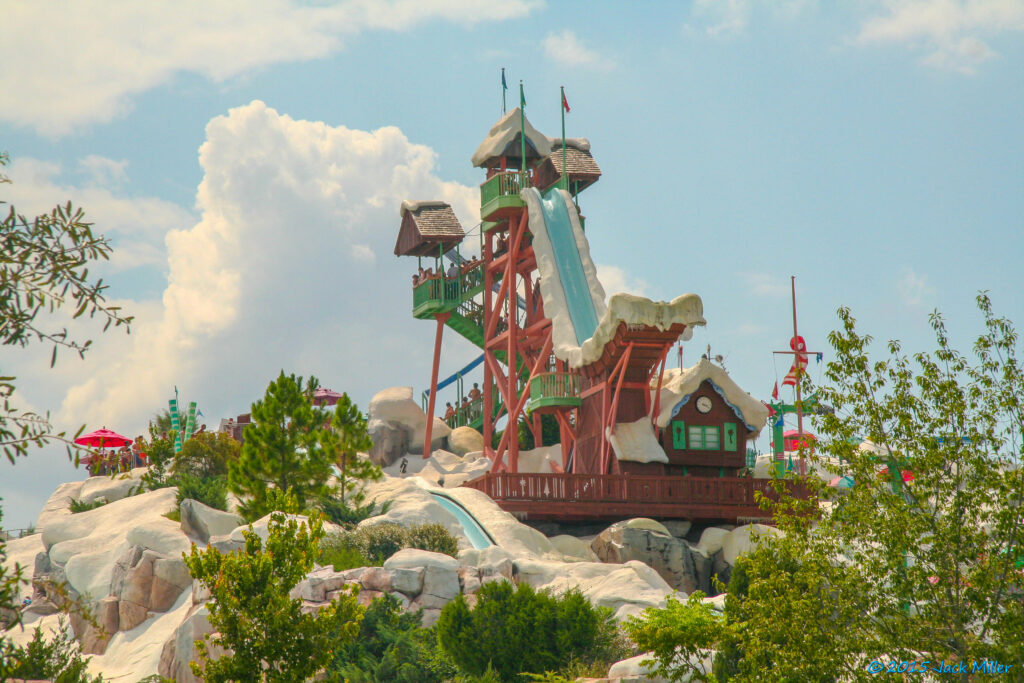 Blizzard Beach's legendary beginning started when a freak snow storm hit which led to the development of the first Florida ski resort. The Florida weather warmed up leaving a snowless ski lift and toboggan runs. As the operators were about to walk away and cut their losses, they looked up to see a blue alligator sliding down the mountain at top speed! That is when Blizzard Beach was opened!
The Wave Pools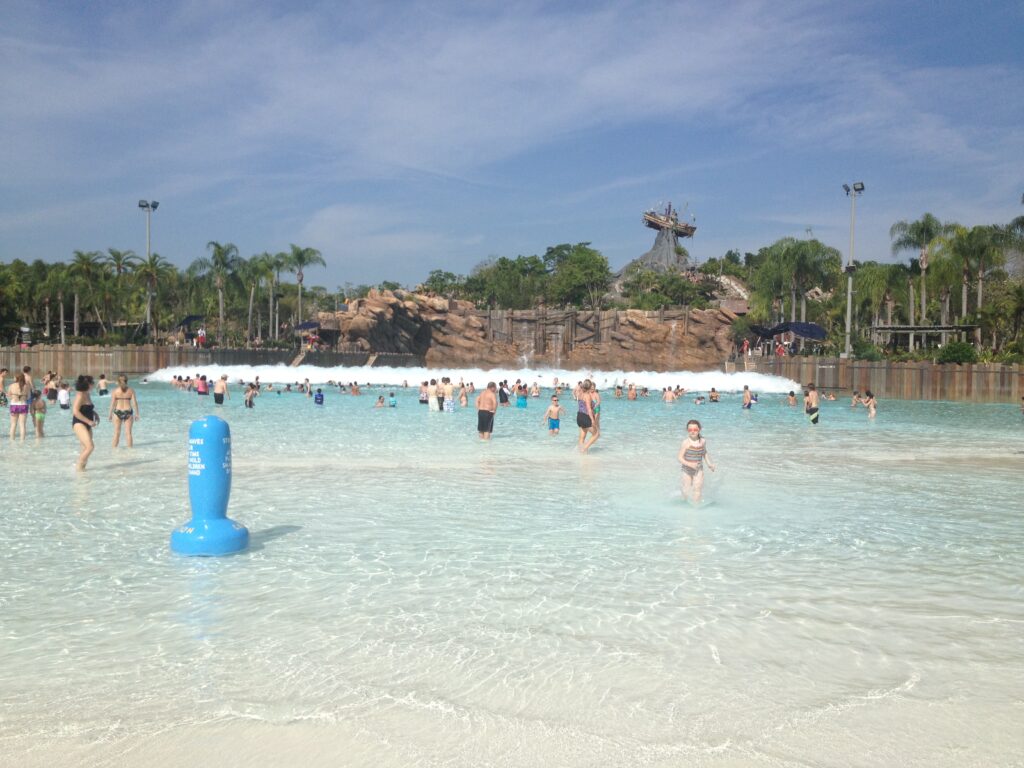 Typhoon Lagoon's large wave pool is located in the middle of the water park, and hard to miss! The wave pool here is actually the largest in North America, with waves that go to 6 feet tall. This wave pool has no height requirements, but the current is a tad strong for younger swimmers, so parents it's a good idea to have a life vest on your little ones or not as strong swimmers. Free life vests are located all throughout each park. Off to the side, there is a fun waterslide for children under 38″. This allows younger siblings to have fun while the older kids and stronger swimmers can enjoy getting knocked down by the waves!
Blizzard Beach's wave pool is Melt Away Bay and it relaxes you just by the name! Gentle waves throughout the day lets you relax and float, but provides enough excitement to have fun too. Swim out into the wave pool and you can swim under Mount Gushmore's refreshing waterfall. Melt Away Bay is the perfect wave pool to grab an inner tub and float while you soak up come Florida sun. Blizzard Beach's wave pool is a more relaxing one to enjoy on a float, while Typhoon Lagoon is geared toward a more wave jumping and diving good time!
Lazy Rivers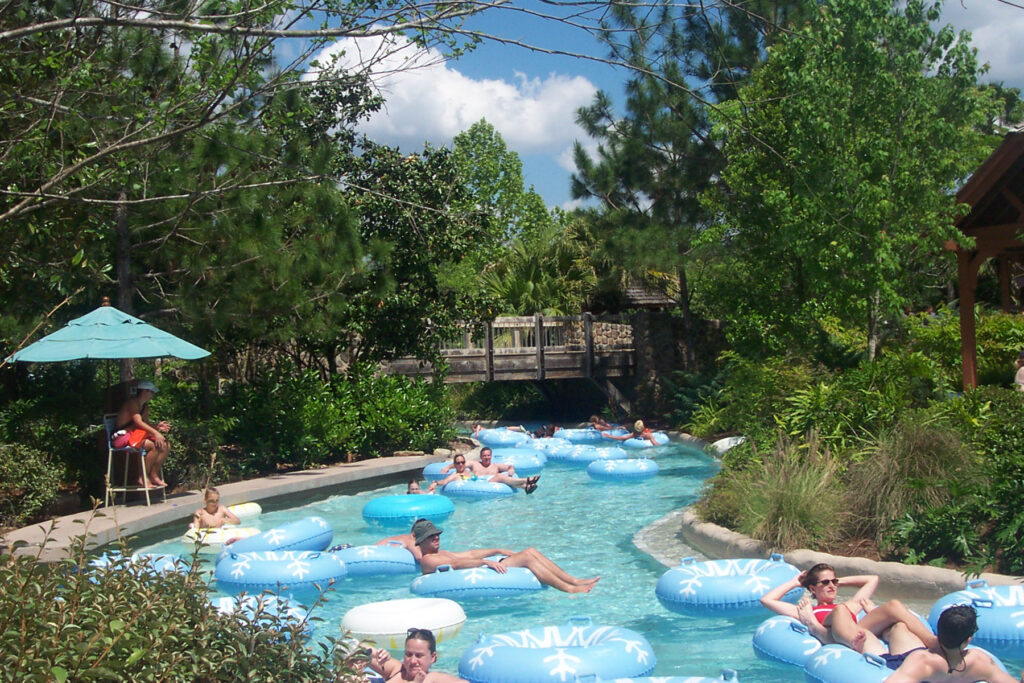 Both parks have a lazy river that travels you throughout the entire park. Both are relaxing and fun for the entire family. The lazy rivers in the water parks have several enter and exit points, so it is a great way to get around to the different attractions. The Cross Country Lazy River at Blizzard Beach is 3,000 feet in length and it takes a little more than 30 minutes to go around the entire park. Throughout your journey on this arctic adventure you will go through caves, mysterious grottoes, under bridges and refreshed with cool water from Mouth Gushmore, geysers and leaky pipes along the way!
Typhoon Lagoon's Lazy River Castaway Creek is a 2,000 foot river which will take you on a 20 minute relaxing ride around the large water park. This lazy river is shaded from the tropical surroundings to add to your relaxation on your float. Several waterfalls will keep you cool. Both lazy rivers are similar and a great way to relax at your water park day!
Waterslides
Waterslides…the most exciting part of a water park! Each of Disney's waterparks have thrilling and out of this world waterslides! Single and double riders, or raft rides the entire family can enjoy together! Typhoon Lagoon no doubt has some of the most exciting waterslides, sixteen in total (12 large water slides, 4 kiddie slides). The Crush n' Gusher has you and a partner go down 400 foot "water coaster" rides! Throughout this ride water rushes your raft through the tube to make you feel as though you're on a floating roller coaster ride you never want to end! Non-riders can enjoy relaxing in the no entry pool attached to the waterslides. Another thrilling water slide at Typhoon Lagoon try the Humanga Kowabunga where you can zoom down 214 feet!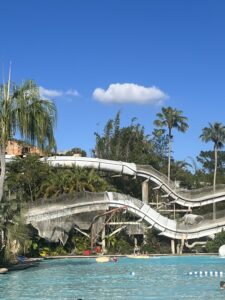 Blizzard Beach has a chairlift in the middle of the park to transport you in style to the waterslides; Summit Plummet, Slush Gusher and Teamboat Springs; a 6 person inner tube ride fun for the whole family! You must be 32″ to ride the chairlift, if not there are stairs to bring you to your destination. Jump on the toboggan runners, any age can grab a toboggan and rush down the 3 hill ride! Bring your kids to the Ski Patrol Training camp for tricky obstacles, and fun waterslides! For the thrill seekers Blizzard Beach has the Downhill Double Dipper with a downhill plummet of 50 feet!
Which is the best for you and your family?
Typhoon Lagoon no doubt has more of the adventurous water slides, while Blizzard Beach has a better balance of waterslides and play areas for the whole family. Both parks have a small play area for little swimmers, but Blizzard Beach is more family friendly for smaller kids. Although Typhoon Lagoon does a great job with attaching little kid areas and pools to the waterslides their older siblings will be taking a thrilling ride on. They also have a viewing area at the end of each slide which allows for littles to cheer on their waterslide go'ers!
Both waterparks have exhilarating attractions that will cool you off while fulfilling your thrill seeking adventure. When comparing; Blizzard Beach has a more relaxing feel and more for little riders while also giving those adventurous water slide go'ers something to be excited about! Thrill seekers will love Typhoon Lagoon and allows younger water park go'ers to live vicariously through the crazy water slide riders. Each park will leave you with a great water park day that will not disappoint. No matter your family dynamics, each park is a great way to cool off and relax.
Featured photo: Orlando Sentinel.
Written by
Erin Bonsall
Contributing Writer
Erin is mom of 4 little boys and a pre-school teacher, from outside of Charlotte, NC. She remembers one magical Disney trip at a young age, but having children made her want to bring her own kids to the happiest place on earth! One trip 7 years ago started a love for everything Disney! Now her family visits Disney World as much as possible and it is their favorite place to make magical memories!