The World's Most Magical Celebration begins in less than two months on October 1st. Guests of Walt Disney World can commemorate the resort's 50th birthday with this 18-month long celebration. Cinderella Castle has received a brand new look with a new bright color scheme, gold accents, and a large "50" sign. Guests can expect new offerings during this time like "Remy's Ratatouille Adventure" which opens at EPCOT on the first day of the celebration.
For many guests, a trip to a Disney park is a way to celebrate the important milestones in life like birthdays, weddings, and graduations. Historically when a Disney park hits a similar milestone, the company goes all out for the event. Here are a few of the celebrations throughout Disney Parks' history.
Disney World's 20th Anniversary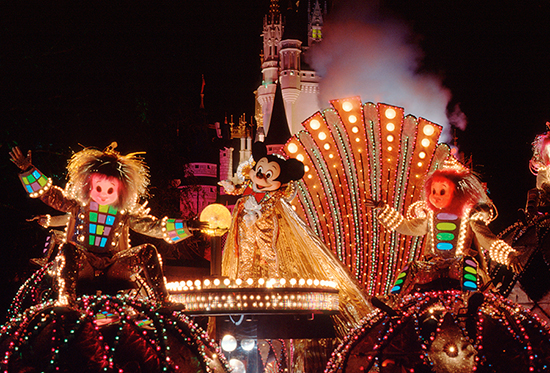 In 1991, Disney World turned 20 years old. In honor of two decades of magic in Florida, two new parades debuted at the Magic Kingdom: the 20th Anniversary Surprise Celebration Parade and Spectromagic. The 20th Anniversary Surprise Celebration Parade was an afternoon parade based on Disneyland's Party Gras Parade and featured characters in traditional Mardi Gras masks and lots of balloons. Spectromagic replaced the Main Street Electrical Parade. This fiber-optics filled parade had floats with characters from films such as The Little Mermaid, Sleeping Beauty, and Cinderella.
Disney World's 25th Anniversary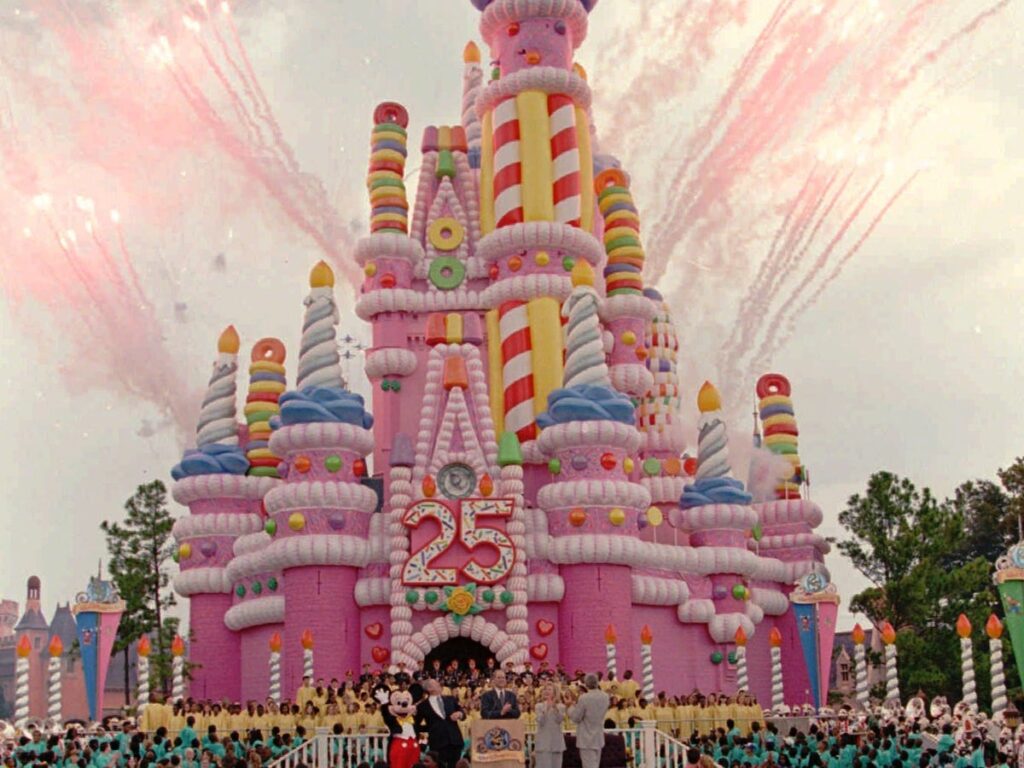 Cinderella Castle was transformed into a bright pink birthday cake for Disney World's 25th anniversary in 1996. The castle decor included 26 candles, icing, sprinkles, and gumdrops. This 16th month long celebration also introduced a new parade, Remember the Magic, which was the first Disney parade to feature "stop-action" elements.
Disneyland's 50th Anniversary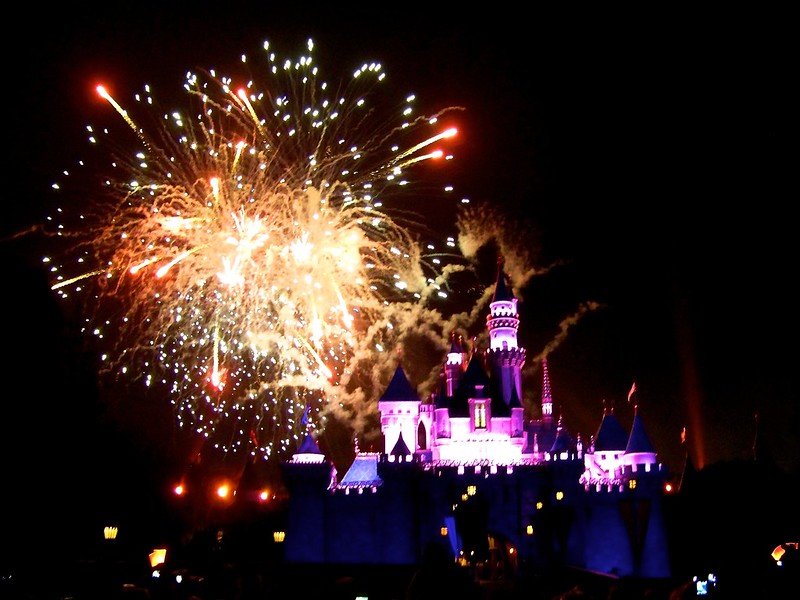 "The Happiest Homecoming on Earth" was an 18 month long celebration that began in May of 2005. To honor 5o years of Disneyland, classic attractions, like Walt Disney's Enchanted Tiki Room, the Jungle Cruise, and Space Mountain, received refurbishments. Disney debuted a new fireworks show, Remember… Dreams Come True, and a new parade, Walt Disney's Parade of Dreams. Additionally, Sleeping Beauty Castle was given a beautiful gold overlay. This celebration led into the "Happiest Celebration on Earth" which took place in Disney parks throughout the world.
Disneyland's 60th Anniversary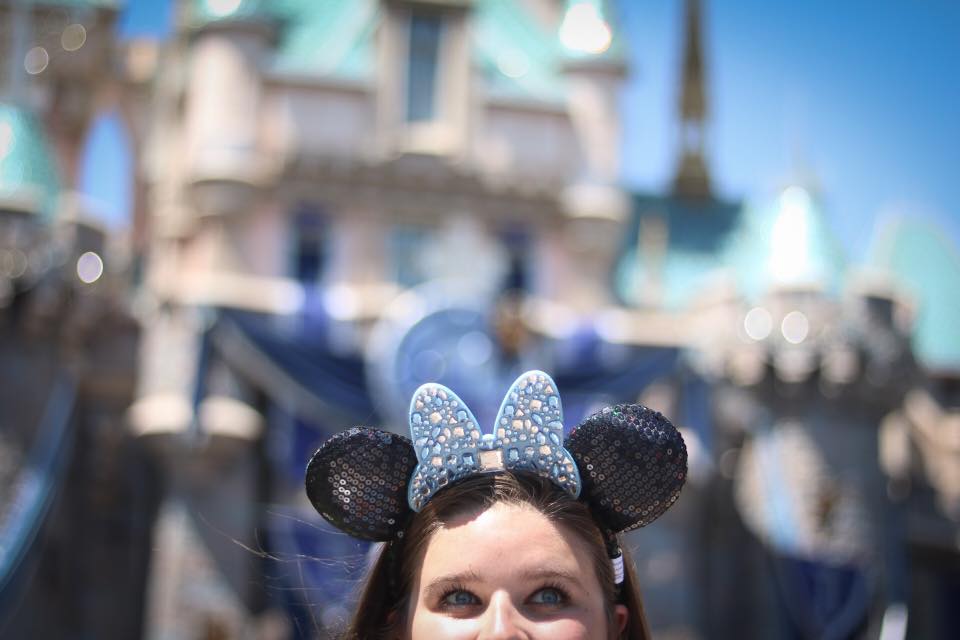 In 2015, Disneyland began the Diamond Celebration for the park's 60th anniversary which kicked off with a 24-hour event. Sleeping Beauty Castle and Carthay Circle were outfitted with sparkling diamond decorations. New park offerings included the Paint the Night parade and the Disneyland Forever fireworks show. Paint the Night was the first all LED parade in Disneyland's history. Disneyland Forever used special effects to turn the storefronts of Main Street, the Matterhorn, and Its A Small World into projection screens to allow for even more viewing locations. The Diamond Celebration lasted 16 months.
The excitement for the World's Most Magical Celebration has already begun. Guests visiting Walt Disney World can look forward to new attractions and the celebration's unique EARidescdent theme in decor and merchandise. What are you most looking forward to during Disney World's 5oth Anniversary? Be sure to check back for updates on the upcoming celebration.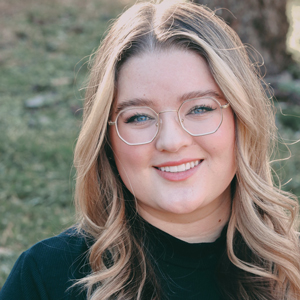 Written by
Emily Murray
Contributing Writer
For as long as Emily can remember, Disney has played a huge role in her life. Her infatuation with Disney resulted in many hours spent rewatching Toy Story and creating multiple powerpoints to convince her parents to book yet another vacation to the "Most Magical Place on Earth". In 2015, Emily followed one of her dreams and moved to Orlando, Florida where she spent just over five years working for the mouse in three separate roles. Emily is passionate about writing and using words creatively and concisely. She loves to make others laugh and hopes to sprinkle a little bit of magic into everything she does.