If you're a DVC member, Disney Annual-Passholder, a fan of the Disney Fairytale Weddings TV show, or even just a Disney fan, chances are that you've dreamt of having a wedding somewhere on Disney property. It's the ultimate destination wedding, planned together by yourself and Disney professionals together to make your wedding day the most magical day of your life. Disney already specializes in magic, and being able to hold your wedding with your closest friends and family really hones in how beautiful weddings at Disney are. It's an incredibly special occasion for Disney Vacation Club members in particular, with the options of holding their ceremony and/or their reception at a DVC resort, even their home resort.
Even limiting yourself to the venues at Disney Vacation Club resorts, there's still so many beautiful locations to choose from. These resorts include Disney's Beach Club Resort, Disney's BoardWalk Inn, Disney's Contemporary Resort, Disney's Grand Floridian Resort & Spa and the Villas at Disney's Grand Floridian Resort & Spa, and Disney's Polynesian Village Resort. In California, guests also have the option of choosing Disney's Grand Californian Hotel & Spa, as well as a number of locations at Aulani, Disney's DVC resort in Hawaii.
Choosing to have your wedding at one of the resorts versus in the parks likely will be easier on your budget, as well as having fewer time limits, as park weddings usually have to take place before the park opens or after it closes. Weekdays are also going to be more likely to have less expensive event minimums as opposed to weekends and holidays. Time of day is going to be a factor in menu expense, as both breakfast and lunch are less expensive per person than dinner.
With so many options to choose from, choosing a venue for your wedding can be very overwhelming. If you're in just the very beginning stages of planning, doing some research on DVC blogs like this one, as well as the Disney Fairytale Wedding website, can help in narrowing down what you and your partner are most interested in. Once you have clearer ideas of what your theme, top choices for venues and locations, and budget are then it's time to start talking to a representative at Disney Fairytale Weddings.
Disney Fairytale Weddings agents will then help you narrow down to your final choice, as well as help you make decisions on decorations, flowers, menus, and seating options. If you're not from the area, your agent at Disney's Fairytale Weddings will be a great help in streamlining the process of holding a destination wedding. Your agent will also assist you in incorporating small Disney touches into the day, from the bouquet to centerpieces to the wedding cake, and even having characters as surprise special guests.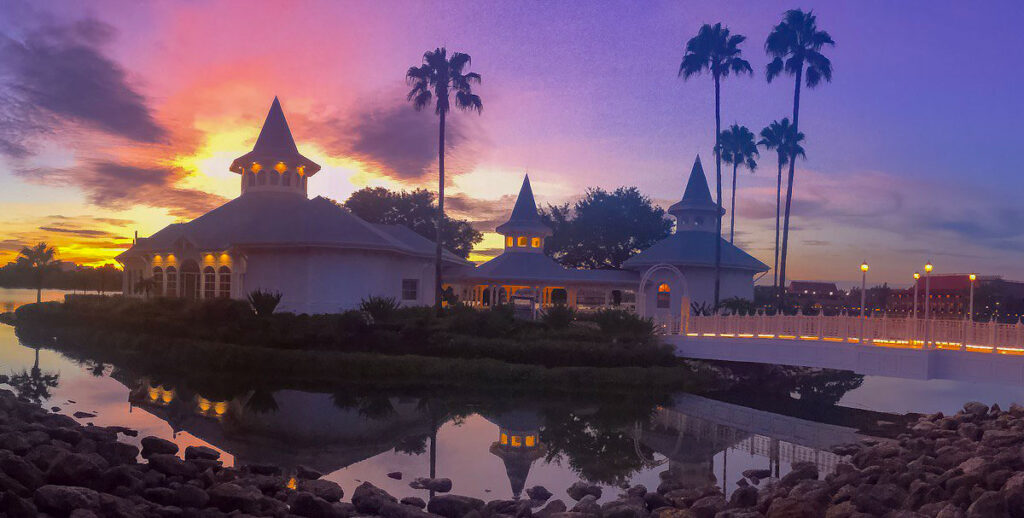 When researching venues, it can be confusing, but having a general idea of what resorts and venue options are available is a great place to start. Not every DVC resort has a wedding venue option, and some venues are limited to only ceremonies or only receptions, while others can hold both. Some of these locations become easier to eliminate once you have an idea of what your guest count will be, as some venues have more limited space than others.
Some blogs, as well as the Disney Fairytale Wedding website, will have lists of which venues can hold ceremonies versus receptions. Some of these might be very well-known wedding spots, while others may be some of Disney's best kept secrets. Here is a list of locations that hold ceremonies and receptions.
Disney's Beach Club Resort
Ceremonies and Receptions
Crescent Cove
Receptions only
Ariel's
Beach Club Ballrooms
Shipwreck Beach
Disney's BoardWalk Inn
Ceremonies and Receptions
Croquet Lawn
Poolside Green
Sea Breeze Point
Ceremonies only
Harbor Club Breezeway
Receptions only
Atlantic Dance Hall
The Attic
BoardWalk Inn Ballrooms
Flying Fish
Disney's Contemporary Resort 
Receptions only
California Grill
Contemporary Resort Ballrooms
Disney's Grand Floridian Resort & Spa
Ceremonies and Receptions
Sago Cay
Ceremonies only
Disney's Wedding Chapel
Conch Key Marina
Picture Point
Receptions only
Citricos
Narcoossee's
The Summerhouse
Polynesian Village Resort
Ceremonies and Receptions
Luau Beach
Trader Sam's Grog Grotto
Ceremonies only
Luau Pointe
Disney's Grand Californian Hotel & Spa
Ceremonies and Receptions
Brisa Courtyard
Ceremonies only
Parkview Terrace
Wedding Garden
Receptions only
Grand Californian Hotel Ballrooms
Aulani
Ceremonies and Receptions
'AMA'AMA Patio
Halawai Lawn
Lanikohonua
Ceremonies only
Aloha Point
Kula Wai
Sunset Alcove 
Receptions only
Kaiona Ballroom
Ka'ala Ballroom
Kipuka Courtyard
Kipuka Lawn
Rainbow Reef Patio
Aulani Beach
Wailana Pool
While the pandemic has impacted the wedding planning process at Disney, Disney Fairytale Weddings is a well-oiled machine that is prepared for anything. While more of the planning might take place via phone and email rather than in person than in previous years, once you've started working on the process with Disney, planning still runs as smoothly as ever. The experience of getting married at Disney, especially at a Disney Vacation Club resort, is one that you'll never forget. Your big day will be full of fairytale moments and will be just as you've always dreamed, or even better.