The 1990s were the decade of boybands, Tamagotchis, and dail-up internet. For the Walt Disney Company, the last decade of 20th century was a time of change. The CEO at the time, Michael Eisner, was the first person from outside the company to hold the position. Eisner put a huge focus on revitalizing Walt Disney Feature Animation. This led to the era known as the "Disney Renaissance" which includes films such as Aladdin, The Lion King, and Mulan.
Eisner also aimed to expand Disney's park offerings. The company added a third park to its Florida project: Disney-MGM Studios (later renamed to Disney's Hollywood Studios). In California, Disneyland gained a second park with the construction of Disney's California Adventure Park (now Disney California Adventure). Disney Parks also built its first global park with Disneyland Paris.
These advancements produced some very unique and iconic experiences for guests. This is especially true for the generation of kids who grew up going to Disney during this time. If you were a 90's Disney Kid, these things are sure to make you feel nostalgic.
1. Cinderella Castle Cake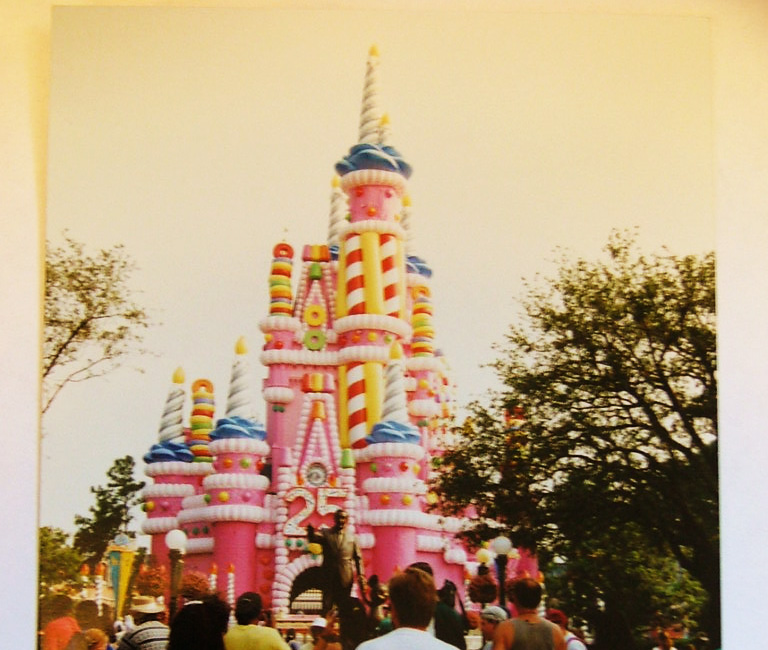 On October 1st, 1996, Cinderella Castle got a "sweet" makeover for the park's 25th anniversary. To celebrate's Magic Kingdom's birthday, the castle became a cake with bright pink paint, inflatable icing, giant candy, and 26 birthday candles. The park's icon stayed in cake form for 15 months after its debut. While many decorations come and go throughout the years at the Disney Parks, the Cinderella Birthday Cake is one of the most memorable. Disney fans and guests either loved or hated this version of the castle. Which team are you?
2. Mickey's Fun Songs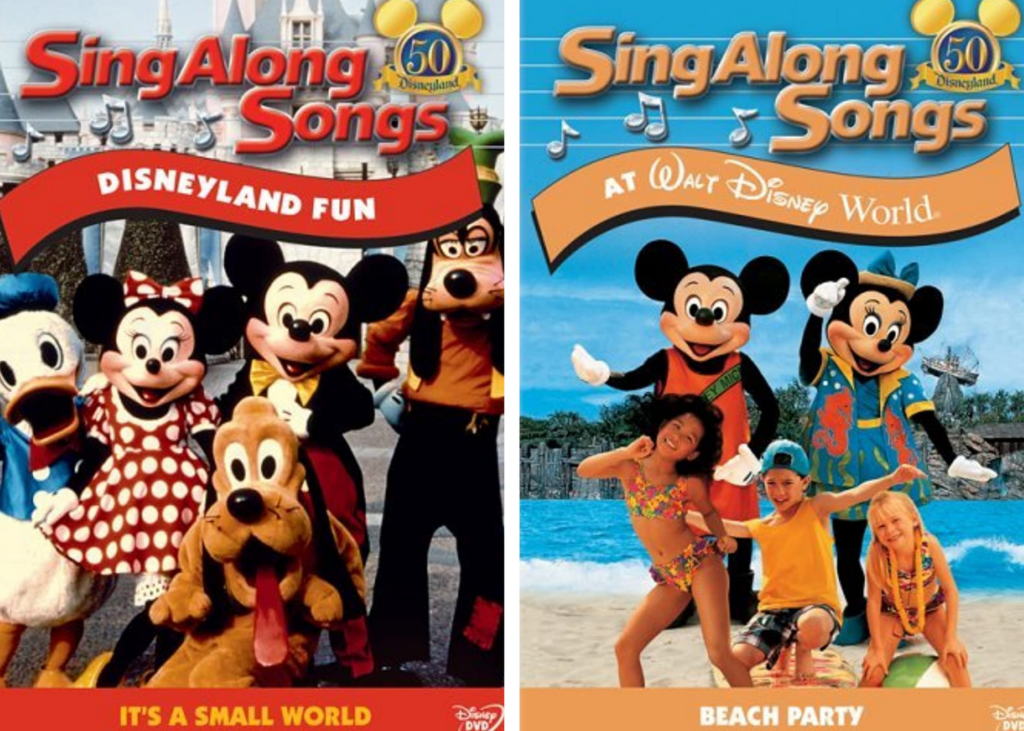 In the 90's, Disney released a series of sing-a-long videos. Kids at home could "follow the bouncing ball" and join Mickey and his friends on a musical adventure through several Disney Parks. Disneyland Fun, which came out in 1990, shows the hustle and bustle of a day at the Happiest Place on Earth. Mickey and the gang take the audience through the fun, thrills, and some behind the scenes magic. One of the most memorable scenes of this VHS is when Donald, in a sheet ghost costume, joins the happy haunts of the Haunted Mansion to sing "Grim Grinning Ghosts".
Beach Party at Walt Disney World was released in 1995 and featured one of the company's newest offerings, Disney's Blizzard Beach, which opened the same year. This musical adventure not only starred Mickey, Minnie, Ariel, and Captain Hook but also the fun song kids. This cast of kids were also in several other sing-a-long productions like Let's Go to the Circus! These videos were the perfect way to experience a bit of the park magic at home.
3. Teenage Mutant Ninja Turtles At MGM Studios
Back when Disney's Hollywood Studios was called MGM Studios, it was more common to see non-Disney characters in the park. Some of those characters were the heroes in a half-shell: The Teenage Mutant Ninja Turtles. In the now extinct Streets of America, Michelangelo, Donatello, Raphael, and Leonardo, would perform a 4-minute karate show followed by an opportunity for pictures and autographs. This show was available daily from 1990-1996 when they were replaced by the Power Rangers.
4. SpectroMagic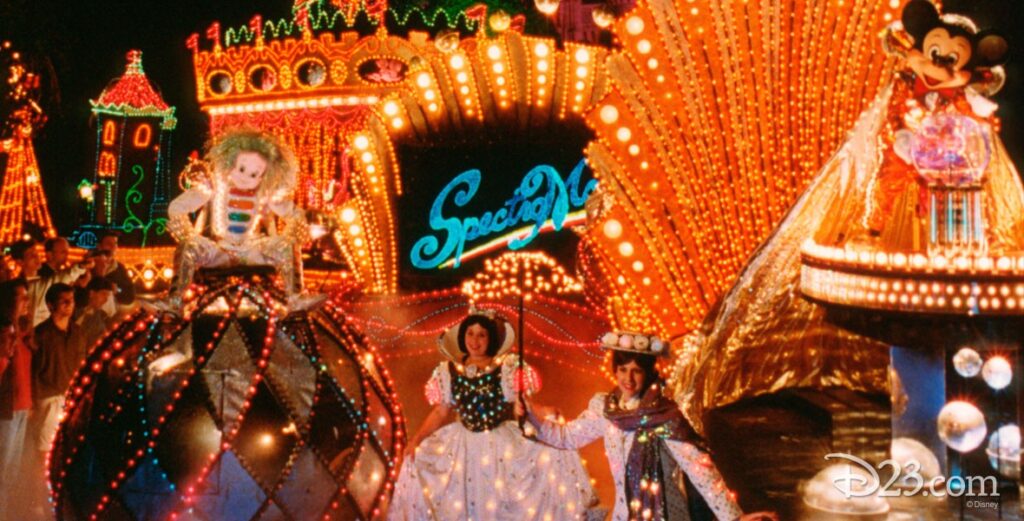 Disney's Main Street Electrical Parade left Walt Disney World and headed to Disneyland in 1991. Its replacement, SpectroMagic, was the company's first mass use of fiber optics with 600,000 lights and 100 miles of fiber optic cable. The nighttime parade was a sparkling sensation where the romance, comedy, and thrill of Disney's stories came to life. The 23 floats of SpectroMagic traveled down Main Street for 17 years.
5. Walt Disney World Commercials
Disney Parks in the 90's had some pretty memorable commercials. These advertisements were mainly from the perspective of children and featured their pre-vacation excitement. One of the classic ads of this time starts with a little girl on the phone with Goofy as he tells her it's time to get up and head to her vacation. At the park, she meets some quintessential characters like Jasmine and one of the Seven Dwarfs. This commercial ends with the little girl running into Mickey and telling him, "I've waited my whole life to meet you".
A similar 1994 advertisement featured a sibling pair as they pack for their upcoming Disney vacation. The older brother shares a few tips with his younger brother Larry who has never been to Disney World. He tells Larry that he needs to pace himself or he will be "sleeping like a baby by lunch time". He goes on to warn him that even though Goofy is small on TV, he is much bigger in real life. Because of this he believes that "Goofy could beat up Dad". The commercial ends with the older brother telling Larry that he is going to love it because "it really brings out the kid in you".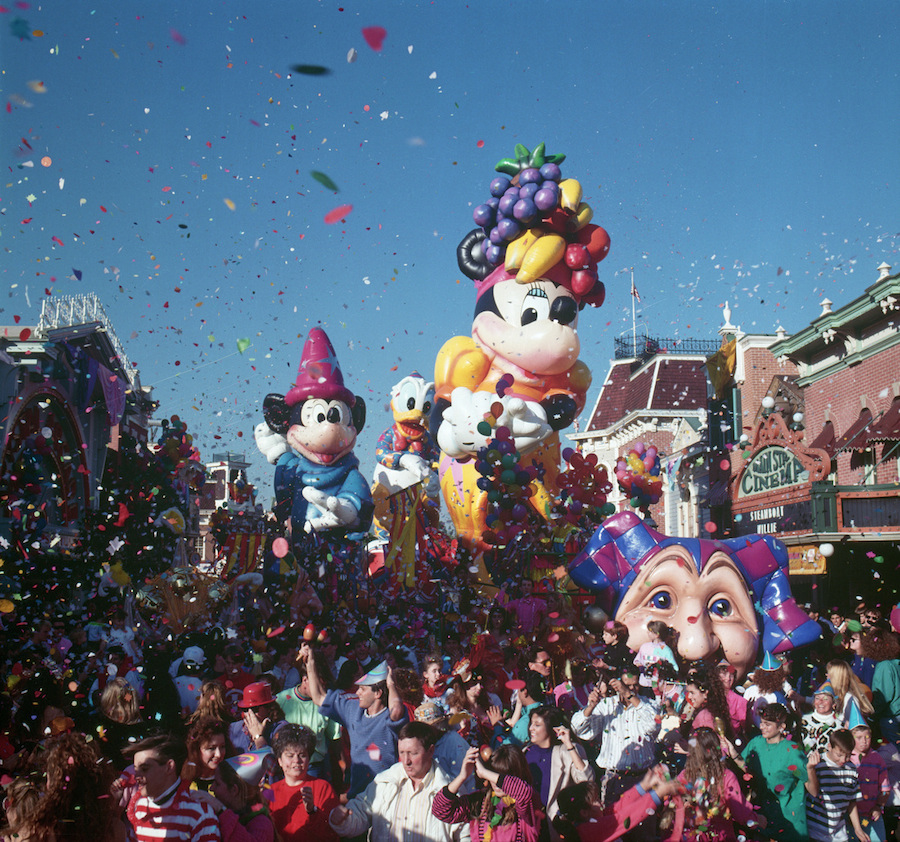 For the Disney Company, the 1990s were a time or change and growth. Many of the characters that kids still know and love today were created during this era. Kids of the 90s who went to the Disney parks likely feel nostalgic for the uniquely magical experiences of this time. What was your favorite 90s Disney experience? Did you love or hate the Cinderella Castle Birthday Cake? Let us know in the comments below.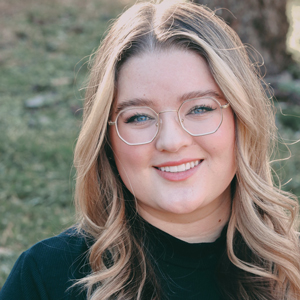 Written by
Emily Murray
Contributing Writer
For as long as Emily can remember, Disney has played a huge role in her life. Her infatuation with Disney resulted in many hours spent rewatching Toy Story and creating multiple powerpoints to convince her parents to book yet another vacation to the "Most Magical Place on Earth". In 2015, Emily followed one of her dreams and moved to Orlando, Florida where she spent just over five years working for the mouse in three separate roles. Emily is passionate about writing and using words creatively and concisely. She loves to make others laugh and hopes to sprinkle a little bit of magic into everything she does.