Do you have a picky eater in your family that prefers "safe" food? So do I! It can be a challenge sometimes for picky eaters to find a place to eat that is safe for them. Luckily, Walt Disney World sees a wide variety of guests and sees to all of their needs. Walt Disney World is the best place to accommodate for all guests and their preferences, including food allergies. There are several places to eat at each Disney Park for picky eaters. Here is a list of our favorite spots to eat at each Disney Park for picky eaters.
Cosmic Ray's Starlight Café – Magic Kingdom
If you have a picky eater in your party then Cosmic Ray's Starlight Café is a great choice for lunch or dinner. This quick-service is located in Tomorrowland at the Magic Kingdom, and has a variety of options to choose from while guests are serenaded by the alien animatronic Sonny Eclipse.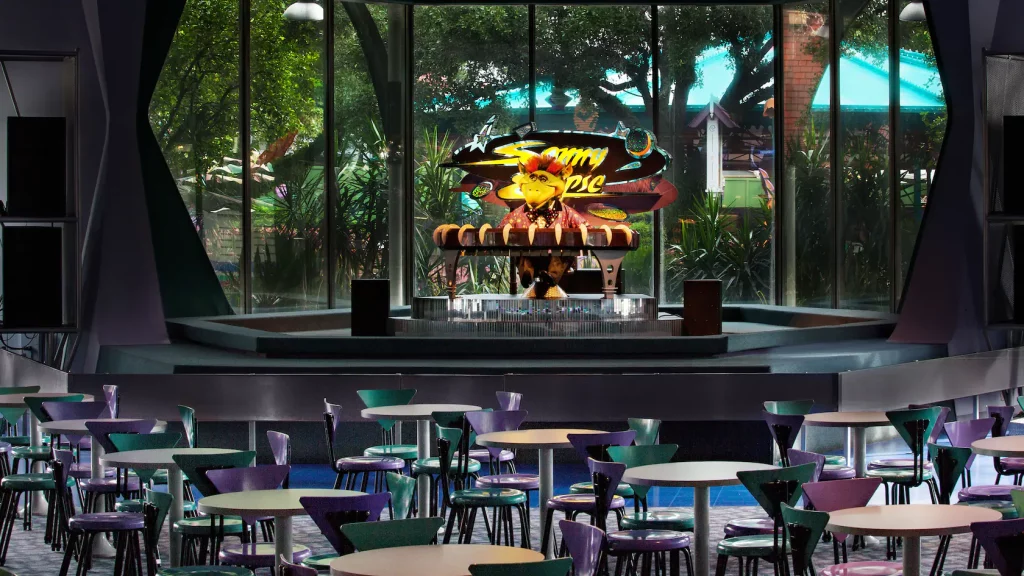 Cosmic Ray's Starlight Café has a menu consisting of burgers, chicken sandwiches, vegetable noodle salad with an option to add chicken, chicken strips, a plant-based patty melt, fries, and a kid's menu featuring chicken strips and macaroni and cheese. Any of these entrees can be custom made-to-order to exclude certain ingredients if that is your preference.
Sunshine Seasons – EPCOT
Sunshine Seasons at EPCOT is a quick-service restaurant with perhaps the widest variety of options at any Disney park. This is a food court style restaurant located within EPCOT's The Land pavilion, near Soarin' and the Living With The Land Ride. Sunshine Seasons has several different stands that serve different varieties of foods. There is something for everyone here, including your picky eater.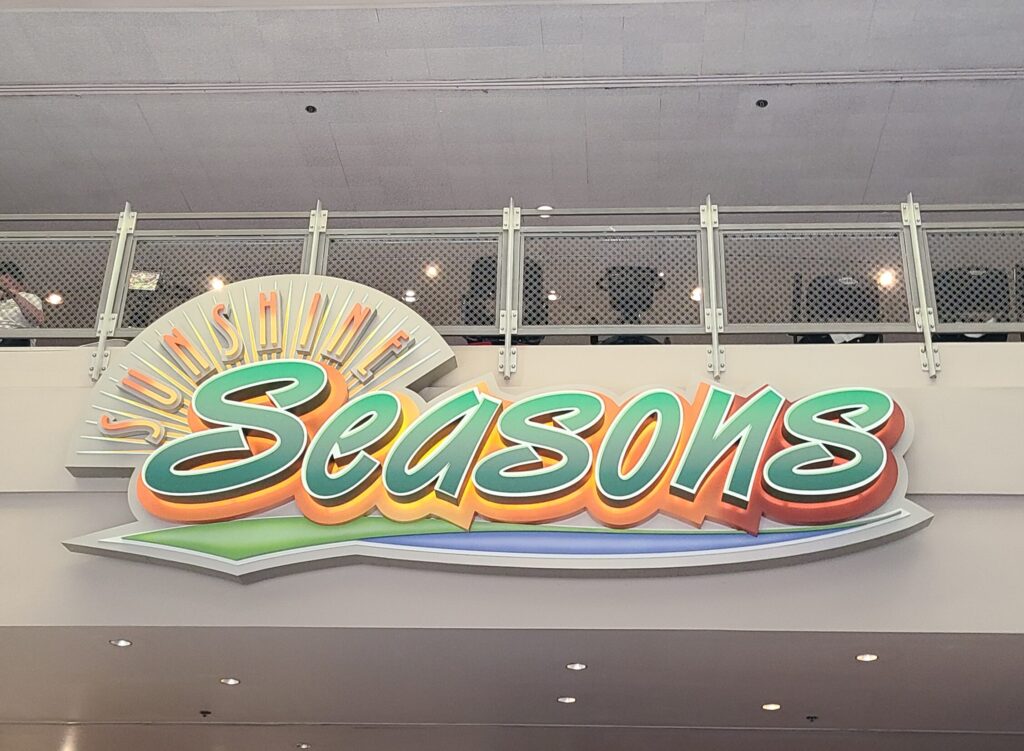 The foods offered at Sunshine Seasons include grilled rotisserie chicken, stir-fried chicken and shrimp, salmon, Mongolian beef, fish tacos, cheese pizza rolls, a variety of salads, several snack selections, and dessert selections. This a very safe quick-service destination with its huge amounts of food variety.
ABC Commissary – Hollywood Studios
Disney's Hollywood Studios is known for it's exciting quick-service dining locations. But what if you don't enjoy trying new things? Check out the ABC Commissary located on Commissary Lane in Hollywood Studios. The ABC Commissary has a fun theme of being a food court within the ABC television headquarters in Hollywood. Palm Trees greet you as you enter, and a safe menu for picky eaters awaits you.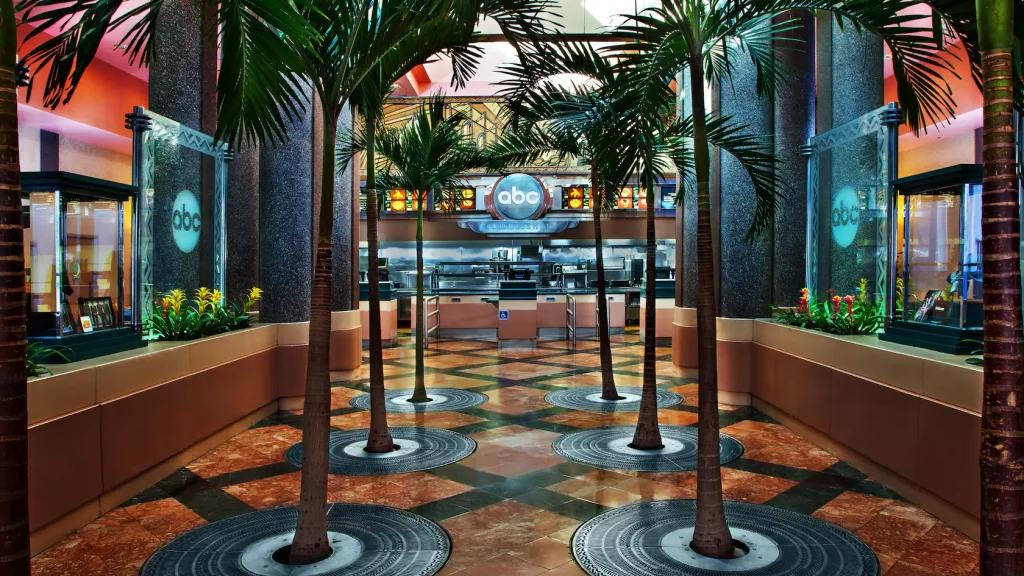 The menu at ABC Commissary includes classics with fun twists, such as their buffalo chicken grilled cheese sandwich, pork tacos, Mediterranean salad, chicken club sandwich, shrimp tacos, and plant-based California burger. Kid's Meals include a grilled ham and cheese sandwich, Uncrustables, and pork tacos. Dessert options include a tropical tart or mint-chocolate chip cheesecake.
Restaurantosaurus – Animal Kingdom
For picky eaters, Animal Kingdom may be intimating. There is no need to fear with Restaurantosaurus! This quick-service dining spot is located right inside Dino Land U.S.A. This restaurant is themed after a paleontology site with a humorous dino-twist. This restaurant is a picky-eater's safe-haven amongst adventurous food options within Animal Kingdom.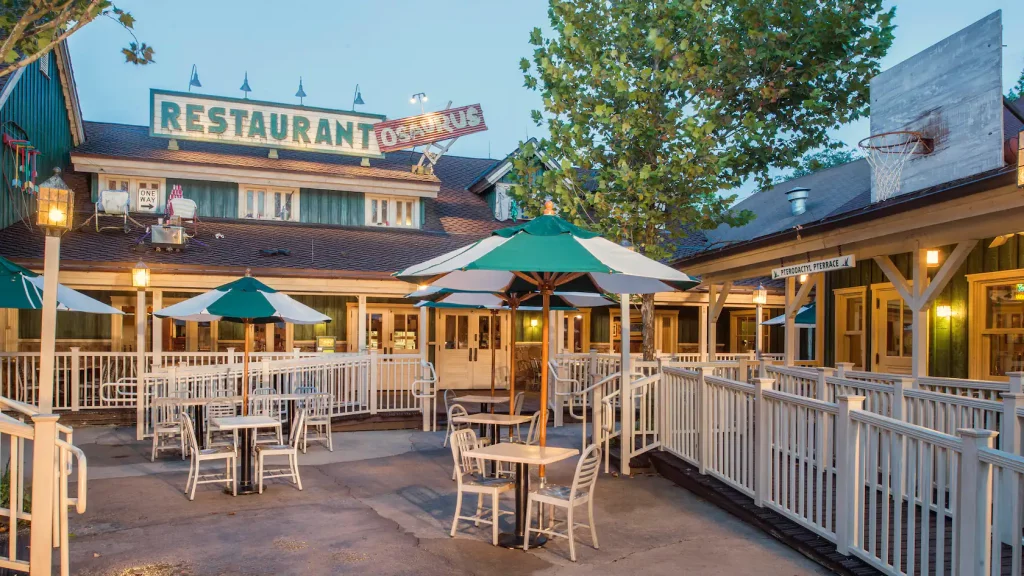 The menu here consists of foot-long chili dogs, plain hot dogs, cheeseburgers, salads with or without chicken, chicken sandwiches, chicken breast nuggets, and breaded shrimp. Chocolate and vanilla milkshakes are also on the menu as well as an elephant cupcake.
Do you have a picky eater in your party? Where do you like to go for "safe" foods at Walt Disney World? Let us know in the comments below!
Featured Photo: Emily Murray.
Written by
Megan Woodard
Contributing Writer
Megan was born into a Disney family. Her first trip to Disney World was when she was only 18 months old. Now as an adult, Megan loves to share the magic of Disney with her two toddlers. Keeping up with Disney news and Disney World knowledge is a fun hobby for Megan. Disney World is her favorite place to be and continuously brings back her childhood joy.