Your baby's first trip to Disney World is an enchanting experience, not only for them but for you as well! It is the first time you will see Disney World through their eyes and appreciate the wonder and magic from a whole new perspective. As a parent who has taken both my babies to Disney World, let me advise you to please disregard the naysayers who tell you, "They won't even remember it!" Perhaps your baby will not remember the trip, you definitely will – and it will be magical.
To help you make the most of your baby's first visit to Disney World, check out our recommendations for must-do activities.
Harmony Barber Shop
If your little one is ready for his or her first trim, schedule a visit to Harmony Barber Shop on Main Street U.S.A. in Magic Kingdom. You will feel like you've stepped back in time when you enter this quaint, old-fashioned barber shop staffed by engaging and skilled stylist cast members. 
Harmony Barber Shop offers haircuts for both adults and children, but for your baby consider booking the "My First Haircut" experience! Starting at $28, this experience includes a haircut, a commemorative Mickey Ears hat, a keepsake lock of hair, and an official milestone certificate. The cast members are ready to entertain (a.k.a. distract!) your baby or child during their haircut. Trust me when I say the experience may bring a tear to your eye!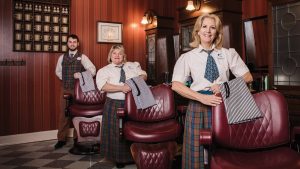 Meet Mickey Mouse
The first time your baby meets Mickey Mouse is certainly a picture-worthy occasion! If you think your baby won't be intimidated by meeting the Big Cheese himself, take some time to visit Mickey Mouse at one of his meet-and-greet locations and capture some magical memories and photos. 
Mickey Mouse can be found in the Town Square Theater in Magic Kingdom, Adventurers Outpost in Animal Kingdom, the Red Carpet Dreams meet-and-greet in Hollywood Studios and the Character Spot (next to the Imagination Pavilion) in EPCOT. The My Disney Experience app can help you locate these character meet and greet locations, as well as show you current wait times. You can also find Mickey Mouse at a number of character dining locations, such as Chef Mickey's, Topolino's Terrace, Garden Grill, Hollywood & Vine, and Tusker House.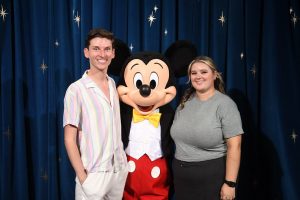 Experience The Baby-Friendly Attractions
Unsurprisingly, Disney World is home to a wide variety of baby-friendly rides and attractions. Keep an eye out for rides indicating "no height requirement" for you and baby to enjoy together. Make time to experience the classics, such as "it's a small world" in Magic Kingdom or Spaceship Earth in EPCOT.
Check out this list of attraction recommendations here!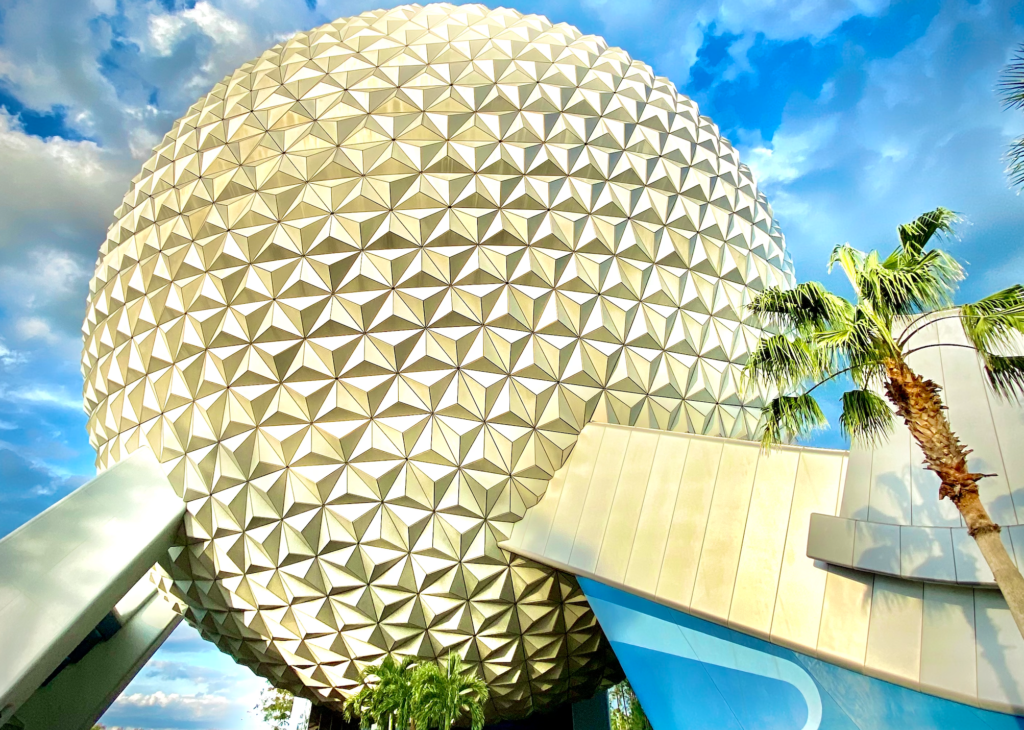 Spend Time At Your Resort Pool
Staying at a Disney World resort during your baby's first visit to Disney World will make your experience much more convenient and enjoyable. Not only will you get to experience such perks as early theme park entry and complimentary theme park transportation, but you will get to continue enjoying Disney's magical theming, service and amenities even after you leave the parks. 
Disney World's resorts offer some fantastically themed pools, which are perfect for enjoying in the afternoon or on a non-park day. Take some time during your trip to relax and splash around with your little one. Many of the deluxe DVC resorts offer zero-entry pools (perfect for baby) and unbeatable theming.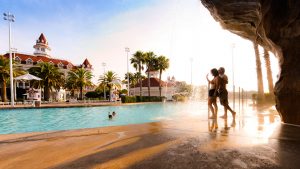 For more helpful information for your baby's first visit, check out these tips for surviving Disney World with babies and toddlers, information on Disney World's Baby Care Centers, and our list of the best DVC resorts for families with small children!
Featured photo by Disney Parks.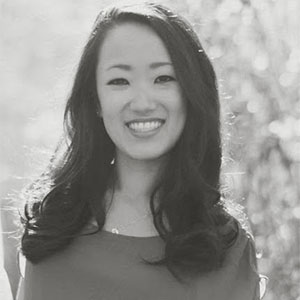 Written by
Leia Cullen
Leia is a proud mom of two boys. She has been in love with Disneyland and Disney World since her first visit to the parks many years ago, and she continues to relive the magic now with her family. She is passionate about creating helpful content that shares news or information about all things Disney, in the hopes it helps others create their own magical moments.