Completing our exploration of each land in Animal Kingdom, we are bringing you all the details and highlights of DinoLand U.S.A. 
Overview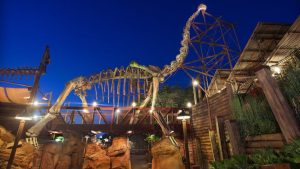 You will have no doubt where you are in Animal Kingdom when you pass under the gigantic Brachiosaurus fossil bridge into DinoLand U.S.A. This section of the park takes you back in time to discover prehistoric creatures and plenty of dino-sized fun! It is also a popular area for kids due to its theming, Dino-Rama section and massive playground area–more on that shortly! 
Attractions
Get ready for an exciting prehistoric adventure on

DINOSAUR

. This exciting dark ride takes guests on a quest through the Cretaceous period to find the elusive Iguanodon. This ride has plenty of twists, turns and thrills!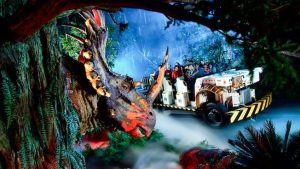 The Dino-Rama section of DinoLand U.S.A. is the perfect spot for

younger kids

.

Here, you'll find

TriceraTop Spin

, a slow-moving spinning ride atop a triceratops. This ride can be enjoyed by all ages and heights, and typically has a lower wait time.

Fossil Fun Games offers Midway-style carnival games, like "Bronto-Score" (basketball toss) and "Whack-a-Packycephalosaur" (whack-a-mole). Winners can earn prizes like dinosaur-themed plush. Game tickets can be purchased at the the Dino-Rama Cart.

On the walkway to DINOSAUR you can check out Dino-Sue, the reproduction skeleton of an actual Tyrannosaurus Rex. Across the way, the Cretaceous Trail that leads to a few character meet-and-greet spots has some lifelike dinosaur statues. These make for a fun photo opportunity!

"The World's Largest Pin Truck" is parked just outside of Chester & Hester's Dinosaur Treasures shop. While you can't purchase pins here, you can check out a display of rare "Pins of Extinction" and learn about the history of Disney pin trading.

The Boneyard

is one of the best playground areas in all of Disney World. Here, you'll find plenty of dinosaur-themed slides, climbers and more in a safely fenced-in area. If you walk across the Brachiosaurus bridge, you'll also find a massive "dig site" play area where kids can dig through the sand/pebbles and perhaps excavate dinosaur fossils!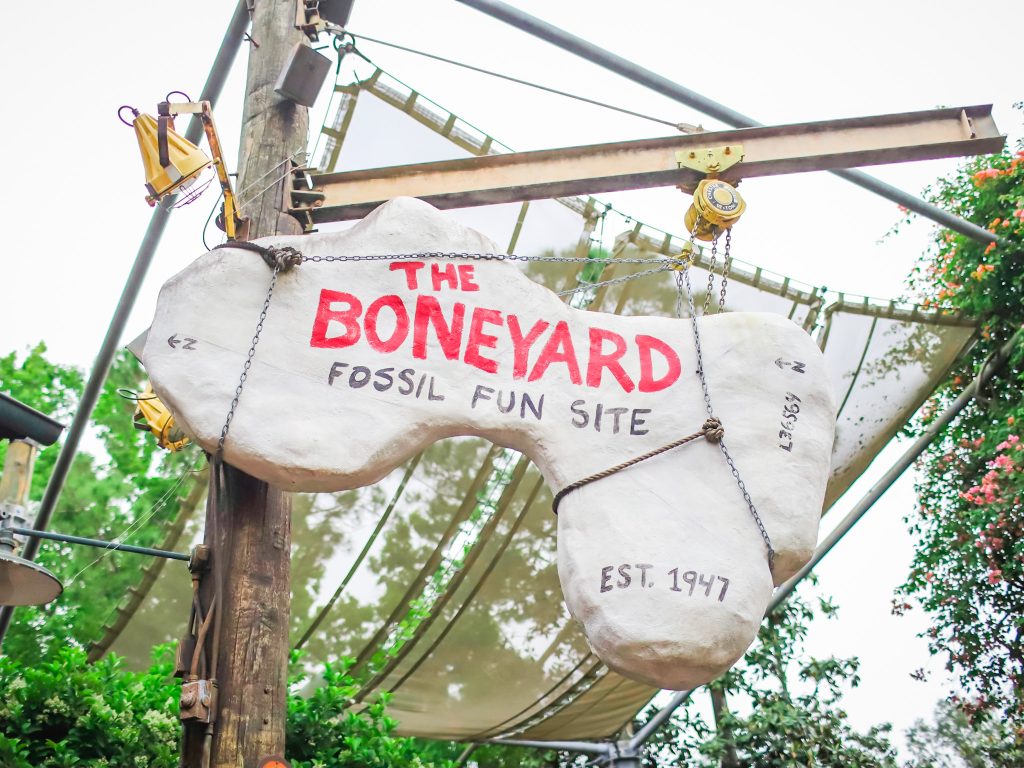 Entertainment
The Discovery Island Drummers Flotilla can be spotted from the amphitheater seating area across from the "Finding Nemo" show. Sit, relax and enjoy their lively beats as they float by!

There are several character meet-and-greet opportunities in DinoLand U.S.A.:

On the Cretaceous Trail you can find Daisy and Chip & Dale's

meet-and-greet spots

Underneath a shaded awning past Chester & Hester's Dinosaur Treasures, you'll find Donald Duck's meet-and-greet spot
Make sure to check the My Disney Experience app for entertainment showtimes and character appearance times.
DinoLand U.S.A. is home to the popular

"Finding Nemo: The Big Blue…and Beyond!"

live stage show. This incredible show presents the beloved characters and music from the film using puppetry, scenery and an amazingly talented cast. Both adults and kids will enjoy this show!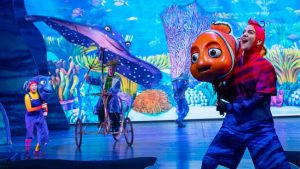 The Wilderness Explorers program gives kids a fun and educational way to experience Animal Kingdom by providing both a scavenger hunt-experience and a keepsake. Learn more about this fun and educational experience

here

!




There is one Wilderness Explorers stop in DinoLand U.S.A. across from the American Crocodile exhibit.
Dining
While there are no table service locations in DinoLand U.S.A., you can find some dino-themed quick service stops.
Quick Service
Just before the entrance into DinoLand U.S.A. you will find Trilo-Bites. This kiosk sells beverages and some tasty savory snacks like buffalo chicken chips; or if you have a sweet tooth try the Float or Trilo-Bites Twist (made with DOLE Whip orange and vanilla soft-serve). You can also order some specialty alcoholic beverages here.

Dino-Bite Snacks is the place to go for a cool treat! The menu includes ice cream sandwiches, floats, hand-scooped ice cream in a waffle cone, ice cream cookie sandwiches and more.

Restaurantosaurus

is a quick-service eatery serving up American classics with some fun dino-dig theming. You can find hot dogs, burgers, salads, chicken and more on the menu; and currently, kids' meals come with a fun copy of National Geographic Kids "So Cool! Dinos" book! This popular spot can be busy during peak mealtimes, so don't forget you can

mobile order

your meal to save some wait time.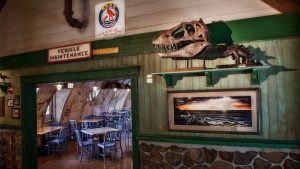 Shopping
The Dino Institute Shop at the exit of the DINOSAUR attraction continues the museum theming of the ride queue. Here you can find toys, plush, apparel, snacks and some park essentials.

Chester & Hester's Dinosaur Treasures is themed like a quirky roadside gift shop selling apparel, accessories, snacks, ears, pins, toys, plush, park essentials and more. Make sure to take in all the details as you explore, especially toward the ceiling–you'll spot artwork, fossils, dinosaur statues and more.

The Dino-Rama Cart sells game vouchers for Fossil Fun Games, as well as some beverages, plush and other souvenirs.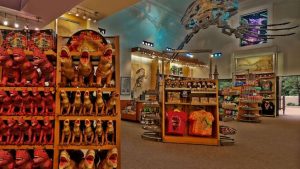 When you visit Animal Kingdom, which land do you head to first? Tell us where and why in the comments below!
Featured Photo: Emily Murray.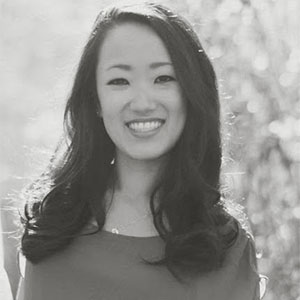 Written by
Leia Cullen
Leia is a proud mom of two boys. She has been in love with Disneyland and Disney World since her first visit to the parks many years ago, and she continues to relive the magic now with her family. She is passionate about creating helpful content that shares news or information about all things Disney, in the hopes it helps others create their own magical moments.