During a long day of being pushed around in a stroller, your little ones might start to get restless. Fortunately, there are playgrounds tucked all around Disney World that are perfect for burning off some of that energy. These play areas offer entertaining equipment and activities, engaging theming and usually a shaded place for you to rest your feet (after all, you're the one pushing the stroller–you deserve a break too!). 
Visiting a playground is always a great option when attraction rides are long, or your kids just need to stretch their legs. Check out our list of the top five playgrounds in Disney World!
1. The Boneyard – Animal Kingdom
Located in Animal Kingdom's Dinoland U.S.A. is a gigantic playground area, perfect for kids of all ages. "The Boneyard" play area is fully fenced-in for safety and offers plenty of slides and climbers for your Dinoland explorer to enjoy. 
The real star of the show can be found by crossing over the bridge to the absolutely enormous digsite. Kids will love digging through the pebbles/sand to find dinosaur bones; there are always plenty of pails and shovels around for your little paleontologist. My kids could happily spend hours here, and I certainly don't mind sitting in the plentiful shade during a hot day!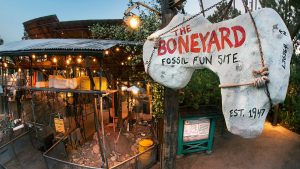 2. Dumbo the Flying Elephant Playground – Magic Kingdom
The iconic Dumbo the Flying Elephant ride is a must-do for many Magic Kingdom guests, especially those with young children. This slow-moving outdoor ride can soar high or fly low depending on guests' preference, making it perfect for little ones ready to take flight. 
Walking up to the ride in the circus area of Fantasyland one wouldn't guess that inside the big top tent ride queue, there is also an indoor play area. This circus-themed playground can be enjoyed while you are waiting your turn for the Dumbo ride. The interactive play areas, slides and climbers are perfect for little ones of all ages. There is also plenty of seating for parents looking to rest their feet, and the air conditioning provides a welcomed break from the heat.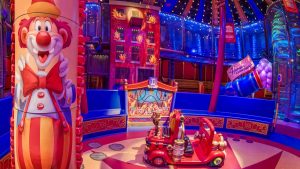 3. Mission: SPACE "Advanced Training Lab" – EPCOT
When you enter through the back entrance of Mission: SPACE in the World Discovery section of EPCOT, you will find an indoor play area offering space-themed games, activities and an interactive playground. This is the perfect place to cool off, let your kids burn off some of that energy, or wait for others in your party who may be riding Mission: SPACE. (It is not necessary for you to ride Mission: SPACE to get to this play area, as the back entrance leads you right in.) 
Interactive games and activities are sure to engage older children, while little space explorers can explore the truly out-of-this-world playground.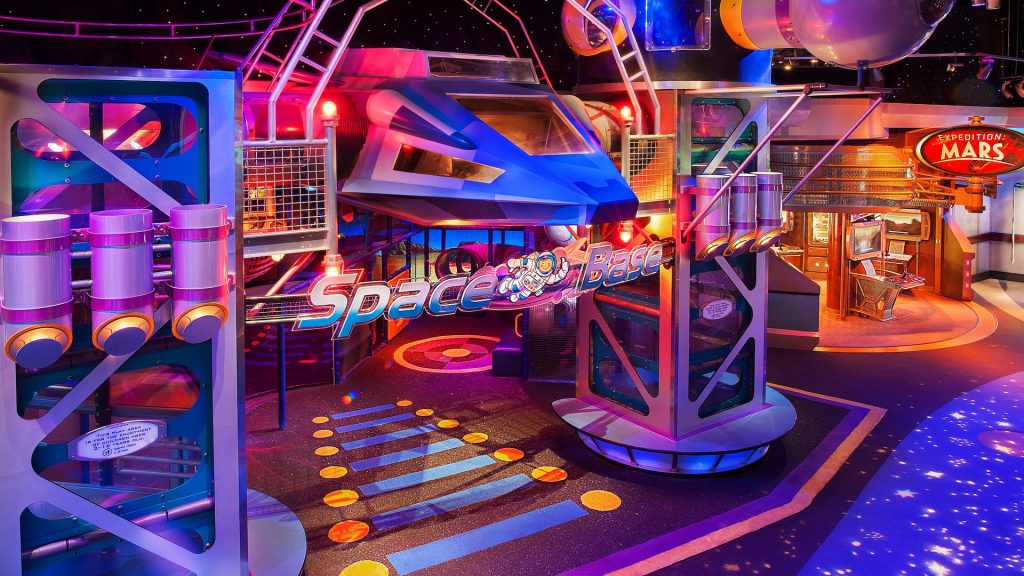 4. Tom Sawyer's Island – Magic Kingdom
In Magic Kingdom's Frontierland, explorers can board a raft and sail across the scenic Rivers of America to Tom Sawyer's Island. This island offers plenty of hidden nooks and crannies to explore, from wobbly bridges to dark caves. Here you'll also find Tom Sawyer's Fort, an outdoor shaded playground for little ones ages 2-12. Your child will feel like an adventurer exploring the American Frontier while they play and take in the sights. 
5. Green Landing Play Zone – EPCOT
Next to the Creations Shop in EPCOT, you will find the Green Landing Play Zone. This outdoor playground offers play areas for younger children ages 2-5 and kids ages 5 and older. You'll find challenging rope climbers, monkey bars, interactive play features and more. This is the perfect place for your kids to burn off some energy during one of EPCOT's many festivals.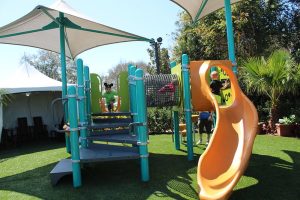 What is your kids' favorite playground at Disney World? Let us know in the comments!
Featured photo by Disney.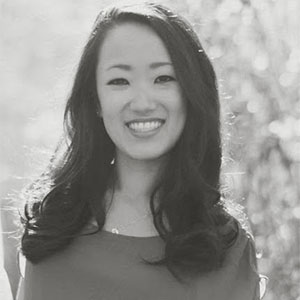 Written by
Leia Cullen
Leia is a proud mom of two boys. She has been in love with Disneyland and Disney World since her first visit to the parks many years ago, and she continues to relive the magic now with her family. She is passionate about creating helpful content that shares news or information about all things Disney, in the hopes it helps others create their own magical moments.