Aulani Resort is a Disney Vacation Club resort located in Kapolei on the Hawaiian island of Oahu. The resort offers deluxe studios, 1-3 bedroom villas, and suites!
Resort Overview 
Aulani Resort opened in 2011 and includes 351 hotel rooms and 481 Disney Vacation Club rooms.
Collaborating
with cultural experts and community artisans, Disney Imagineers focused on the traditions, art, and history of Hawaii when designing Aulani! Aulani's
amenities
offer guests the ultimate vacation experience. This includes (but is
not
limited to) numerous restaurants and bars, a spa and fitness center, pools and whirlpool spas, a lazy river, and direct beach access to Ko Olina Lagoon!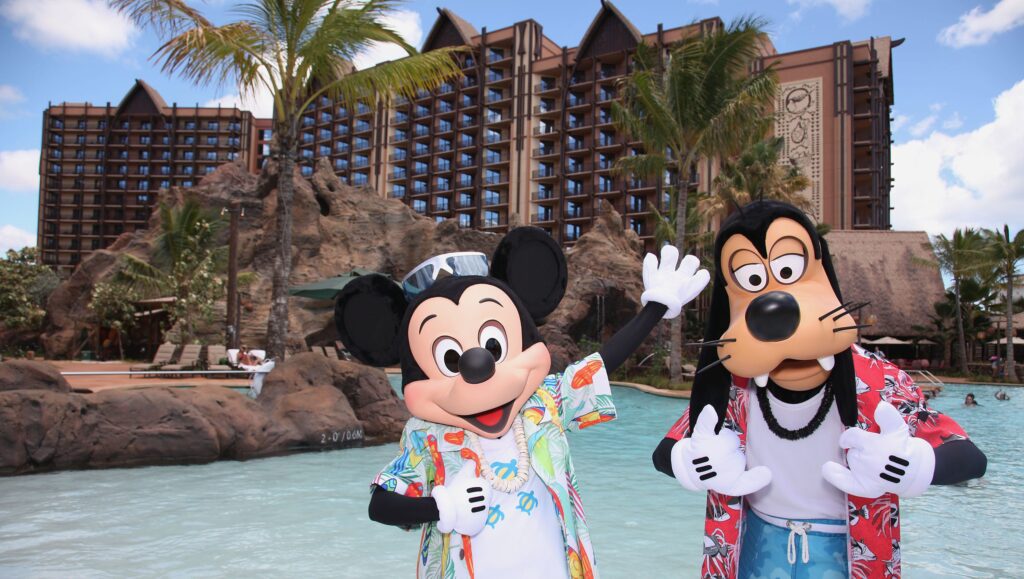 Grab A Bite To Eat
Aulani Resort has plenty of dining options, including quick service, bar service, and table service!
Quick Service
Ulu Cafe, open from 6:30 am to 8:30 pm, is located on the resort's first floor and offers breakfast, lunch, and dinner. Serving both pre-packaged to-go items and freshly prepared dishes, Ulu Cafe has a wide range of food guests can choose from! Menus are changed daily, but açai bowls, salads, sandwiches, and wraps are just a few of the typical options. Made-to-order poké bowls are available between 11:30 am and 3:00 pm, while made-to-order pizzas are available from 5:00 pm to 8:30 pm. And of course, for dessert, guests can order the classic Pineapple Dole Whip!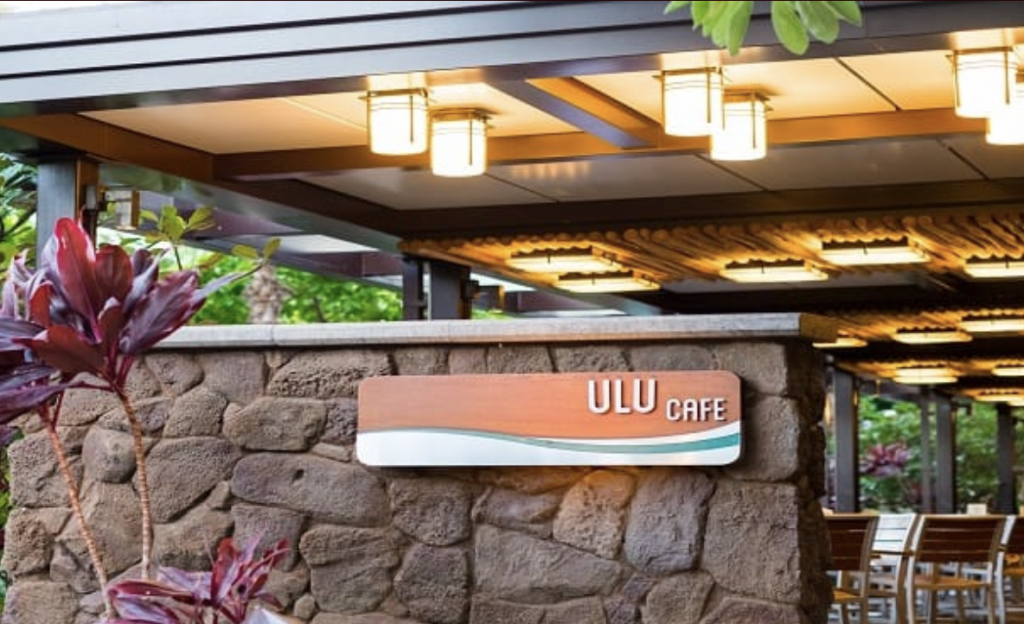 Mama's Snack Stop sits in the Waikolohe Valley pool area and serves quick-service meals and snacks every day from 11:00 am to 5:00 pm. Their meals include Fish and Chips, Ono Sandwich, Coconut-Breaded Shrimp, and Chicken Tenders. For snacks, they serve mozzarella sticks, mini corn dog bites, and french fries!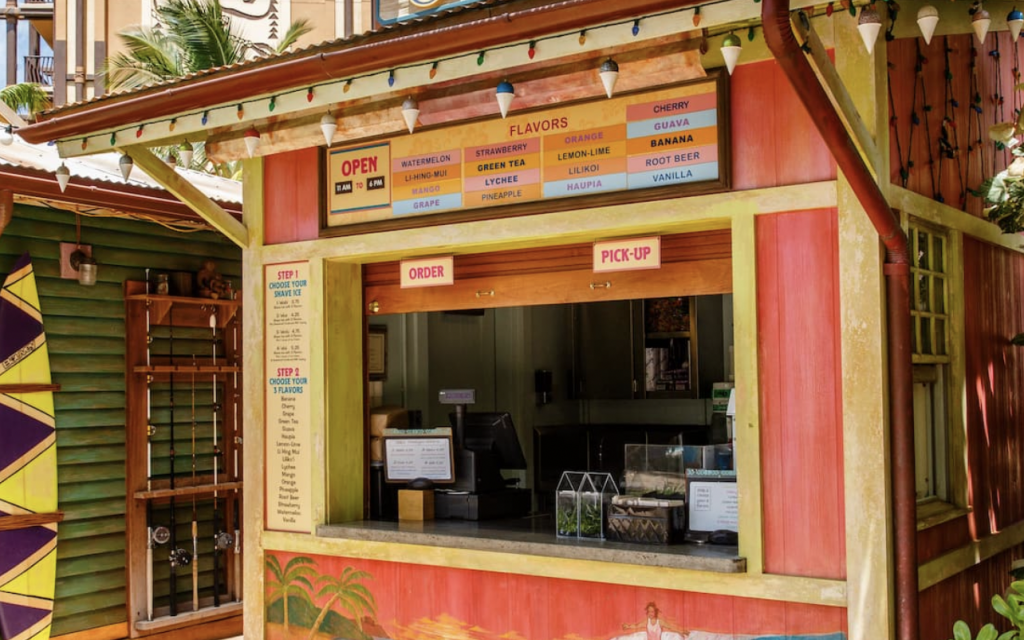 Pāpālua Shave Ice is right next to Mama's Snack Stop and serves a sweeter treat to guests from 11:00 am to 5:00 pm. Standard shave ice comes with one's choice of 3 flavors, while ice cream and/or sweetened condensed milk can be added to the dish. Flavors include guava, coconut, mango, liliko'i, pineapple, orange, and more! And if you want to kick it up a notch, for an additional $1 guests can add Mickey ears to their shave ice!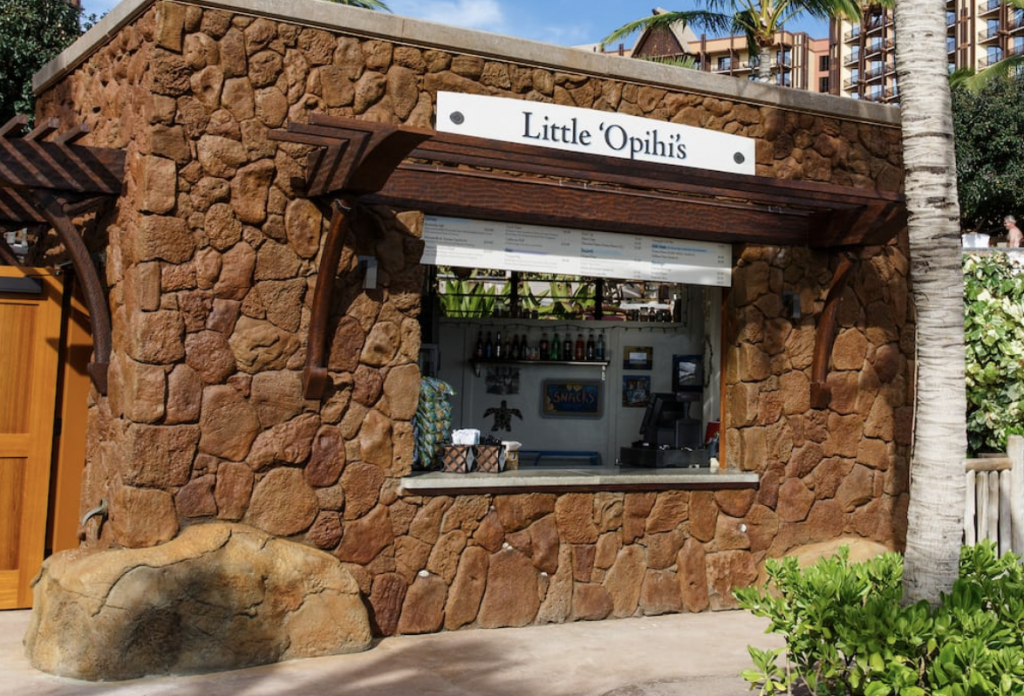 Little 'Opihi's sits on Ko Olina Beach next to Makiki Joe's Beach Rentals serving sweet snacks from 11:00 am to 5:00 pm. Menu items may include Dole Whips available in pineapple, watermelon, or swirl; fresh fruit like the Maui Pineapple Boat or Half Papaya and Lime; or fruit on a stick like the Milk Chocolate Dipped Banana with Macadamia Nuts. Ice cream options like the Mickey ice cream bar and sandwich are also served at Little 'Opihi's, along with alcoholic and non-alcoholic beverages!
Bar & Lounge Service
The 'Ōlelo Room is a cocktail lounge located on the first floor of the main building. It features an outdoor patio where during the evening guests can indulge in live music. In the morning, a grab-and-go menu is available with breakfast items like pastries, coffee, and other beverages like the Aloha Mary and Hawaiian Mimosa! Their appetizer menu is available from 5:00 pm to 10:00 pm and includes options like Kua'āina Tacos, Bang Bang Fries, Edamame, and an assortment of sushi. Wine, beer, and mixed drinks like the Banana Daquiri and Tropical Mai Tai are also served at the 'Ōlelo Room!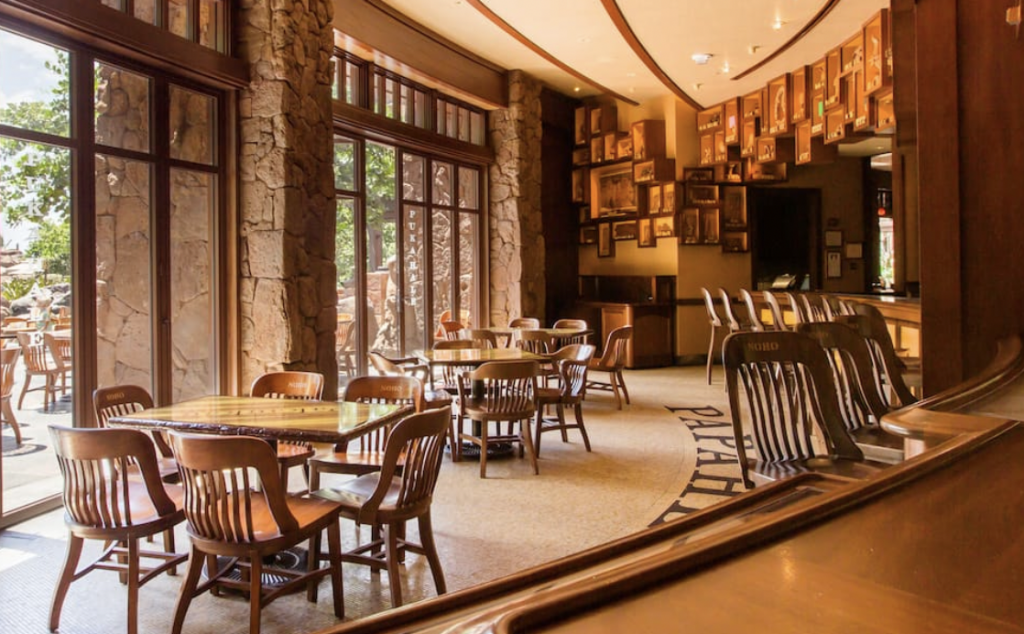 At the Waikolohe Valley pool area, you will find Off the Hook, a fisherman-themed lounge open from 10:00 am to 9:00 pm. Appetizers, salads, sandwiches, and flatbreads are available throughout the day. Entrees are served from 5:00 pm to 9:00 pm and include the Fresh Island Catch, Hawaiian BBQ Chicken, Braised Short Rib, and Hawaiian Bento Box. Guests can order alcoholic beverages like beer, wine, and cocktails such as the Coconut Mint Mojito or the True Blue Hawaii. Non-alcoholic beverages are optional as well!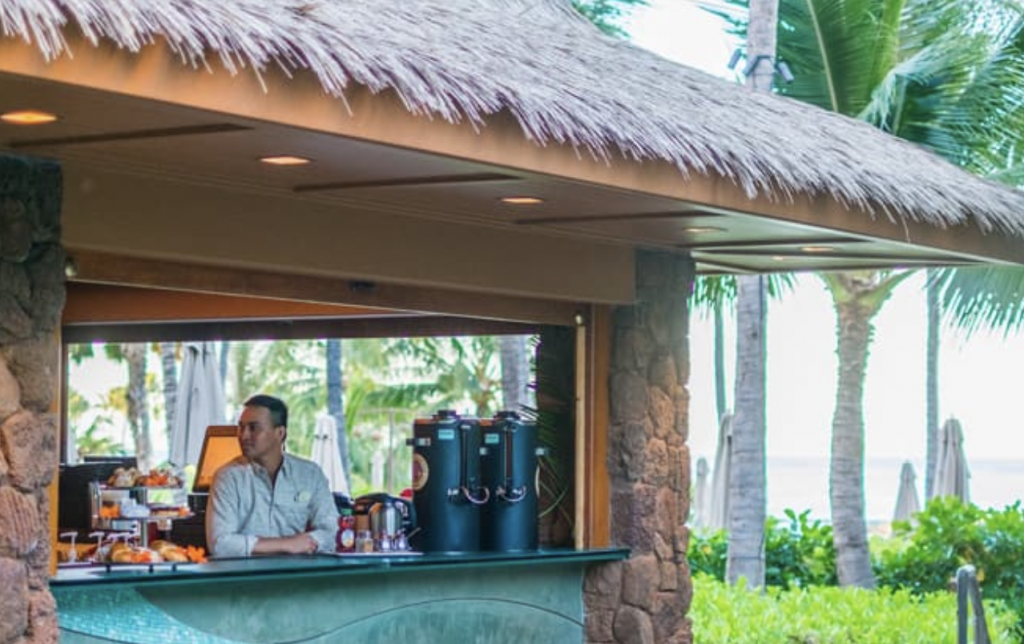 The Wailana Pool Bar is a poolside bar that doubles as a coffee bar in the morning! From 6:00 am to 10:30 am guests can order coffees, lattes, teas, and blended beverages. Then, from 11:00 am to 5:00 pm, appetizers, salads, flatbreads, burgers, tacos, and other food items are served! Beer, wine, and cocktails are available as well as non-alcoholic drink options.
Table Service
Makahiki is a casual dining restaurant on the first floor of the main building. Serving 3-course meals for breakfast and dinner, it is open from 7:00 am to 11:00 am and 5:00 pm to 8:30 pm. Breakfast starts with two baskets: one consists of mini pastries while the other has seasonal fruit and berries! Then guests can choose one of their entrees which includes options like Eggs Your Way, Buttermilk Pancakes, and Vegan Tofu Rancheros. Breakfast at Makahiki is a character dining experience, so expect to see some of your favorites like Mickey and Minnie Mouse! For dinner, guests can choose one starter, one entree, and one dessert. The starters are Corn Soup, Caesar Salad, and Caprese Salad. Entrees vary but include options like Roasted Breast of Chicken, Shrimp and Fettucine, and Rib Eye Steak! And for dessert, they serve Roasted Pineapple Cobbler, Waialua Chocolate Toffee Brownie, and Kona Coffee Cheesecake. Check out a full overview of Makahiki here!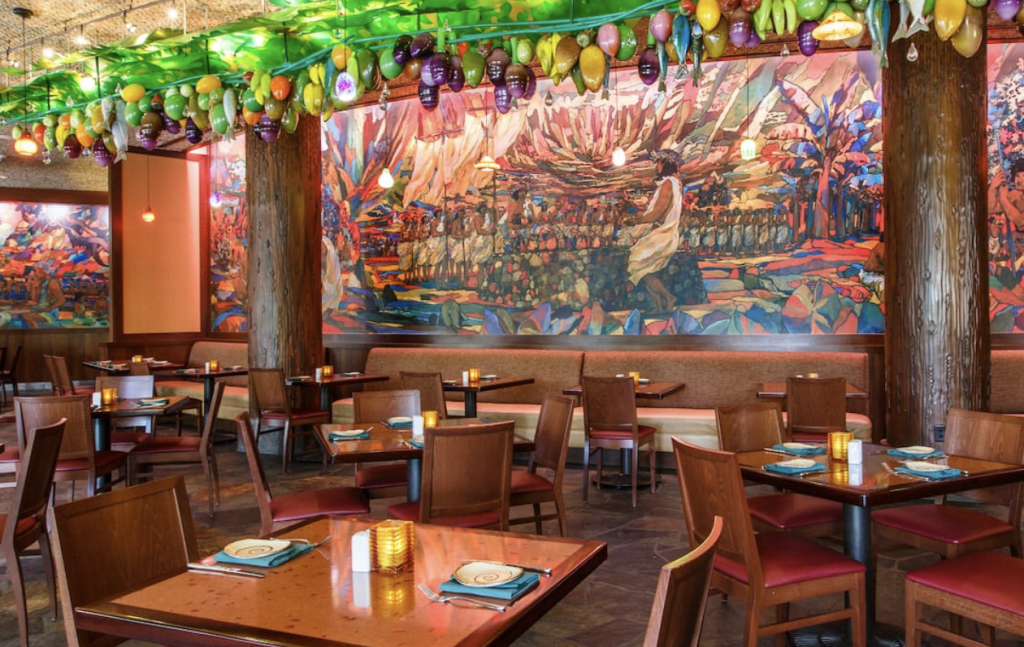 Aulani's lū'au, Ka Wa'a, is located on the Hālāwai Lawn. This is a 3-hour experience held on select nights and typically begins at 5:30 in June-August, and at 5:00 throughout the rest of the year. The lū'au is divided into 4 parts: pre-show activities, lū'au introduction and welcome, buffet dining, and lū'au performance. The buffet menu contains a variety of items like the Taro Macaroni Salad, Lomi Lomi Salmon, 'Ahi Poke, Imu Style Braised Pork, Alaea Sea Crusted Prime Rib, Guava Cake, and more! The general seating for the lū'au starts at $170 for adults and $99 for children ages 3 to 9, while preferred seating starts at $199 for adults and $119 for children ages 3 to 9. These prices include the food, performance, a Hawaiian lei, and all non-alcoholic and alcoholic drinks! In addition to this, preferred seating gets pre-assigned up-front seating, early check-in, and a photo.
The last of the restaurants at Aulani is 'AMA'AMA located by the Waikolohe Valley pool area and beach. This restaurant is currently closed but plans to reopen in the fall. Though there is not a sample menu available, their website states they offer contemporary island cooking with locally inspired dishes.
Pools 
Ka Maka Grotto is an infinity pool open from 8:00 am to 8:00 pm. It is located near the ocean with views of Ko Olina Beach and offers a relaxing swim experience that brightens up at night with twinkling lights! This pool sits right next to Little 'Opihi's, the perfect spot for a sweet treat!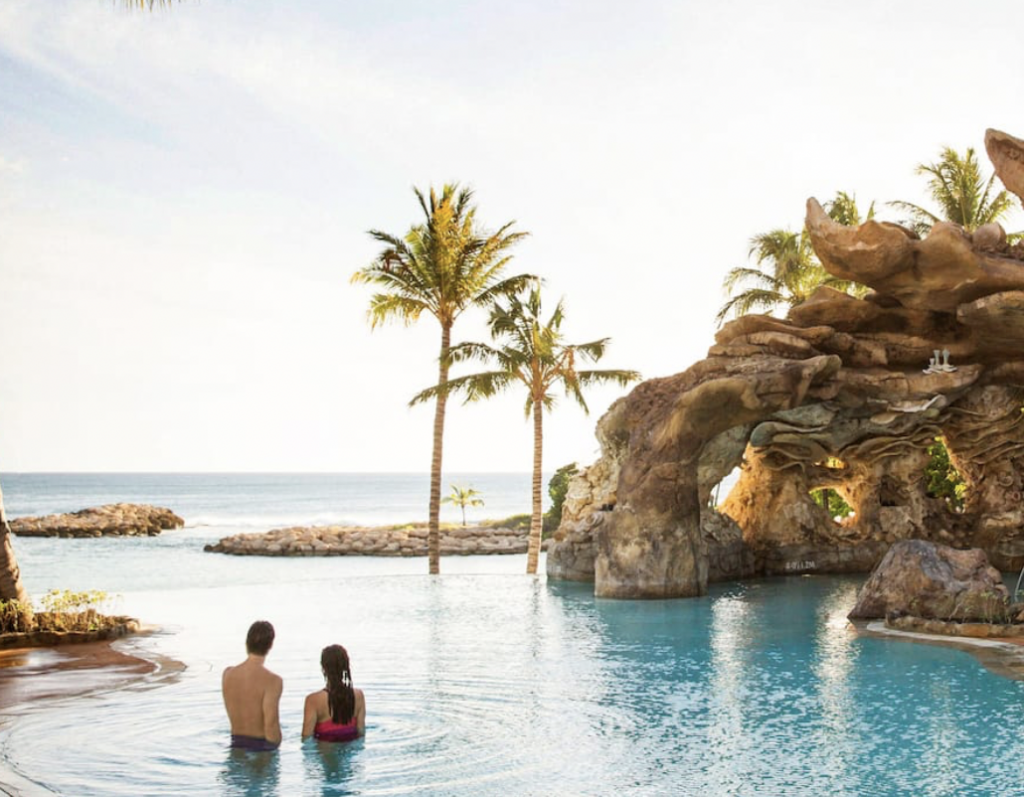 Waikolohe Pool is located near 'AMA 'AMA and Off the Hook. This zero-entry pool features a body slide called Volcanic Vertical, pool parties, and even character appearances on special occasions! This pool is open from 8:00 am to 8:00 pm while the slide is open from 8:00 am to 6:00 pm.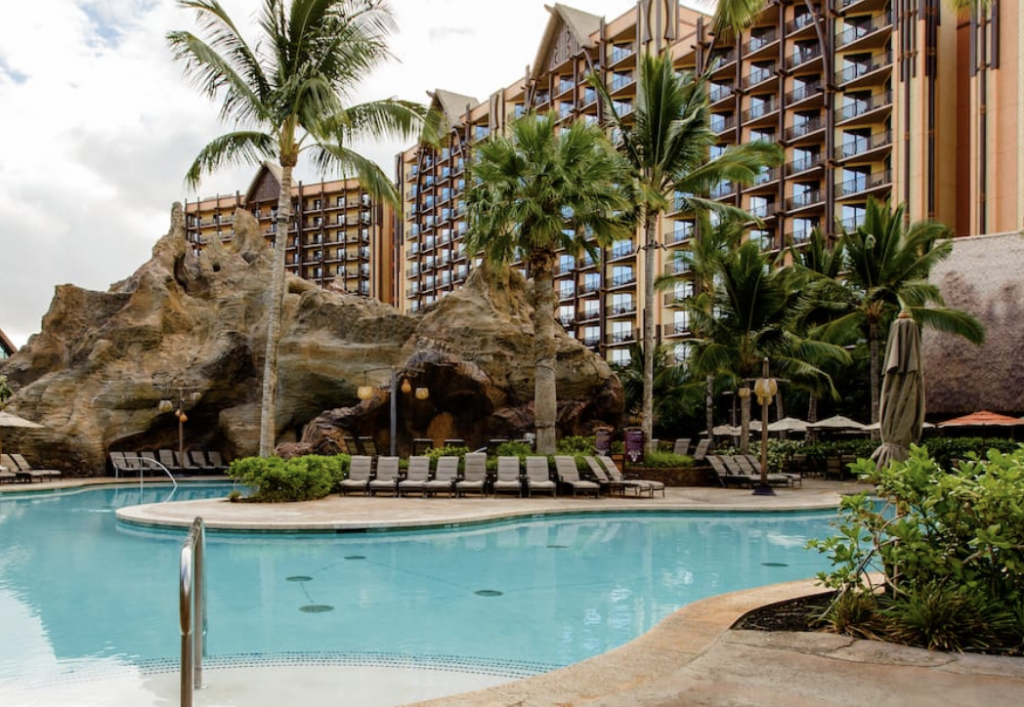 Wailana Pool is a quiet pool near Ulu Cafe. Open from 8:00 am to 8:00 pm, this pool also features Wailana Pool Bar for all your poolside drink and food needs!
Whirlpool Spas
Aulani has 5 whirlpool spas across the resort. There is 1 located near Waikolohe Pool, 1 near Waikolohe Stream, 1 near Ka Maka Grotto, and 2 at 'Alohi Point. The last 2 are located in an area for guests 18 and up!
Interactive Splash Zones And more!
Keiki Cove and Menehune Bridge offer water play areas for Aulani guests from 9:00 am to 5:00 pm. Both are designed for kids but the first, Keiki Cove, is open to all ages! It is located in Ka Maka Landing between Ka Maka Grotto and Waikolohe Pool and contains aquatic decorations, water jets, and more! Menehune Bridge is located next to Rainbow Reef and has water slides, a play structure, and additional water fun! There is a height restriction of 48 inches and under.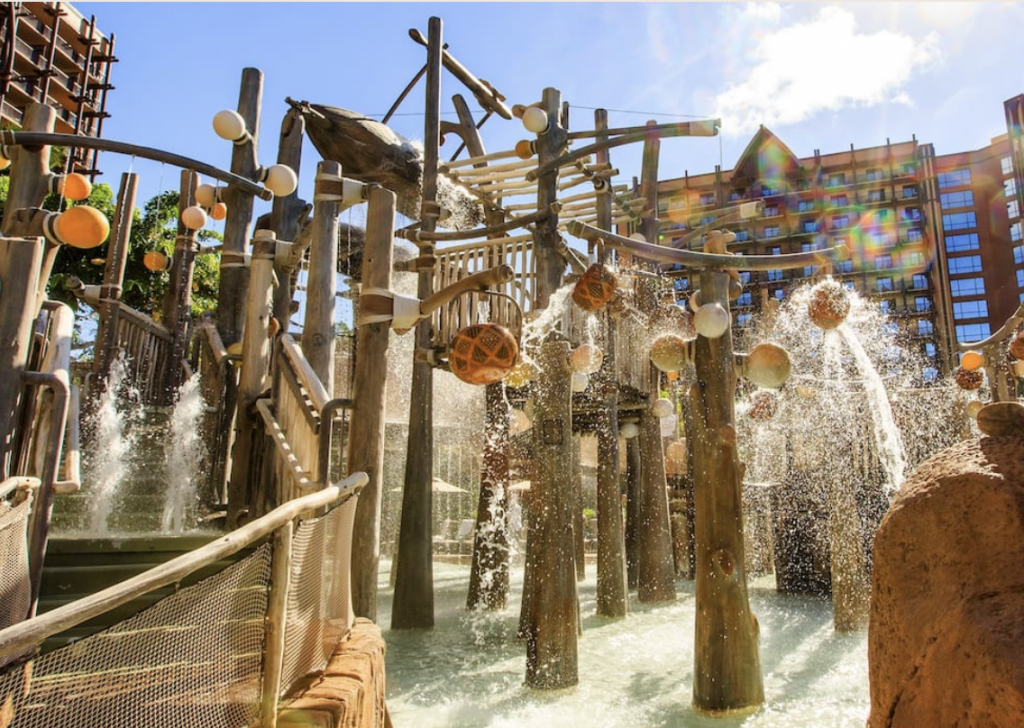 Rainbow Reef is a saltwater lagoon in the Waikolohe Valley pool area near Mama's Snack Shop and Papalua Shave Ice. Here guests can partake in snorkeling where thousands of different fish species can be viewed without the disruption of waves. Prices range from $25 for one-day access to $45 for full-stay access. This price includes a snorkel set, mask, and vest. Other experiences like Supplied Air Snorkeling are available as well!
Waikolohe Stream is a lazy river that circles the Waikohole Pool Area. Sit back, relax, and enjoy a calm tubing journey. Or you can kick it up a notch, and ride down Tubestone Curl, a tube slide located next to Volcanic Vertical. This slide can be ridden with a partner, or guests can go solo, and it launches right into Waikohole Stream.
You Won't Want To Miss

Aulani has a wide range of activities for guests to partake in. Ko Olina Golf Club is right by the resort and hosts a clubhouse and an 18-hole course. Treatments are available at their spa, Laniwai, ranging from massages and facials to body treatments and an outdoor hydrotherapy garden. Aunty's Beach House offers games, crafts, and other kid-friendly activities. Even excursions like zip lining, surf lessons, jet skiing, and trips to other islands are available to guests along with so much more! And for guests getting married Aulani is the perfect wedding destination; read more about why here!
Did You Know?
Disney characters make appearances at Aulani Resort! These characters include Mickey and friends, Chip n' Dale, Duffy, Shelley May, Moana, and Stitch. You can check the resort calendar for the time and location of character appearances. The resort also offers premium character experiences, like Kakamora Chaos with Moana and SURF'S UP! – A Surfin', Fishin', and Dancin' Party! with Disney Pals. A fee is required for premium experiences.
All hours of operation, pricing, menu items, and other offerings mentioned are subject to change. Featured image from Disney.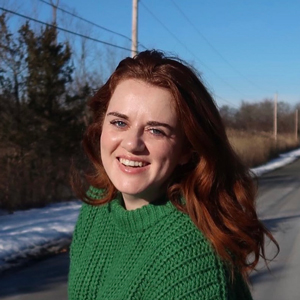 Written by
Brittany Gallant
Contributing Writer
Brittany has been traveling to Walt Disney World since she was two years old. Now a Disney Vacation Club member and annual passholder, you can often find Brittany at The Most Magical Place On Earth. She and her family are always looking for something new, whether that's a restaurant they haven't tried, a hotel they haven't stayed at, or an adventure not yet experienced.