When traveling to Disney Aulani resort, you will have everything at your fingertips for the perfect relaxing vacation. From endless entertainment and fun to beautiful views of the Kahola Lagoon and lush gardens, you won't even have the thought about wanting to leave the resort! And when it comes time for a meal or a snack, Aulani has something for everyone. Whether you are in the mood for quick service or a special sit-down meal, the restaurants at Aulani will satisfy everyone's appetite!
Quick Service Restaurants At Aulani
Ulu Cafe
If you're looking for something to grab to enjoy by the pool, beach, or back in your room, stop by Ulu Cafe for fresh already-made items or hot entrees. Ulu Cafe is located on the first floor and is open daily 6:00AM to 11:00PM.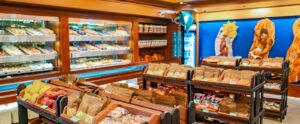 Mama's Snack Shop
Walk-up to this quick service serving the best poolside and sharable fast food. You'll find entrees like chicken tenders, coconut shrimp, fish and chips along with sweet treats for dessert at this location near the Rainbow Reef in the Waikolohe Valley pool area. Mama's Snack Shop serves guests from 11:00AM-5:00PM each day.
Pāpālua Shave Ice
When you're ready to cool off in the afternoon, head to Pāpālua Shave Ice for shave ice, of course! With refreshing tropical flavors like mango, pineapple, coconut, lilikoi, orange, and guava, it is sure to hit the spot. Guests can also find ice cream and sweetened condensed milk at this location which is right beside Mama's Snack Shop.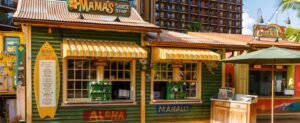 Little 'Opihi's – Beach Kiosk
If get hungry while enjoying the white sand, turquoise water, and island breeze at Aulani beach, you won't have to go far for a snack.  Serving fresh fruit, ice cream, and the very sought-after Dole Whip, you can order from your lounge chair or walk up to Little 'Opihi's – Beach Kiosk located right off of the beach!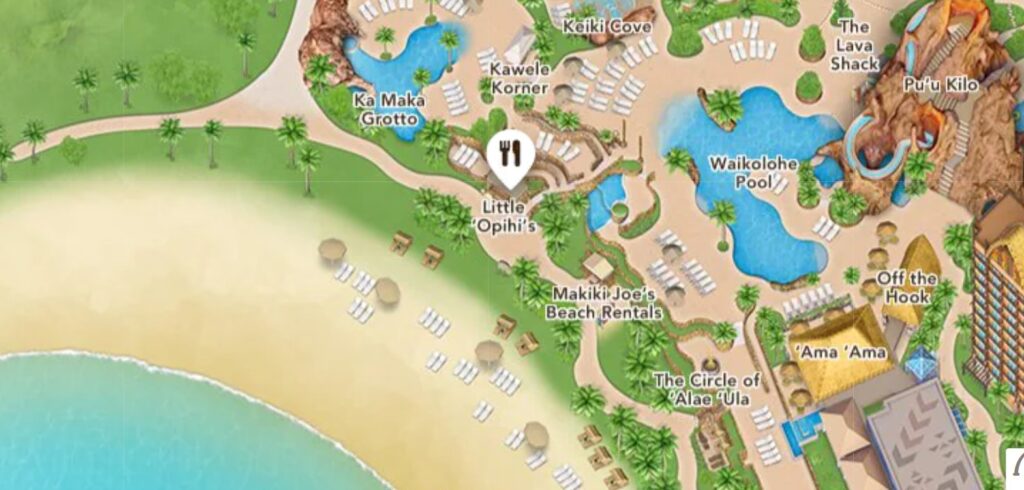 Wailana Pool Bar
This is the place to be if you don't want to wander too far from your spot in the sun! Serving island favorites and quick lunch bites to include pizza and sandwiches, you can also find your favorite beverage, with or without spirits, at this poolside location. Sip on your morning pick-me-up under a palm tree as this location offers a coffee bar each morning from 6:00AM-10:00AM. Wailana Pool Bar serves guests ages 18 and older.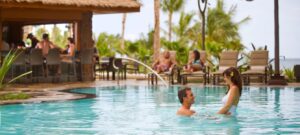 Table Service Restaurants At Aulani
Makahiki
Named for the Hawaiian harvest season, guests will enjoy fresh local and international foods. Open for breakfast and dinner, this casual table service restaurant is located on the first floor of the main building. Grab a table on the lanai for a tranquil vista overlooking a beautiful koi pond or enjoy the murals by local artists when sitting indoors. Save time by making a reservation in advance to ensure your table will be ready when you arrive!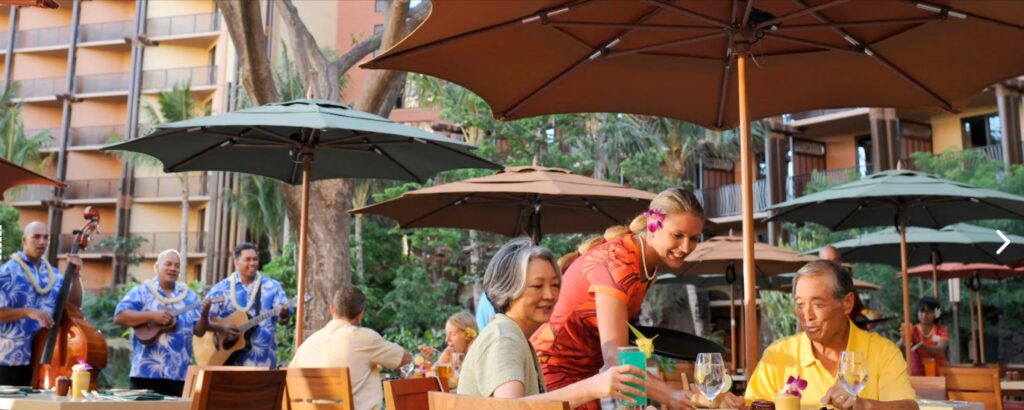 Off The Hook
Enjoy lunch or evening appetizers in this fisherman-themed sit-down restaurant. Open 11:00-9:00PM daily, this is the perfect spot to land after some fun in the sun.  Burgers, wraps, and salads are served for lunch before the menu shifts to island-inspired small plates in the evening. An extensive selection of wine, beer, and special drinks is available beginning at 10:00AM. Shirt, shoes, and/or a swim coverup is required when you enjoy watching sports on the indoor televisions or choose to sit outdoors with a view of the sea!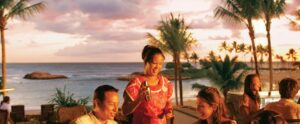 The 'Ōlelo Room
Open from 5:00-10:00PM daily, visit The 'Ōlelo (Oh-lay-lo) Room for a generous selection of sushi! Also serving hot small plates and an extensive list of specialty cocktails and non-alcoholic beverages, guests will enjoy the happy sounds of Hawaiian music each night on the patio.  Find this spot on the first floor of the resort with outdoor seating overlooking the koi pond.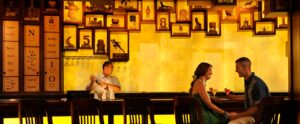 Character Dining At Aulani
It isn't a visit to Aulani without meeting your Disney characters! Find your favorite pals each morning at Makahiki from 7:00-11:00AM while you dine on a three-course meal. Choose your own entrée and enjoy a basket of baked goods and a fruit platter in between greeting Mickey and friends who will pose for pictures. Prices are currently listed at $45 for adults and $28 for children ages 9 and under.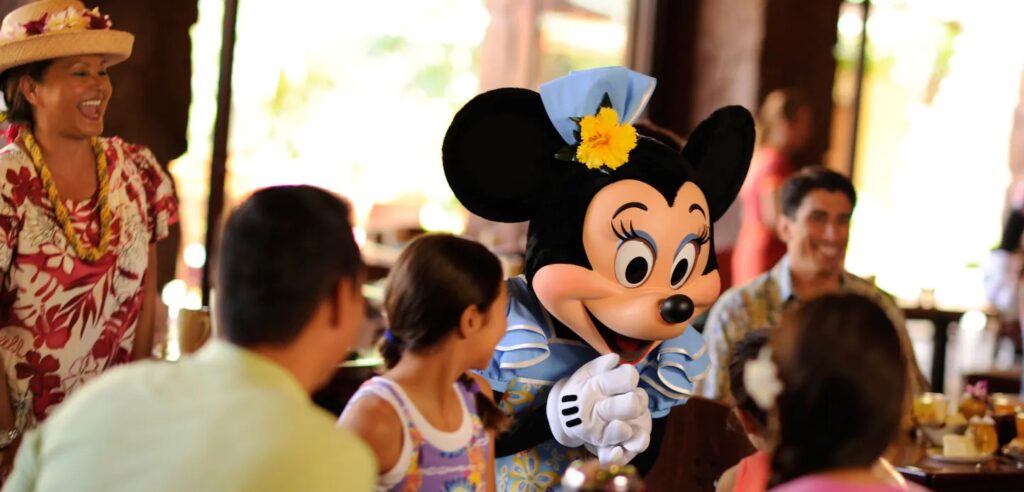 No matter what you're in the mood for, Disney Aulani Resort provides a wide-variety of dining options for guests of all ages. Delight in local, fresh food, quick lunch bites, and magical Mickey treats all day, every day! Which restaurant would you choose to visit first during your Disney Aulani vacation?  Tell us in the comments below!
Feature Photo by Disney Aulani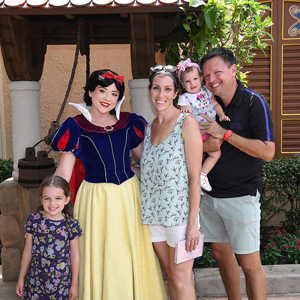 Written by
Shelley Wehler
Contributing Writer
Shelley is a stay-at-home mother of two girls living outside of Charlotte, North Carolina. Her love of all things Disney has grown even more as she sees the magic come alive through the lens of her young daughters. She spends her free time keeping up with the latest in Disney news and daydreaming of her next trip to the parks!