When you book a stay at Disney Aulani Resort, you aren't just planning a vacation in a beautiful place. While Aulani IS a stunning seaside resort, your stay at Aulani will be a complete experience full of culture, hospitality, luxurious accommodations, and many opportunities for recreation and activities for the whole family without a paying a daily resort fee! Let's explore everything that is included with your Aulani vacation.
Hawaiian Cultural Activities
Located on the western side of the island of Oahu in Hawaii, guests will find that Aulani offers many ways to immerse yourself in Hawaiian culture. Along with the lush vegetation and signature turquoise water found in the Hawaiian islands, you'll find beautiful artwork in several restaurants on property. Browse murals by local artists at Makahiki and learn new words in Hawaiian through the wooden carvings featured at The 'Ōlelo Room. Guests can also enjoy live music beginning at sunset each night as well as story-telling around a fire. The whole family can take Hula dance lessons, learn a tune on the ukulele, or embark on the guided Māka'ika'i Nature Tour to learn more about the geology, aqua systems, and birds of the area. All of these unique experiences are included with your stay at Aulani!

Recreation and Fitness
If exercise is part of your ideal vacation, Aulani resort provides many opportunities for guests to keep in shape. Mikimiki Fitness Center is open 24 hours and is filled with state-of-the-art fitness and cardio equipment. There are also complimentary fitness classes each day, such as sunrise yoga, and outdoor stretching areas for guests to enjoy.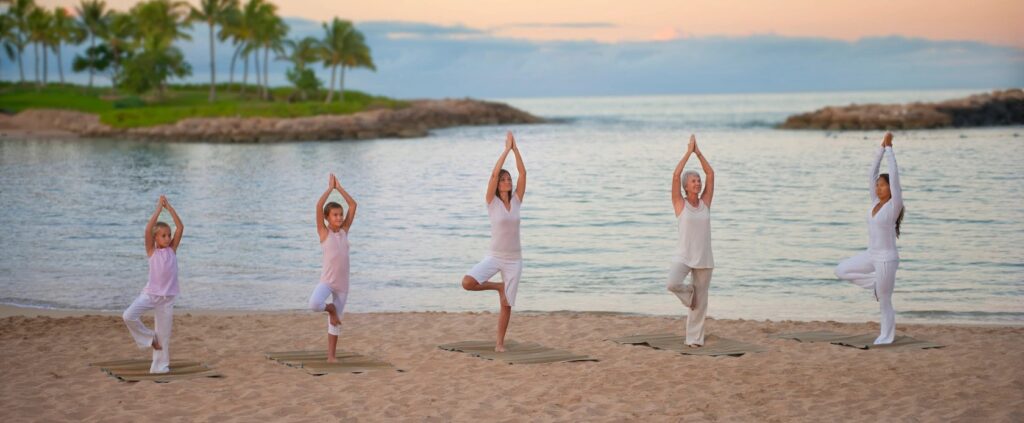 *Yoga classes are temporarily unavailable at Aulani
Supervised Kids Club
Aunty's Beach House is a supervised kids club for children ages 3-12! A variety of activities are available all day every day including dance parties, making orchid leis, or participating in immersive storytelling. There is also a playground and you never know when some special characters will stop by to say hello! Each morning, cast members offer an open house where you can explore as a family all of the fun before dropping off the kids. Aunty's Beach House is a wonderful venue where children can learn and meet new friends while giving their caretakers a well-deserved break!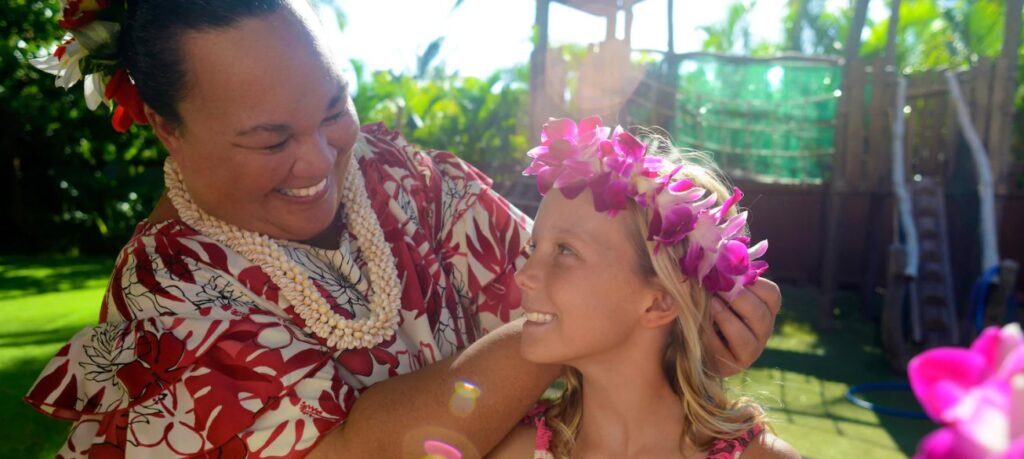 *Aunty's Beach House is temporarily unavailable. Check back soon to see if it has reopened.
Beaches and Pools
If you're looking to spend some downtime by the water, Aulani will not disappoint. With 6 pool areas and a private beach, you'll be sure to find the spot that is right for you.  The Waikolohe Pool has it all from an easy-access zero entry to body slides to pool parties. If you want to join in on the fun with other resort guests, this is where you want to be!  The Waikolohe Pool also offers exclusive parties for tweens and teens. Kids 48 inches and under have a separate area to play in the water at Menehune Bridge, and if you are a tiny mousketeer, you will want to visit the Keiki Cove which is reserved for guests ages 5 and under. Keiki Cove is adjacent to Ka Maka Grotto, an infinity pool with a beautiful view overlooking Ko Olina Lagoon. At Waikolohe Stream, choose thrilling tube slides or a relaxing journey around the lazy river.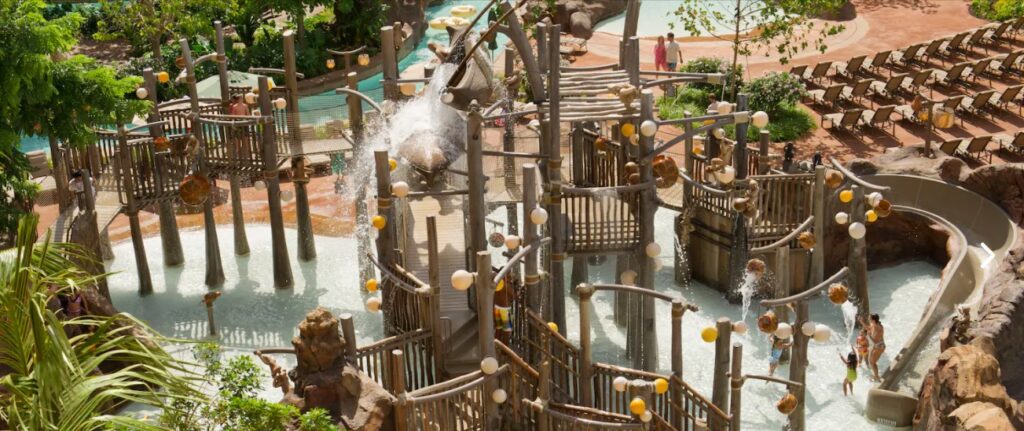 If you are taking advantage of adult-only time, head to the Wailana Pool, the tranquil pool on property, for some ultimate relaxation. There are also 5 whirlpool spas at Aulani, one near Waikolohe Pool, one near Waikolohe Stream, one near Ka Maka Grotto, and two whirlpool spas at 'Alohi Point, an area exclusive to guests ages 18 and older with an unforgettable ocean view.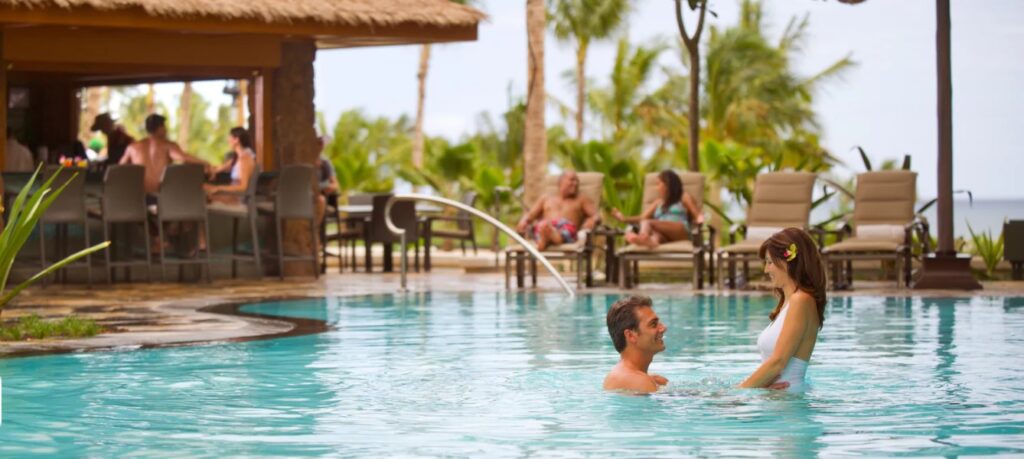 Speaking of ocean views, if you prefer to spend your days with your toes in the sand, you will find yourself in a true Hawaiian paradise at the beach at Ko Olina Lagoon. Lounge in the sun, take a dip in the water, or grab a boogie board to play in the gentle waves!
Character Encounters
You'll be delighted in seeing all of your favorite Disney pals at Aulani resort. From meet and greets on the lawn to the Shake-A-Shaka Pool Party, there are numerous opportunities each day to interact and pose for pictures with Disney characters. Times and characters are announced ahead of time on the daily 'Iwa, or resort schedule.

Guests of Disney Aulnai will find this resort has everything they need whether their agenda for vacation is full of activities or complete with time to relax. With so many included activities and amenities for families and couples, your Aulani vacation will make everyone's dreams comes true!
Are you ready to book your Aulani vacation? DVC Shop can help you rent a room or villa that will suit your travel party or buy your own DVC resale property at Aulani so you and your loved ones can come back to paradise year after year!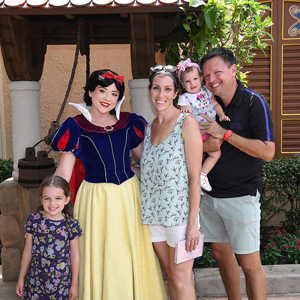 Written by
Shelley Wehler
Contributing Writer
Shelley is a stay-at-home mother of two girls living outside of Charlotte, North Carolina. Her love of all things Disney has grown even more as she sees the magic come alive through the lens of her young daughters. She spends her free time keeping up with the latest in Disney news and daydreaming of her next trip to the parks!