Walt Disney World Resort has some of the greatest nightly fireworks spectaculars of any amusement park in the country. Not only does Magic Kingdom have its signature fireworks spectacular: Disney Enchantment, but EPCOT is also showing fireworks nightly with Harmonious. Do you wish to see the fireworks but not be involved in the crowds of the parks? Luckily, there are several DVC resorts in which you can have a fantastic view of the Disney fireworks without ever stepping foot inside a Disney park!
Bay Lake Tower At Disney's Contemporary Resort
One of the best resorts in which to get a great view of Magic Kingdom's fireworks show is Disney's Contemporary Resort and Bay Lake Tower. This resort is located within walking distance from Magic Kingdom, and is the first stop on the Monorail line when boarding from Magic Kingdom. The Contemporary's close proximity to Magic Kingdom means that you will have a very clear view of the fireworks show from many locations throughout the resort.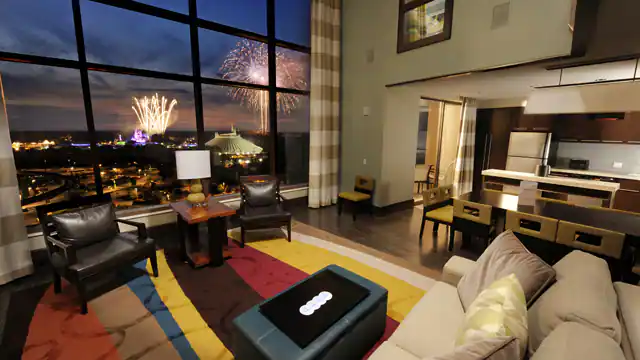 If you are staying at Bay Lake Tower, you can book a theme park view and be able to watch the fireworks from your resort balcony every night. This is the most luxurious way to view the fireworks at the Contemporary Resort, but not the only way. You can also make a dining reservation for California Grill, a restaurant located on one of the top floors of Disney's Contemporary Resort. Either dine during the fireworks show and watch through the ceiling-to-floor windows, or make a reservation for earlier in the day and come back with your receipt to be escorted to the fireworks viewing platform exclusively for California Grill patrons.
Disney's Polynesian Villas and Bungalows
Also located in close proximity of Magic Kingdom is Disney's Polynesian Resort and Disney's Polynesian Villas and Bungalows. The Polynesian Bungalows are located on the water, overlooking the Seven Seas Lagoon and Magic Kingdom. You can truly stay in the comfort of your own room and watch the entire Magic Kingdom fireworks show without leaving your resort. If you are staying in one of the DVC villas, you can book a lakeside view and also catch a great view of the fireworks.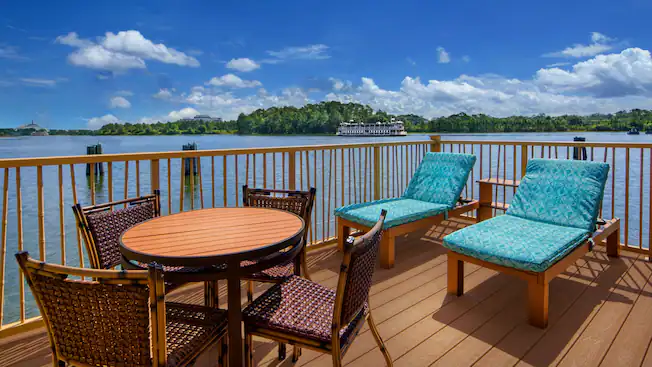 Disney's Polynesian Resort also has great views of the fireworks from the restaurant Ohana. Ohana is a unique Hawaiian dining experience serving authentic fare served family-style. During Magic Kingdom's fireworks show the lights are dimmed and the soundtrack echoes throughout the restaurant. It is truly a magical dining experience.
The Villas At Disney's Grand Floridian Resort And Spa
The final resort on the monorail line, and the last resort to boast views of the Magic Kingdom fireworks is Disney's Grand Floridian Resort And Spa. The DVC villas at this resort offer views of the fireworks if you book a theme park view. If you don't have a theme park view don't worry! There are plenty of other locations throughout the resort in which you can catch the fireworks. One of these locations being the ferry dock, and also the marina outside of Gasparilla Island Grill.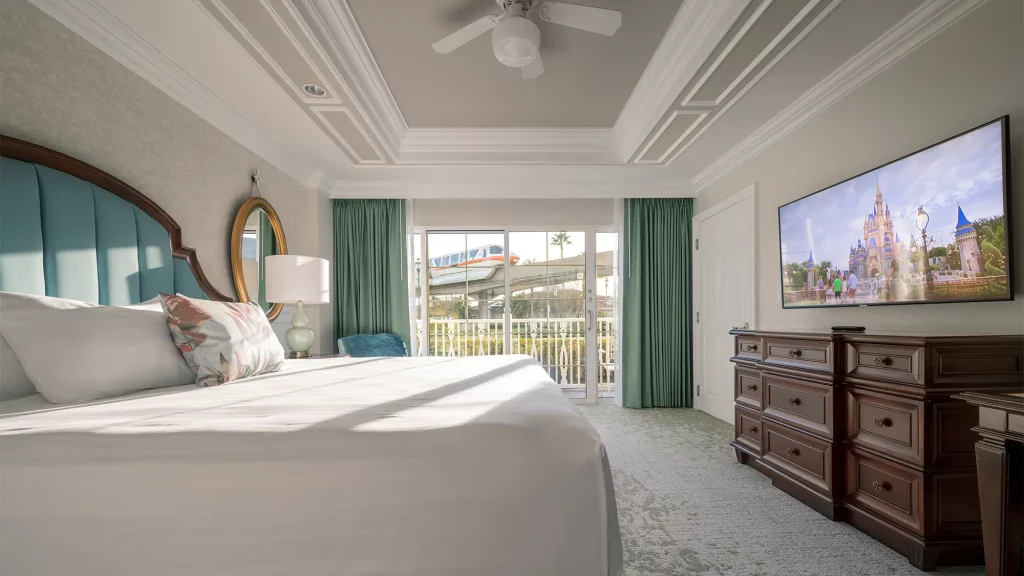 Disney's Boardwalk Villas
The resorts on the monorail line aren't the only resorts that have a fireworks view! Disney's Boardwalk sits adjacent to EPCOT, and it is possible to catch the EPCOT fireworks from this resort. While you won't have the same experience as you would from watching inside the park, there is a bridge that connects Disney's Boardwalk Resort to Disney's Yacht and Beach Club Resort that offers a great view of the EPCOT fireworks.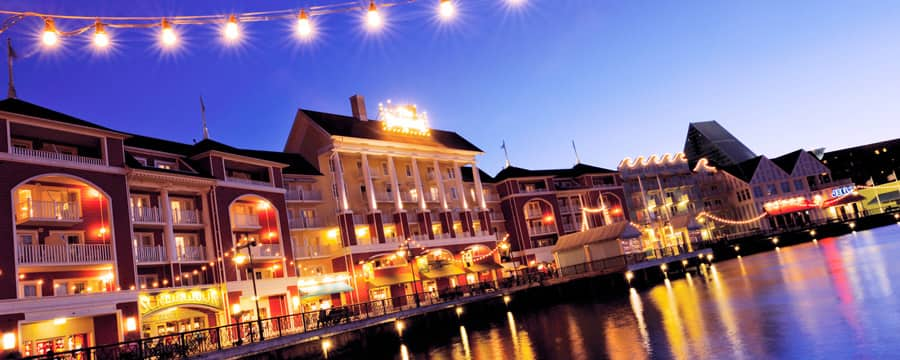 Disney's Riviera Resort
Perhaps the jackpot of all resort fireworks viewing is Disney's Riviera Resort. Disney's Riviera Resort offers views of Magic Kingdom, EPCOT, and Hollywood Studios while dining in rooftop restaurant: Topolino's Terrace. Reservations during the fireworks shows are difficult to get, so be sure to sign on 60 days before check-in day and secure your time slot.
If you request one of the top floors for your stay at Disney's Riviera Resort you may get lucky and end up with a fireworks view. However, these requests cannot be guaranteed.
What is your favorite place to view Disney fireworks? Do you prefer viewing fireworks from a resort, or from within the parks? Let us know in the comments below.
Featured Photo: Emily Murray
Written by
Megan Woodard
Contributing Writer
Megan was born into a Disney family. Her first trip to Disney World was when she was only 18 months old. Now as an adult, Megan loves to share the magic of Disney with her two toddlers. Keeping up with Disney news and Disney World knowledge is a fun hobby for Megan. Disney World is her favorite place to be and continuously brings back her childhood joy.