Disney's Polynesian Villas and Bungalows are the Disney Vacation Club portion of Disney's Polynesian Village Resort. Currently, the DVC Villas feature deluxe studios and over-water Bora Bora Bungalows, but an expansion is coming in 2023 that will likely include additional Villa room sizes.
Resort Overview
The DVC Polynesian Villas and Bungalows are part of the overall Polynesian Village Resort. Guests are often greeted with a lei, and island music plays gently around the resort. Embodying Disney's version of the South Pacific, the theming transports you away from hectic theme parking life to a tranquil island vacation.
Most main amenities are in or near the Great Ceremonial House, and rooms are spread out in longhouses around the resort. Current Disney Vacation Club deluxe studios are found in the three east most longhouses: Tokelau, Moorea, and Pago Pago. This makes for a quick walk over to the Transportation & Ticket Center to easily get on a monorail over to Magic Kingdom or EPCOT. The resort monorail also stops at The Great Ceremonial House. The Bora Bora Bungalows sit over Sevens Seas Lagoon, offering dazzling water views and looking directly at Magic Kingdom. A Bora Bora Bungalow private deck is the perfect place to watch the Magic Kingdom nighttime spectacular.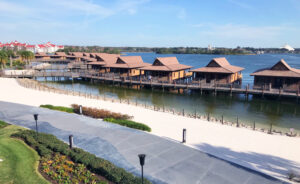 Grab A Bite To Eat
Dining at the Polynesian Resort is themed to the South Pacific, but there's plenty of appetizing options for your entire travel party.
Quick Service
Capt. Cook's is the primary quick service location at The Polynesian offering up breakfast, lunch, dinner, and even some late night bites. The Thai coconut meatballs are a crowd pleasing favorite, as well as the aloha pork sandwich, pulled pork nachos, and chicken wings. Capt. Cook's has plenty of seating both inside and outdoors, and is just a quick walk away from your villa. This is truly a fan favorite location, and I often advise friends visiting Magic Kingdom to head to Capt. Cook's for a quick service meal–the quality and price of the food is that worth it!
Pineapple Lanai has some of the best snacks on property — this is one of the few locations outside of the theme parks you can grab a Dole whip! Get yourself a classic cup or a float, and there are often rotating flavors, in addition to pineapple, such as lime, coconut, and raspberry.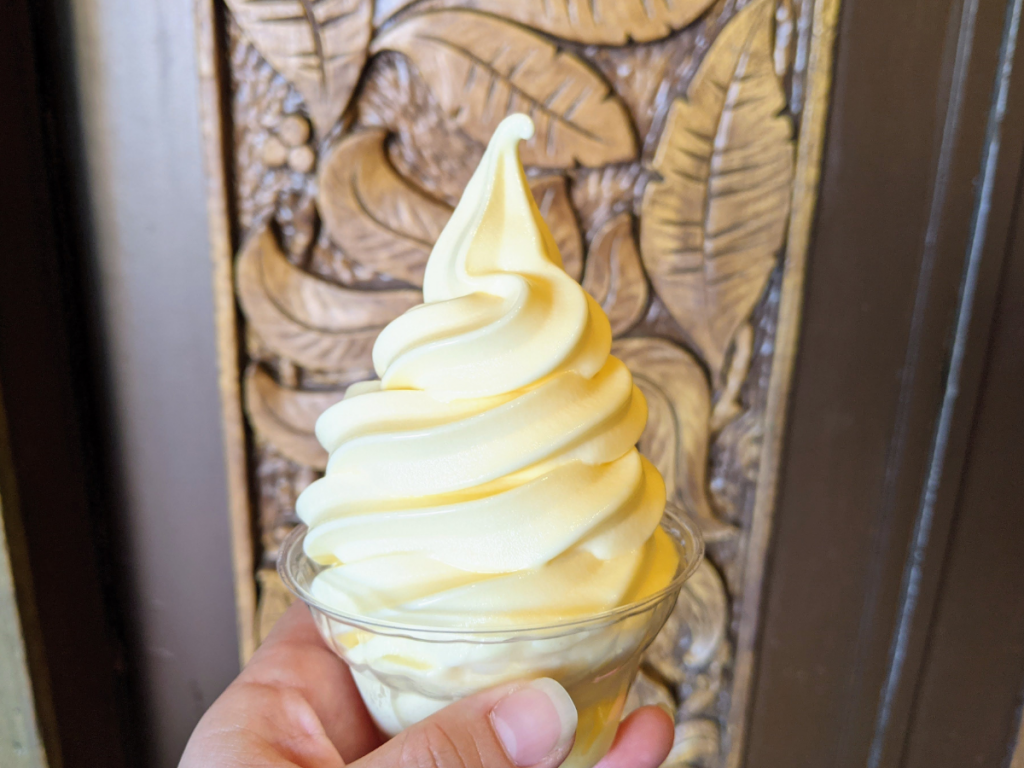 Kona Island also serves breakfast, lunch, and dinner with a more limited menu than Capt. Cook's, but heavily features sushi! If you're a seafood lover, this is worth stopping by in the afternoon and evening. In the morning, expect pastries and coffee.
Bar Service
If you're looking for some light bites and drinks, the Polynesian Resort has some amazing choices. The Barefoot Pool Bar and Oasis Bar & Grill are your pool bar options, but don't pass up Tambu Lounge adjacent to 'Ohana in the Great Ceremonial House. Tiki drinks at Tambu Lounge are phenomenal, and if you've ever had an alcoholic beverage you liked at 'Ohana or Kona Café chances are very good the Tambu Lounge Cast Members can make that for you. Additionally, Trader Sam's Grog Grotto and the nearby Tiki Terrace are an attraction of their own. The Grog Grotto is an intimate setting full of cheeky antics, and most importantly delicious drinks and snacks. With a limited capacity though, the Grog Grotto does tend to fill up quickly! Head down about thirty minutes prior to opening to get in at the first seating, or add your name to a waitlist and enjoy other aspects of the resorts until it is your turn to enter the Grog Grotto and soak in the ambience.
Table Service
Kona Café is open for breakfast, lunch, and dinner and has a relaxed café vibe featuring primarily American foods with a bit of an Asian twist. The infamous Tonga Toast is served here at breakfast, and lunch and dinner feature a variety of options such as chicken wings, pot stickers, short ribs, burgers and banh mi, and poke bowls. Kona Café is a fantastic location for many reasons: for a Table Service meal it's moderately priced; food offerings range from "safe" to adventurous, so sure to please most everyone in a larger travel party; and reservations are relatively easy to come by.
'Ohana is the big name Table Service meal at the Polynesian, which is open for breakfast and dinner. Excitingly, the breakfast will return to its former character breakfast status soon; beginning on September 27, the 'Ohana Best Friends Breakfast featuring Stitch and Lilo will be offered once again. Both breakfast and dinner at 'Ohana are typically all you care to enjoy style meals. Breakfast features pineapple coconut bread, fruits, and usual skillet items like eggs, sausage, potatoes, and more. Plus no Disney breakfast is complete without Mickey waffles! Dinner at 'Ohana is not a character meal, and features signature 'Ohana bread, a salad, and a generous dinner skillet of teriyaki beef, shrimp, and chicken, as well as accompaniments like noodles and a seasonal vegetable. Both of these meals are highly desirable, so ensure to prioritize them as soon as your Advance Dining Reservation window opens up!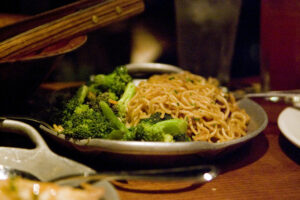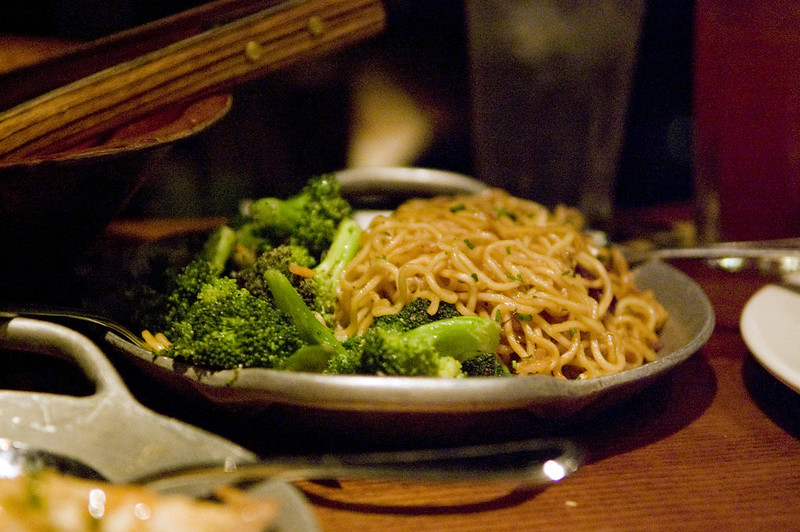 Pools
The Polynesian Resort has two primary pools, both available to DVC guests. First is the Lava Pool. This is the big feature pool with a massive volcano centerpiece and a 142 foot long waterslide! The "quiet" pool for the resort is the Oasis Pool, which is a bit more tranquil for guests looking for a place to relax. And plans for the new Disney Vacation Club Tower at the Polynesian indicate there will be another pool added! We're looking forward to learning more about this as the Tower gets developed.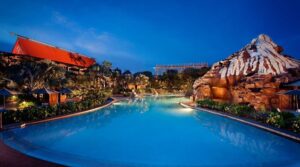 You Won't Want To Miss
My personal favorite activity at the Polynesian Resort is enjoying the many delicious tiki drinks, so for me Trader Sam's and Tambu Lounge are not to be missed. Beyond imbibing though, don't miss the beach area! Tucked over by the Tuvalu and Fiji longhouses, northwest of the Great Ceremonial House, the beach is a wonderful place to relax and take in the Magic Kingdom views. On a resort only day when you aren't visiting theme parks, this is a fantastic location to watch the fireworks during Magic Kingdom's nighttime spectacular.
Did You Know?
Disney's Polynesian Village Resort opened on October 1, 1971! This means it opened with Walt Disney World's Magic Kingdom, and is one of only two opening day on-site hotels you can stay in today. It has of course evolved over time, but staying at the Polynesian means staying immersed in a bit of Walt Disney World history.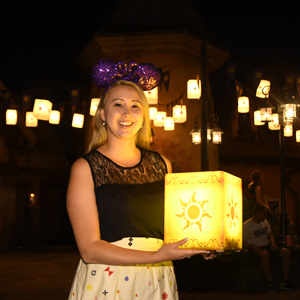 Written by
Jacqueline R.
Contributing Writer
Jacqueline is a PhD scientist with a passion for synthesizing detailed information in an understandable format. She is a Disney Vacation Club owner, overall Disney fan, and the primary content creator on the YouTube channel Pixie Dust PhD.