It's no surprise that Disney World is home to an endless variety of dining options to please any palate. Countless cultures, types of cuisine, and themes are represented across the many eateries in the parks, resorts and Disney Springs. It is truly a foodie's paradise! But when it comes to dining with large groups, you may be worried about finding something that suits everyone in your party. Fortunately, Disney World is the perfect place for groups of any size to come together, celebrate, or just share a meal.
Large Group Dining: What You Need To Know
Allergy-Friendly Dining
Disney World restaurants are famously meticulous about their allergen handling: allergy-friendly menus are available at every restaurant, and the attentive cast members are always ready to help with questions and concerns. Just make sure to make a cast member aware if there are any special dietary concerns in your group. Any restaurant you choose should be prepared to assist or make recommendations.
Advance Dining Reservations
When dining with a large group, I highly recommend planning ahead and making an advance dining reservation for your meal. Especially during busy times of the year, it may be impossible for you to find a restaurant with walk-up availability to accommodate your large group. This is especially true in the parks where table service restaurants are in high-demand. Instead, plan ahead and make your reservation as soon as you can – up to 60 days in advance. Check out Rachel's guide for how to make advance dining reservations here! 
If you are having trouble finding a reservation time for your large group, try looking outside of peak dining hours. Also, if you have an especially large group, you may have to be flexible in your preferences and seating arrangements; some restaurants may need to place your party at two different tables to accommodate your group. 
Gratuity
Note that there is an automatic 18% gratuity for parties of 6 or more; of course, you can add to the tip if you feel so inclined! Disney World has restaurants to cater to all kinds of diners, be they picky, adventurous or otherwise! Here are some suggestions for the perfect place to dine with your large group:
Biergarten Restaurant
Over in EPCOT's World Showcase you will find the picturesque Germany Pavilion, featuring authentic architecture and cultural highlights. Nestled in the back of the pavilion is the highly-themed Biergarten Restaurant. This buffet-style table service restaurant offers authentic German fare in a lively and entertaining dining hall. 
The authentic Biergarten-style long tables are perfect for accommodating large groups. The buffet offers German cuisine, with featured items including rotisserie chicken, traditional sausages, salads, potatoes, desserts and more. Don't forget the Spätzle and Nudel Gratin! Guests of all ages are sure to enjoy the entertainment, including energetic polka music from a live band. You will feel as if you are celebrating Oktoberfest in a Bavarian village! 
Crystal Palace
In Magic Kingdom, another buffet restaurant offers something for everyone in your large group. The Crystal Palace is a popular spot for its prime location and variety of fare. Breads, salads, meats, vegetables and kids' selections are sure to please a wide range of tastes! The restaurant itself is spacious and bright, and the longer-style tables are perfect for groups. Help yourself to the buffet while you take in the beautiful views of Magic Kingdom out of the windows. Kids and adults alike will also love to meet Winnie the Pooh and his pals from the Hundred Acre Wood! 
And in exciting news from this week, the beloved character breakfast is returning to The Crystal Palace soon! The buffet offers delicious breakfast favorites to fill you up before you hit the rest of the park. This popular character meal will be available starting October 25th with reservations opening September 22, so make sure you snag your advance dining reservation early.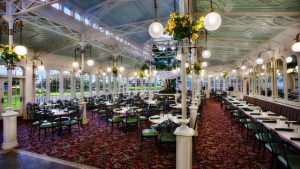 Grand Floridian Cafe
Over at the Grand Floridian Resort & Spa, you will find the beautiful Grand Floridian Cafe, offering American fare and peaceful garden views. It is also a good pick for large group dining with lots of seating and moderate prices. 
The breakfast menu features classic options including benedicts, pancakes, Mickey waffles and more. Lunch and dinner offer unique burger options, salads, buttermilk-fried chicken and a popular miso-glazed salmon entree. Bring your dining group here to enjoy a respite from the parks and crowd-pleasing food options, then perhaps enjoy a rest and visit in the stunning Grand Floridian lobby after your meal!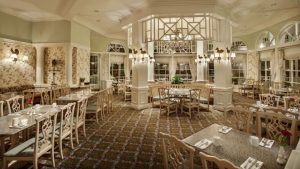 Trail's End Restaurant
For a rootin'-tootin' time, head on over to The Campsites at Disney's Fort Wilderness Resorts and visit Trail's End Restaurant. Your group will enjoy sharing the breakfast and dinner meals here, surrounded by wilderness and beauty near Bay Lake. 
The meals are served family-style and all-you-care-to-enjoy, so fill up before you head over to the parks! Breakfast features Mickey waffles, pastries, eggs, cheesy potato casserole, yogurt parfaits and more. Dinnertime offerings include cornbread, salads, Pecan-smoked Brisket, Smoked Chicken, Pulled Pork, Roasted Potatoes, Green Beans, Buttered Corn on the Cob with Chipotle Barbecue and Carolina Mustard Barbecue Sauce – plus a Mason Jar Dessert Trio to round off the meal!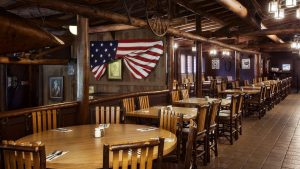 What are your favorite Disney World restaurants to enjoy with a large group? Let us know in the comments below!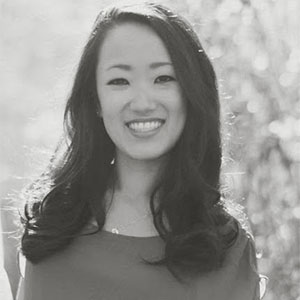 Written by
Leia Cullen
Leia is a proud mom of two boys. She has been in love with Disneyland and Disney World since her first visit to the parks many years ago, and she continues to relive the magic now with her family. She is passionate about creating helpful content that shares news or information about all things Disney, in the hopes it helps others create their own magical moments.