Going to Disney World is a magical vacation that will leave your family with memories that last a lifetime. When you have a large family it also takes a lot of planning and packing…oh the packing! As a mother of  4 little boys, I know the amount of pixie dust it takes to plan a Disney World trip where everyone is happy and feeling the magic! Here are some tips on how big families can have a great Disney vacation!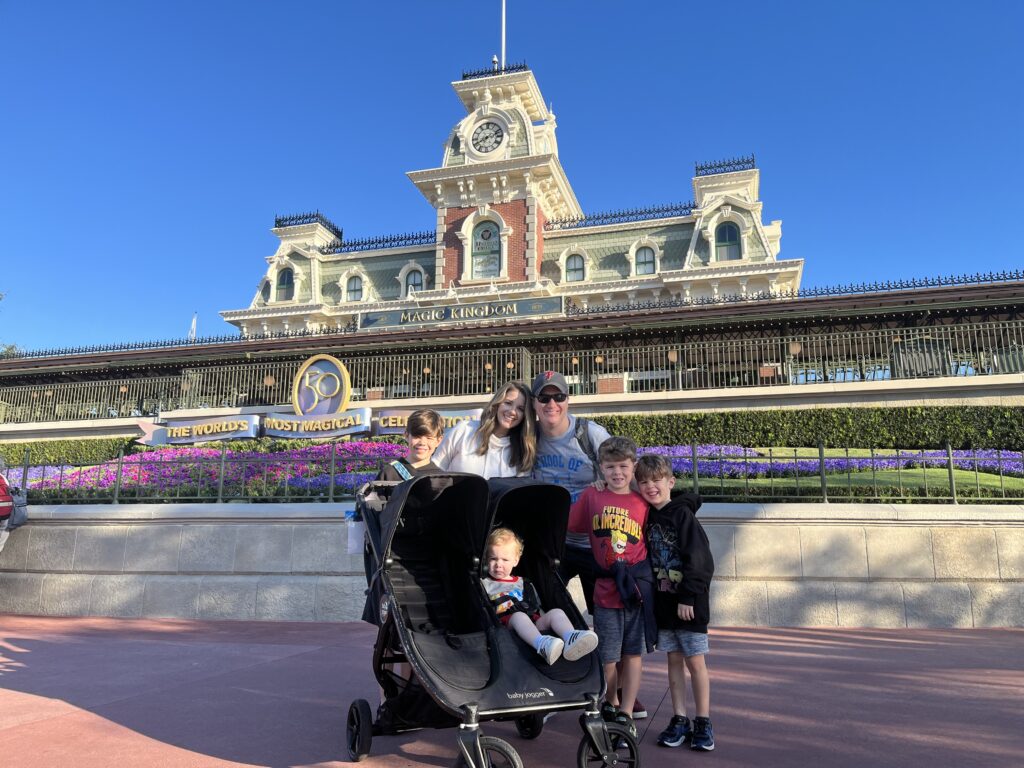 Have A Plan
Once you step foot in the parks, it is easy to get swept up in the hustle and bustle of the attractions, treats, parades and more! You want to do your planning beforehand. Before your trip even begins, start thinking what park you will do each day. Will you repeat a park on your trip? If you have younger children I suggest planning at least two days at Magic Kingdom, there is a lot to do and one day sometimes doesn't allow you to get it all in. Park hopping? Make sure you know what park you are hopping to, and make a t
entative schedule.
Pack a Well Equipped Bag!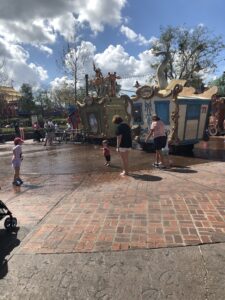 We Moms know, pack, and prepare for everything and anything! Water and snacks are essential. No one wants a hangry family member mid rollercoaster wait. Make sure you pack some light snacks with you along with plenty of water. The parks have several water fountains throughout the park you can refill your water bottles at. There is always restaurants and quick service stops for snacks and meals too, but packing some food with you is a good idea if you don't have time to stop.
Prepare for the unpredictable Florida weather! We all know how quickly a sunny day can go to a quick shower and back to the blazing sun. Be sure to pack sunblock, a hat, and a rain poncho. If you have younger kids you may want to bring a change of clothes. Each park has a splash pad where littles can cool off. Remember some Band-Aids too, everyone will do a lot of walking which always results in someone getting a blister!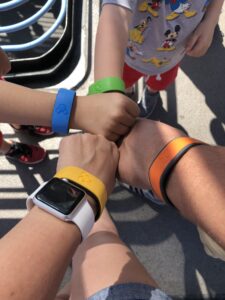 Genie+
If you have visited Disney World in previous years and loved the convenience of the Fastpasses, you may want to purchase Genie+. No one wants to try and entertain a toddler in a 45 minute line. If you purchase Genie+  it will allow you to wait outside the lines and have more down time which is needed with younger children. Don't bother using your LL's on shows, save it for the attractions. Shows are pretty easy to get into if you arrive at least 15-30 minutes before doors open. When waiting for an attraction or a show, it's a good time to sit down and have a snack or a water break. Keep your kids entertained with easy games like I Spy, or our favorite; Twenty Questions; Disney Character version.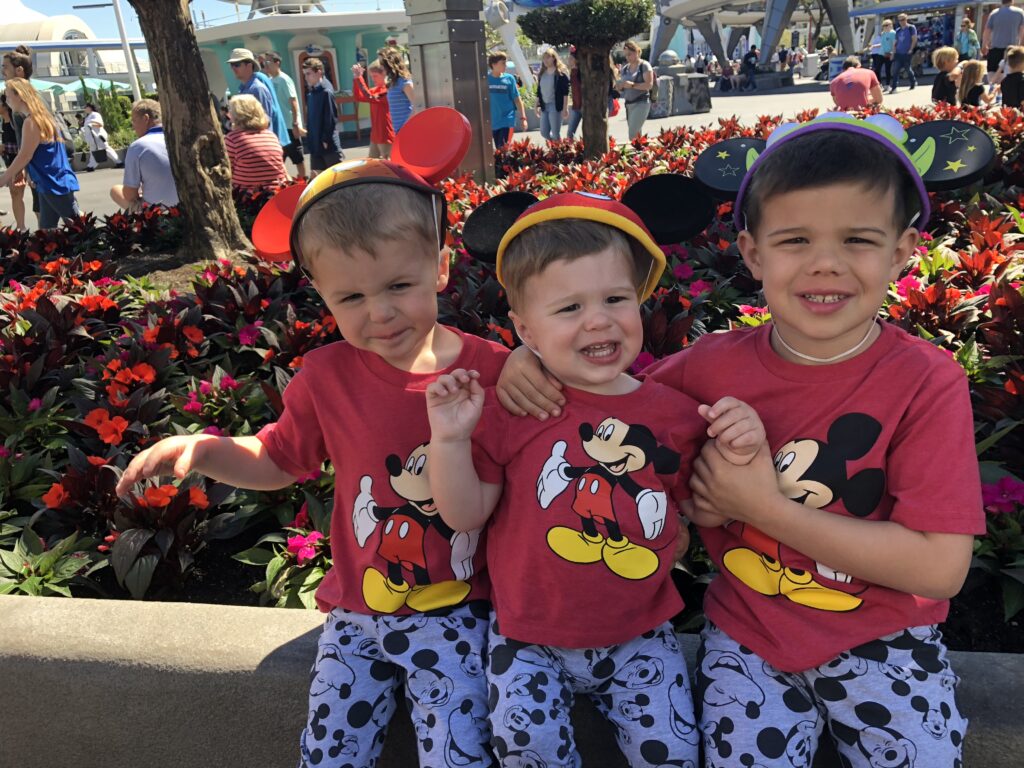 Know What You Want Out of Your Day
A day at the parks can be relaxing where you walk around, take in the views and enjoy some delicious food! Or a day that is jammed packed with attractions, shows, and grabbing a quick bite as you dash to get to the next adventure. Whatever works best for you and your family. Don't push anyone to do too much. It's not worth dragging a kid past there limit for one more attraction or show!
A good thing to know before you start a day at the parks, is what everyone's bucket list attraction or show is. Make these your top priorities when choosing LL's if you purchase Genie+. Some attractions LL's are hard to come by later in the day, so be sure to plan this out. Be willing to split up too! Some family members may be the thrill seeking roller coaster riders, and some may prefer the slower ones. Make a plan to meet back up, but sometimes going your separate ways is a great way to make sure everyone gets the day they want!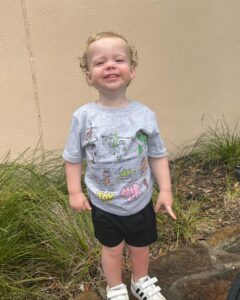 Disney's Baby Care Center
Each Disney park (except the waterparks) have a Disney Baby Care Center. Each center has a private nursing room with rocking chairs, changing room with tables and a women's restroom, a feeding area with highchairs, a fully equipped kitchen with a microwave and sink, a main room with a television and seating. Each center also has a shop offering; formula, baby food, juice, diapers, wipes, sunscreen, over the counter medications and clothing. Every trip we have always had to make a stop for a forgotten item. Every large family will probably need to make a stop here at some point!
First Aid is also located at all parks, including the waterparks. We haven't made a trip yet where someone didn't get a boo boo, or needed some medicine for a headache. A quick stop to the First Aid location is always pleasant, easy and getting us back to enjoying our next park adventure!
Memory Maker
Memory Maker is an incredible way to download all the Disney PhotoPass photos and videos you capture throughout your vacation. The photos and videos are connected to your Disney account with a touch of your MagicBand, card or mobile device with a Disney MagicMobile pass. Every Mom knows we take the pictures, but so often we forget to ask someone to take our own picture with our family. Throughout the park you will see photographers located at the perfect spots to capture sweet family memories! No need to purchase each photo individually. You can enjoy your vacation knowing your memories are being captured for you!
No matter your family's size, Disney can be a magical experience for all! Take your time planning, prepare the best you can, and make sure to soak in the memories!
Written by
Erin Bonsall
Contributing Writer
Erin is a stay at home mom of 4 little boys outside Charlotte, NC. She remembers one magical Disney trip at a young age, but having children made her want to bring her own kids to the happiest place on earth! One trip 7 years ago started a love for everything Disney! Now her family visits Disney World as much as possible and it is their favorite place to make magical memories!