Beaches & Cream Soda Shop is a popular dining destination at Disney's Beach Club Resort. Located near the outdoor pools in Stormalong Bay, Beaches & Cream provides table service for lunch and dinner and attracts guests from all of the EPCOT-area resorts and Disney's BoardWalk. On my last visit to Walt Disney World, my family was fortunate enough to grab a reservation for 3:00PM. While this time worked well with our other non-park day plans, we enjoyed our food so much during our late lunch that our meal at Beaches & Cream also served as an early dinner, and we weren't mad about it!
The actual dining space in Beaches 'n Cream Soda Shop is not very large, but the space is utilized effectively to accommodate many dining parties without feeling too close to the people next to you. There are tables, booths, and seating at a bar overlooking the dessert preparation station. The décor reminds you of a retro 50s diner, jukebox included, and the menu speaks to the same. As a party of 7, we were able to try a little bit of everything on the lunch menu and I'm here to tell you that everything was REALLY good.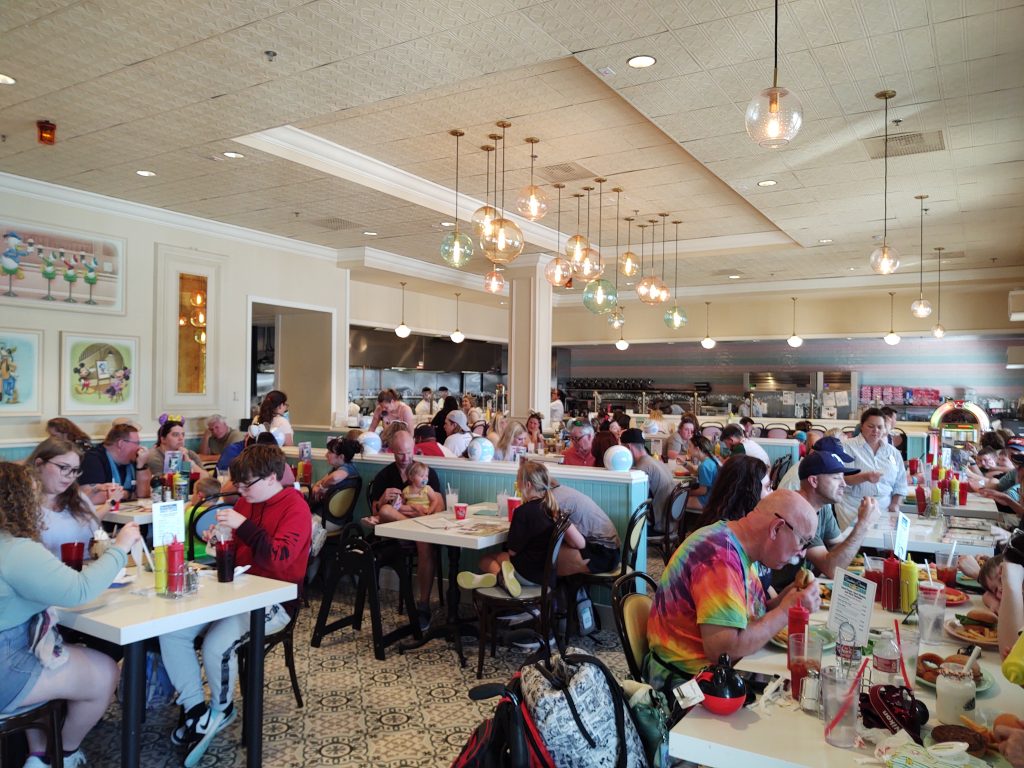 My husband chose the French Dip and raved about freshness of the bread and juicy sliced beef. The crisp French fries on the side were also a hit!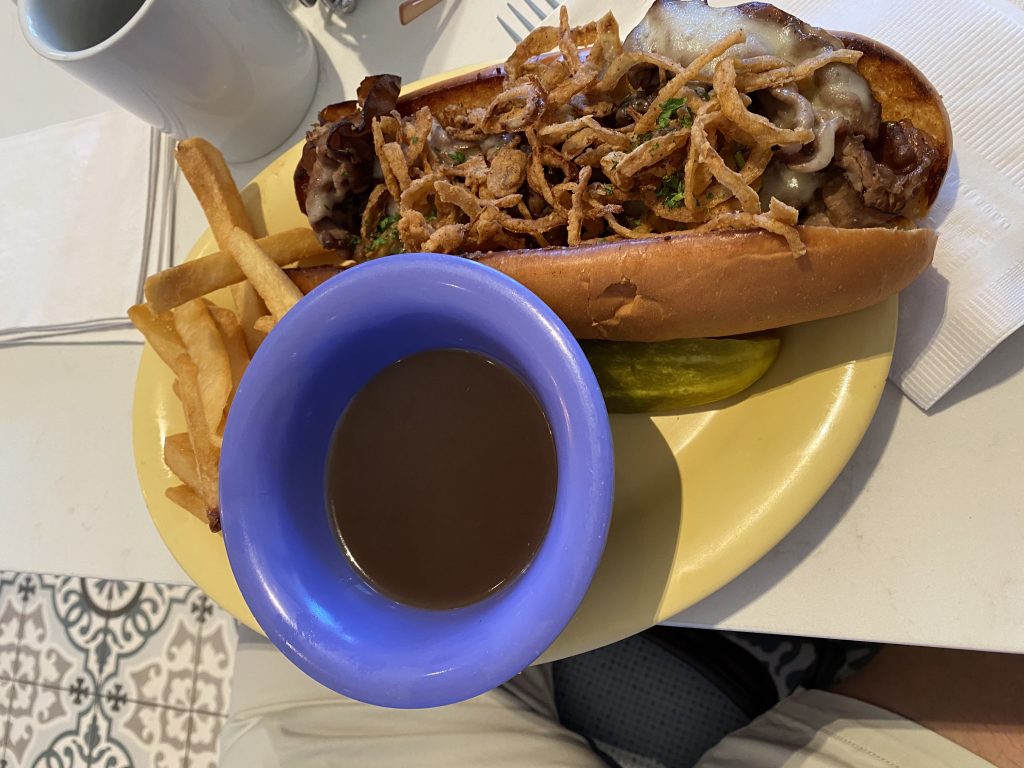 My nephew chose the Rueben and fries which came out deliciously melty on toasted marbled rye bread. As a college student, he had no problem devouring the entire entrée!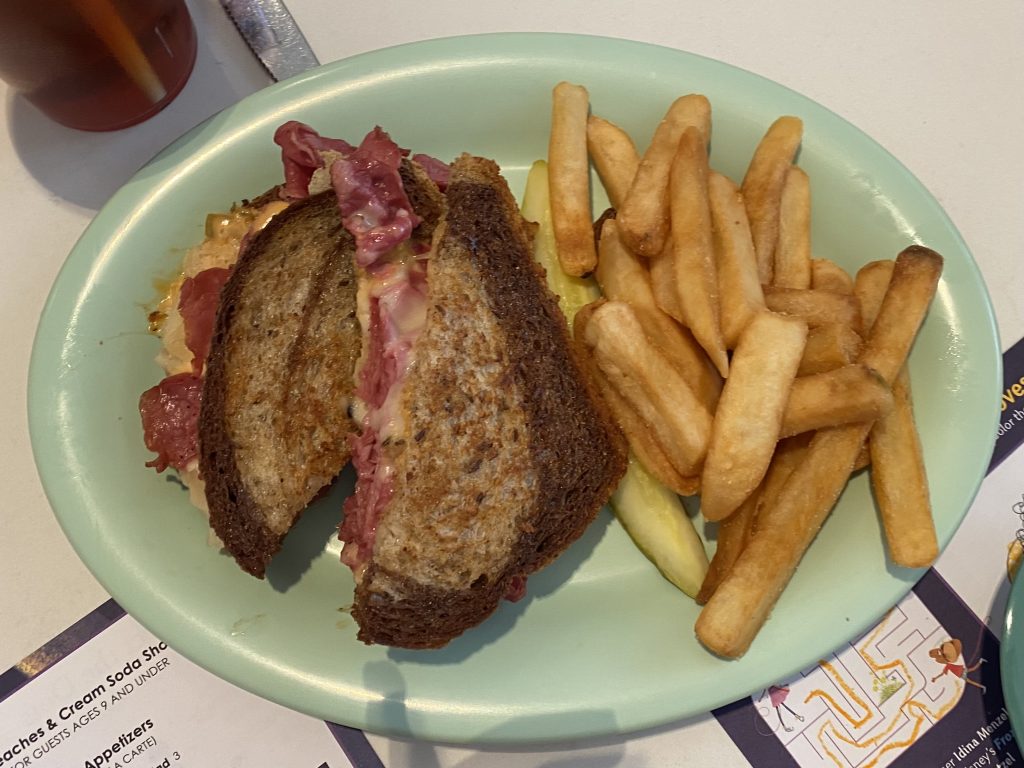 My parents and our daughters opted for a cheeseburger. The girls had carrots and French fries while my parents opted for onion rings on the side. Cooked to perfection, there was barely a crumb left on their plates.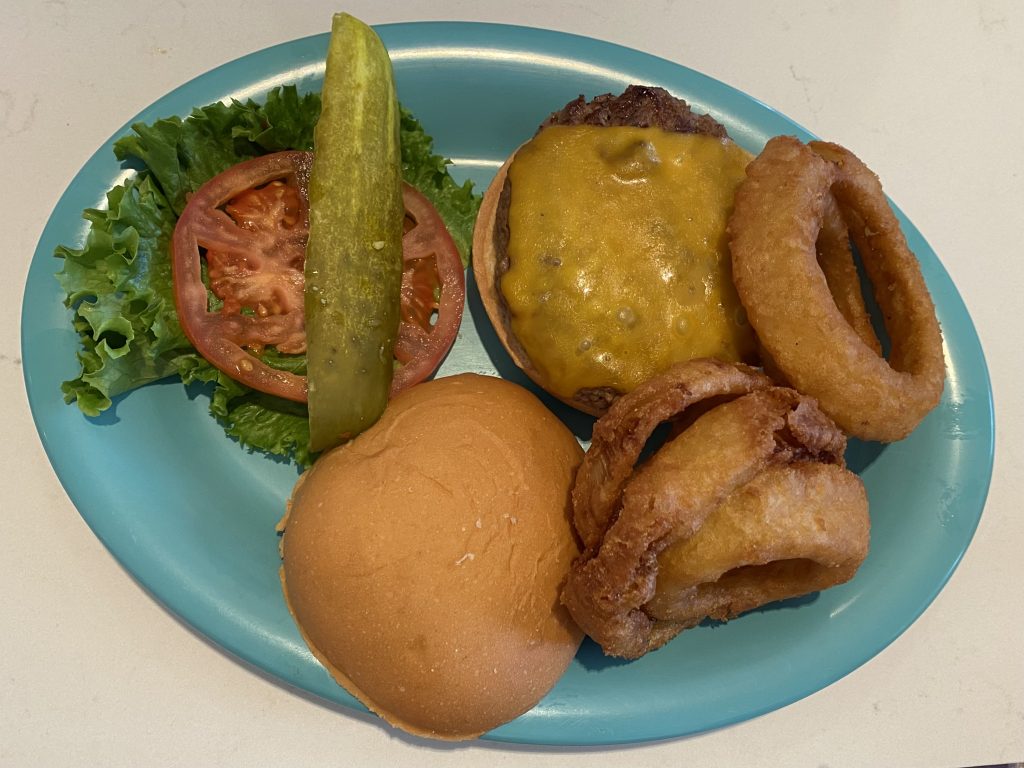 I follow a gluten-free diet and was delighted at the choices available. I ordered the cheddar-bacon-ranch grilled chicken sandwich on a gluten-free bun with gluten-free tater tots on the side. I was delighted to have many choices as their allergy-friendly menu.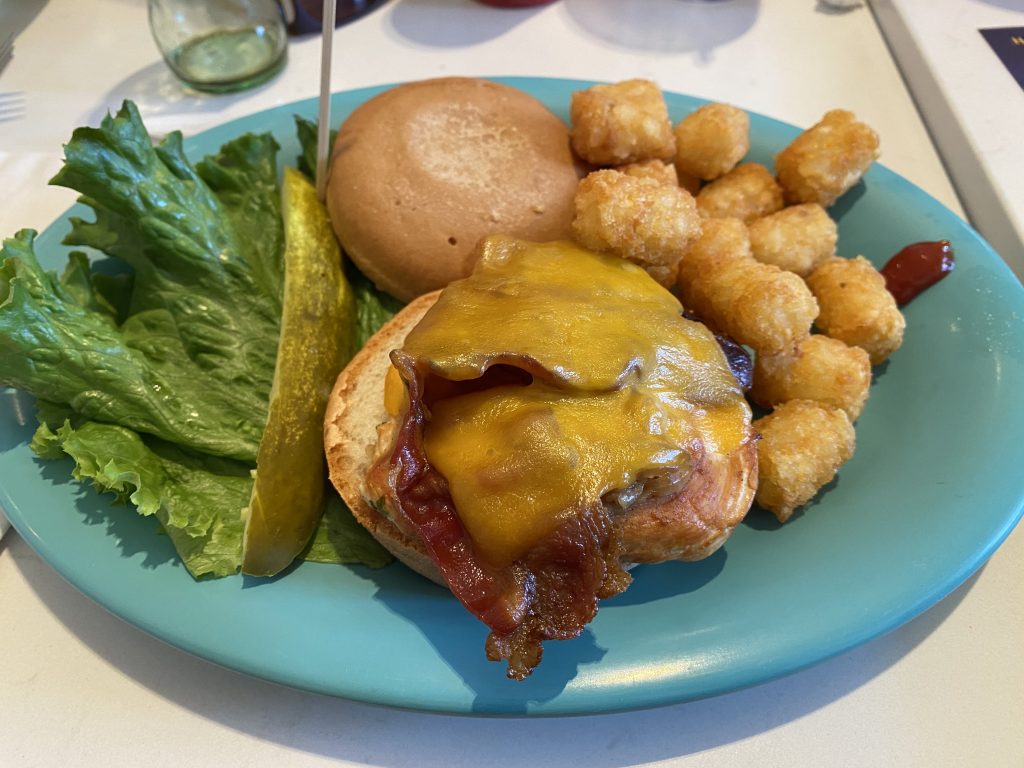 Even though we were quite full after consuming our entrées, we couldn't leave Beaches & Cream without ordering dessert! Unfortunately, we didn't choose the famous dish that sends the lights flashing and server announcing that the table has ordered :The Kitchen Sink" with "a whole can" of whipped cream. The whole can of whipped cream is precisely why my family chose not to order this dessert since the number of people who enjoy the topping were less than the number who do not. Nonetheless, despite not being on the menu, the girls were able to order a single scoop of ice cream. When my father asked for a "No Way José", the server inquired if he wanted the regular or smaller size of this dessert which includes vanilla and chocolate ice cream topped with peanut butter, hot fudge, whipped cream, and chocolate and peanut butter chips. While the smaller size is not listed on the menu, it proved to be more than enough for one person!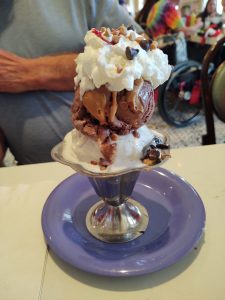 Rounding out my family's choices were two scoops of ice cream in a sugar cone, a traditional chocolate chip milkshake and, for me, a gluten-free Browne à la mode which was so rich and generously portioned, it alone could have served as my entrée! Overall, dessert absolutely lived up to the expectations with its creamy ice cream and flavorful toppings. We left feeling full and definitely not in need of another meal for the rest of the day!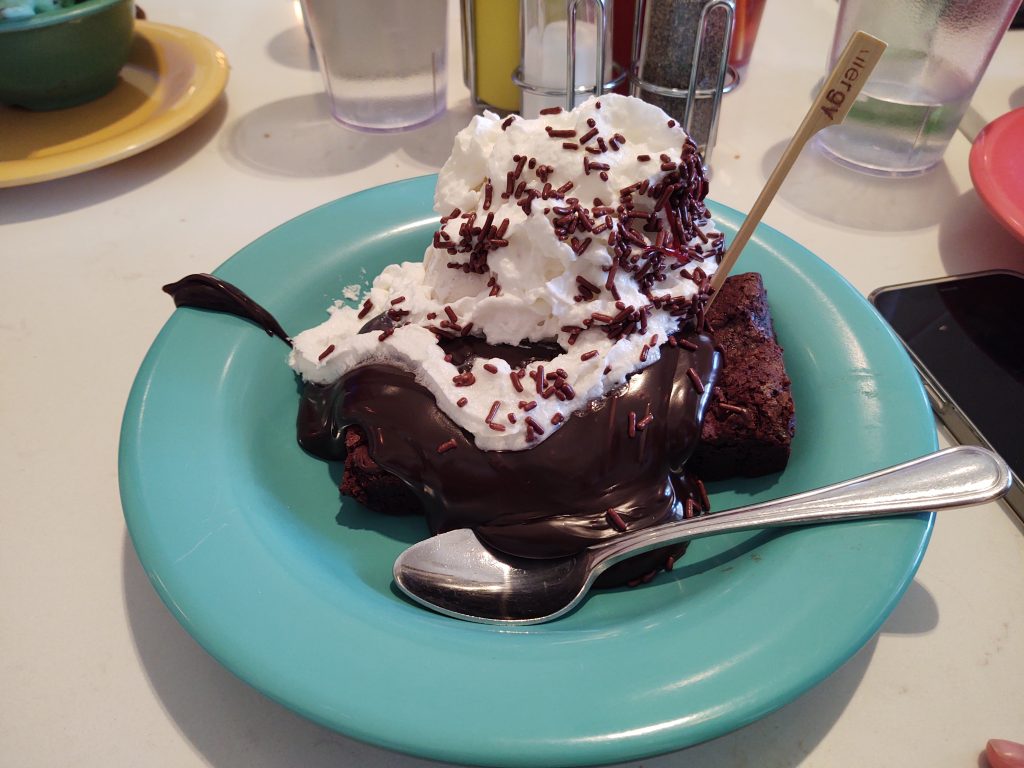 We would absolutely return to Beaches & Cream Soda Shop on a future trip to Walt Disney World. It's the perfect place to dine whether you are relaxing on a day off from the parks or need to grab a yummy meal after a long day out. And if we are near the BoardWalk, we will most definitely visit the Beaches & Cream To-Go Window which serves its delicious ice cream, a smaller version of the kitchen sink, signature milkshakes, and even adult hard floats and shakes. Choose any or all of the above to enjoy as you stroll through the beautiful scenery of Disney's BoardWalk or are making your way to your resort room for the night.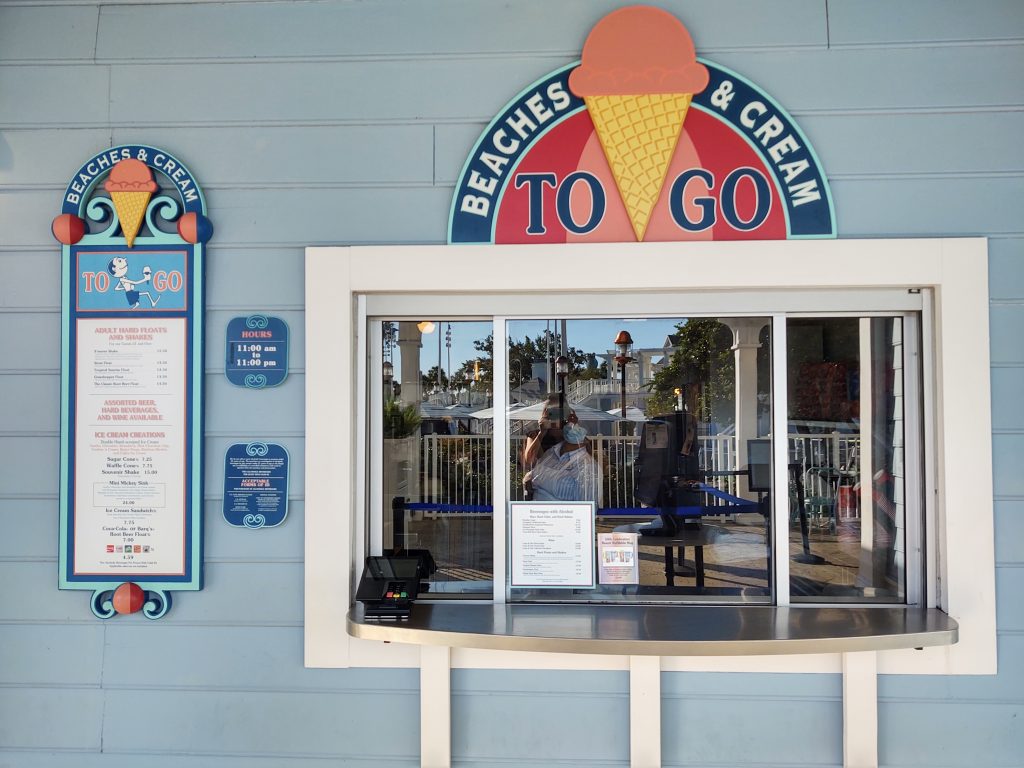 While it may be difficult to score a reservation at Beaches & Cream, you may always check to see if there is availability on the walk-up list on the My Disney Experience app or utilize the walk-up window if you're just looking to indulge in one of their amazing desserts. Have you ever dined at Beaches & Cream Soda Shop at Disney's Beach Club? What would you like to try the next time you visit this fun and tasty restaurant? Let us know in the comments below!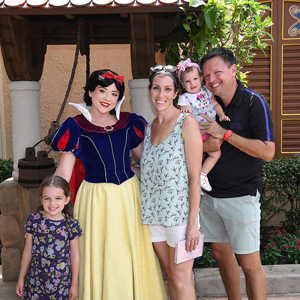 Written by
Shelley Wehler
Contributing Writer
Shelley is a stay-at-home mother of two girls living outside of Charlotte, North Carolina. Her love of all things Disney has grown even more as she sees the magic come alive through the lens of her young daughters. She spends her free time keeping up with the latest in Disney news and daydreaming of her next trip to the parks!