When heading to Walt Disney World, especially in the summer months, many guests look for ways to manage the heat. In addition to packing the essentials for your summer vacation to the parks, taking advantage of the spacious and entertaining pools at your Disney resort is one way to keep cool. And while many visitors prioritize the four main Walt Disney World parks – Magic Kingdom, EPCOT, Hollywood Studios, and Animal Kingdom – one must not forget the two amazing water parks on property as well! Typhoon Lagoon and Blizzard Beach are spacious, creatively themed, and FUN water parks for guests of all ages that shouldn't be overlooked when planning your Walt Disney World itinerary.
If you purchase a park hopper ticket with water park option, you are able to rope drop your favorite attractions in the morning and then spend the remainder of the day sliding, dodging waves, and relaxing on the lazy river of your chosen water park. But if you have room in your itinerary for an entire day, I strongly recommend planning for it! Since Blizzard Beach is currently closed for refurbishment without an announced reopening date, here are tips for how to spend a whole day at Typhoon Lagoon this summer.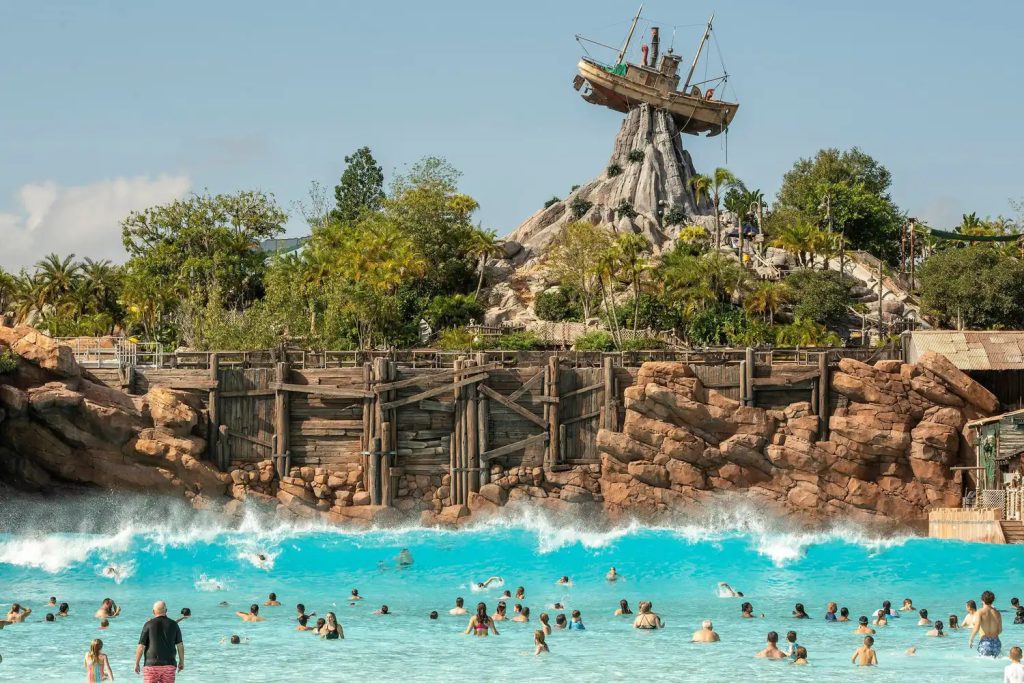 Arrive Early And Stay Late
You have heard of rope dropping at other Disney Parks, being present when the physical rope drops to allow guests to enter the attractions, why not do the same at Typhoon Lagoon to maximize your time? Wait times are short the first hour or two after park opening, so take advantage of going down your favorite slides or tube runs again and again! Last year we arrived one hour before Typhoon Lagoon opened and we were quite literally the first ones there. Getting there 30 minutes in advance allows you to be early without excessively waiting. Cast members began letting guests scan in about 10-15 minutes before official opening and were then held "at the rope" until the park officially opened. Staying through the last two operational hours of Typhoon Lagoon should also give time for the morning and afternoon crowds to thin out, again permitting short wait times for the slides of your choice.
Reserve Your Own Space
If you would like to upgrade your experience at Typhoon Lagoon, you can reserve an umbrella with chairs or your own private beachcomber shack! The umbrella comes with 2 lounge chairs, 2 regular chairs, a table, and towels. The beachcomber shack provides cushioned seating for six guests, a locker, towels, a refillable souvenir mug, cold bottled water, and a roving attendant that can assist with taking beverage and meal orders. This private space makes for a more peaceful atmosphere a bit away from the hustle and bustle of the main areas of the park. The umbrella and chairs are currently priced at $99 and the beachcomber shacks range from $225-500. The Premium Plus Shack comes with a mini fridge and flat screen TV! If you decide to upgrade your visit with one of these options,  you will definitely want to stay the entire day!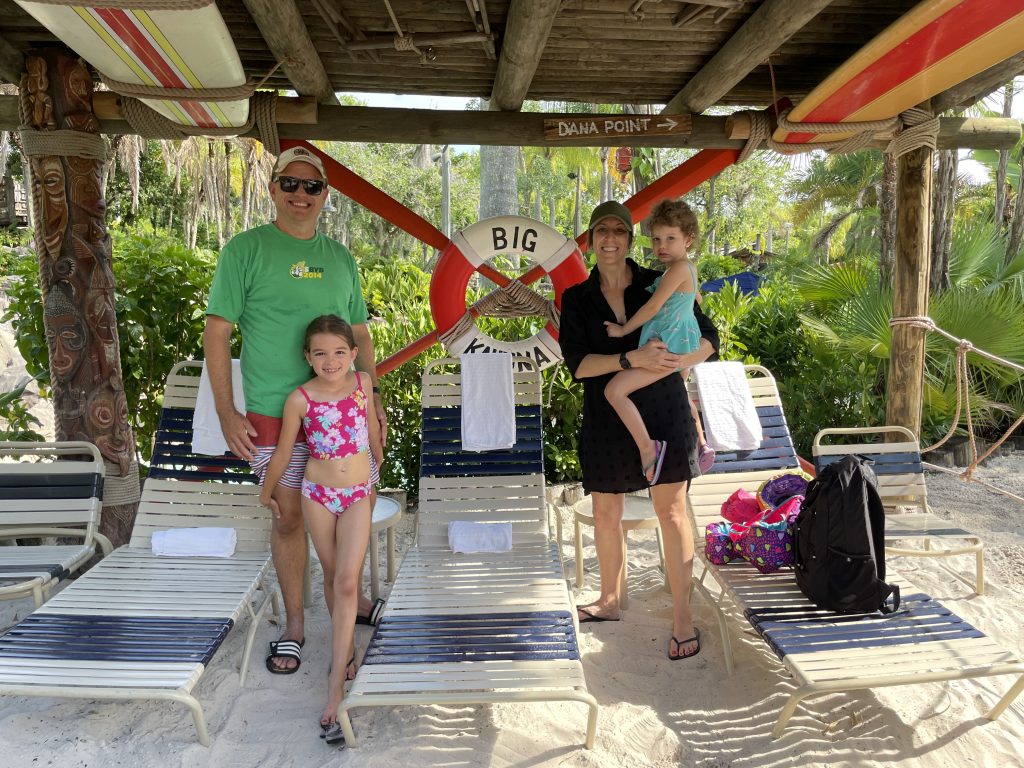 Slide, Swim, and Float
Typhoon Lagoon is a very large water park with distinct areas of interest and activity. There are single tube slides, two-person raft rides, family tube slides, body slides, and speed slides! Beyond that there is a gigantic surf pool that pushes out a 6-foot wave every 60 seconds after the shrimp boat sounds its horn. There is smaller zero entry pool at the end of the Crush 'n' Gusher, which you absolutely will not want to skip, that is a regular leisure pool for those that don't wish to dodge the waves. There is also an expansive area for children under 48 inches named Ketchakiddee Creek. There are fountains, sprays, slides, and even a small tube ride that our four-year-old rode at least 10 times in a row. And we can't forget about the lazy river that circles the park! Take a slow float around the permitter of Typhoon Lagoon and feel free to get in and out at any of the numerous entry and exit points. It's also just a fun way to get around from one part of the park to the other. There is plenty to keep everyone busy and having fun all day long.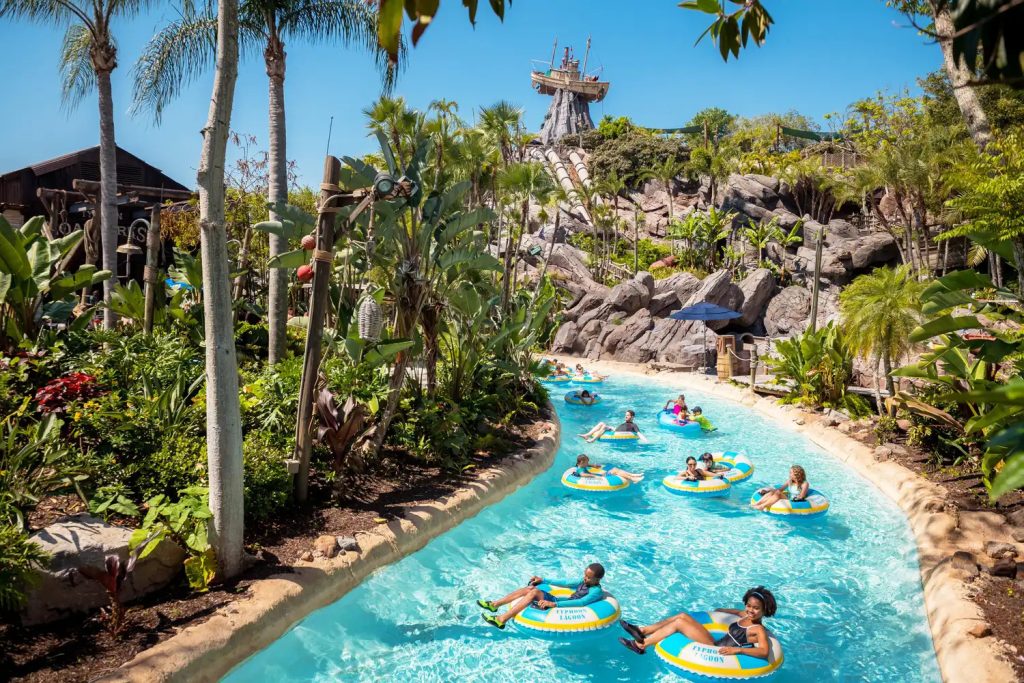 Plan For Two Full Meals Plus Snacks
You may not think that a water park would have desirable food options, but one of the pleasant surprises of Typhoon Lagoon is the many delicious options for meals and snacks. There are kiosks that offer staples like Mickey-shaped donuts and Mickey Premium Ice Cream Bars and others where you can find cool and refreshing drinks and treats. My favorite place to grab lunch is Typhoon Tilly's which offers shrimp lettuce wraps and fish tacos and then grab the delicious Dole Whip Hei Hei cone next door at Snack Shack. If you're in the mood for the usual burger and fries, visit Leaning Palms that also serves salads and rice bowls. For a fun selection of ice cream, you must try a treat at Happy Landings where you can grab the Snail Pail Sundae for two served in a souvenir bucket. You won't have any trouble finding something new to try each time your tummy rumbles from a full day of fun.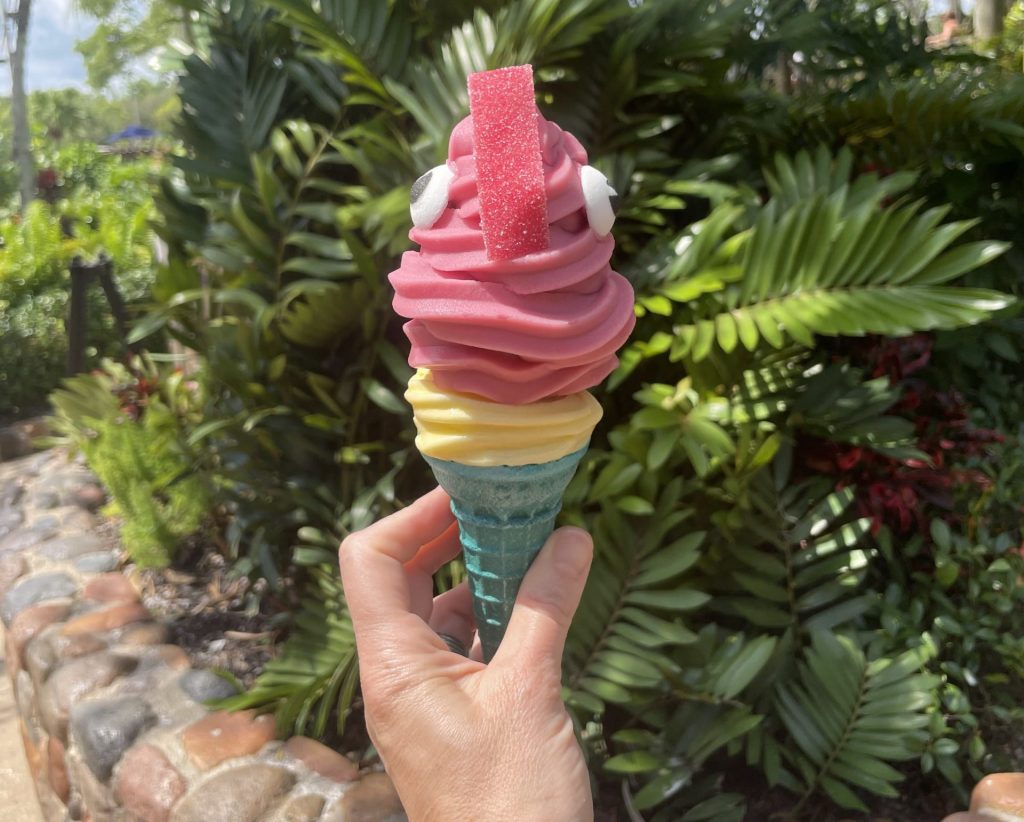 With all that is available to guests at Typhoon Lagoon, it makes sense to plan for an entire day of exploring all of the slides, rides, and dining locations. Did you know that tickets to Disney Water Parks are less expensive than the regular theme parks? Currently a one-day pass for all ages is just $69 between May 27 and October 1, 2023. For all other dates it will cost just $64 for all ages. That is nearly half the cost of other Disney Park tickets on most days! Have you ever spent an entire day at Typhoon Lagoon? What is your favorite thing to do at this water park? Tell us in the comments below!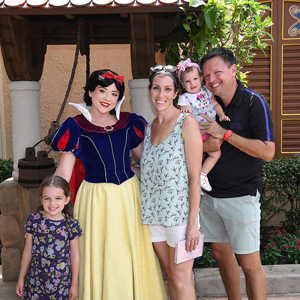 Written by
Shelley Wehler
Contributing Writer
Shelley is a stay-at-home mother of two girls living outside of Charlotte, North Carolina. Her love of all things Disney has grown even more as she sees the magic come alive through the lens of her young daughters. She spends her free time keeping up with the latest in Disney news and daydreaming of her next trip to the parks!