Let's face it, the biggest fear of any parent is losing their child. Being in a place as densely populated as Disney World that may add even more to your worry. However, Disney World is considered one of the safest places to be in the world, with top notch protocols to keep everyone, especially children, safe.
Although an average of 11 children get lost in Disney World every day, the majority of children are returned within a half hour of being separated from their parents. In fact, Walt Disney World has never closed with a child still separated from their parents. Although parents should stay vigilant, Disney has you covered.
First, we will cover what happens if you lose your child at Disney World, then we'll explore some way parents can aid in finding a lost child, and conclude with some preventative measures that can be practiced to avoid this situation altogether.
Lost Child Protocols At Disney World
When Parents Approach Cast Members
First things first, Disney cannot begin looking for your child without knowing they are lost. It is imperative to notify a Cast Member as soon as you are able.
Once a Cast Member is made aware of the situation, they will notify their supervisor and Disney security to report a "lost parent". Disney policy states that children are never lost at Disney, only the parents are.
Once security is made aware of a missing child they will ask the parent(s) for a description of your child and send that information to a central communication center.
The alert and description of the child will be made park-wide so that all Cast Members will be able to be on the lookout.
Parents are instructed to stay in the area they last saw their child, since most times children are found nearby.
When Children Approach Cast Members
All Cast Members are trained prior to working in the Disney parks on how to engage lost children and to keep them calm. Cast Members will ask the child for any information they may have, such as their name, parents' names, or phone numbers.
The child will be walked around the surrounding area to try to find their lost parents. If they cannot, Cast Members take the child to the closest Baby Care Center where they wait until their parents come to collect them. Children here are always accompanied by a Cast Member until their parents arrive.
Take a Picture of Their Clothes
At the beginning of your park day, either before you leave or when you first enter, be sure to take a photo of your child in what they are wearing for the day. This will be incredibly helpful information for Cast Members to have if you are separated from your child. They will be able to describe your child much more accurately if they are able to see what they are wearing themselves.
Give Children Tools To Find Help
Teaching your children where to go if they lose you in a Disney park is one of the best ways to be sure a quick reunion. Tell your child multiple times that if they can't find their parent to seek out a Cast Member. Identify the Cast Members as those with the name tags.
Also stress that your child can go to any ride and find a Cast Member. These Cast Members are trained to identify children who are separated from their parents, but it is always faster if your child initiates it.
This tip goes for lost parents as well. If you cannot locate your child, the best thing to do is locate a Cast Member immediately, preferably in the immediate area you last saw your child. You can tell them your child has wandered off and show them the picture you took of them in their clothing from that morning. Chances are parent and child will be reunited within minutes.
Use MagicBands / Identification Cards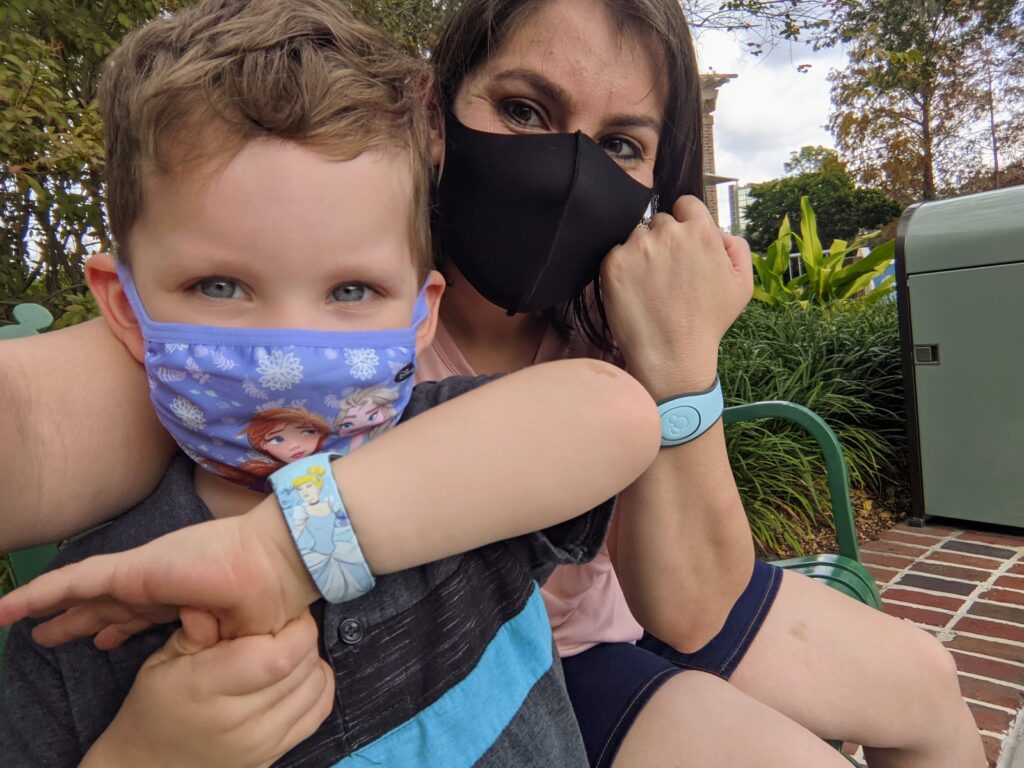 MagicBands have many amazing features to them, with many more features being recently announced with the new MagicBand+. They can be scanned for the Lightning Lane, be used for a rider switch or disability access pass, and will also be useful if you and your child become separated.
MagicBands have the ability to be track guests whereabouts in the Disney parks. Whenever your MagicBand is scanned at an attraction or to pay for something, Disney gets your park location. In addition, your child's information (like their name) can be added to a MagicBand and then linked to your MyDisney account. That way, if your child and you both go to a Cast Member and have your MagicBands scanned, it will show Cast Members where both parent and child are located, making for a quick reunification.
If you prefer not to use MagicBands, identification bands or custom temporary tattoos can also be very useful. These can be put on your child's wrist or ankle and will have any useful information you may have such as their name and your phone number.
How To Prevent Losing Your Child At Disney World
Light Up Accessories
Providing your child with light up accessories, such as glow stick jewelry or light up necklaces, will be incredibly helpful in finding your child after the sun sets at Disney World. These lights will be especially useful after the fireworks, when the crowds are at their highest.
Backpack Leashes
Although a controversial topic amongst parents, nothing should be off limits when it comes to keeping your child safe. If you have a young walker (or runner) who doesn't yet understand that they need to stay close by, a backpack leash may be a useful tool during your day in the park to keep your little one close by.
Bright Colored Clothes
When possible choose brightly colored clothes for your little one when going into the parks. This will make them easier to spot in a crowd if they get away from you.
Keep Them in the Stroller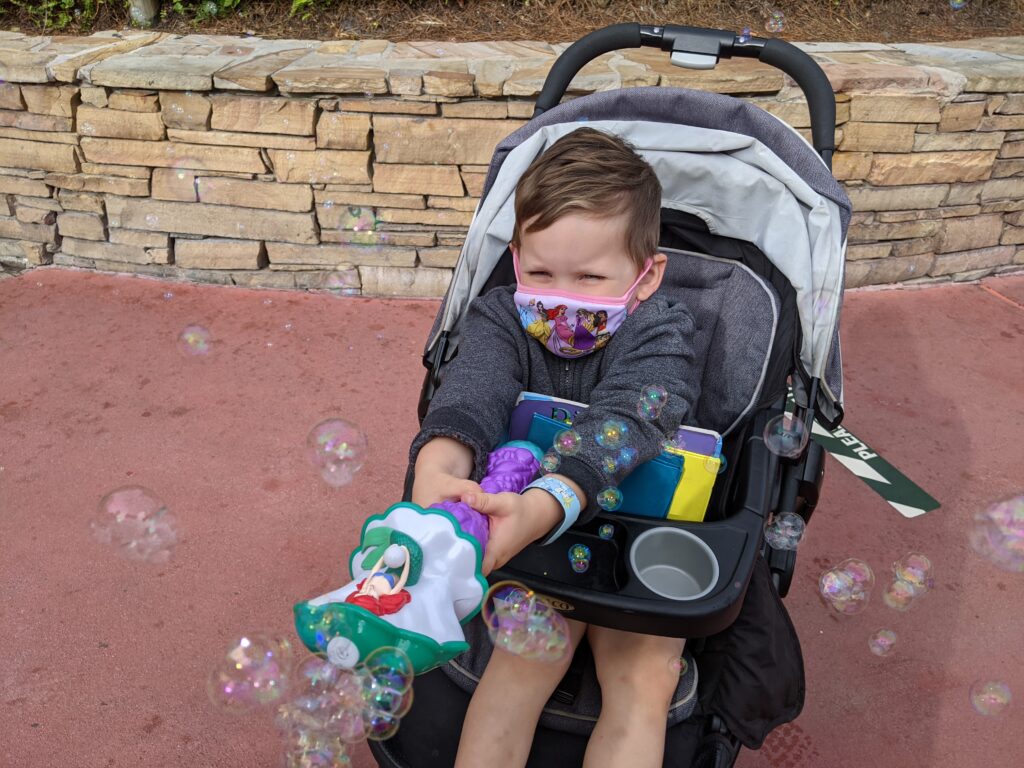 This option may not always be possible, but when you are able to, keeping young kids in their stroller can be very useful since you always know where they are. Keeping kids in the stroller may be encouraged by snacks, toys, books, or even just being told they can get to the next ride faster.
In Conclusion
If you are separated from your child while on vacation at Disney World, do not panic. Disney's protocols are well thought-out and implemented so well that children are never gone from their parents for long.
You can help streamline this process by staying in the same place and locating a Cast Member for help. Take preventative measures like teaching your child to locate Cast Members if they can't find you, dressing them in bright clothing, and taking pictures before you go to the park. Putting on something that will help identify your child like a MagicBand or identification bracelet is also a good idea.
Disney has created these parks to be one of the safest places in the world for children to be. So if you do become separated from your child, trust the process and the Cast Members to know what to do.
Have you ever lost your child in Disney World and seen these protocols in action? Do you take some of these preventative measures when you are in the parks? Let us know in the comments below!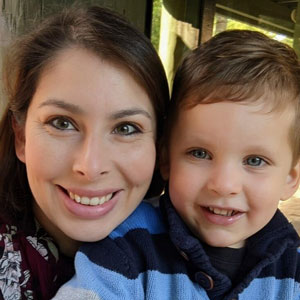 Written by
Rachel Van Norman
Contributing Writer
Rachel fell deeply in love with all things Disney as a little girl. Now as a wife and a mother herself, she shares this Disney obsession with her son and everyone around her. From her love of princesses to eating all the Disney food, Rachel spends her time radiating Disney magic and keeping everyone up to date on Disney news.