When you think about Magic Kingdom in Walt Disney World, you probably think of Fantasyland. And for good reason: Fantasyland is the epitome of Magic Kingdom! It is all about Disney magic and classic Disney spirit. There are so many fantastic ways to spend time in Fantasyland. Here are a few of my favorite things to do in Fantasyland.
Try To Pull The Sword From The Stone
Located directly in front of Prince Charming Regal Carrousel, there is a Sword in the Stone that you can step up and attempt to pull. Not many guests know that this is more than just a fun photo opportunity. Occasionally, if you are lucky, the sword will lift from the stone! It is random when this happens, but it is a very special and magical moment if you are chosen. Every time I go to Fantasyland I always try and pull the sword just in case it decides to lift for me!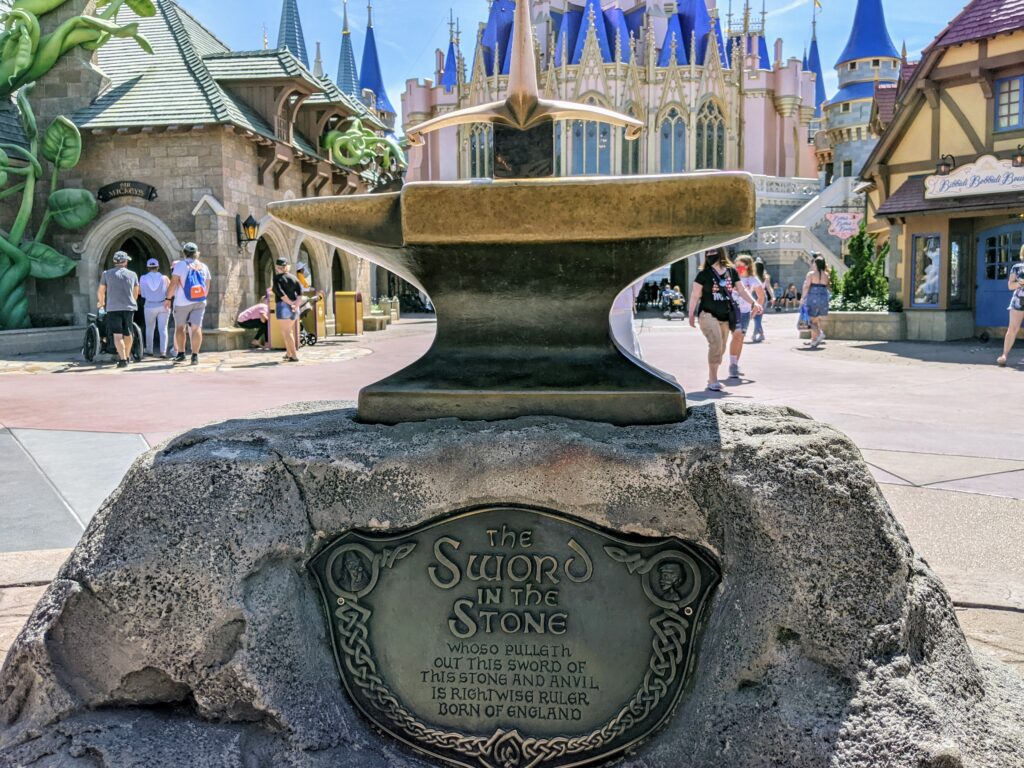 Shop At Castle Couture
Castle Couture is one of my favorite shops at Walt Disney World. Located near Prince Charming Regal Carousel and near Cinderella Castle, this shop is filled with all things Disney Princess. I love to step inside and look at the dresses, tiaras, and Princess merchandise. One of my favorite things to do is look around for a Cast Member carrying a magic wand. These are filled with glitter and if you ask for "pixie dust" they will have you close your eyes, make a wish, and dust you with the glitter pixie dust. I just the Disney magic that comes from this shop!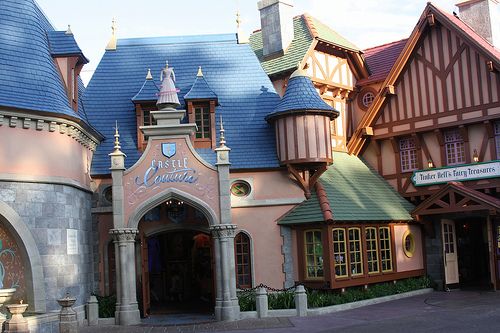 Gaston's Tavern
There are quite a few places to eat in Fantasyland, but Gaston's Tavern might be my favorite. This quick-service not only has a great menu consisting of cinnamon rolls and slushy apple cider, but also has great ambience and feels like it was transported directly out of Beauty and The Beast. Gaston's manly touches are seen throughout this tavern, and it is a great quiet place to sit and take a break from the Florida heat.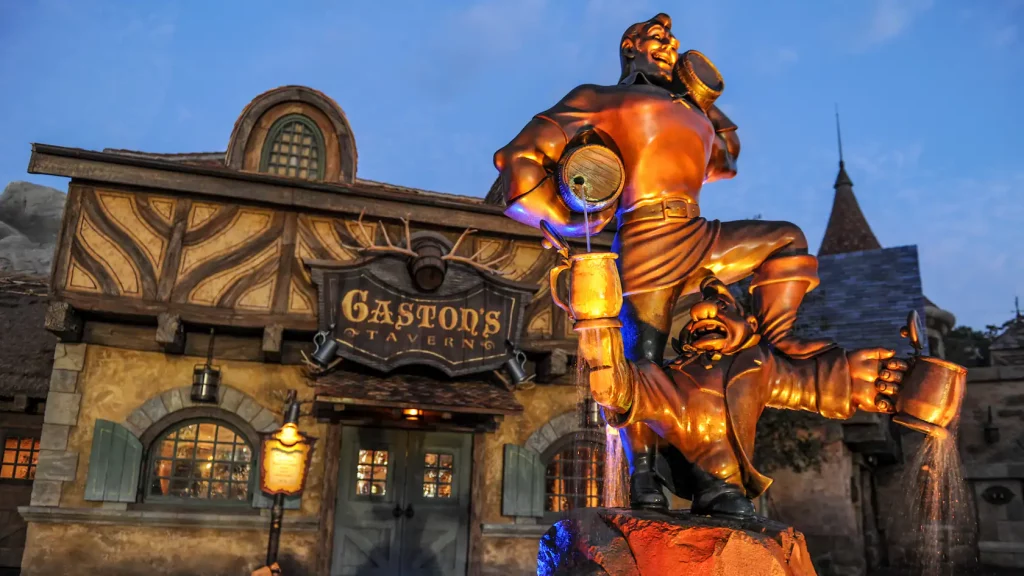 Dumbo The Flying Elephant
One of Fantasyland's classic attractions is Dumbo The Flying Elephant. This attraction was an opening day attraction but has been renovated recently to include a second location due to its popularity. The queue area has also been redone to include a large play area and buzzer system. When you enter the queue, you are handed a buzzer that will page you when it is your turn to board the attraction. While you wait, your children are welcome to play in the circus-themed play area. My kids love doing this every time we visit Fantasyland. It gives them something special to do while we wait for our turn on the classic attraction. After we are finished riding Dumbo, we always take extra time to walk around the circus-themed area, and stop inside Big Top Souvenirs too.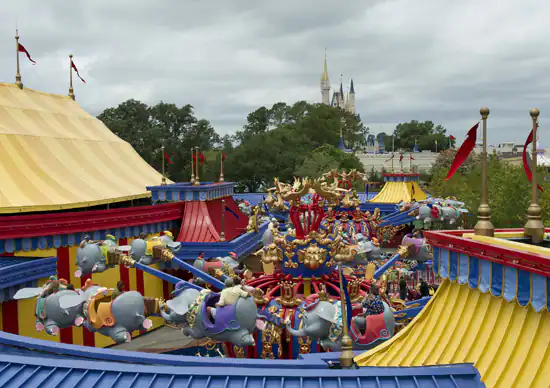 The Many Adventures Of Winnie The Pooh
I have a special place in my heart for Winnie the Pooh, and I always make time to ride The Many Adventures of Winnie the Pooh in Fantasyland. This darling dark-ride is a family ride through the Hundred Acre Woods. Suitable for all heights and ages, I just adore the scenery of Pooh and his friends throughout the attraction. The attraction empties into a gift shop that has a large assortment of Winnie the Pooh merchandise.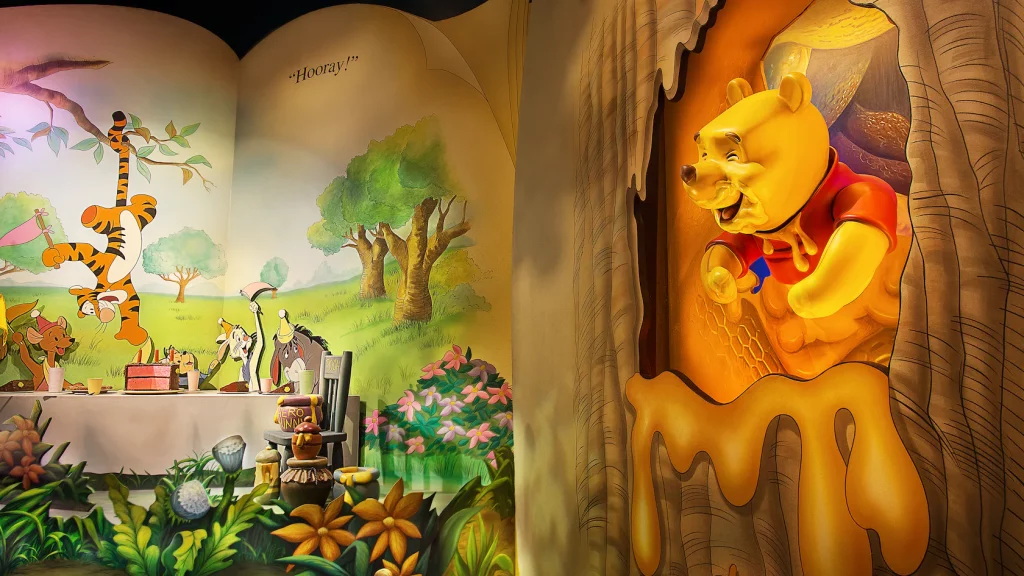 Fantasyland has so many attractions; what is your favorite thing to do in Fantasyland?
Featured Image by Disney
Written by
Megan Woodard
Contributing Writer
Megan was born into a Disney family. Her first trip to Disney World was when she was only 18 months old. Now as an adult, Megan loves to share the magic of Disney with her two toddlers. Keeping up with Disney news and Disney World knowledge is a fun hobby for Megan. Disney World is her favorite place to be and continuously brings back her childhood joy.