It's the most wonderful time of the year to be at Walt Disney World! The holiday season comes alive at Magic Kingdom, and there are many exciting festive ways to spend time here. When you visit Magic Kingdom at Walt Disney World during the holiday season, you will not be disappointed. Here are 5 festive ways to spend time at Magic Kingdom.
1. Attend Mickey's Very Merry Christmas Party
Mickey's Very Merry Christmas Party is a special ticketed event which takes place on select nights between November 8th and December 22nd this year. The party takes place from 7pm to midnight and includes magical moments and extra entertainment. Mickey and friends wander about dressed in special holiday clothing, cookies and cocoa are offered throughout the park, and all of your favorite attractions are open during this time. Mickey's Once Upon A Christmastime Parade lights up the streets, and Minnie's Wonderful Christmastime Fireworks show ignites the skies. As this is a separate ticked event, it is a great opportunity to be in Magic Kingdom during lower crowds, and because it is in the evening you escape the Florida sun as well.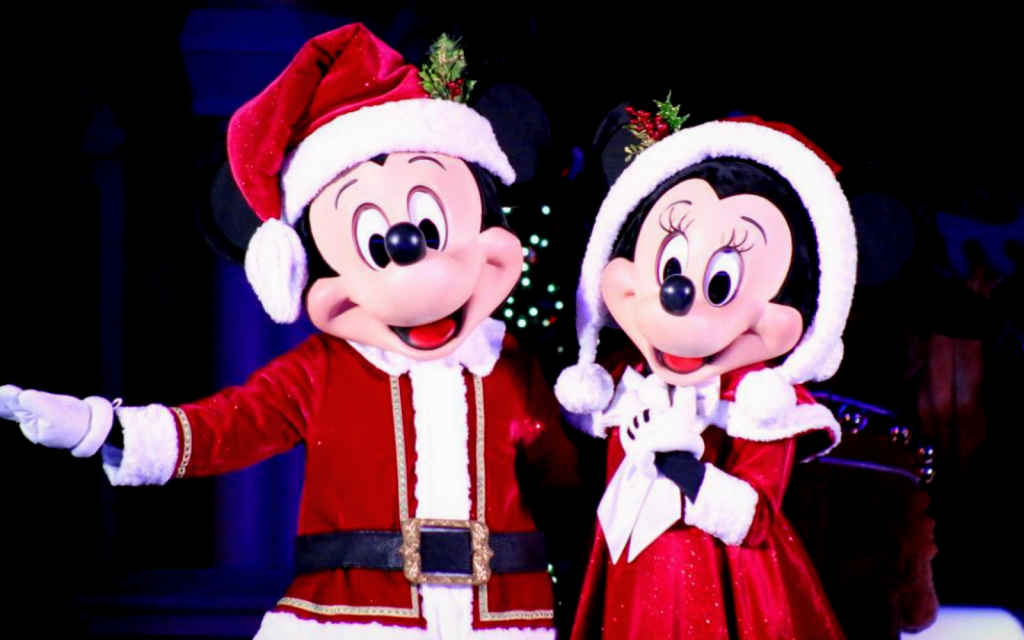 2. Indulge in Limited Edition Holiday Snacks
Magic Kingdom has definitely earned a reputation as a foodie's paradise. During the holiday season, you can indulge in limited edition holiday snacks which are only available in the months of November and December. Just about every quick-service restaurant and food stand will have its own unique holiday treat during this time of year. Some of my favorites include the Christmas Tree Cake at Casey's Corner-a red velvet brownie cheesecake with eggnog buttercream and spiced caramel drizzle, the Once Upon A Christmastime Tart at Sunshine Tree Terrace– a chocolate and cranberry tart with Mickey ears, and the Peppermint Hot Fudge Brownie Sundae at Plaza Ice Cream Parlor- peppermint ice cream with brownie pieces and hot fudge served on a warm brownie.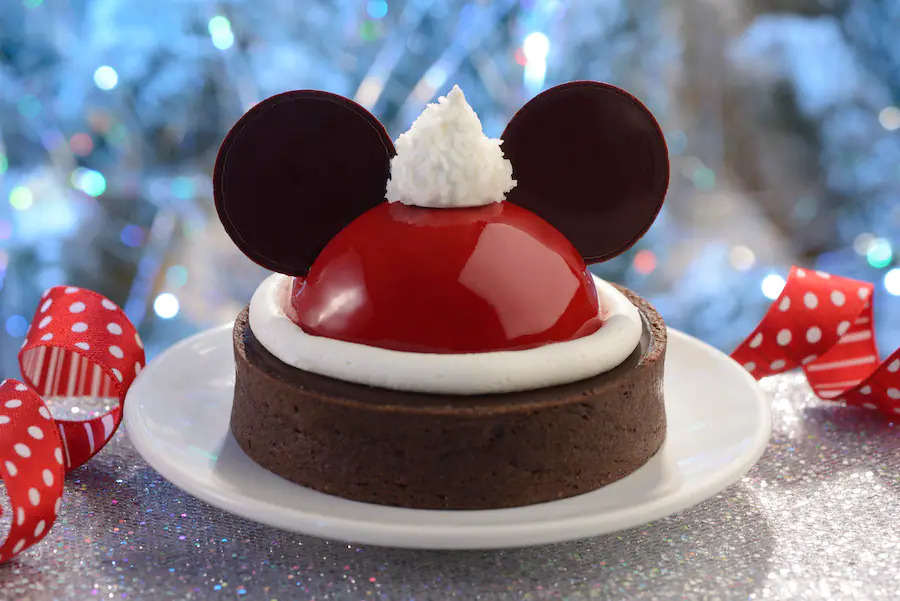 3. View Holiday Decorations
Walt Disney World has the best holiday decorations around. Christmastime is special because at Magic Kingdom, the Christmas season begins the day after Halloween. On November 1st, you will find festive decorations all around the park, and as the days go by these decorations increase in numbers. You will have a great time walking throughout the park and spotting all of the elaborate Christmas decorations. The park's crown jewel of Christmastime is its massive Christmas Tree, which is located right by Main Street's flagpole as soon as you enter the gates. Don't worry; you can't miss it. The tree is 65 feet tall and covered in thousands of twinkling lights.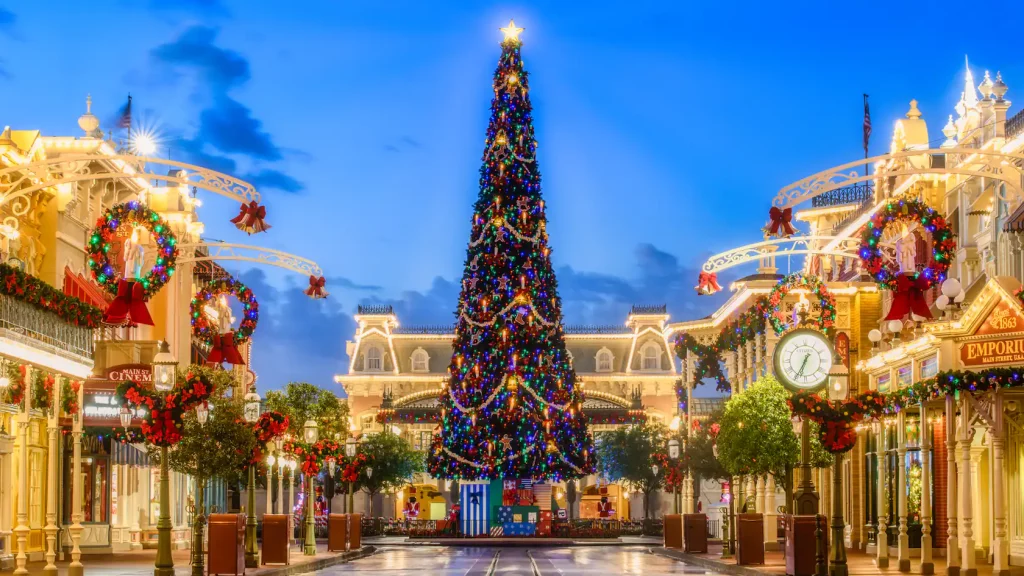 4. Take Photos For Your Christmas Card
While you stroll about Magic Kingdom looking at the Christmas decorations, stop by a Disney Photopass Photographer and grab a photo for your Christmas card. Whether you choose Cinderella Castle with its garland-adorned posts, or Magic Kingdom's towering Christmas Tree, whichever backdrop you choose will certainly have a festive magic that will result in a treasured family photo.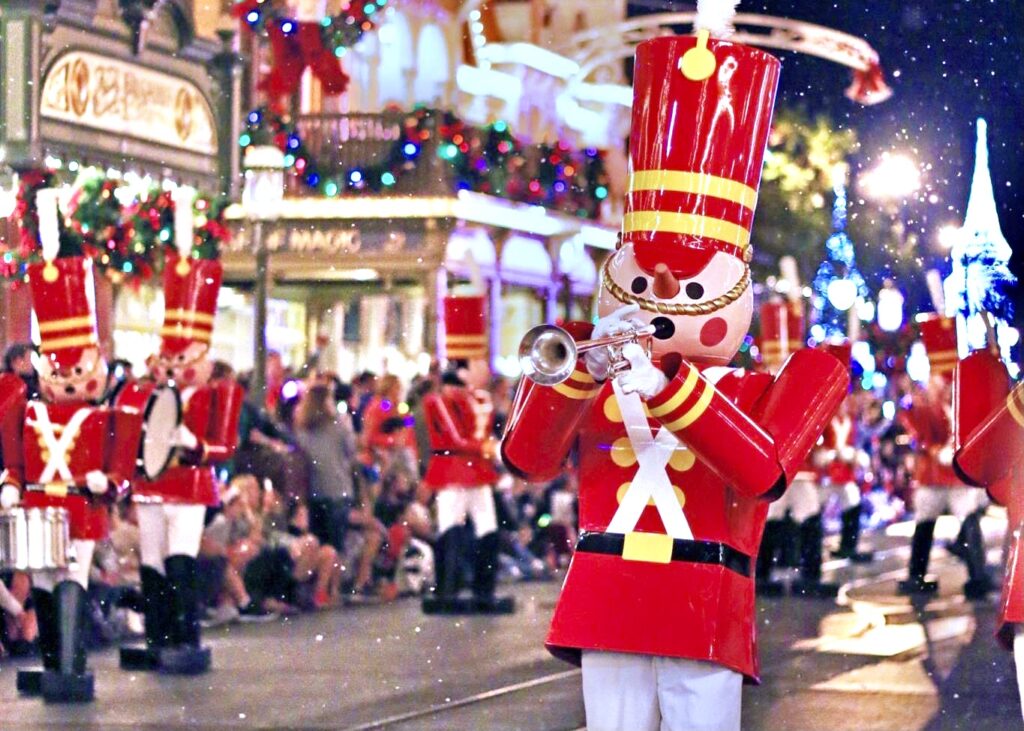 5. Watch Holiday Projections On Cinderella Castle
Although Cinderella Castle is no longer decorated with Christmas lights, Magic Kingdom still has an extra special dose of holiday magic for its castle. During the evenings, the castle is illuminated with special holiday projections. These projections occur even on non-party days so any guest can experience the holiday magic. Before you exit the park, carve out special time for viewing these magical holiday projections.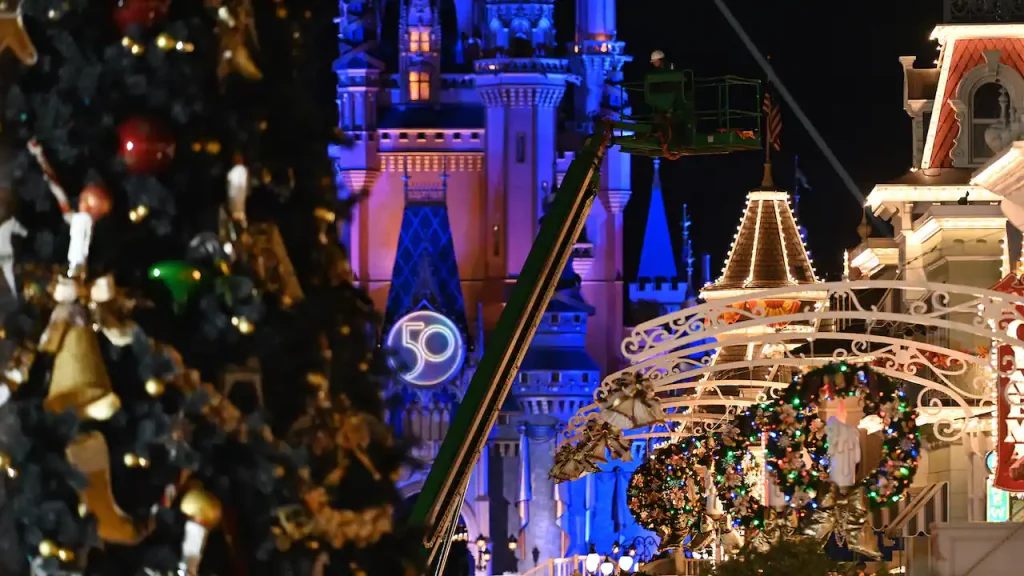 Do you enjoy spending time at Magic Kingdom during the holidays? What is your favorite festive activity to participate in? Let us know in the comments below!
Written by
Megan Woodard
Contributing Writer
Megan was born into a Disney family. Her first trip to Disney World was when she was only 18 months old. Now as an adult, Megan loves to share the magic of Disney with her two toddlers. Keeping up with Disney news and Disney World knowledge is a fun hobby for Megan. Disney World is her favorite place to be and continuously brings back her childhood joy.