The blossoms are blooming, the days are longer; it's springtime at Walt Disney World! But even the most magical place on Earth isn't excused from spring and summer showers. Seeing rain in the forecast during your vacation is never ideal, but that doesn't have to impede your fun. Follow these tips on planning for a rainy day at Disney and we are confident that you will still enjoy your vacation and make those magical memories that you've been dreaming of! 
What To Pack
Rain showers will become more frequent in the afternoons as Florida sunshine warms the skies in the spring and summer months. Even if you don't see rain in your forecast before leaving home, we recommend that you are still prepared for a pop-up rain shower or storm by packing a few important essentials.
Pack ponchos for your entire party!  They are inexpensive and do not take up much space in whatever bag you choose to bring with you into the parks.  If space allows, a small and compact umbrella or two would also be helpful for when you may need to walk a distance between attractions while it's raining.  If you are navigating the parks with a stroller, be sure to bring a stroller cover since most queues do not allow strollers and the stroller parking areas are out in the open.
If you are certain that it's going to rain, consider wearing a pair of waterproof shoes, packing an extra pair of shoes and socks, or even a complete change of clothes in the event that you unexpectedly get soaked. Lastly, small Ziploc bags for valuables like your phone and wallet will be helpful.
What To Do
Now that you've packed all that you need to have a great day rain or shine, it's important to know where you can go in the Disney Parks to stay dry. Save this list of attractions at each park so you can still make the most of your trip rain or shine! 
Magic Kingdom
Tomorrowland
In Tomorrowland, hop on Space Mountain or Buzz Lightyear's Space Ranger Spin. Both queues should keep you dry and entertained while you wait. Shop for souvenirs at Star Traders and the fan-favorite Tomorrowland Light and Power Co. where you can make your own light saber!
Fantasyland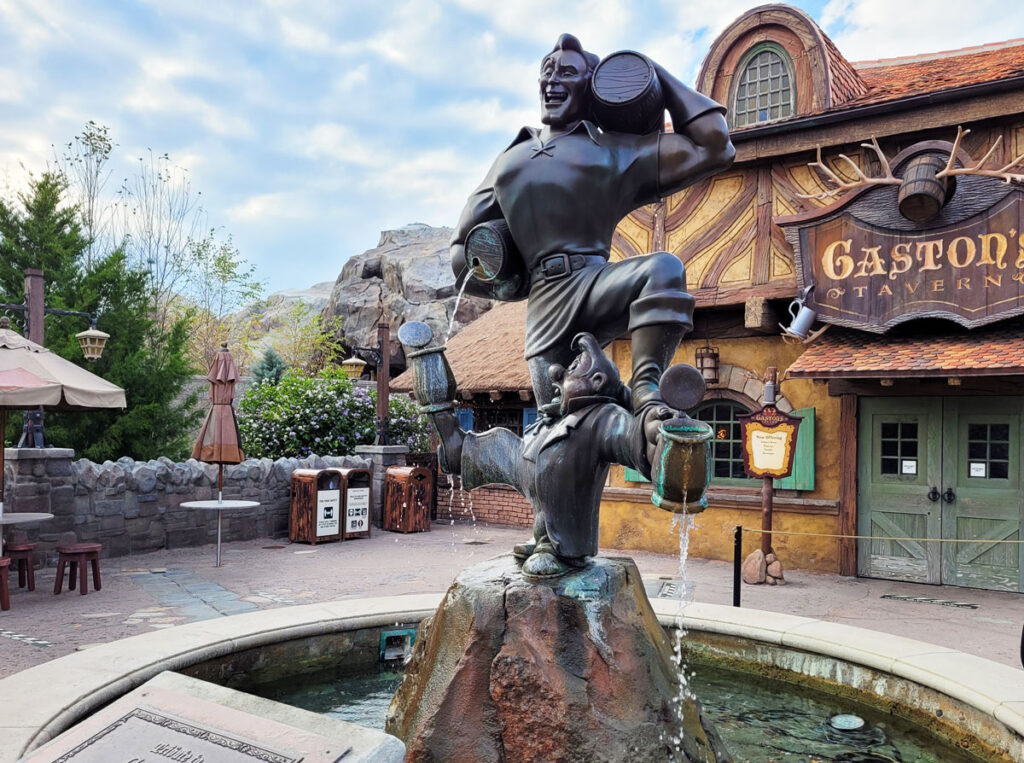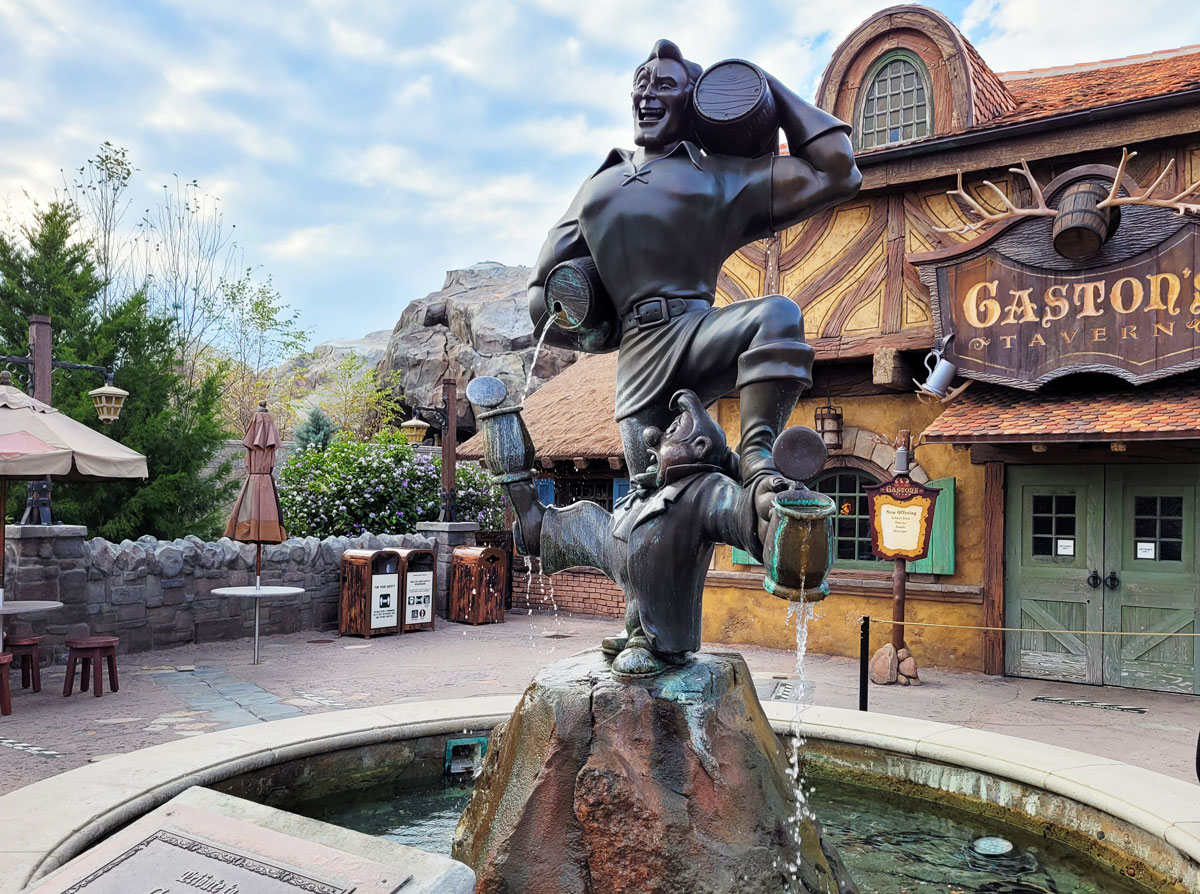 In Fantasyland, your best bet for staying dry is heading to Under the Sea – Journey of the Little Mermaid.  Adjacent is Bonjour! Village Gifts that sells memorabilia from Beauty and the Beast along with other Disney-themed merchandise.
Stop by Gaston's Tavern to try "The Grey Stuff" or their ooey-gooey cinnamon rolls!  You could also join the walk-up wait list for Be Our Guest Restaurant via the My Disney Experience App. 
Frontierland

Some of the rides in Frontierland experience a temporary closure in the rain, especially when lightning is in the vicinity. If you're in Frontierland during a classic Florida downpour, this may be a good time to break for food. Stop by Westward Ho and grab a Mickey-shaped pretzel or Pecos Bill Tall Tale Inn and Café for some tacos and churros with chocolate dipping sauce. Frontier Trading Post is a must, especially if you collect Disney pins. It is a great place to purchase new pins and swap with other guests and cast members!
Adventureland
If you're caught in the rain in Adventureland, make your way to Pirates of the Caribbean and Plaza del Sol Caribe Bazaar to stay dry. Enjoy a sit-down meal at the Sunshine Tree Terrace which will require a reservation or join the walk-up wait list via the app.
Main Street
If you're along Main Street in Magic Kingdom, be careful crossing the road as it tends to channel a lot of water during downpours! However, you can sit down for a meal at Tony's Town Square or The Plaza Restaurant and then grab something sweet from the Main Street Bakery. There are plenty of shops to duck in and out of such as Emporium, the largest souvenir shop in Magic Kingdom. If you get wet and don't have a change of clothes and shoes, this shop will have all that you need!
Epcot
Future World
The front of the park offers many attractions and shops that are in close proximity for your enjoyment on a rainy day.  Start at Spaceship Earth and wind your way around to The Seas with Nemo & Friends. Adjacent to Nemo, explore Seabase, the indoor aquarium.  Sit-down for a meal at Coral Reef Restaurant if you have a reservation or join the walk-up list to continue observing the sea life with views of Disney's own coral reef while you eat.
Set sail on an indoor boat ride in Living with the Land and glide through the air on Soarin' Around the World right next door. Take a movie break with the Awesome Planet attraction and the Disney and Pixar Short Film Festival. Next head to a fun and surprising ride for all ages called Journey into Imagination with Figment. Afterwards, check out ImageWorks shop for a great selection of souvenirs and merchandise. 
World Showcase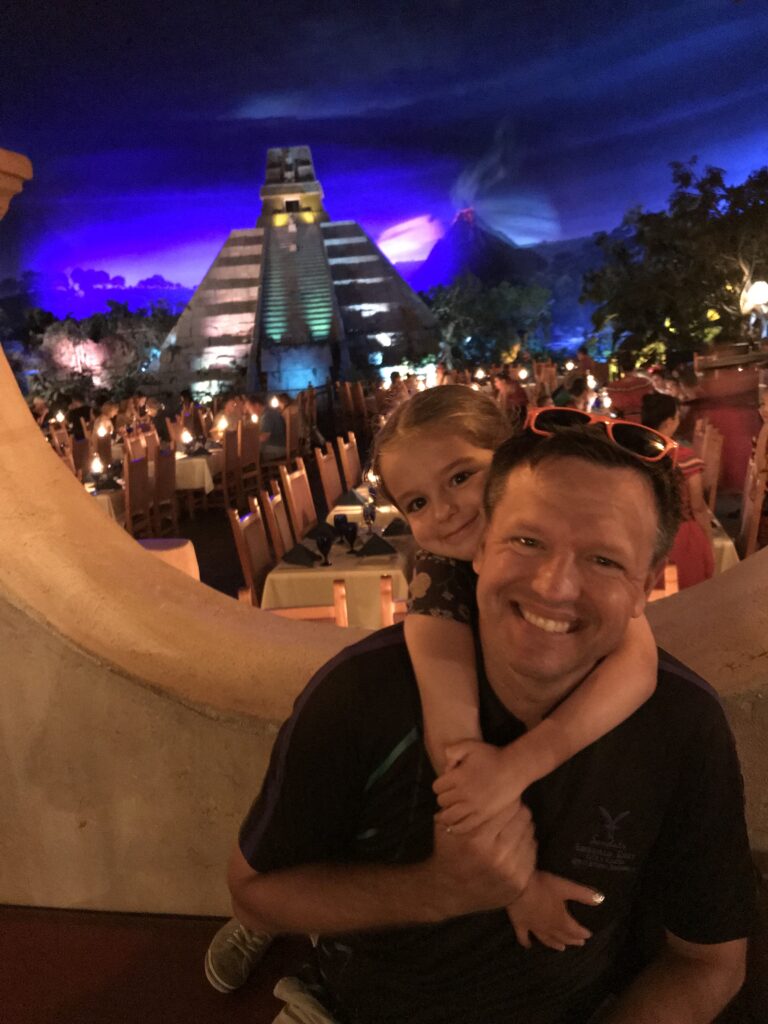 If you find yourself in the World Showcase during a rain shower, Mexico and Norway have indoor rides to stay dry.  The Gran Fiesta Tour in Mexico will take you on a cruise past the beautiful indoor pyramid scene. If budget allows, stay for a sit-down meal at the San Angel Inn to continue enjoying the atmosphere. Close by you can join the queue for Frozen Ever After, but stay informed with the app to make sure it remains open.
China, the American Adventure, and Impressions de France offer short entertaining and educational films and France is also currently showing a Beauty and the Beast Sing-along that offers a 14-minute show that would be a welcomed break from a rainy day.  Before leaving France, grab a snack at the adjacent Les Halles Boulangerie-Patisserie for a delicious baked treat or relax there with an adult beverage.  
Hollywood Studios
At Disney's Hollywood Studios you can find a variety of shows and rides to enjoy for both little and big mousketeers during a rainy day! Experience the magical powers of Elsa at the Frozen Sing-Along and if you're lucky, snag a reservation or join the walk-up list at the nearby 50's Prime Time Café or Hollywood and Vine.
Duck into some nearby shops on Hollywood Boulevard near the entrance of the park such as Mickey's of Hollywood that transports you back to the 1920s, 30s, and 40s, or grab your Hollywood-themed ears at Movieland Memorabilia.  
Along Sunset Boulevard, seek shelter and a thrill at the Rock 'n' Roller Coaster and afterwards stop at Rock Around the Shop for your favorite Aerosmith-themed gifts. Next door attend the Lightning McQueen's Racing Academy. If you got wet, you'll dry fast as you race around the track with all of your favorite friends from the Cars movies! 
If you love the Muppets (who doesn't love the Muppets?), then you'll enjoy staying dry while checking out Muppet*Vision 3D and grabbing a bite at the nearby Mama Melrose's Ristorante Italiano where you can also sit down and get out of the rainy weather.  
The Disney Junior Dance Party will keep you dry and your little ones entertained for a lively 25-minute show and take a saunter over to Toy Story Land to ride Toy Story Mania and grab a quick bite at Woody's Lunch Box where the nostalgic theme continues.
If you are a Star Wars fan, then you know that Hollywood Studios is the park for you!  Rain or shine you won't be missing out on your favorite attractions and shops. Docking Bay 7 Food and Cargo is the perfect place for you to refuel. If you're looking for something unique to quench your thirst, you definitely will want to stop by Oga's Cantina on a rainy day for adult beverages.
These are both located near Millennium Falcon: Smugglers Run and also Rise of the Resistance, which is currently only operating on a virtual queue, so you will need to have previously reserved your time slot for this popular attraction. For all of your favorite Star Wars souvenirs, the rain won't stop you from visiting the many shops in this same area.  If you hadn't already made a reservation at Droid Depot to make your own droid and Savi's Workshop to make your own hand-built lightsaber, Toydarian Toymaker and Creature Stall will have plenty of Star Wars paraphernalia from which to choose. And on your way out of the park, stop by Keystone Clothiers near the entrance which has both Star Wars apparel and accessories.
Animal Kingdom
Pandora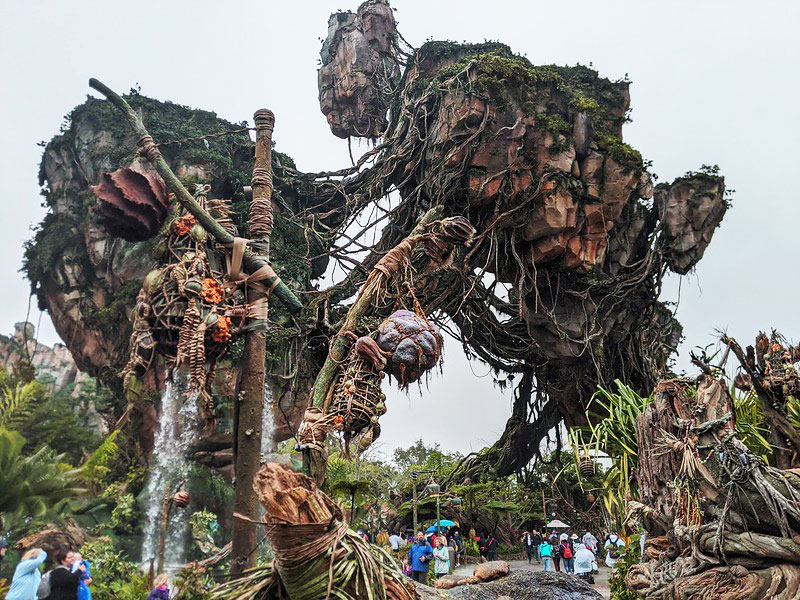 While the animals might not mind the rain so much, we know that you will be wanting to keep dry for most of the day.  A great area to explore is Pandora. Here you can stay dry on the stunning Na'vi River Journey and fly high on Avatar Flight of Passage.  If you're hungry, take a break at the Satu'li Canteen and shop for Pandora-inspired souvenirs at Windtraders.
Dinoland
Another area to explore in the rain is Dinoland.  Catch a ride on a time rover in the attraction DINOSAUR and finish your prehistoric adventure by browsing the Dino Institute Shop which offers unique dinosaur-themed souvenirs. Take a lunch break at Restaurantosauraus or take a short walk to Yak & Yeti to treat yourself to a more diverse menu featuring America and Asian cuisine. The Shanghai lemonade is a delight, but they offer a variety of other specialty drinks as well.
Africa
Finally, you may be surprised to hear that the Kilimanjaro Safaris often still run in the rain as long as conditions are safe for the vehicle and passengers!  The queue for this attraction is covered and many times the animals appear more active in the rain, so put on that poncho and give it a try!  Afterwards, check out Mombasa Marketplace for a great place to shop for authentic African gifts and keepsakes.  If you need a warm drink, Creature Comforts is a short walk from the safari and there you can also reward yourself with a delicious Disney treat.
Keep these tips on planning for a rainy day at Disney handy to make the most of your Disney Vacation days, rain or shine!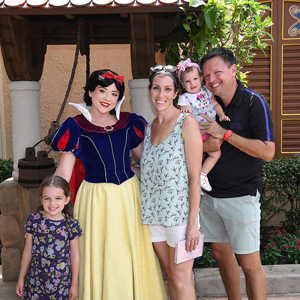 Written by
Shelley Wehler
Contributing Writer
Shelley is a stay-at-home mother of two girls living outside of Charlotte, North Carolina. Her love of all things Disney has grown even more as she sees the magic come alive through the lens of her young daughters. She spends her free time keeping up with the latest in Disney news and daydreaming of her next trip to the parks!