Character dining is one of my favorite things to do at Walt Disney World with my children. Character dining is the best and most efficient way for your young children to meet some of their favorite characters without waiting in lines. The entire family gets to enjoy a delicious meal while the characters come to your table one-by-one to spend some time with you and take photos. If you have a child under the age of three in your family then you don't have to order them a meal; they can just eat off of your plate!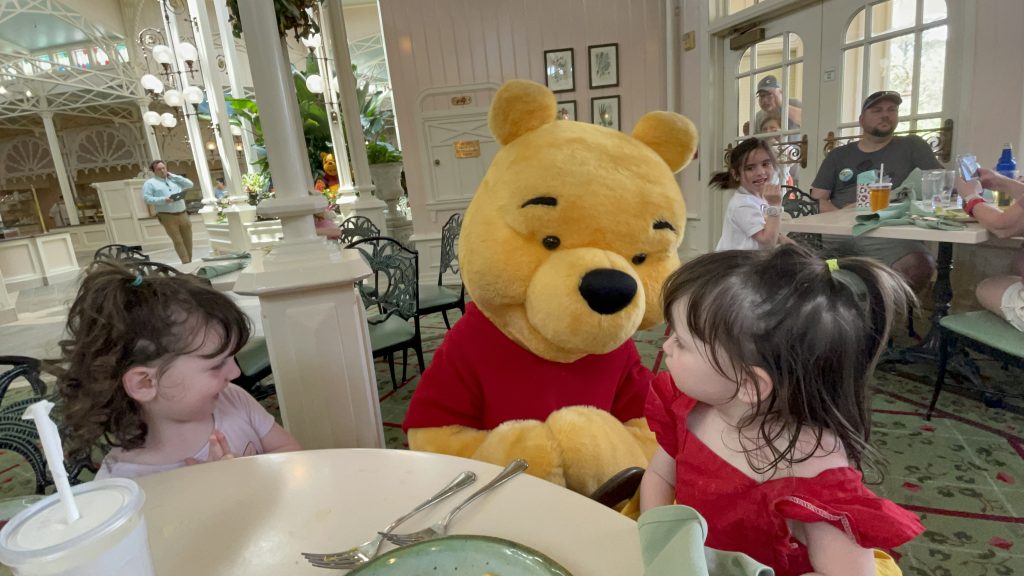 During my recent visit to Walt Disney World we experienced three character meals with our two toddlers who are two and three years old. Here is where we went, what we did, and what we recommend for you.
Where We Went
During our recent trip to Walt Disney World we experienced three character meals: The Crystal Palace, Garden Grill, and Topolino's Terrace.
The Crystal Palace is located in Magic Kingdom directly off of Main Street in between Casey's Corner and the Baby Care Center. The Crystal Palace is a buffet-style restaurant serving breakfast, lunch, and dinner. The characters who join your meal at The Crystal Palace are Pooh, Piglet, Tigger, and Eeyore. Their breakfast menu consists of a wide-variety of items such as fresh fruit, pancakes, waffles, bacon, biscuits and gravy, eggs, and assorted pastries. For lunch and dinner guests can enjoy salads, seasonal ravioli, carved prime rib, shrimp creole, country fried chicken, fresh vegetables, and an assortment of desserts stylized as Winnie the Pooh characters. The cost for this experience is 59 dollars per adult, and 38 dollars per child. Keep in mind however that children under three eat free for all character dining experiences.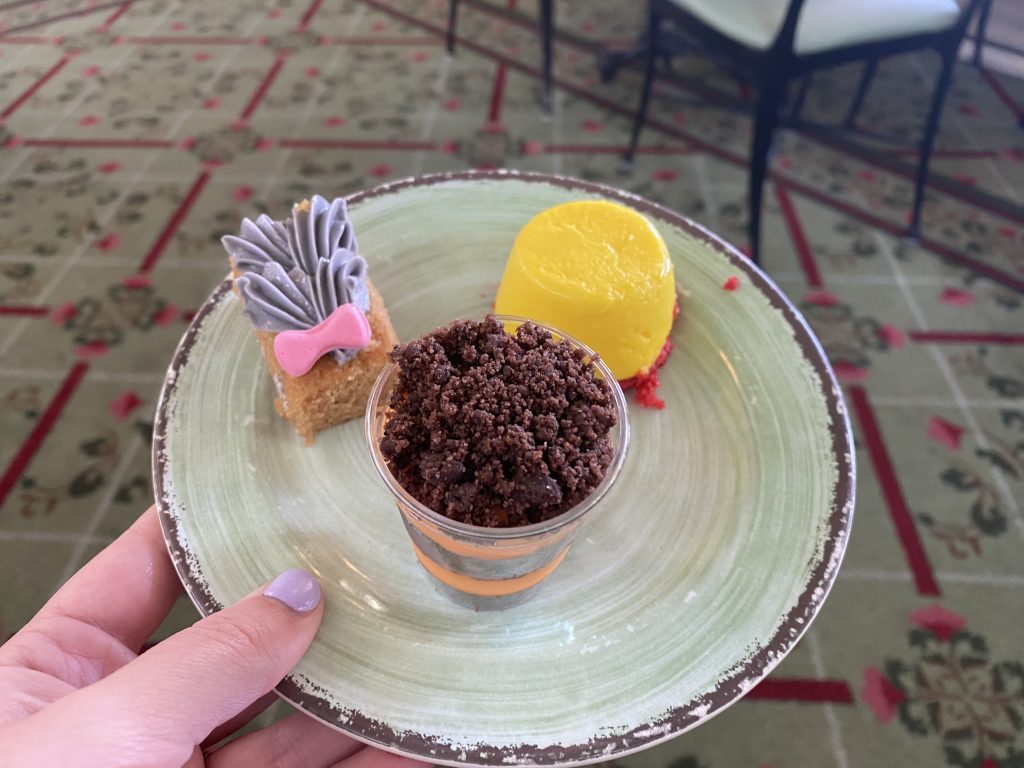 Garden Grill restaurant is another character dining experience located within EPCOT's The Land Pavilion. This restaurant is home to Chip, Dale, Pluto, and Mickey. The restaurant itself sits upon a revolving plate, giving guests a bird's eye view of the different biomes throughout the Living With The Land ride. Currently Garden Grill is only offering lunch and dinner, but after June 14th 2023 it will begin offering breakfast once more. The meal here is served family-style and is all-you-care-to-enjoy. For 55 dollars per adult and 36 dollars per child, Garden Grill serves garden salad, barbecue-roasted chicken, grilled beef with chimichurri, mashed potatoes, macaroni and cheese, spoon bread, seasonal vegetables, and a berry shortcake for dessert.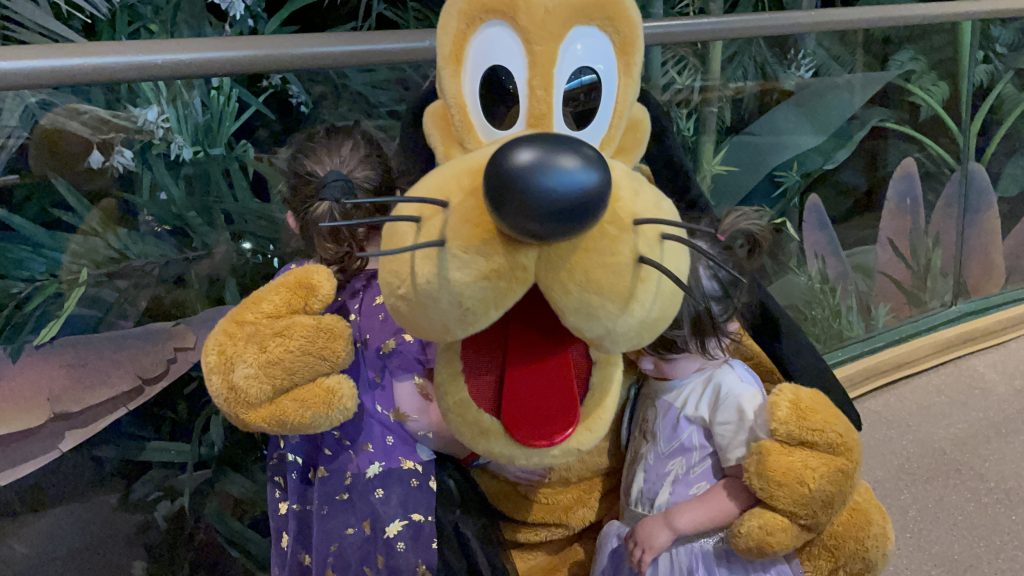 Topolino's Terrace is a breakfast-only character dining experience located at Disney's Riviera Resort. Topolino's Terrace is located on the top floor of the resort and offers stunning views of the surrounding area. The characters who dine with you here are Daisy, Donald, Minnie, and Mickey. For 45 dollars per adult guests can choose one entrée with options such as quiche, smoked salmon, steak, sour cream waffle, French toast, and avocado toast. For 28 dollars, children between ages 3 and 9 can choose an entrée from the kids' menu featuring Mickey waffle dippers, scrambled eggs, or fruit and yogurt. All guests are also served a basket of pastries to start at the beginning of the meal.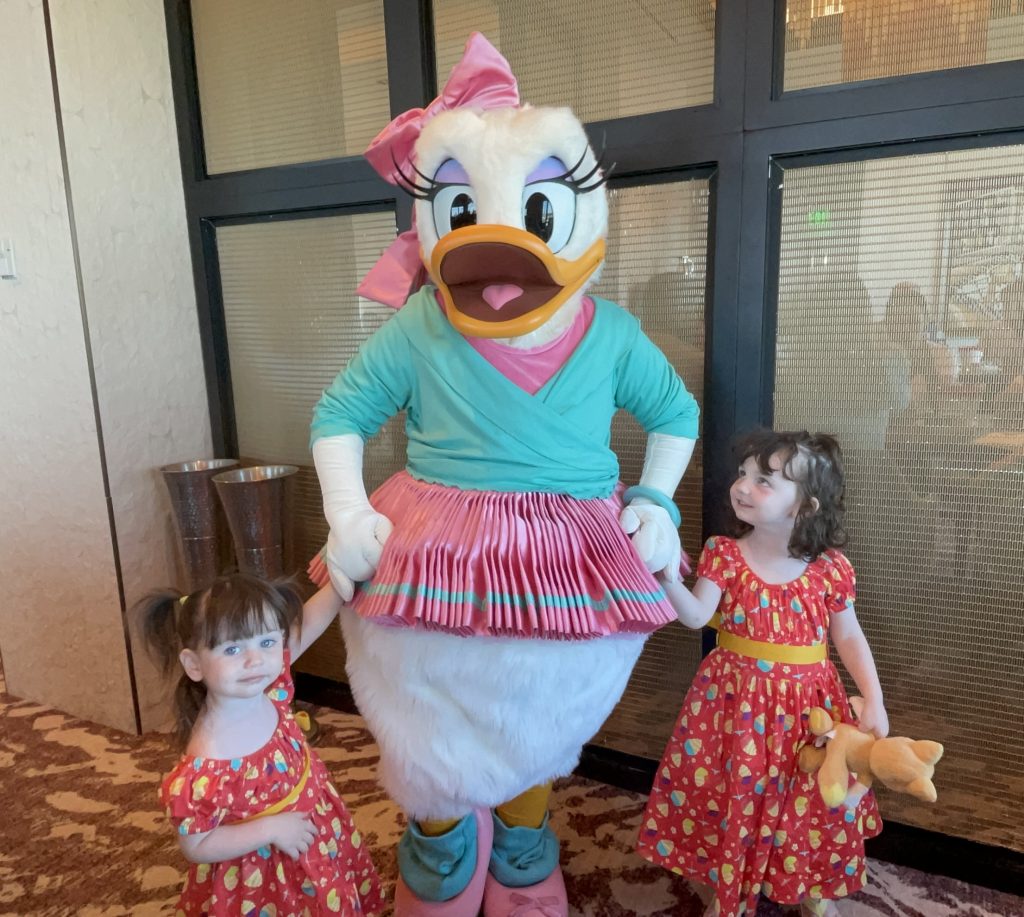 What We Did
It was important to my children to meet characters during this trip but I knew they wouldn't be able to handle the long wait that comes with meet and greets. When we decided to do character dining, we first made a list of the characters that were most important for us to meet. For our family this included Pluto, Mickey, Minnie, Daisy, Donald, and all of the Winnie the Pooh characters. We then found which character dining experiences included these characters and made our decisions from there. We knew that The Crystal Palace was a must-do for our family. Garden Grill included Pluto and as an added bonus: Chip and Dale. Topolino's was the only located that included Daisy which is why we chose this experience.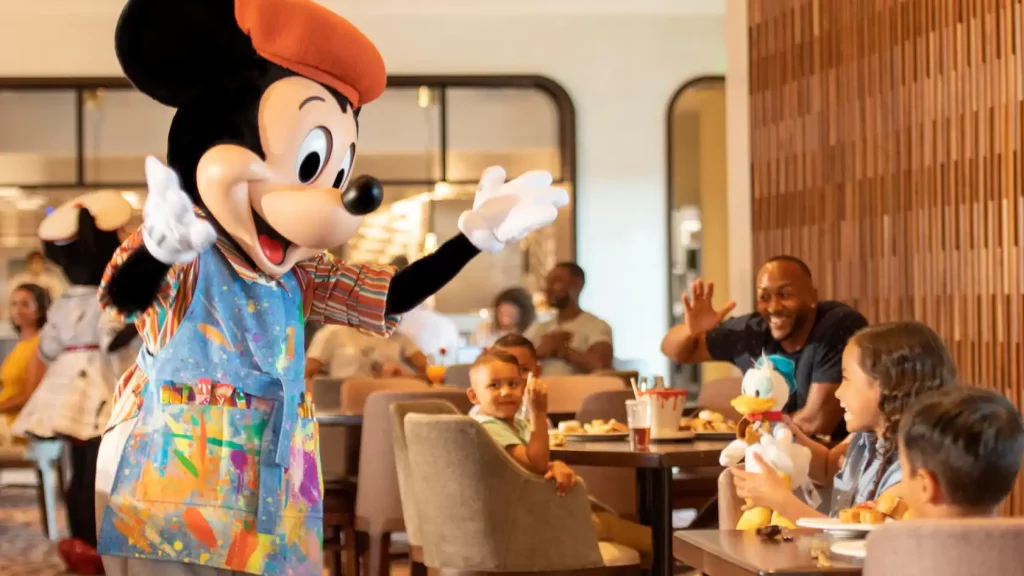 What We Recommend For You
My biggest tip to families with toddlers is to prep their children prior to the meal. You never know how your toddler is going to react to the characters even if you think they will love it. I showed my children videos of the characters before we left for our trip so that they knew what to expect.
Another thing to expect is that your child may not eat much during the experience. Even if your child typically eats quite a bit, the excitement during a character meal might distract them. Try and remember that you are not only paying for food, but paying for exclusive character time as well. The time your child gets with their favorite characters is just as valuable as the food that is being served.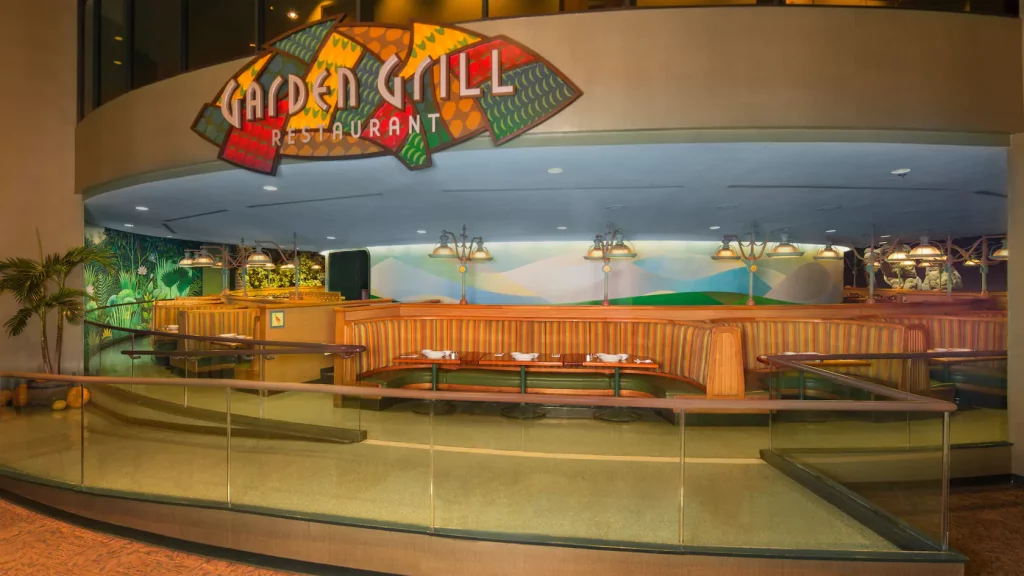 The last tip that I have for families of small children is to sit your children together at the end of the table so that characters can interact with them altogether and more freely. Your children are able to get out of their chair for the experience if they wish, but they don't have to if they are sitting nearest the area where the characters greet.
Do you enjoy character dining at Walt Disney World? What is your favorite meal at Disney? Let us know in the comments below!
Featured Photo by Megan Woodard
Written by
Megan Woodard
Contributing Writer
Megan was born into a Disney family. Her first trip to Disney World was when she was only 18 months old. Now as an adult, Megan loves to share the magic of Disney with her two toddlers. Keeping up with Disney news and Disney World knowledge is a fun hobby for Megan. Disney World is her favorite place to be and continuously brings back her childhood joy.