At Disney's Riviera Resort, guests experience the charm of Europe in the quaintness of the architecture and décor. Located along the water, close your eyes, feel the breeze, and imagine yourself in the French or Italian Riviera. This romantic feeling extends to the Riviera's top-floor restaurant, Topolino's Terrace, which offers a one-of-a-kind character breakfast featuring your favorite Disney pals at their creative best – Mickey, the painter, Minnie, the fashionista writer, Donald, the sculptor, and Daisy, the dancer. For the fantastic and filling food and engaging character interactions, Breakfast à la Art at Topolino's Terrace does not disappoint.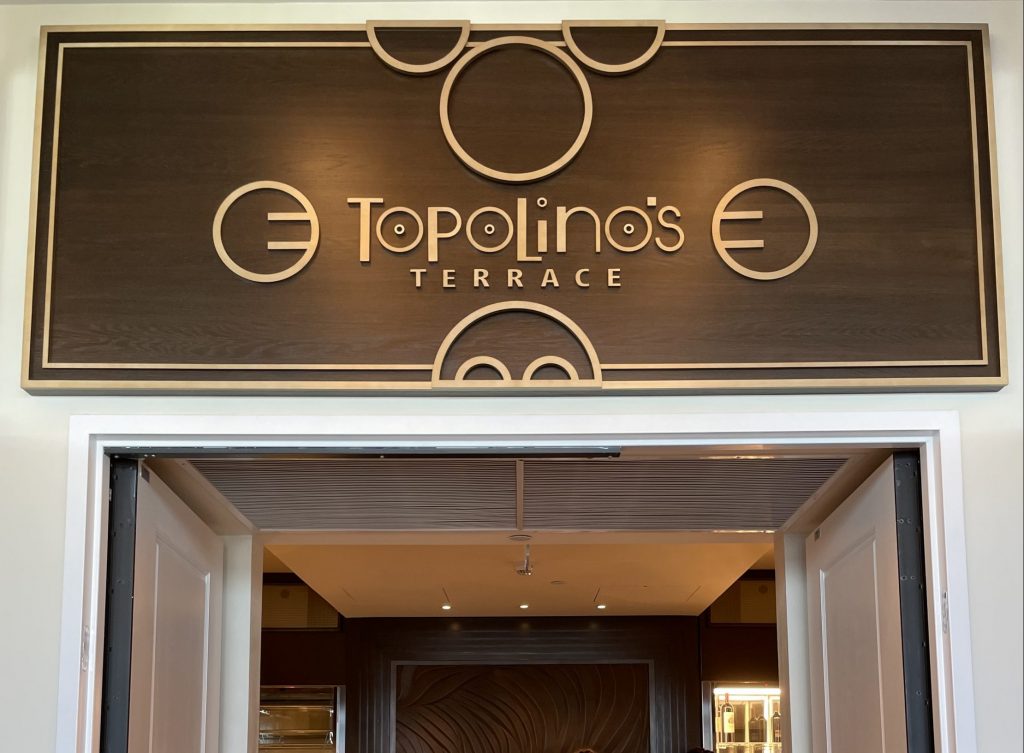 Start your meal with deliciously fresh pastries served in a ceramic paint bucket. Included in our dish were mini chocolate chip muffins and croissants. Use the paintbrush butter knife to spread butter, jam, or chocolate hazelnut spread on your pastry of choice. A basket of gluten-free pastries is also available to order at no additional cost. Ours included a blueberry muffin, a vanilla iced donut, and a cinnamon sugar donut.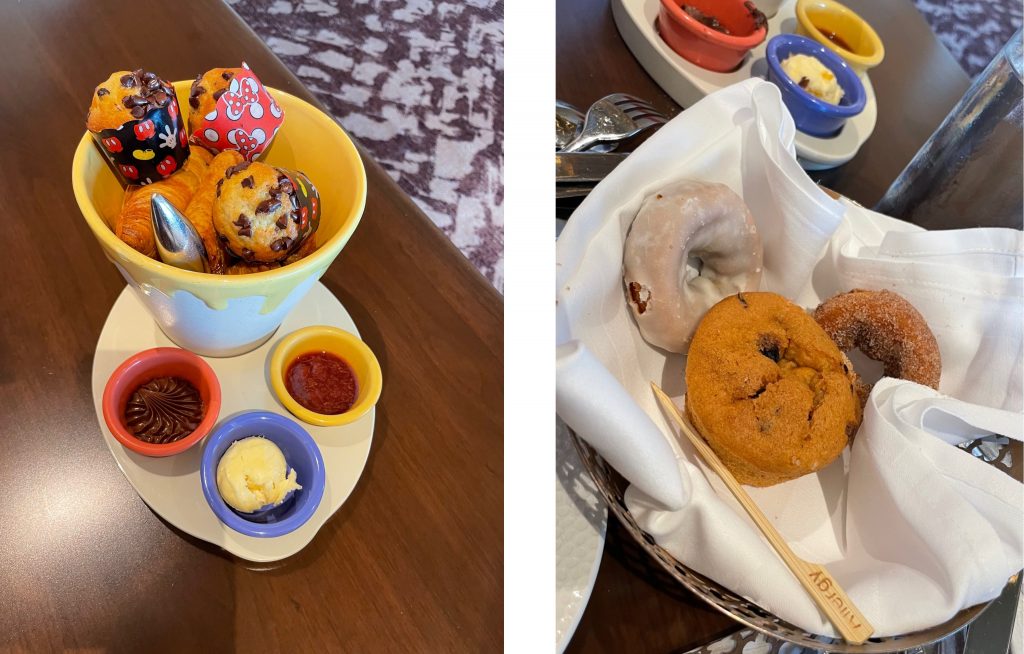 This breakfast is priced at a flat rate per person – $42 for adult and $27 for children 3-9 – and guests are able to order as many entrees as they wish! The Mickey Waffle Dippers is a must-have for children under 10. It comes with one each of a Mickey and Minnie waffle on a stick served on a paint palette plate including chocolate, maple, and strawberry syrups for dipping. Other entrée choices from the kids menu include eggs with your choice of sides and fruit and yogurt.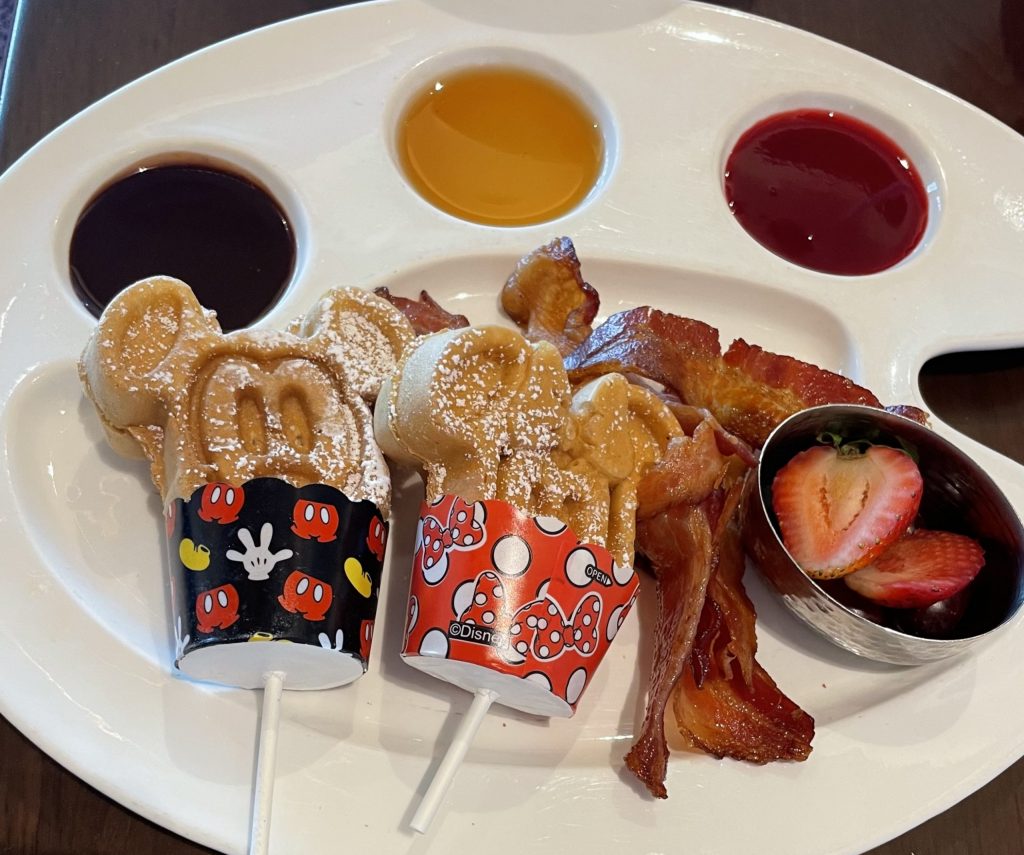 There is something for everyone under the adult entrees, many being allergy friendly. We ordered the quiche gruyère, two eggs any style, and the fruit plate. Other entrée choices include smoked salmon, avocado toast, sour cream waffle, and a wood-fired butchers steak. A plant-based egg and sausage plate is also available to order. Everything came in generous portions and we left the breakfast feeling well-fed with quality food!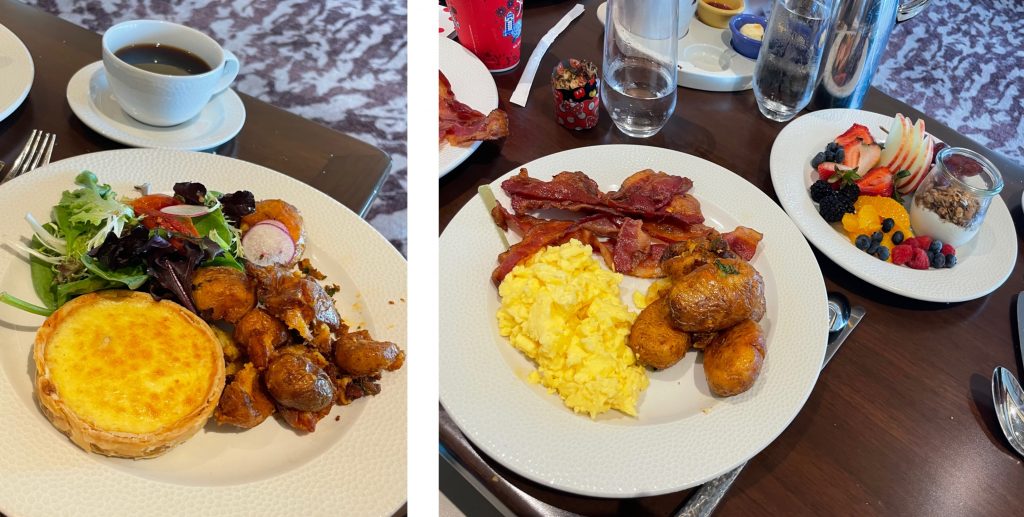 Our breakfast at Topolino's Terrace lasted over one hour. We did not feel rushed and had plenty of time to enjoy our meal. All four characters stopped at our table at least two times each for hugs and autographs. They were willing and patient to pose for photographs and made us feel special by pointing out things that we were wearing or eating. Donald even motioned that he was tired and wished he could have a cup of coffee! The characters also walked and danced around the restaurant during a special song that was played approximately every 30 minutes giving all guests ample opportunity to wave and visit with their favorite characters!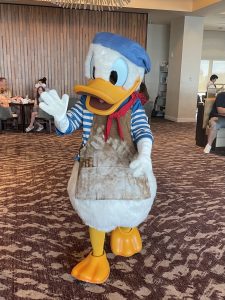 Breakfast à la Art at Topolino's Terrace is a popular character meal and it is best to have a reservation. If you are unable to secure a reservation, you may try joining the walk-up list if showing available on the My Disney Experience App. If the walk-up list is showing as full, a cast member may be able to seat your party at the bar inside of Topolino's Terrace where you can enjoy their tasty breakfast selections. While the characters do not come to the bar to greet the guests, you will still be able to see them out and about inside of the restaurant.
After finishing your meal, don't forget to visit the terrace through the doors in the back of the restaurant. Take in the views of the water and other neighboring Disney resorts as you watch the Skyliner transport eager guests to and from EPCOT. If you yourself are not in a rush to get to the parks, take a seat to enjoy the moment on the outdoor furniture.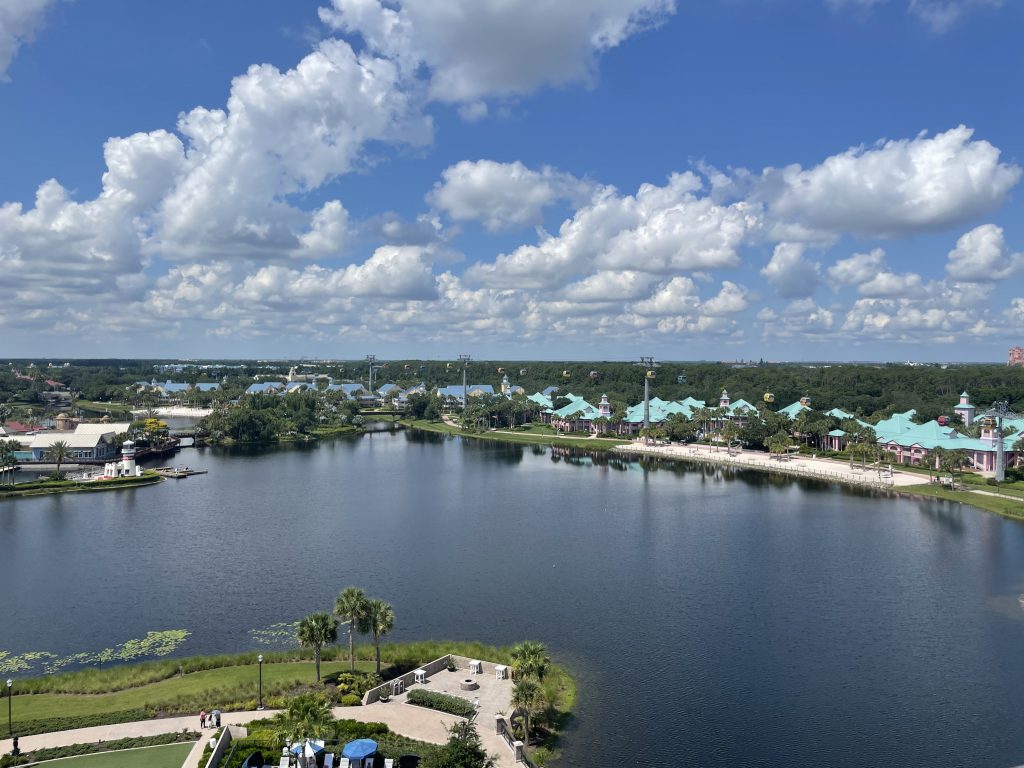 From start to finish, our experience at Breakfast à la Art at Topolino's Terrace was top-notch and one to which we would be willing to return to in the future. Will you see Mickey and Friends at Breakfast à la Art at Topolino's Terrace during your next trip to Walt Disney World? If you have already dined here, what was your favorite part about this character meal? Tell us in the comments below!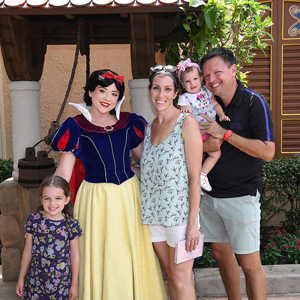 Written by
Shelley Wehler
Contributing Writer
Shelley is a stay-at-home mother of two girls living outside of Charlotte, North Carolina. Her love of all things Disney has grown even more as she sees the magic come alive through the lens of her young daughters. She spends her free time keeping up with the latest in Disney news and daydreaming of her next trip to the parks!