Walt Disney World's newest DVC resort is a luxurious resort styled with European flair and an extra Disney touch. Disney's Riviera Resort has a fantastic location right off of the Disney Skyliner giving guests quick and easy access to both Hollywood Studios and Epcot. This resort has several fantastic amenities and recreational opportunities which can easily fill your entire day. A resort-only day at Disney's Riviera Resort is the best way to take advantage of everything this resort has to offer.
Morning
The best way to begin your time at the resort is with an early-morning stroll throughout the property. This is a great way to get to know your resort and explore all areas while other guests are making their way to the parks. If you need to squeeze in a workout, you can stop inside the Athletique Fitness Center. This fitness center is full of the latest gym equipment and has everything you need for a great workout while on vacation.
Topolino's Terrace breakfast is a Disney must-do. This beautiful rooftop restaurant not only features a decadent breakfast menu consisting of smoked salmon, quiche, and steak, but also hosts Mickey, Minnie, Donald, and Daisy. These signature Disney characters will visit your table throughout your meal and pose for plenty of photographs with your family. Disney character breakfasts are a great way to meet your favorite Disney characters without waiting in line. It also gives you a unique opportunity to spend extended one-on-one time with the characters. Topolino's serves breakfast with a set price of $45 per adult and $29 dollars per child. This price includes one beverage, assorted pastries to start, one full-sized entrée and an additional smaller entrée.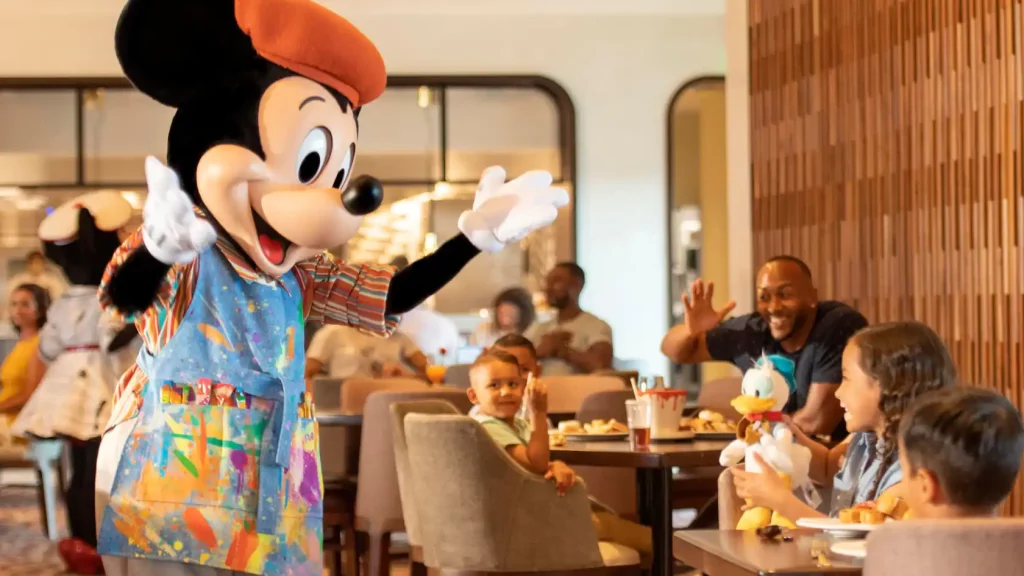 Afternoon
After breakfast has settled and the heat of the day begins, this is a great time to hop in the resort's pool. Riviera's main pool comes with a water slide and a splash play area for children. If you are looking for a more leisurely swimming experience, Riviera has another smaller and calmer pool away from the main pool. After swimming, guests might enjoy the bocce ball court and chess court.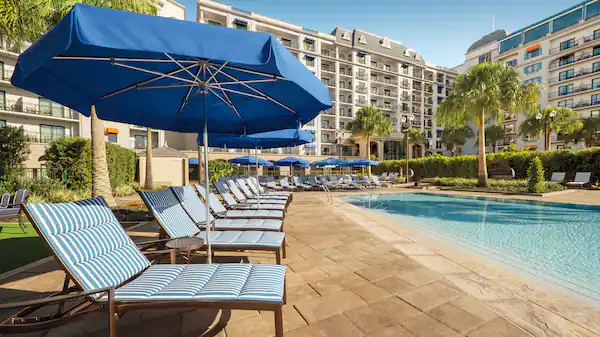 Voyageurs' Lounge is a great place to relax after swimming and other outdoor activities. This laid-back lounge is decorated to look like the library of someone well-traveled, and features comfortable seating and plenty of air-conditioning.
For lunch, guests can visit Primo Piatto, Disney Riviera's quick-service dining location. This casual dining spot features a lunch menu consisting of burgers, croque, Italian sandwiches, tuna salad, Greek salad, and lasagna.
Evening
Unwind during the evening hours with a cocktail from Le Petit Cafe Lounge. This lounge serves specialty coffee beverages as well as cocktails, mocktails, and other alcoholic beverages. Le Petit Cafe also serves cheese boards and other small appetizers and desserts.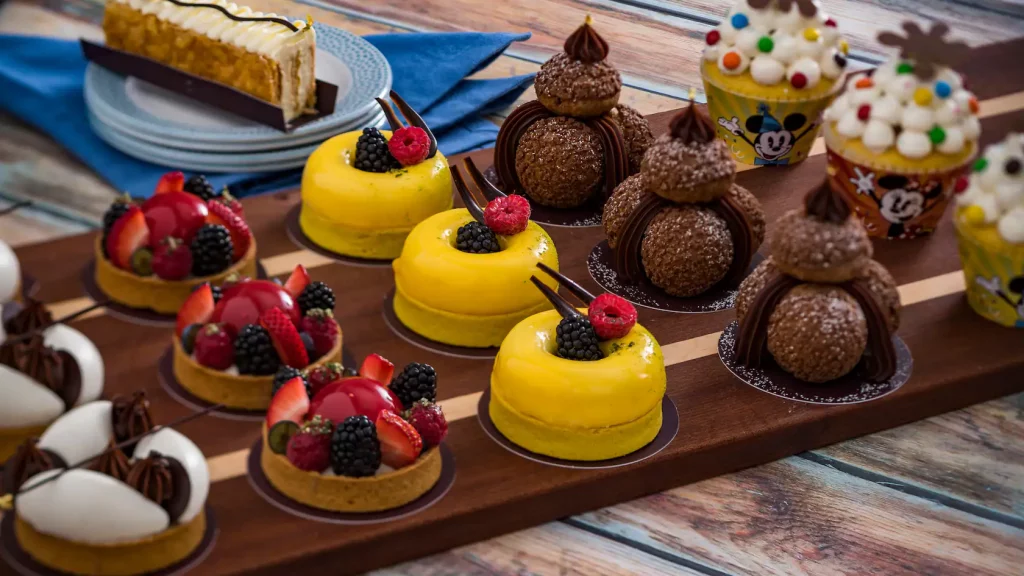 Bar Riva is another option for an evening drink. This is Riviera's open-air pool bar and it serves several options of cocktails, beer, and wine.
Disney's Riviera offers nightly campfire activities near the waterfront. Guests can roast marshmallows and gather during this old-fashioned fun activity. Riviera also shows movies under the stars beginning at 8:30pm nightly on the main lawn.

You can easily spend an entire day at Disney's Riviera Resort doing fun activities and eating great food. What is your favorite resort to spend an entire day at? Let us know in the comments below!
Written by
Megan Woodard
Contributing Writer
Megan was born into a Disney family. Her first trip to Disney World was when she was only 18 months old. Now as an adult, Megan loves to share the magic of Disney with her two toddlers. Keeping up with Disney news and Disney World knowledge is a fun hobby for Megan. Disney World is her favorite place to be and continuously brings back her childhood joy.