Disney World is home of some of the yummiest treats and snacks you can enjoy. From Mickey rice crispy treats covered in chocolate and candy, to the Mickey shaped ice cream pop, or Casey's Corner corndogs, there is a snack at Disney for everyone. Whatever you choose, you are sure to enjoy!  The snacks add a special something when you are enjoying your magical time inside Disney World resorts. There is nothing more special than enjoying your favorite treat as you head to your next attraction or show. Sometimes the treats can leave a lasting sweet memory just as much as our favorite rollercoaster or attraction. Some snacks and treats, though, are a must have and a staple when you visit the parks. Here is our list of the best 5 snacks at Walt Disney World's theme parks!
#5: Mickey Pretzel
We are starting this list off with none other than the Mickey pretzel; a quick and filling snack that always comes warm and just the right amount of salt! It should be a rule that you cannot come to Disney World and not get the infamous Mickey pretzel. This is one of my favorite snacks and I must enjoy at least once when on vacation in the parks. There is just something so magical about a delicious snack that is shaped like your favorite Disney character, especially when you are enjoying it at the most magical place on earth! The infamous Mickey pretzel can be enjoyed all over the Disney theme parks, some resorts and even at Disney Springs. So pretzel lovers have plenty of places to score this yummy snack! Mickey pretzels cost $7.19 and comes with cheese sauce.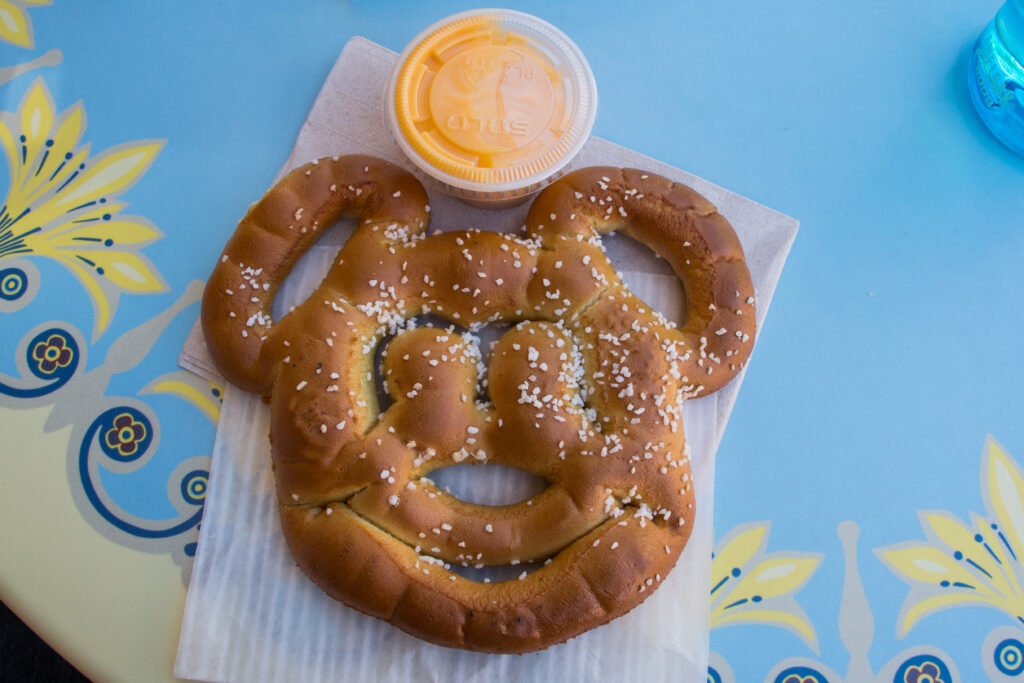 If the Mickey pretzel is your favorite go to snack, you must venture out and try some of the delicious loaded pretzels Disney World has to offer. If you stop by the Lunching Pad in Tomorrowland at Magic Kingdom, you can have their Sweet Cream Cheese pretzel. And yes, they are as good as they sound! Kringla Bakeri Og Kafe in the Norway Pavillion at Epcot sells Sweet Raisin pretzels with icing, and either chocolate or almonds. And for the most sought after pretzel in all of Disney World, go to Animal Kingdom at Harambe Fruit Market for the incredible Jalapeno Cheese pretzel. Some say it is even better than the Sweet Cream Cheese pretzel at Magic Kingdom!
#4: Churros
Disney World has the most delicious churros available at several locations in each park. But, there is one location that offers churros with special sauces that is worth the stop! In Animal Kingdom at Nomad Lounge, head in to get the #4 best Disney snack on our list; churros with vanilla crema and chili-strawberry sauces to dip for $9.00. The churros are warm with a crunchy outside and a soft inside. These are sure to be your favorite new snack at Animal Kingdom!
If you are in Epcot and craving a churro, you can get bite sized churros with caramel dipping sauce at La Cantina de San Angel at the Mexico Pavilion. A seasonal churro treat to enjoy is the Cinnamon milkshake topped with a churro and whipped cream. You can enjoy this treat at Min and Bill's Dockside Diner in Hollywood Studios.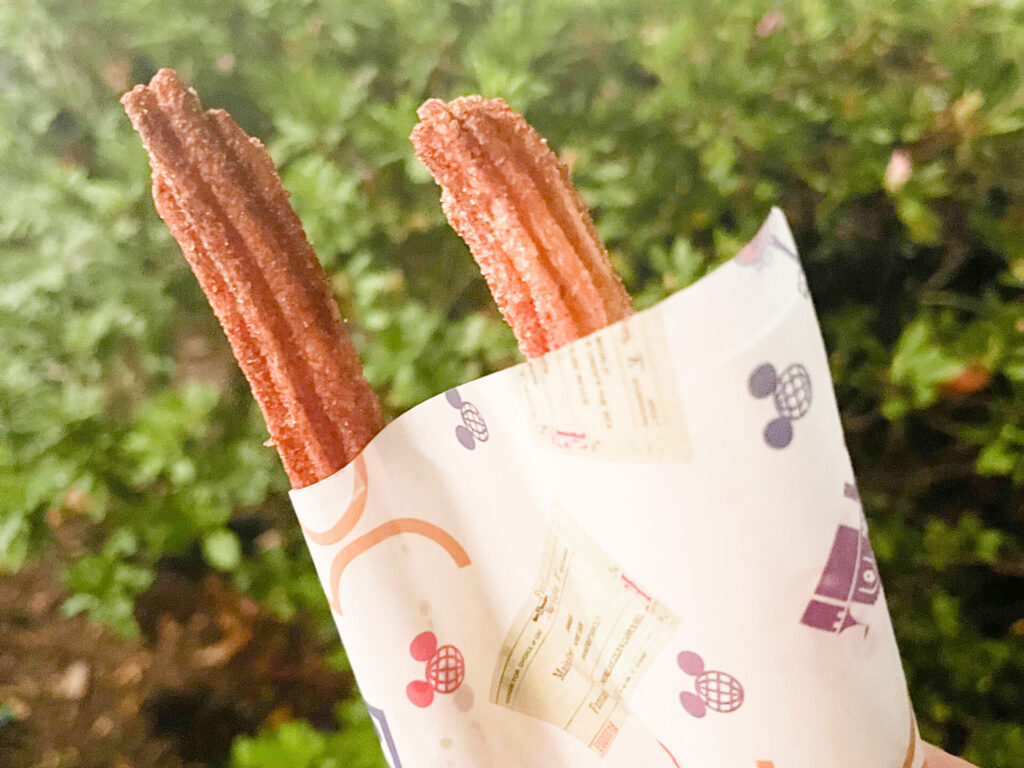 #3: Cheshire Cat Tail
Number 3 is a new treat I discovered during my last Disney trip is the delicious and mouth watering Cheshire Cat Tail! This flaky croissant has warm melted chocolate on the inside, with colorful swirling chocolate drizzled on top. Big enough to share, get this sweet morning treat or afternoon snack at the Cheshire Café located near the Mad Tea Party, right outside of Tomorrowland Speedway. This yummy treat is $5.79 and pairs perfectly with the Mad Hatter Unbirthday Tea, a ginger-green tea layered with Mango Tea topped with whipped cream and a chocolate piece!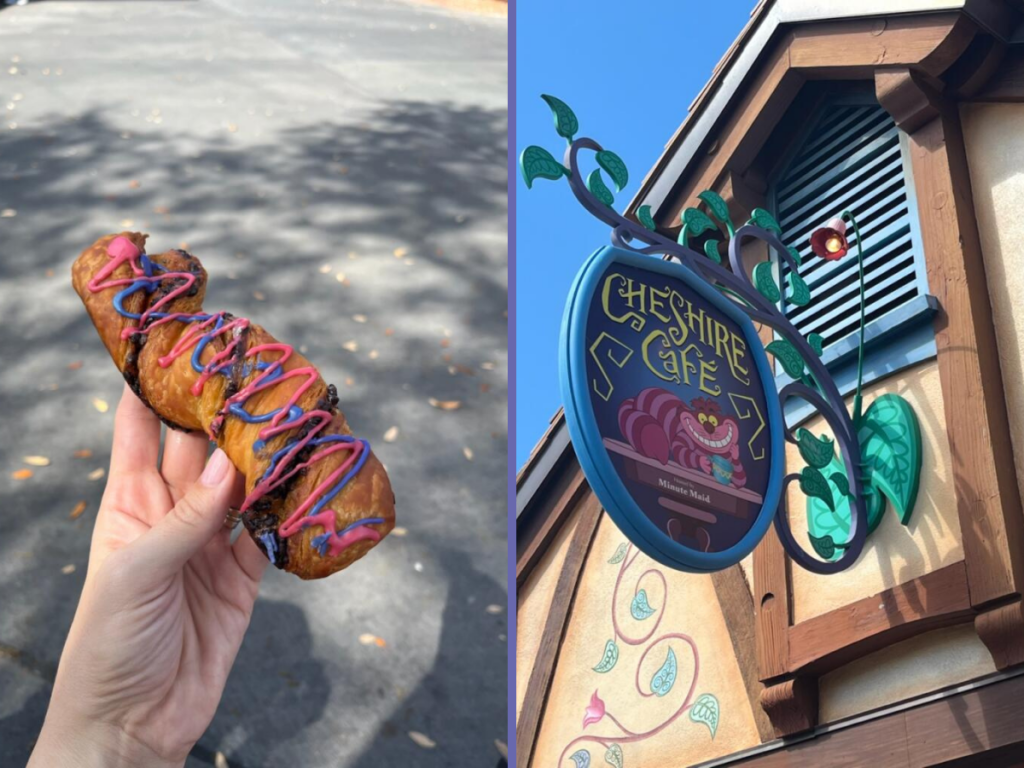 #2 Wookie Cookie
Coming in at #2, is by far the best cookie I have ever had; the Wookie Cookie in Hollywood Studios is a treat any Star Wars fan needs to try! This two oatmeal cookie sandwiched with vanilla cream filling garnished with a milk chocolate sash on top, is a treat that is big enough for two to enjoy. It isn't too sweet, but just the right amount! For $6.29 at Backlot Express outside Star Wars Galaxy Edge has this delicious cookie as you rest your light saber and grab some lunch.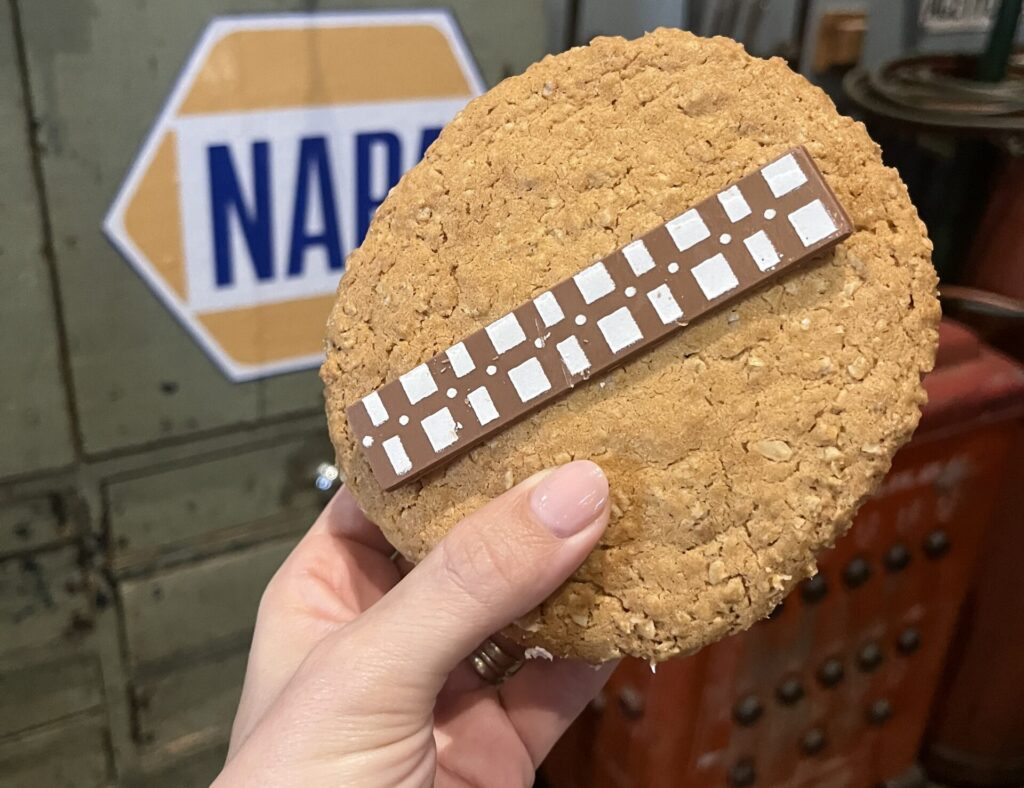 #1: Dole Whip
At number one is none other than the signature DOLE Whip! If you haven't had one of these delicious and refreshing treats, you must try one ASAP, no really…go now! I'll wait. The DOLE Whip is a must have and a staple when visiting the parks. The DOLE whip is the most sought after soft-serve delight. It is frozen treat blended in pineapple, vanilla, or swirled flavors. You can also get this treat in a float! The Pineapple DOLE Whip cup is $5.99, and the Pineapple Float which I highly recommend is $6.99. Lucky for you these tasty delights are available at Magic Kingdom in Adventureland, Disney's Polynesian Village Resort, Animal Kingdom at Tamu Tamu Refreshments, or Disney Springs in Marketplace.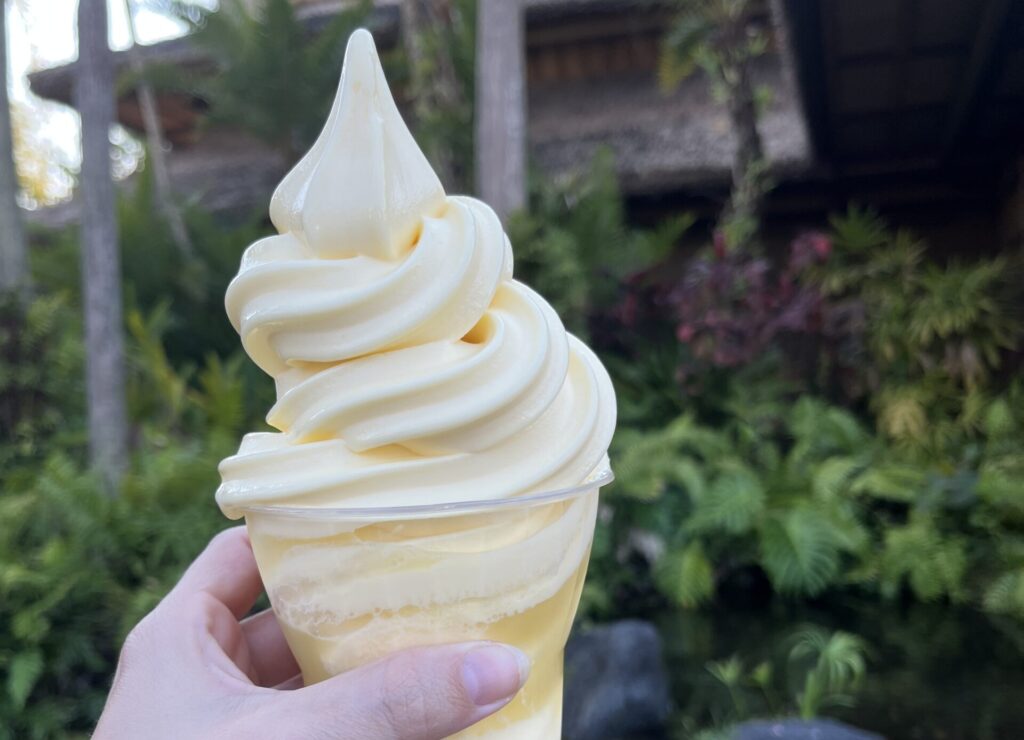 Disney World treats and snacks are the most delicious around! Trying these top 5 best snacks is a sure way to make your Disney World vacation an even sweeter one. Sharing is caring so order two of everything and enjoy with your favorite park goer! What is your favorite Walt Disney World snack? Let us know in the comments!
Featured photo: Disney.
Written by
Erin Bonsall
Contributing Writer
Erin is mom of 4 little boys and a pre-school teacher, from outside of Charlotte, NC. She remembers one magical Disney trip at a young age, but having children made her want to bring her own kids to the happiest place on earth! One trip 7 years ago started a love for everything Disney! Now her family visits Disney World as much as possible and it is their favorite place to make magical memories!