Join in on Alice's wonderful Wonderland adventure at the Mad Tea Party. This attraction features spinning teacups and delightful music. Dizzy heads await those who embark on this fun-filled madness. 
Mad Tea Party Details

| | |
| --- | --- |
| Walt Disney World Park | Magic Kingdom |
| Location in Park | Fantasyland |
| Height Restrictions | Any Height |
| Age Interests | All Ages |
| Thrill Type | Spinning |
| Hours | Regular park hours |
| Wait Times | Low |
| FastPass+ | No |
| Accessibility Information | Must Transfer From Wheelchair/ECV |
Ride Overview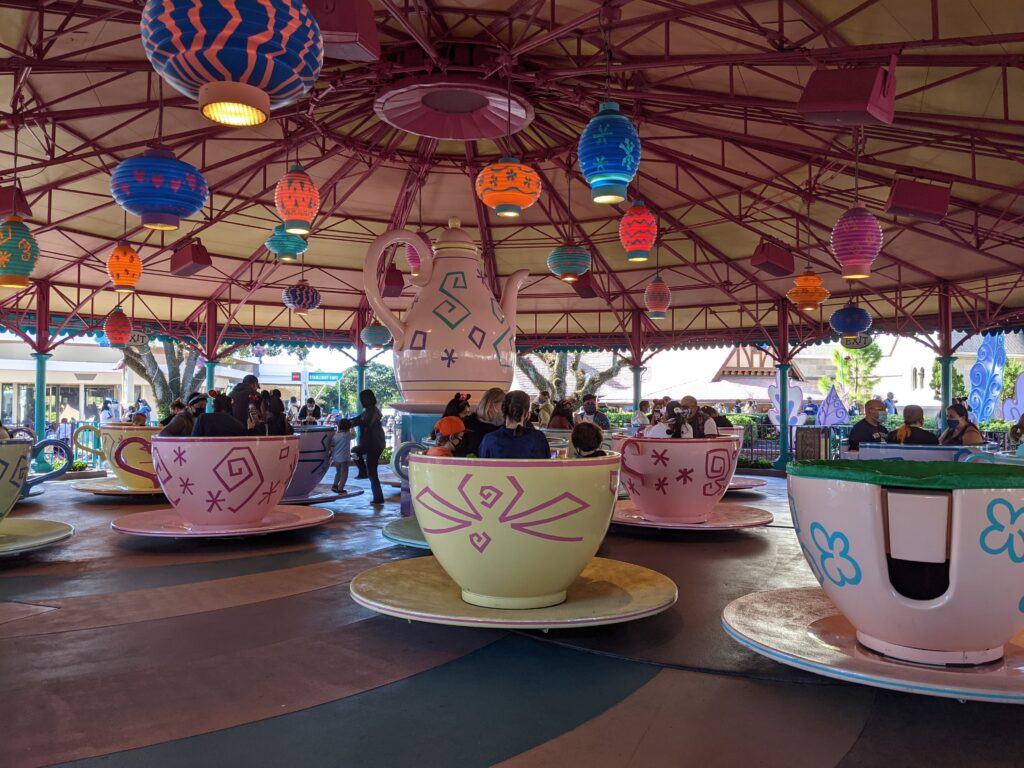 The Mad Tea Party is inspired by Disney's Alice in Wonderland, which premiered on July 26, 1951. Alice in Wonderland is one of Disney's classic movies, and it inspired one of the most classic rides. This iconic attraction is one of Walt Disney World's original rides, making its debut the day the park first opened, on October 1, 1971. 
On the opening day of this ride, the attraction did not have a roof, which prevented it from being able to operate during the rain. It also did not have the teapot in the center that houses the wacky Dormouse who pops up while the ride operates. Both the teapot and the roof were added in 1973. The ride has received other updates throughout its operating time such as a paint job, new music, and the beautiful hanging lanterns that we all know and love today. Those all occurred in 1992. 
The ride itself operates on three floor turntables that are sat on top of one giant turntable, spinning in opposite directions. Riders can also spin their teacups even faster by using the metal wheel in the center of each cup, causing even more spinning and dizziness. Since riders can control the spinning somewhat, this ride is safe fun for all ages of riders. 
Map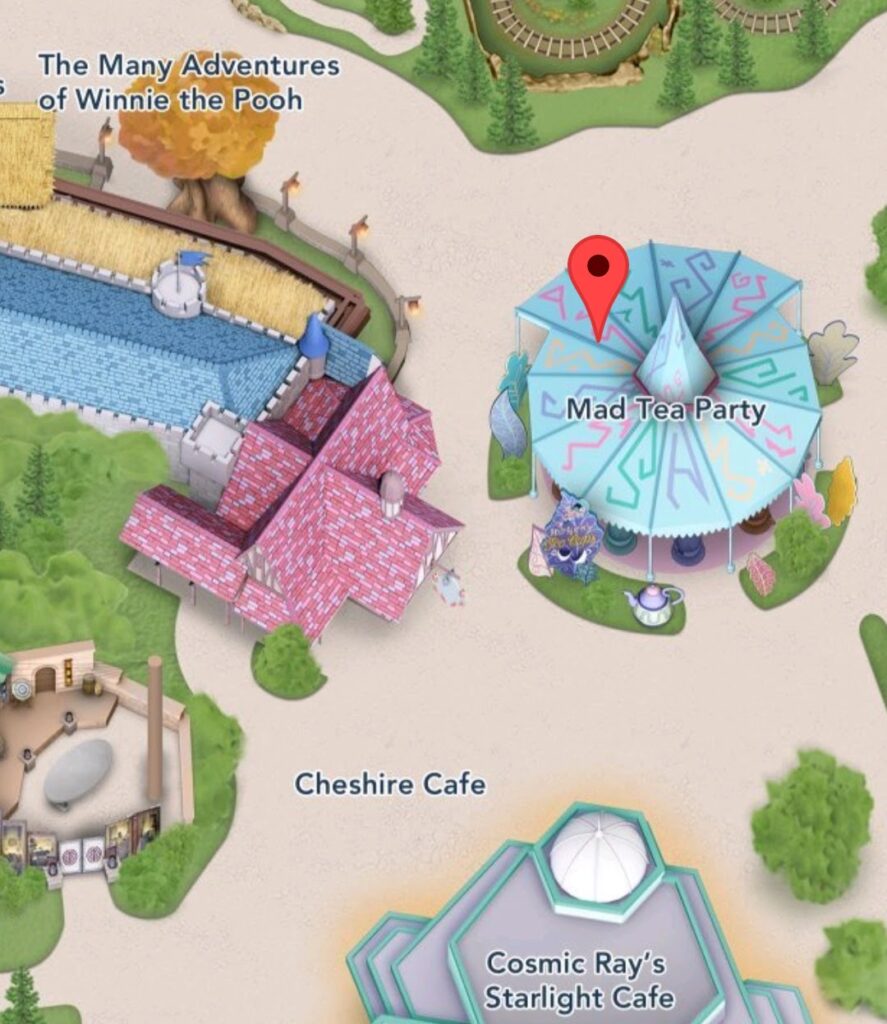 Location & Wait Times
Mad Tea Party is located in Fantasyland inside of the Enchanted Forest area, directly across from the Cheshire Cafe. It is located next to other rides that are great for all heights and ages such as The Many Adventures of Winnie the Pooh and Dumbo. 
Wait times for this attraction are typically low throughout the day, making this a perfect attraction at any time. Occasionally the queue can get long, however this attraction is able to fit many riders at a time and the wait times are very manageable.
Queue Experience 
The queue for this ride is outside and loops around the circular attraction in a snake like pattern. Although there are not many Alice in Wonderland themed touches inside of the queue, guests will get to see all of the sights Magic Kingdom has to offer in this area. 
Guests are treated to a view of the Seven Dwarfs Mine Train as well as the Tomorrowland Speedway. This queue is also very close to a variety of food locations so it is a perfect before and after meal attraction. 
As guests loop around the attraction, they are also able to watch the ride as it spins around as well as the decorations and music that plays throughout the ride, something that can be very captivating for the children waiting in line.