Are you getting the most out of your Disney Dining Plan Snack Credits?! If you don't do your homework chances are high that you are leaving money on the table. My family of four (Husband(36), me (29 and holding), daughter (10) and son (6) LOVE to get the biggest bang out of our snack options!
Some of our favorites include:
Boxes of cookies in EPCOT at the Canada Pavilion. These are full size boxes of lemon, chocolate marshmallow, chocolate cherry marshmallow or maple cookies! They sell for somewhere around $5 and they are an awesome treat for the ride or flight home!
The Dole Whip is a classic that can't be missed at either the Polynesian resort or Magic Kingdom. The approximate value is around $6.
Mickey Pretzels and stuffed pretzels are also a favorite and can be found sprinkled around the parks. The cream cheese stuffed pretzel is a "must-do" in my opinion. They are around $5.
Funnel cakes are also an awesome reward for all of the walking you will be doing! Sleepy Hollow in Magic Kingdom is amazing!! Value of $5.99.
Eight Spoon Cafe in Animal Kingdom has some awesome varieties of Mac and cheese that are not to be missed.
Let's not forget about the ice cream! From Mickey bars to Tinkerbell cones there are magical ice cream treats ready to be enjoyed throughout Walt DisneyWorld!
This brings me to the beverage portion. Although bottled water or sodas are not the best use of a snack credit sometimes they are necessary.
Here are a few drink choices that pack a harder monetary punch:
The Night Blossom at Pongu Pongu in Pandora is one of my kiddos' favorites! It is valued at $6.
Any Starbucks on property is a huge value! You can order your preferred size, strength and beverage option! This is truly a magical option for those early morning extra magic hours!!
Slushies around the world! Mexico has some great options and provide a great way to cool off while you journey around the world!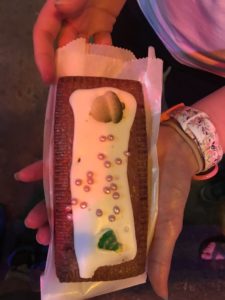 One of the tricks we have learned is that all quick service credits are created equally. Why do you care about that? If you are like my family then you enjoy having an adult beverage or two. You can essentially order 4 adult quick service meals complete with four adult beverages and use 2 snack credits to get fun non-alcoholic beverages such as Night Blossoms for your kids. Most CM's don't have any problems with this. However it is completely at their discretion since no one wants an over served adult running around! Lol.
If you come to the end of your magical vacation and you still have snack credits left DON'T leave them behind! You have options!!
Raid the snack options in the gift shop or quick service area of your resort to enjoy on your way home or possibly for the weeks after when you are really missing "home".
Grab a breakfast composed of snack options from your resort quick service restaurant.
My favorite-Choose to bless someone's day! Hand rice krispy treats to the family with the screaming child. Everyone loves to spread Disney Magic, right?!
I hope this has been helpful! Enjoy all the treats Disney has to offer!
Guest Author
Megan Belcher