We've talked about doing the Skyliner Bar Crawl, but what about something for the whole family to do together or non-drinkers? Well, the Skyliner Meal Crawl is the perfect alternative! Make your way through the Skyliner resort line for dinner and a special treat. This great idea for a fun family dinner, date nights, bachelorette parties, friend's night out, or even a solo trip. 
Stop 1: Drinks At Pop Century
Start off the evening strong at my favorite value resort. Petals Pool Bar by the Hippy Dippy Pool is a great place to begin. I recommend ordering Blueberry Lemonade, Poolside Iced Tea, Banana Cabana, or Lava Smoothie.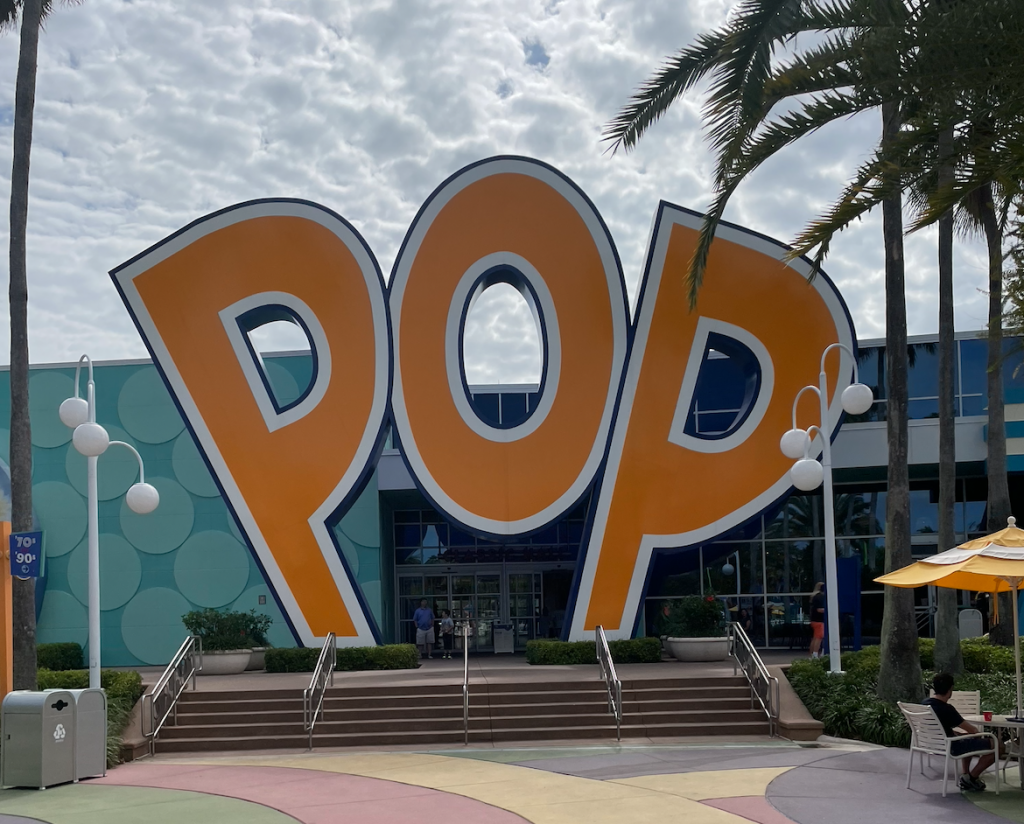 Head to the Generation Gap Bridge and hop on the Skyline to stop # 2.
Stop 2: Appetizers At Caribbean Beach
Head over to Banana Cabana for some delicious appetizers. There are four mouthwatering options to choose from: Caribbean Pull-Apart Rolls, Jerk Chicken Wings, Chile Con Queso, or Loaded Fries.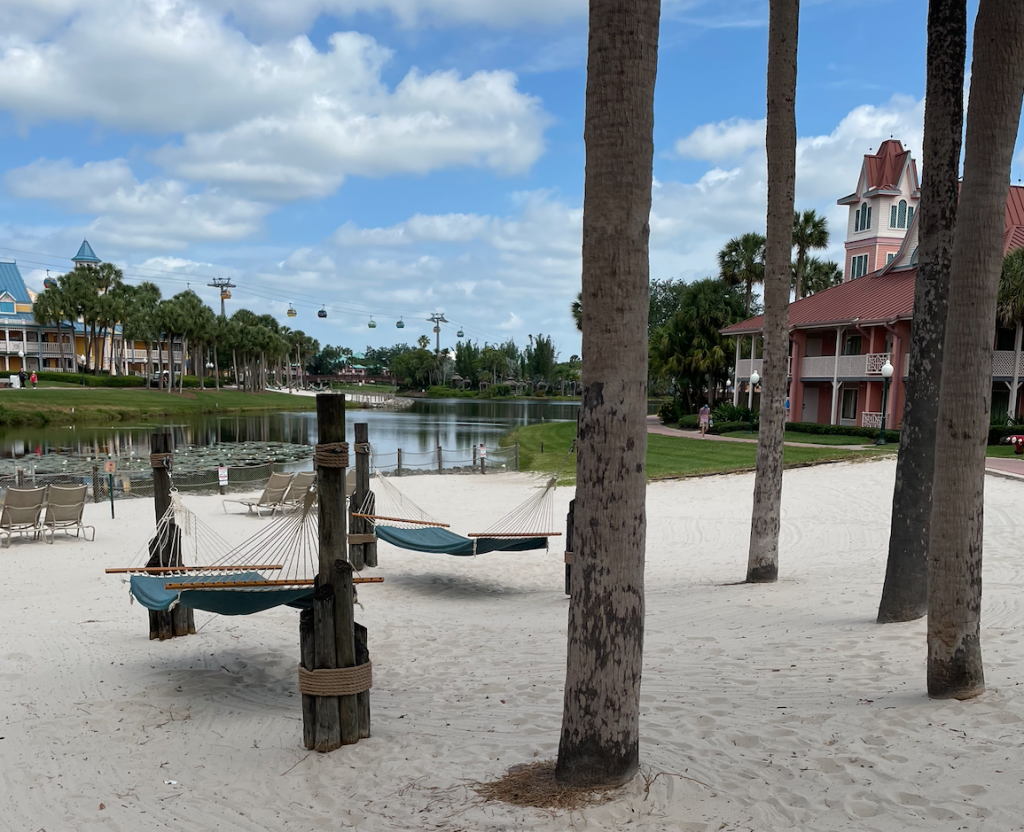 From here, you can either head back to the Skyliner station or walk the path over to stop # 3. 
Stop 3: Dinner At Riviera
Here you have two options to continue:
Grab a quick bite to eat at Primo Piatto then hop back on the Skyliner for one last stop.
OR
Make a reservation at Topolino's Terrace to enjoy a laid-back dinner of delicious cuisine and fabulous dessert options. Time it right and you have a perfect rooftop view of Epcot's nighttime firework display.
Primo Piatto is one of my top 3 favorite quick-service restaurants in all of Walt Disney World. Give me a cup of tomato bisque and a serving of parmesan fries and I am perfectly content.
Topolino's Terrace – Flavors of the Riviera offers French and Italian cuisine, along with sweeping rooftop views of surrounding areas. Reservations are strongly encouraged for dining at this popular destination. Dinner options are absolutely delicious. My favorite dishes are the Ricotta Antipasto and Romaine Insalata. I will say if you are a vegetarian or picky eater, make sure to look at the menu before dining here because they have a limited menu.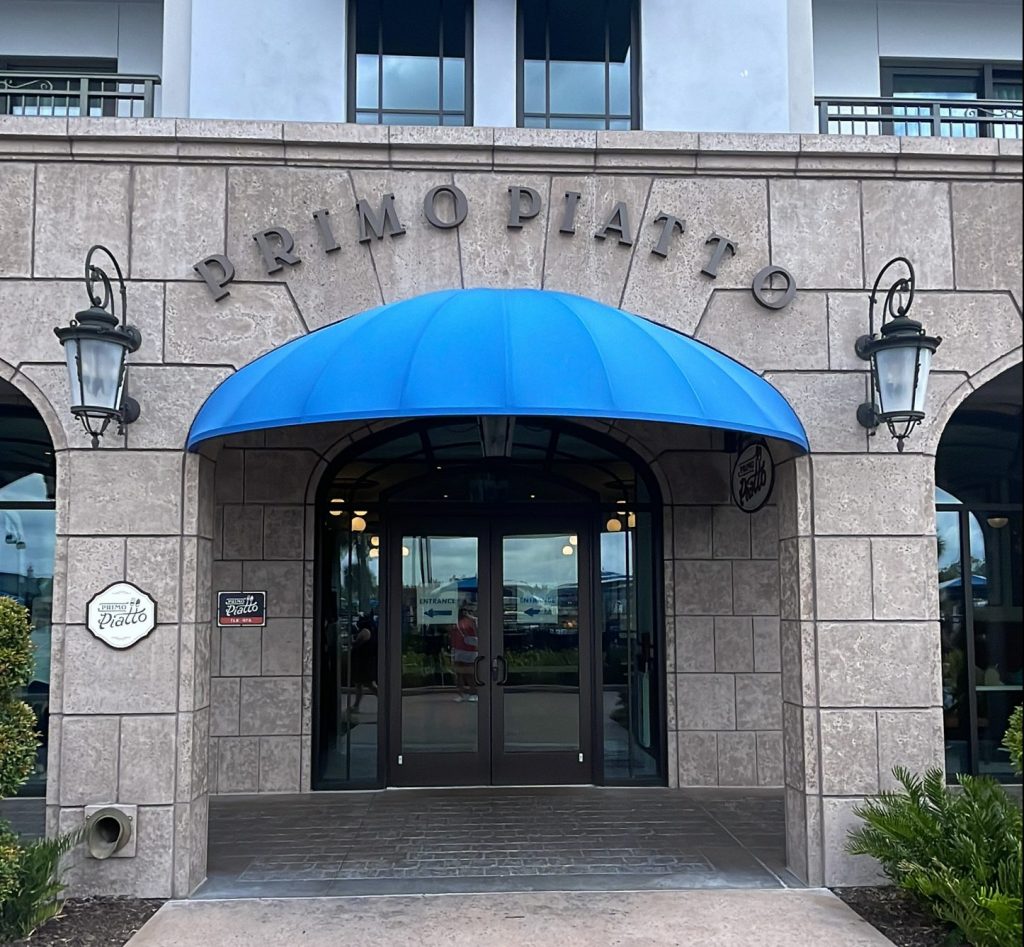 (Optional) Stop 4: Dessert At EPCOT
EPCOT is a quick 10-minute Skyliner ride from Riviera. If you have a park hopper ticket, you can hop on the Skyliner and head over to EPCOT for a dessert, and enter at the International Gateway. This entrance puts you right in the World Showcase and my favorite viewing spot for Harmonious. Walk over to the France Pavilion to grab a mouthwatering treat from L'Artisan des Glaces, a delicate crepe from Crêpes À Emporter by La Crêperie de Paris, or a delicious macaron from Les Halles Boulangerie-Patisserie. Find the perfect spot to enjoy your dessert and enjoy the beautiful nighttime display – the bridge between the UK and France pavilions is an excellent spot for viewing, plus you'll be close to the exit to hop back on the Skyliner to return to your car or resort at the end of the show.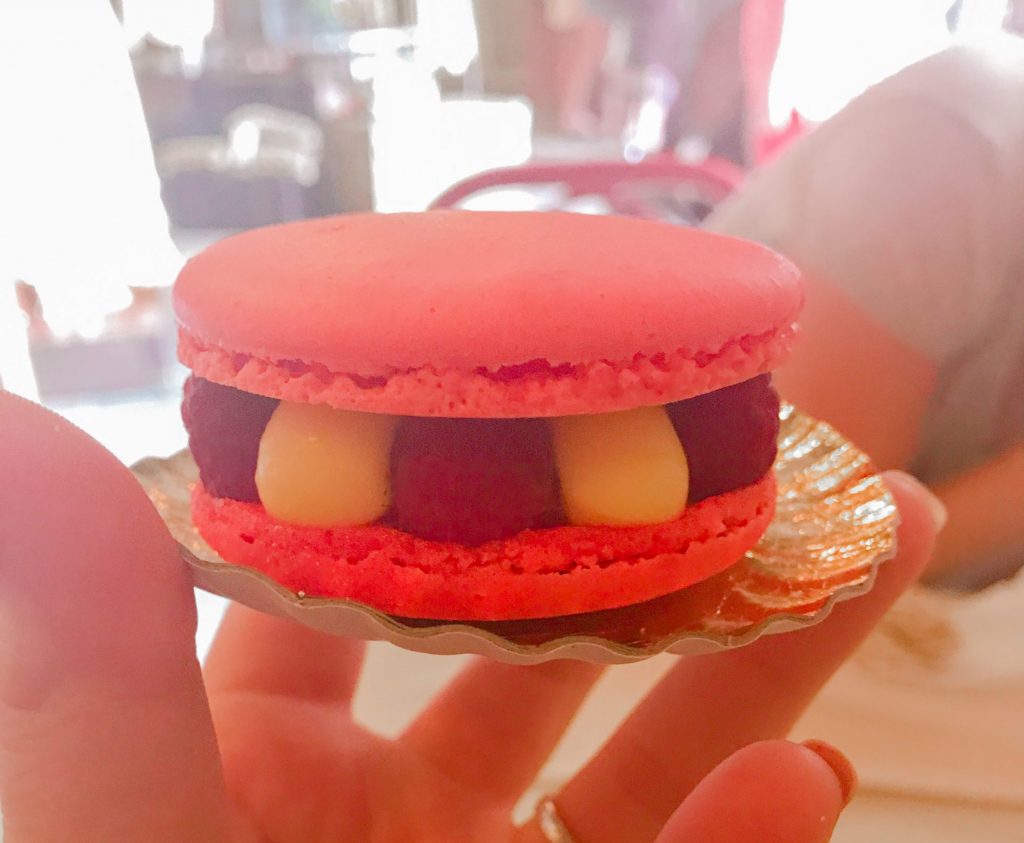 Which would you try? Would you opt for a sit-down dinner at Riviera or continue on to Epcot?  Let us know your decision in the comments!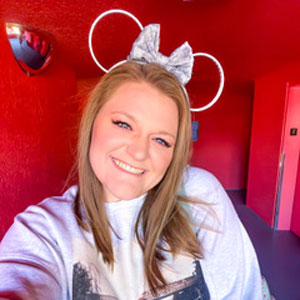 Written by
Gracie Waldrop
Contributing Writer
Gracie is a South Carolina native who loves to share the magic of Disney. In 2015 she began her Disney journey as a Cast Member and never looked back. She loves to put her knowledge and love of Disney to use by creating fun content and sharing helpful information. Helping others discover the magic of Walt's dream come alive in the eyes of children of all ages is what keeps her motivated. When she's not inside the parks you can most likely find her planning her next visit to the Most Magical Place on Earth.