"You're going to Magic Kingdom on Christmas Day? Are you crazy?" That's the thing I hear a lot when going to Magic Kingdom during the holidays. I admit going to the parks on one of the busiest days might sound like a nightmare to some, to the rest of us, it truly is magical.
Do Your Homework Before You Arrive
The first thing you need to do is look at the schedule to find out the park hours including early entry, the parade and fireworks, especially if you plan on making any dining reservations. I actually forgot to follow my own advice when booking our dinner reservation. I booked a Kona Cafe reservation at 7:30pm, but then realized that Minnie's Wonderful Christmastime Fireworks were at 8:15pm, luckily I was able to change it to 5:30pm on Christmas Day. For us, we decided that the Mickey's Once Upon a Christmastime Parade was a must do. If you attended the holiday party, you were able to see the Christmas parade, but if you didn't, it usually runs again during regular park days from December 24th-31st. Just confirm on the calendar the times.
Prepare For Long Lines And Crowds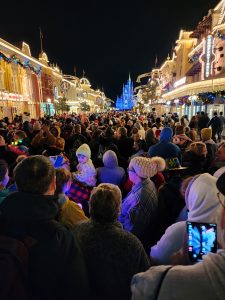 Next, discuss with your group what are the expectations of the day and be realistic with your group by knowing that lines will be long where ever you go. Decide what are your top rides to do and focus on those. We decided before going that we would ride our favorites including Jungle, oops, I mean Jingle Cruise, Pirates of the Caribbean and Haunted Mansion and since it's going to close soon, Splash Mountain was on the list as well. After that we would choose rides around the parade and wait times. Bring activities, like small toys or books to read, as well as snacks and drinks. This will help get everyone through the wait times without too many meltdowns.
Prepare For Weather
Who knew this year Orlando would break some cold weather records? So make sure you are watching the weather as you pack for your trip. There were not enough gloves, hats or scarves available in the park to buy if you didn't have your winter gear with you. The coffee lines felt like ride lines, but when it snowed on Main Street, it felt like it was really snowing! Normally it would be a bit warmer, sometimes even hot, so just plan on bringing layers when packing.
What We Actually Experienced On Christmas Day
For this trip, we were staying at Saratoga Springs and had our car, so we decided to drive to the park. There was early entry into Magic Kingdom, so we expected it to be busy when we arrived, since we didn't get to the park until 9:30am. We were a bit surprised to see that Main Street, while somewhat crowded, wasn't packed. The weather probably helped keep a few folks from coming in early, as it was still very cold, but some lines were already showing 70-85 minute waits, especially the indoor rides. We decided to head to Jingle Cruise first, which had a 50 minute wait, then we headed to Pirates of Caribbean, which was only 35 minutes. We noticed a few rides were still closed, including Splash Mountain. We assumed this was due to the temperatures. It was still pretty cold, so we decided to have an early lunch at Pinocchio's and we could see the parade at Noon.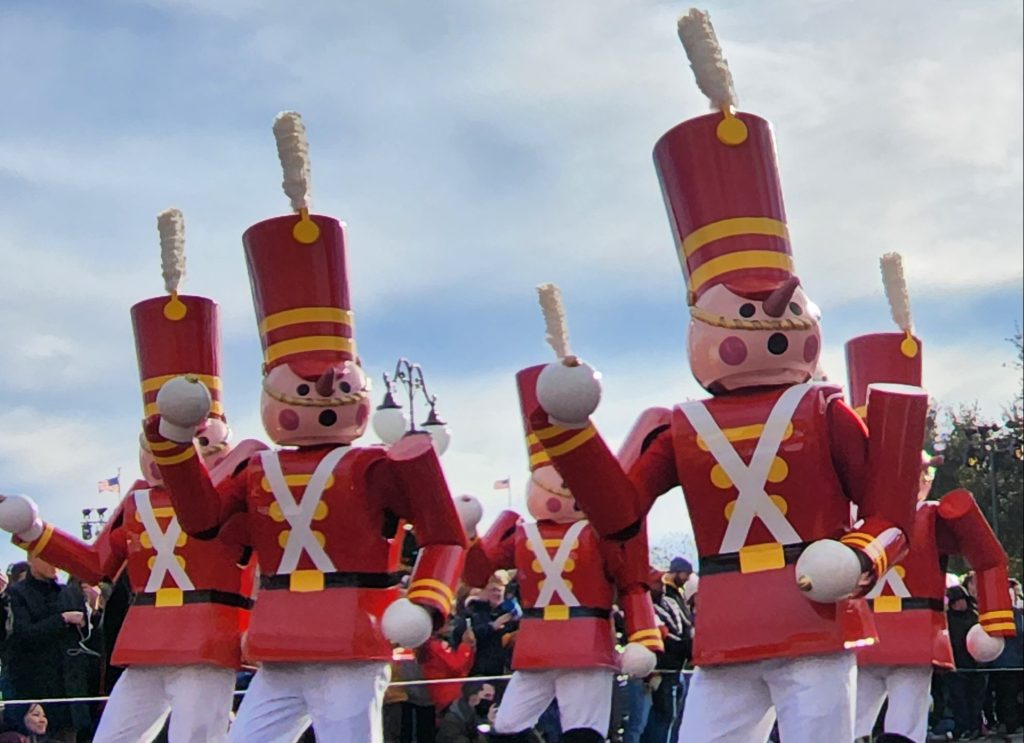 Be Flexible On Your Park Day
While we were eating and warming up, we noticed the Haunted Mansion ride times were decreasing a bit, so we decided that if we went during the noontime parade, we might get a few more rides done, so we changed our schedule. We watched the 50th Anniversary Cavalcade, then headed to Haunted Mansion and did a little shopping. Despite the fact that we brought rain gear, only a few in our party were brave enough to face Splash Mountain while it was only 45 degrees, so the rest of us stood in the sun and waved as we watched them plunge down the mountain. Then we headed back to the castle to watch Mickey's Magical Friendship Faire and find a spot for the parade.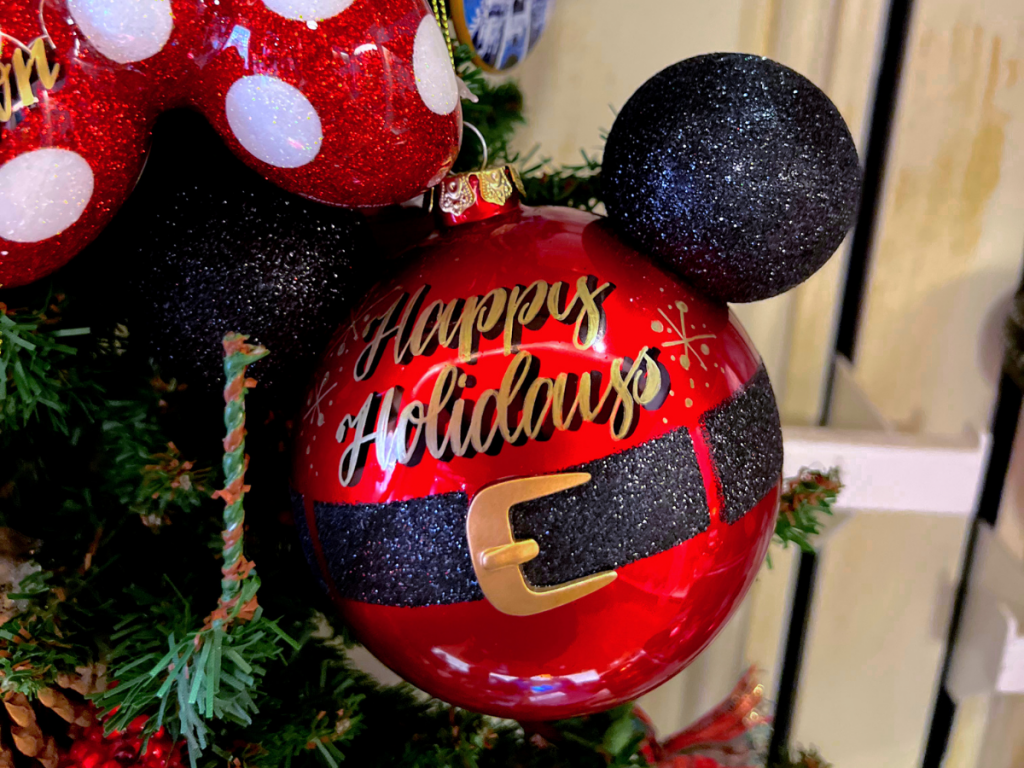 Mickey's Once Upon A Christmastime Parade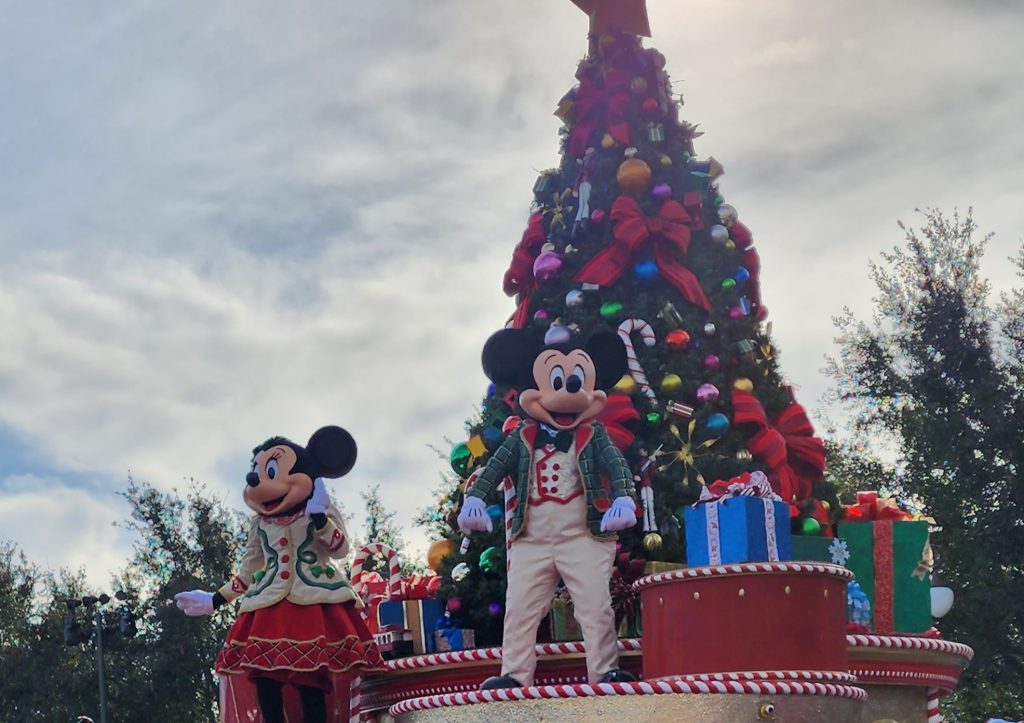 For me, the parades at Magic Kingdom make me excited and when you add in Santa and Christmas, well, I'm just as excited as the kids get! We ended up sitting where we watched the castle show, near the circle in front.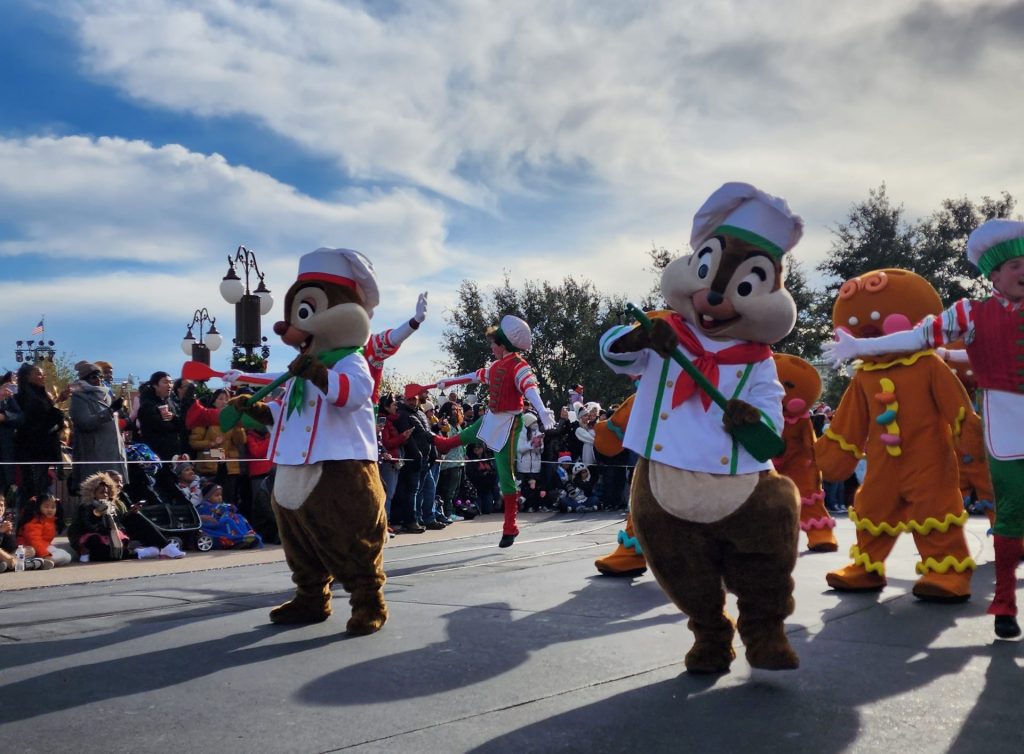 While it was still pretty chilly, the sun would occasionally pop out and help warm you up. It seemed pretty crowded, but not packed. I noticed that the wait times for rides were showing anywhere from 50-95 minutes at 3pm.
The parade didn't disappoint, from seeing many of the characters dressed up for the holiday, the prince and princesses, the holiday dancers, toy soldiers and finally, Santa.  This is a part of Christmas at Magic Kingdom that gives me a lot of joy, despite the sizes of the crowds.
Preparing For The Evening And Fireworks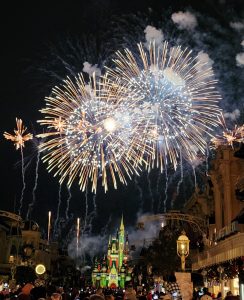 After the parade, we did a little more shopping, then took the monorail to Polynesian resort for our dinner at Kona Cafe. It was a perfect break to get warm and eat a nice dinner. We left there and headed back to Magic Kingdom to watch the fireworks. We decided to stay towards the back of the park and found a spot at the Christmas Tree. The fireworks was the perfect ending to a very cold Christmas Day. We admit, had it not been so cold, we probably would have attempted to stay and ride a few more rides, but having a hot chocolate in our villa watching a movie was more tempting. Overall it was a joyous day and we'd do it again. Did you? Would you? Whatever you did, we hope you had a wonderful holiday as well!
Featured Photo: Emily Murray
Written by
Karen Fountain
Contributing Writer
Karen has been a Disney fan her whole life and has been visiting almost yearly since 1997, when her daughter turned 4. She has become an avid cruiser with Mickey as well. Born and raised in the Washington, D.C. area, she recently she sold her business and with her husband, decided it was time to make the Orlando area their new home. They love being able to pop over to Disney on a whim and enjoy lunch or dinner at Disney Springs or catch a concert at Epcot.