Saratoga Springs Resort and Spa is a Disney Vacation Club resort and spa located at Walt Disney World. The resort offers deluxe studios, 1-3 bedroom villas, and treehouse villas!
Resort Overview
According to Disney's website, Saratoga Springs Resort is themed after the late-1800s version of vacation destination Saratoga Springs, New York, and takes on a Victorian aesthetic full of equestrian decor. Saratoga Springs is a fairly large and spread-out resort with rooms located in the following sections: The Grandstand, The Carousel, The Paddock, Congress Park, and The Springs. This is also the order of the bus's drop-off and pick-up route, which may be an important factor when booking your vacation!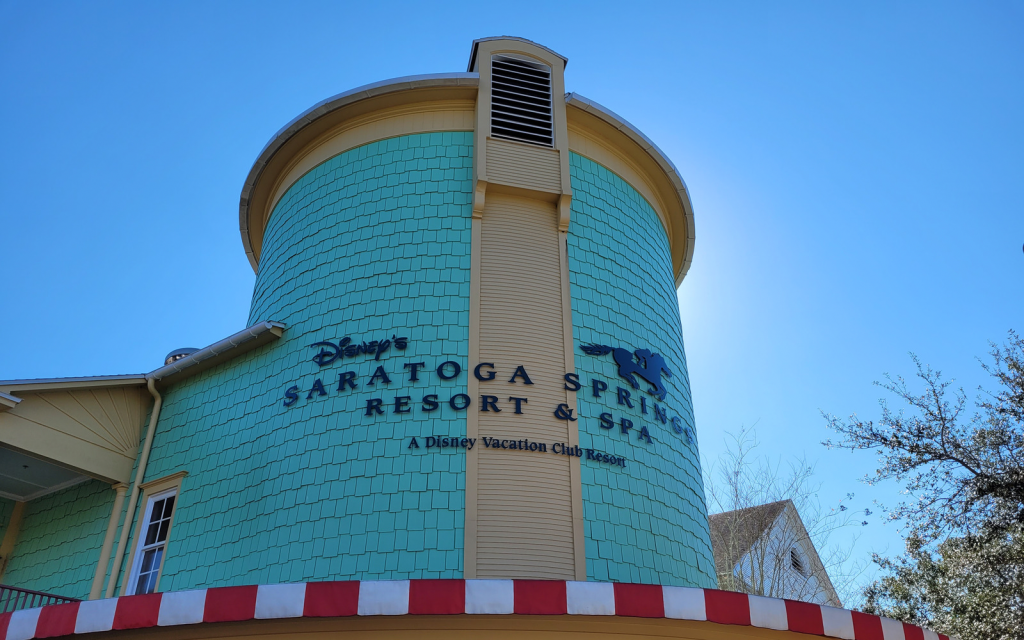 Grab A Bite To Eat
Saratoga Springs Resort offers multiple dining locations throughout the resort! This includes 2 quick service locations, 3 bars, and 1 table service option.
Quick Service
The Artist's Palette at Saratoga Springs is their primary quick service location. Located near the lobby and High Rock Spring Pool, they are open from 7:00 am to 11:00 pm, and provide groceries, grab-n-go items, and hot meals. For breakfast, you can order sandwiches, quiche, french toast, and of course, Mickey waffles! Lunch and dinner options include pizza, sandwiches, salads, and entrees like roasted chicken or meatballs. Indoor seating is available, or you can bring your food back to your room!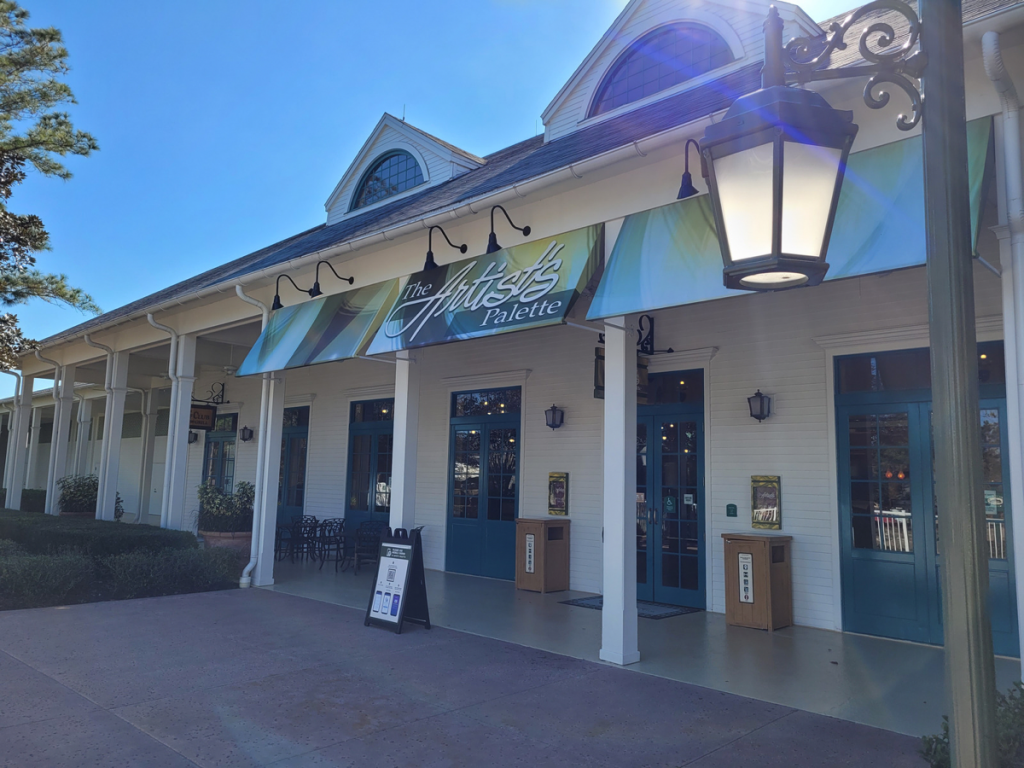 The Paddock Grill located in the Paddock Pool area also offers quick service dining. For breakfast, they offer breakfast pastries, quiche, and a croissant sandwich. Additionally, salads, cheeseburgers, tacos, and sandwiches are served for lunch and dinner. And if you are looking for a refreshing drink, they have both alcoholic and non-alcoholic beverages on their menu, like smoothies, margaritas, and mai tais!
Bar Service
Saratoga Springs has three bars across the property- one indoor lounge and two pool bars. The Turf Club Lounge is located in the Turf Club Bar and Grill and operates from 4:00 pm to 11:00 pm. They serve fixings like french fries, pizza, and burgers until 10:00 pm, and beverages like wine, beer, and cocktails. They even have mocktails on their menu, like the Sparkling No-Jito, Pomegranate Lemonade, and Grapefruit Spritzer!
On the Rocks Pool Bar sits next to the High Rock Spring pool, Saratoga Springs' largest swimming pool. Their menu consists of beer, wine, and sangria. They also have cocktails like the Banana Cabana, Cucumber and Mint Vojito, Bourban Breeze, and (my favorite) the Sunshine Margarita! Frozen cocktails are available as well, and some can be made non-alcoholic, like the Strawberry or Lava smoothies!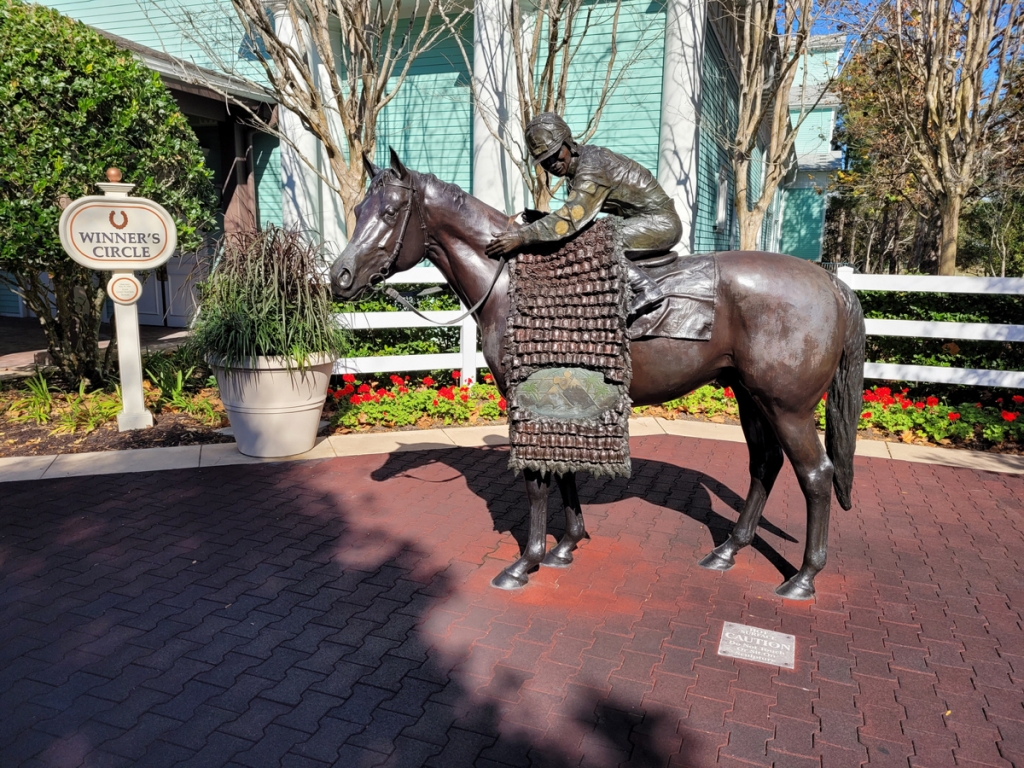 Backstretch Pool Bar is located in the Grandstand Pool area and is open from 11:00 am to 6:00 pm. They have entrees such as the Turkey Club Wrap or the Ceasar Salad with Chicken, and snacks like muffins, chips, and fruit. For drinks, they serve Joffrey's Shakin' Jamaican Cold Brew and Cold Brew French Roast, sweet teas, and fountain beverages. Their alcoholic beverages include beer, cider, seltzer, wine, and cocktails!
Table Service
The Turf Club Bar and Grill, located next to Artist's Palette, is Saratoga Springs' table service dining option. They are only open for dinner between the hours of 5:00 pm and 9:30 pm. Serving American classics, their appetizers consist of New York Cider-braised Mussels, French Onion Soup, and Chopped Salad. Entrees include Prime Rib, Grilled Pork Chop, Pan-seared Salmon, and Braised Lamb Tagliatelle. And for dessert, satisfy your sweet tooth with New York Cheesecake, Riccota-Basil Gelato, or Mango-Passion Fruit Crème Brûlée! Coffee, beer, wine, cocktails, and mocktails are available as well.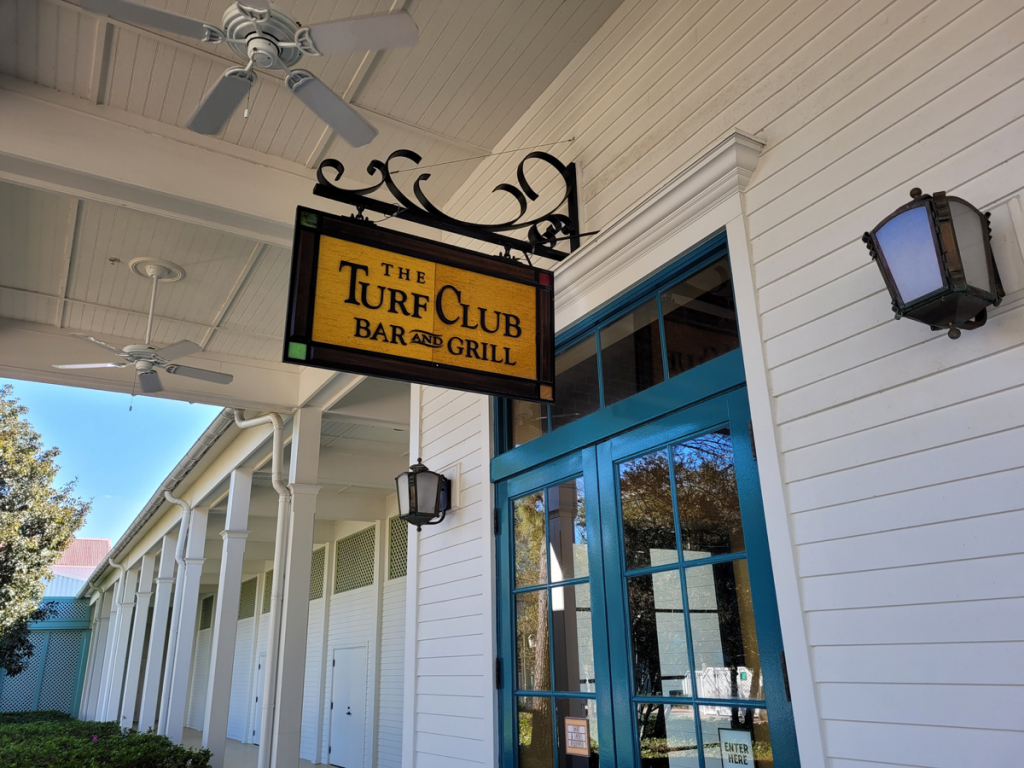 Pools
There are 5 pools across the Saratoga Springs Resort. The High Rock Spring Pool, located by the lobby, features a waterslide, 2 whirlpool spas, and the On the Rocks Pool Bar for beverages. Similarly, The Paddock Pool has a waterslide, a whirlpool spa, and the Paddock Grill for food and beverages! The other 3 pools are considered leisure pools and, aside from the pool at the Grandstand which has the Backstretch Pool Bar, are only accompanied by whirlpool spas.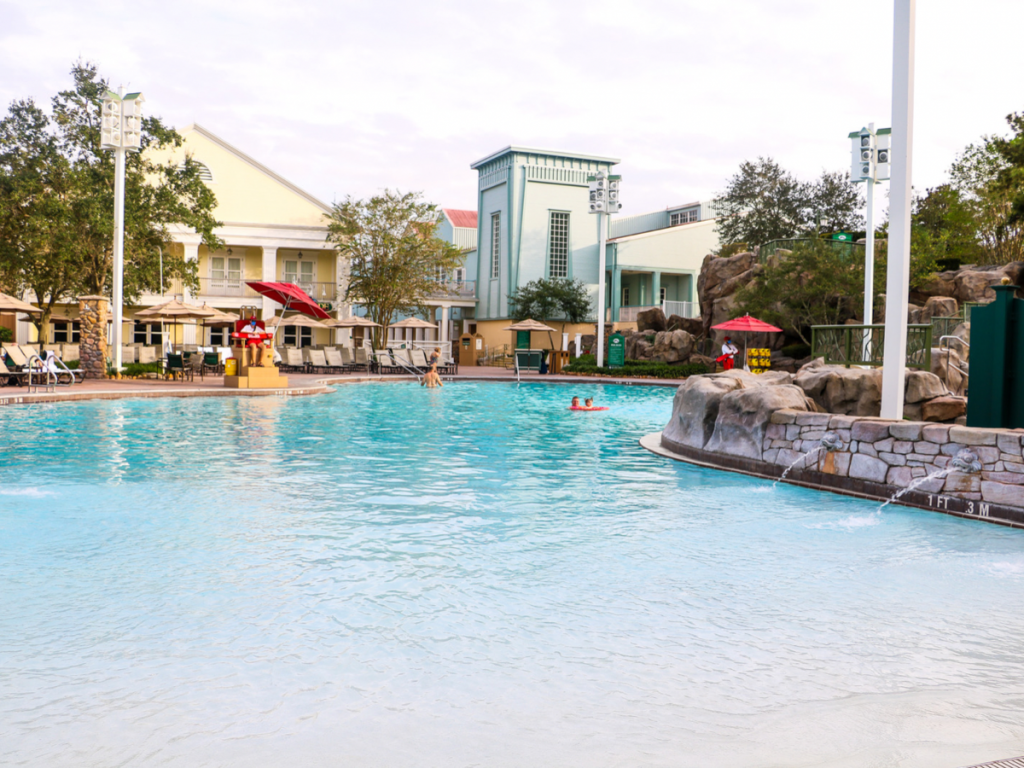 You Won't Want to Miss
Saratoga Springs offers a wide range of recreational activities for guests. You can gather around a campfire and roast marshmallows, watch Disney movies under the stars, rent bikes, play tennis or basketball, and even enjoy arcade games! If you enjoy golfing, Disney's Lake Buena Vista Golf Course, an 18-hole course, is also located at Saratoga Springs. And for those looking for relaxation, Senses, a full-service spa, is temporarily closed but typically offers facials, massages, and body therapies!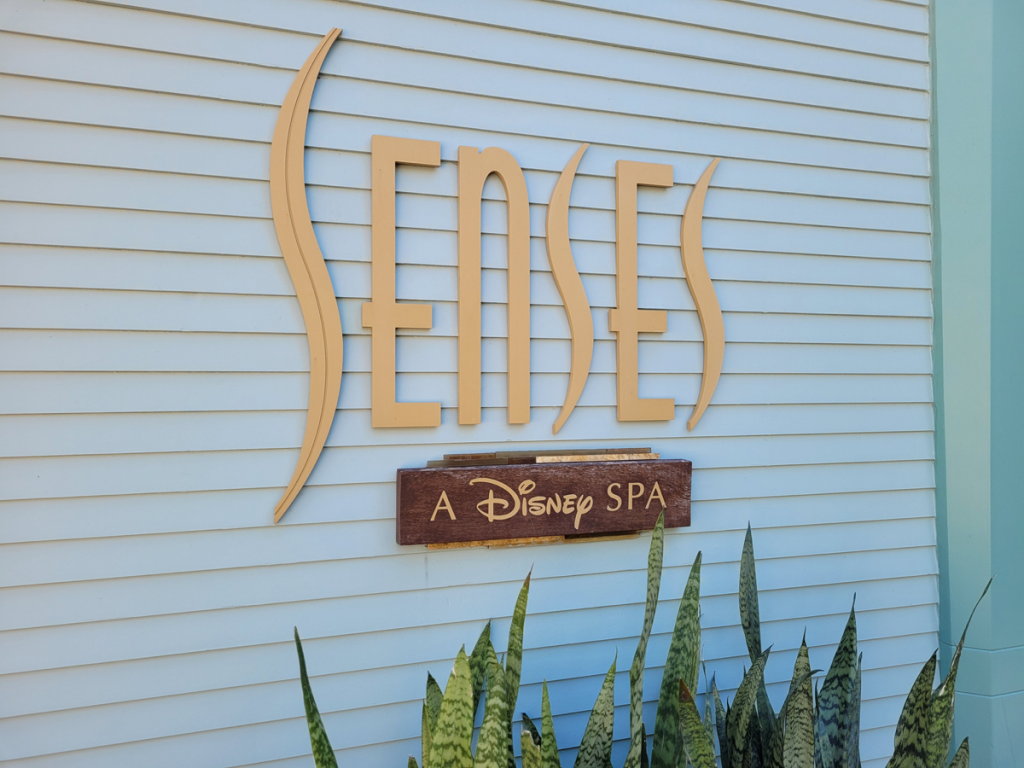 Did You Know?
Saratoga Springs is the closest resort to Disney Springs, so close you can walk there! At Disney Springs you'll find an array of entertainment and activities to choose from like the AMC theatre, Splitsville Luxury Lanes, House of Blues Music Hall, and Cirque du Soleil, all located on the West Side. Shops are lined from one end of the Springs to the other, and you can find a mix of Disney-centered options like DisneyStyle and World of Disney intertwined with stores such as Free People, lululemon, Under Armour, and Sephora! For dining, there are tons of options with varying cuisines; some of my favorites include Wine Bar George, Raglan Road, and Homecomin'.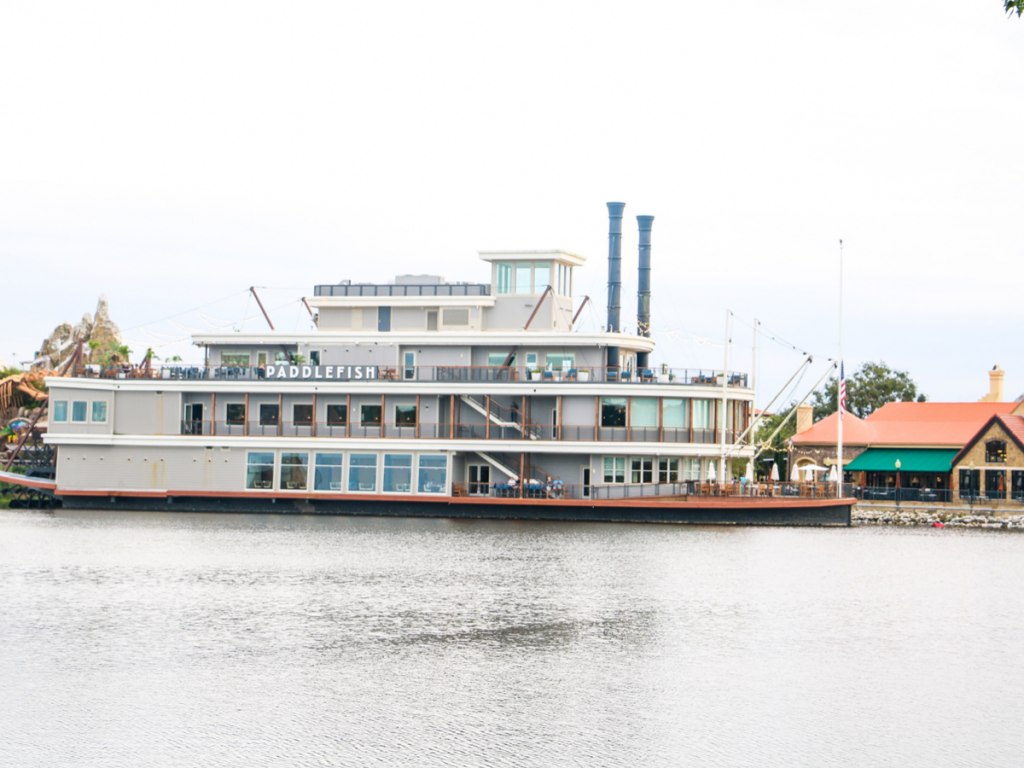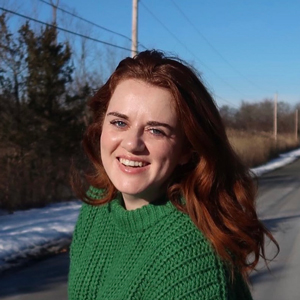 Written by
Brittany Gallant
Contributing Writer
Brittany has been traveling to Walt Disney World since she was two years old. Now a Disney Vacation Club member and annual passholder, you can often find Brittany at The Most Magical Place On Earth. She and her family are always looking for something new, whether that's a restaurant they haven't tried, a hotel they haven't stayed at, or an adventure not yet experienced.