When my now-husband proposed to me in front of the castle at Magic Kingdom, I knew that we would return one day for our honeymoon. We had a blast with my family on our engagement trip, but we knew we would have an even more magical time on our honeymoon. Our honeymoon took place in the middle of September in 2016. Though many years have passed, many things have stayed the same. Here is a review of how we spent our Disney honeymoon!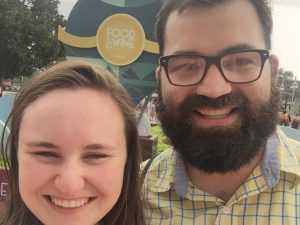 Day 1: Arrival
We flew in the day after our wedding. We arrived at our resort late at night. We stayed at Disney's Caribbean Beach Resort. During the time of our honeymoon Disney still offered the Disney Dining Plan, and so we added that onto our stay. We did the standard dining plan which was one sit-down, one quick-service, and one snack per person per night of your stay. We didn't do anything on day one except find our room and sleep!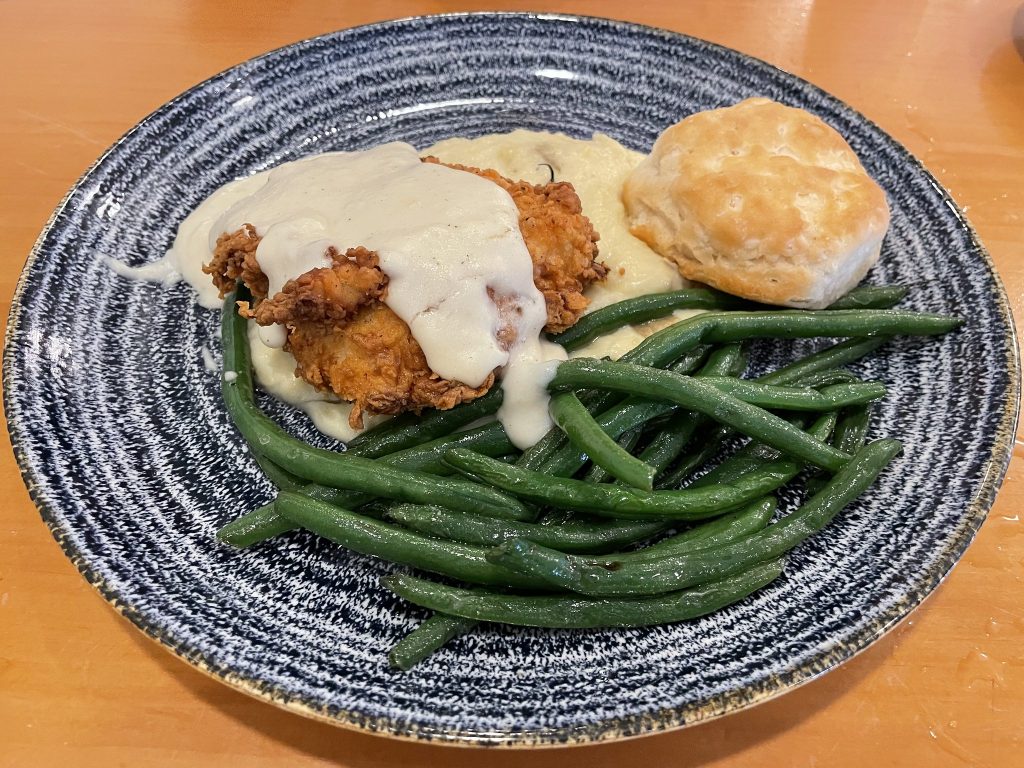 Day 2: Magic Kingdom and California Grill
On our second day we woke up early and made it to Magic Kingdom for rope drop! We wore our bride Minnie and groom Mickey ears that were given to us as a wedding present. We wore our "Happily Ever After" pins that were waiting in our hotel room upon our arrival the day prior (Be sure to note what you are celebrating during check-in!)  and enjoyed many "congratulations" from Cast Members. We stopped at numerous Photopass locations, and we even took pictures for our "thank you" cards with a banner that I had brought from home. The Photopass photographers knew that we were on our honeymoon thanks to our pins, and we got some great shots and had fantastic interactions with every single photographer we encountered.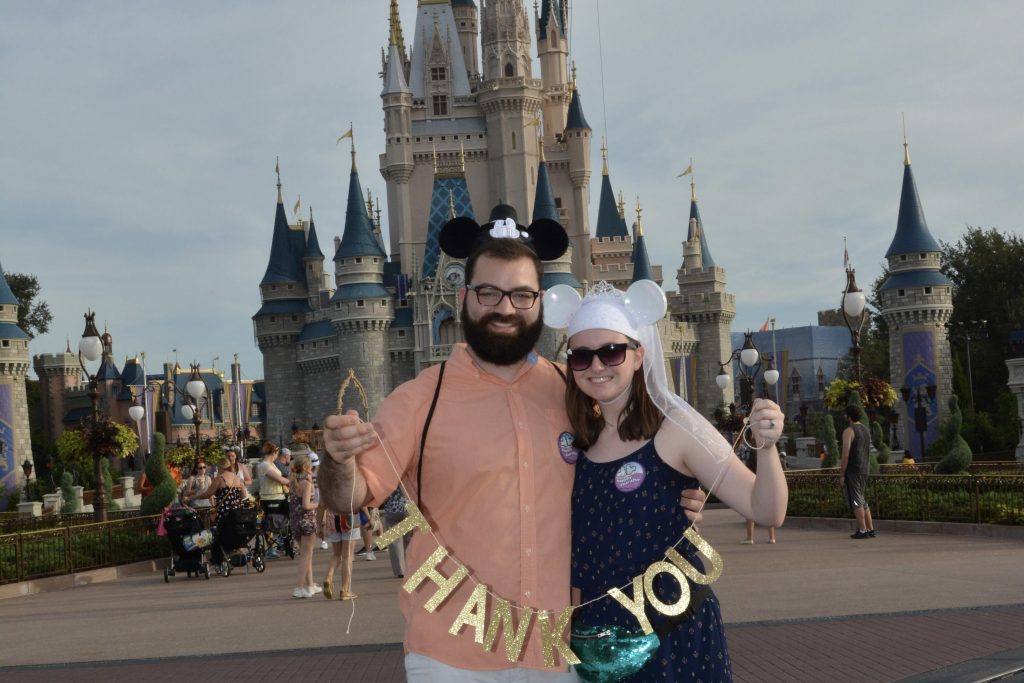 During our honeymoon, Disney was still operating under its former Fastpass system rather than Genie + and Lightning Lane. Therefore, we were able to schedule three Fastpasses in advance of our trip. For Magic Kingdom, used these on Seven Dwarfs Mine Train, Space Mountain, and Peter Pan. We also were able to Under The Sea: Journey of the Little Mermaid, The Many Adventures of Winnie the Pooh, Its A Small World, Dumbo The Flying Elephant, Tomorrowland Speedway, Mad Tea Party, The People Mover, Buzz Lightyear Space Ranger Spin, and The Carousel of Progress. We ate lunch at Pecos Bill and enjoyed it thoroughly.
For our sit-down dinner, we decided to use two Disney Dining Plan credits for California Grill at Disney's Contemporary Resort. I was able to grab reservations for a time slot only 15 minutes before Magic Kingdom's fireworks show. This worked out perfectly as the fireworks show played shortly after we were first seated. We watched the fireworks show from within the restaurant and it was truly a magical experience. We had the best meal that we have ever eaten at Walt Disney World. California Grill was incredible and I highly recommend it, especially for special occasions!
Day 3: Hollywood Studios and Sci-fi Dine-In
Day 3 of our honeymoon was spent at Hollywood Studios. In 2016, Galaxy's Edge and Toy Story Land both did not exist yet. However, we were able to ride some of Hollywood Studio's classic rides. We were able to ride The Great Movie Ride as it was still open and operating at the time. We also rode Tower of Terror, Toy Story Midway Mania, Muppet Vision 3D, and we also enjoyed the scenery and ambiance of the park itself.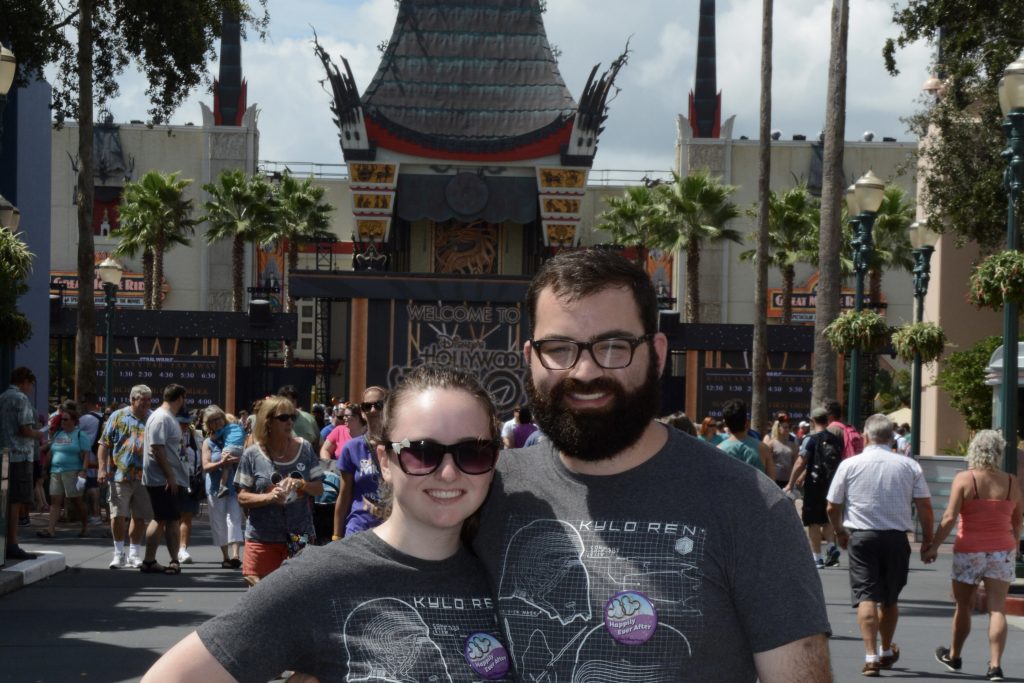 Our quick-service meal took place back at Caribbean Beach Resort as we had returned back for a midday break. We loved eating at Centertown Market which was Caribbean Beach's main food court.
When we returned to Hollywood Studios later that day we had dinner at Sci-Fi Dine-In. This is one of my favorite restaurants at Disney World. I just love the theming and I love watching the old Sci-Fi clips that play on the screen. Even though it was just the two of us, we were still seated in a car table. We were sat with another family who sat in the front of the car, and we were in the rear.
Day 4: EPCOT and Teppan Edo
The next day was our EPCOT day. We were excited to be visiting EPCOT during the Food and Wine Festival. It was our first time experiencing Food and Wine and we absolutely loved it! Our favorite food booth was the Hawaiian both. We had delicious pork there. We rode all of the great EPCOT attractions. Captain EO was still playing at the time, and we loved it so much we watched it twice. We were also able to ride Frozen Ever After for the first time which was a great experience. We walked the entire perimeter of World Showcase and spent so much time in each country. We were moving at a great pace and did a lot of shopping. For lunch that day, we ate at La Cantina De San Angel. We got cheese empanadas which were to die for!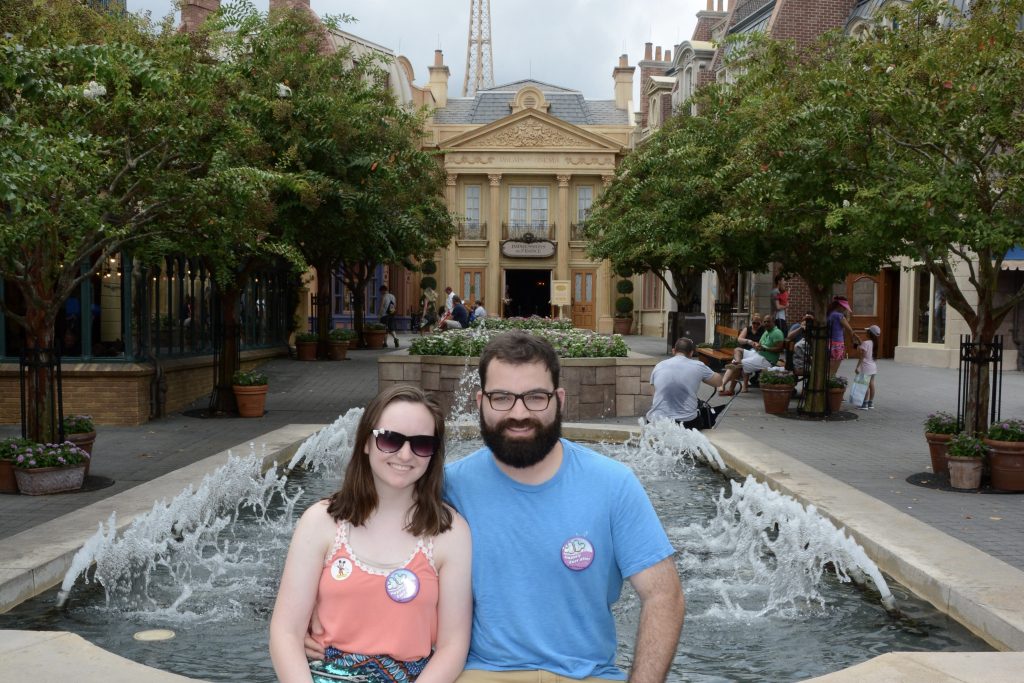 Our dinner that day was at Teppan Edo in the Japan Pavilion.  This was such a fun experience for us. We were again sat beside a larger party during the meal. We absolutely loved watching our food being prepared right before our eyes. Our chef put on a great show. I got the salmon and my husband got the steak. It was a great meal and a fun time.
Day 5: Kona Café and Animal Kingdom
On our last day we used our final dining plan credit at Kona Cafe. Our reservations were for breakfast, and they were early. We took a bus from Caribbean Beach Resort to Magic Kingdom, and then took the monorail over to the Polynesian Resort. We arrived at Kona Cafe perfectly on time. I got the Tonga Toast, my husband got an egg platter with breakfast sausage, and we shared a pot of Kona blend coffee. It was a delicious breakfast. We walked around the Polynesian Resort a bit to soak in the atmosphere before we took a bus to Animal Kingdom.
We spent the rest of the afternoon at Animal Kingdom and were able to hit all the major rides: Kilimanjaro Safaris, Expedition Everest, It's Tough To Be A Bug, and of course my personal favorite: DINOSAUR. We took some Photopass Photos throughout Animal Kingdom and enjoyed the scenery. We didn't end up staying very long because this was the hottest day of our trip, so we returned to Caribbean Beach Resort to rest.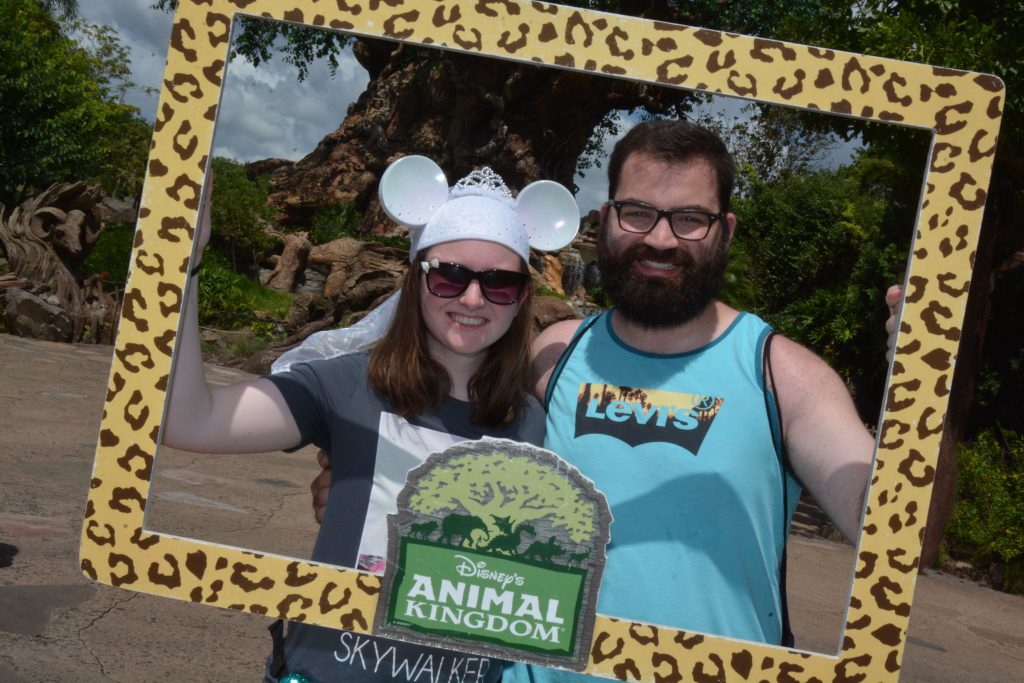 Later that evening we decided to end our honeymoon by going to Disney Springs. We went to the Coca-Cola store and enjoyed some drinks on their rooftop bar. We grabbed dinner as well at Yesake Kiosk. We stopped inside the Disney Day's of Christmas store to grab an ornament for our honeymoon and we got it personalized with the year. We returned to our resort that night exhausted and sad to be flying home early the next morning!
Overall, we had a fantastic and memorable honeymoon. We still look back at our pictures and videos from the trip and love to reminisce!
Written by
Megan Woodard
Contributing Writer
Megan was born into a Disney family. Her first trip to Disney World was when she was only 18 months old. Now as an adult, Megan loves to share the magic of Disney with her two toddlers. Keeping up with Disney news and Disney World knowledge is a fun hobby for Megan. Disney World is her favorite place to be and continuously brings back her childhood joy.