Across EPCOT's World Showcase neighborhood, you can immerse yourself in the stunning scenery and authentic details of 11 different country pavilions. Learn about each country's culture and history while enjoying shopping, dining and entertainment.
EPCOT's Japan Pavilion
Today we're taking a closer look at the Japan Pavilion. Located between the Morocco Pavilion and the American Adventure Pavilion, the Japan Pavilion features stately architecture, numerous dining locations, great shopping and beautiful scenery. As you first enter the pavilion you will notice the torii gate (a traditional Japanese gate that symbolizes entry into sacred ground) standing on the shores of the World Showcase Lagoon.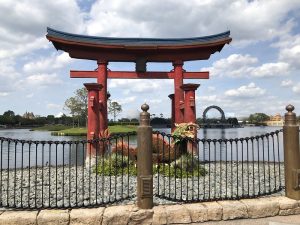 As you further explore the pavilion, you'll notice the beautiful landscaping featuring Japanese maples, bamboo plants and a serene koi pond.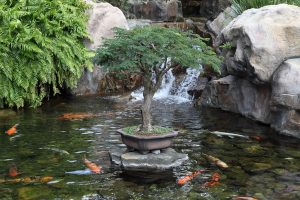 Shops
Mitsukoshi Department Store

is perhaps the best shop in the World Showcase for finding gifts and souvenirs. This expansive shop offers authentic and traditional Japanese souvenirs (such as dishes, kimonos, origami, artwork and figurines), pop culture merchandise, snacks, plush, toys, clothing, accessories, home goods and much more. There is also a sake bar which offers samples and a variety of sakes for purchase. Previously, Mitsukoshi also offered a "pick a pearl" experience which has not returned as of this time.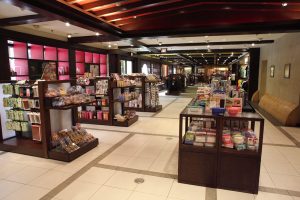 Dining
Quick Service
Kabuki Cafe is a kiosk-style quick service location offering sushi, kakigōri, snacks and assorted beverages. The "Kirin Frozen" is a popular and refreshing beer with frozen foam on top.
Garden House is a great place to pick up a quick beverage such as soda, beer, plum wine or sake. 
Katsura Grill offers lunch and dinner. The menu features sushi, ramen, udon, salads, teriyaki, sides and beverages. Grab a seat at a shaded outdoor table with a view of the gardens for a peaceful and relaxing meal.
Table Service
For an entertaining and tasty hibachi meal, head over to Teppan Edo. Teppan chefs cook Japanese fare tableside. Entree options include steaks, seafood and chicken. Sushi is also available. 
Tokyo Dining is currently closed through summer 2023 for refurbishment. This restaurant offers udon, tempura, sushi rolls, nigiri and more. And don't forget about dessert! Matcha Tiramisu, Yuzu mousse cake or chocolate ginger cake bring a tasty Japanese twist to familiar desserts.
For the ultimate fine dining experience, Takumi-Tei offers artful Japanese cuisine in an elegantly decorated setting. Diners will experience an exquisite "omakase" menu (either omnivorous or plant-based) that features multiple courses, drawing on nature for inspiration. Each expertly-crafted dish features authentic Japanese flavors with a visually stunning presentation.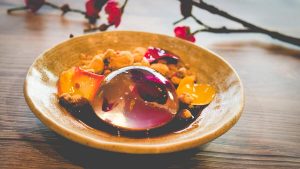 Attractions
The Bijutsu-kan Gallery houses the "Kawaii: Japan's Cute Culture" exhibit, which showcases the art and lifestyle of the Kawaii pop culture phenomenon. It's also a great place to take a little break in the air conditioning!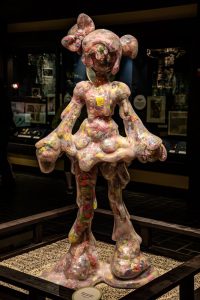 Entertainment
Catch live performances of Matsuriza, a group of traditional Japanese drummers, outside of the tall pagoda building. The theatrical and rhythmic sounds of the Japanese Taiko drums are captivating and entertaining. Be sure to check the My Disney Experience app for showtimes.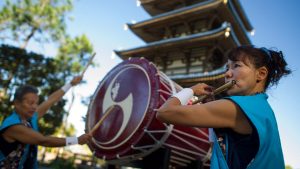 Kidcot Fun Stops offer kids the chance to pick up a fun activity/souvenir from each country's pavilion. Japan's Kidcot Stop is located by the entrance to Bijutsu-kan Gallery and Mitsukoshi (towards the back of the pavilion). 
Did You Know?
The tall pagoda building featuring blue roofs is a replica of the Hōryū-ji Temple in Ikaruga, Japan.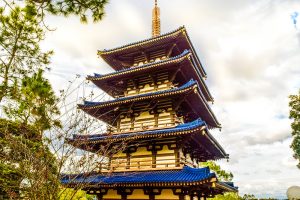 Featured photo by Eden, Janine and Jim (CC BY 2.0).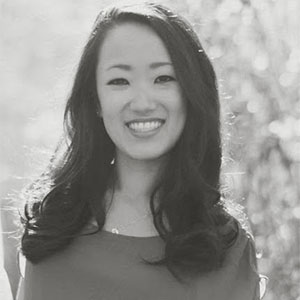 Written by
Leia Cullen
Leia is a proud mom of two boys. She has been in love with Disneyland and Disney World since her first visit to the parks many years ago, and she continues to relive the magic now with her family. She is passionate about creating helpful content that shares news or information about all things Disney, in the hopes it helps others create their own magical moments.