By the time my son had turned 1, he had already become a Mickey Mouse fanatic and we just knew we had to take him to Disney World. For his first birthday, we packed up the car and did just that. Our first trip to Disney World was everything we had always imagined and more, truly a magical experience! But what we didn't expect was how horribly unprepared and disorganized we were for the long days ahead. We were in desperate need of stroller packing tips from expert Disney planners.
On that first trip we decided to take the "less is best" route, but when I found myself out of diapers (thank heavens for the Baby Care Center), I knew that there had to be a better way. After a few more trips, we learned a thing or two about packing for Disney. And not just packing, but packing our stroller, because let's be honest, a well-organized stroller is instrumental for a smooth day. Here are 10 stroller packing tips for your next trip to Disney World.
1. Personal Touch
Have you ever experienced the sheer panic when you can't locate your stroller after coming off a ride? One of the mistakes we made on our first trip to Disney World with our boys was not marking our stroller. Looking into the sea of strollers and trying to locate ours was…well, challenging. It's also worth noting that cast members are allowed to move the strollers around to make more room. So many times your stroller may not be where you left it. Therefore, my first tip is to add a personal touch to your stroller. Perhaps you can hang a tag with your family's name on it or hang some colorful strings or ribbon from the handles so that it's easily spotted.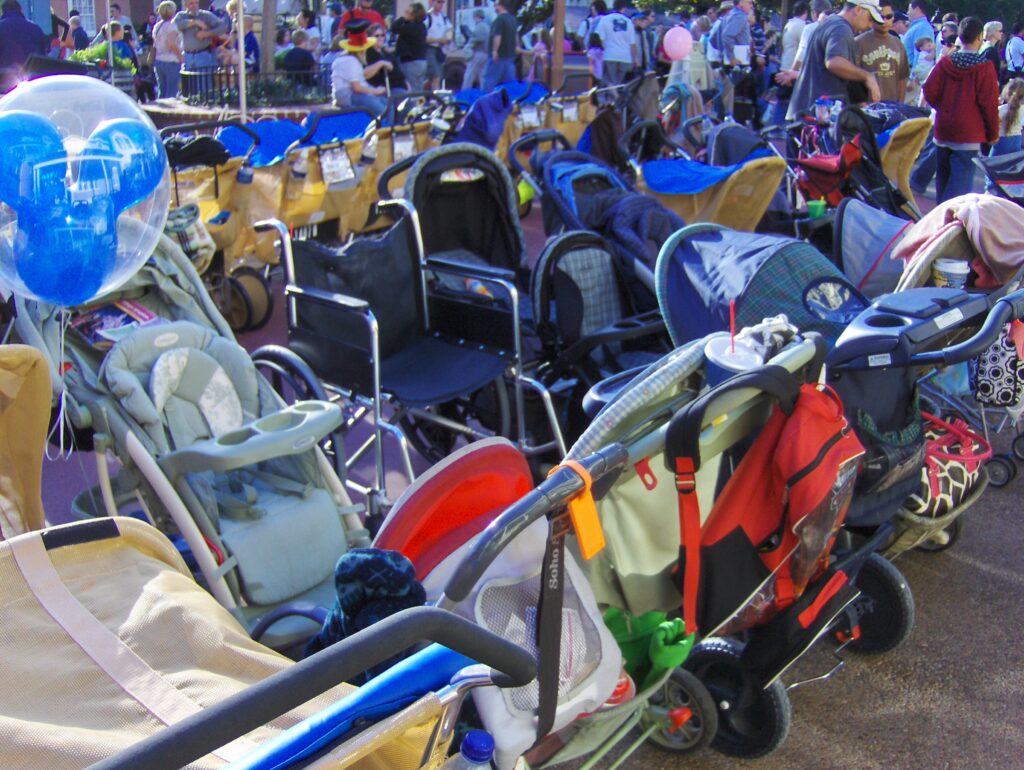 2. Pack Light, But Not Too Light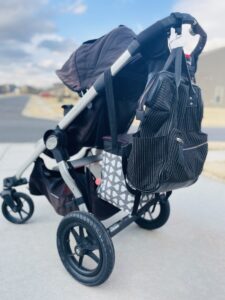 Who are we kidding? Can you even pack light for your days at Disney World with children?  Even though it is essential to have extra items, it is also important to be able to self-carry everything you are packing. The last thing you want is to be stuck in front of the shuttle or tram stop, trying to figure out how to grab all your belongings and fold up your stroller.
It was helpful for us to have a plan laid out of which person in our party would carrying what (don't forget to account for the children). We also found it helpful to do a practice run of loading and unloading the stroller before heading to the parks.
3. Have A Spacious Undercarriage Basket
I typically like to place our jackets, sweatshirts, ponchos, blankets, and/or towels under the stroller.  You never know what type of weather you will run into while visiting Disney World. Having some of these extra items will surely come in handy.  Since these items are some that I will not need to be taking in and out often, placing them in the storage basket will keep them out of the way and stored in a safe place. I often put these items in a reusable grocery bag, pool bag, or even a space saving bag for easy carrying. Pack and go blankets (Mickey Mouse Kids Travel Set) and towels are my go-to items for saving space.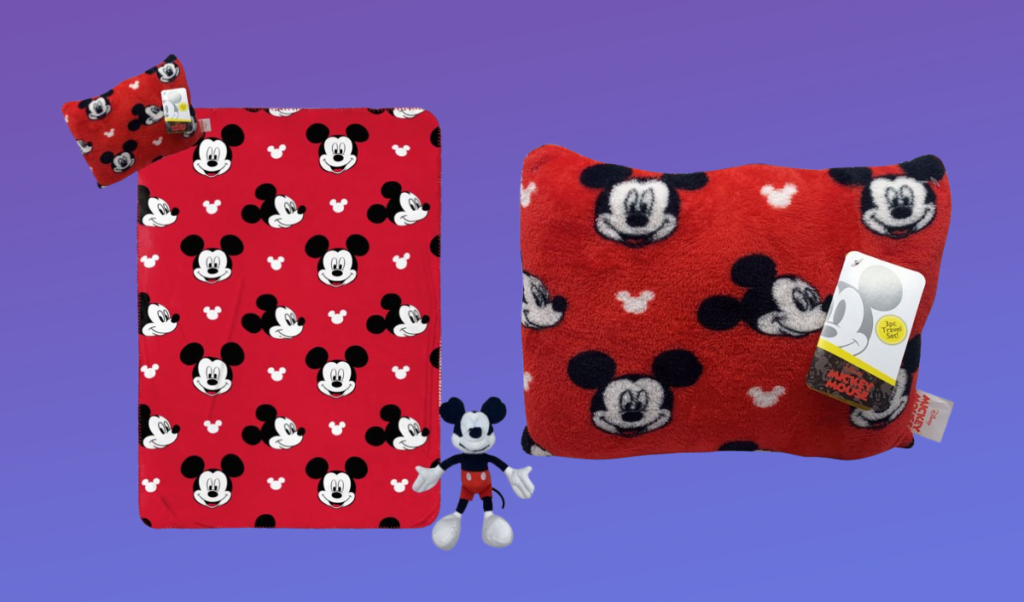 4. Add Hooks, Hooks And More Hooks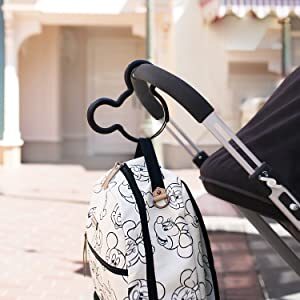 Children are the only thing I want to be carrying at Disney World, and even that is questionable at times. When I was gifted a set of mommy stroller hooks, I quickly realized how essential those hooks were, especially when heading to Disney World.  Just clip them onto your stroller's handle and hang all your bags from them.  You don't have to worry about lugging your diaper bag across your body or on your back the entire time. Stroller hooks also work great for all those extra Disney World purchases!
These hooks are extremely affordable and available to purchase at many retail stores (Petunia Pickle Bottom Mickey Mouse Stroller Hook ). I usually take 3 or 4 of them for our trips to Disney World.
5. Purchase A Side Sling Cargo Bag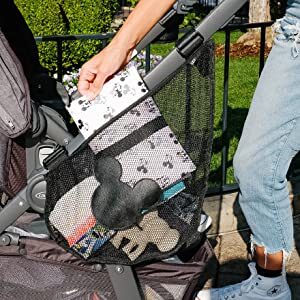 If you don't have a sling cargo bag (Disney Baby by J.L. Childress Side Sling Stroller Cargo Net) yet for your next Disney World trip, I highly recommend one. They hook onto the side of your stroller and are extremely convenient for those mostly frequently used items.
In my sling bag, you could find a bag or two of snacks, kids water bottles, an extra pacifier, hand sanitizer, a bag of wipes, or character autograph books. No more digging into the diaper bag or the undercarriage storage for some of these items.
6. Drink Holders Are Essential
Staying hydrated is so important during a long day at any Disney World Park. And having my water or drink easily available is a great reminder to keep hydrated. Also, lugging that nicely packed stroller requires 2 hands, so drink holders are essential. (Diono Buggy Buddy Universal Stroller Organizer with Cup Holders). We typically bring our own refillable water cups for the entire family. The adult drinks go on the caddy attached to the handles, and the kid's water cups go inside the cargo caddy, in individual cup holders on either side of the stroller or hanging from the mommy hooks.  It will depend on how many children you have, to determine what the perfect cup holder situation is for you.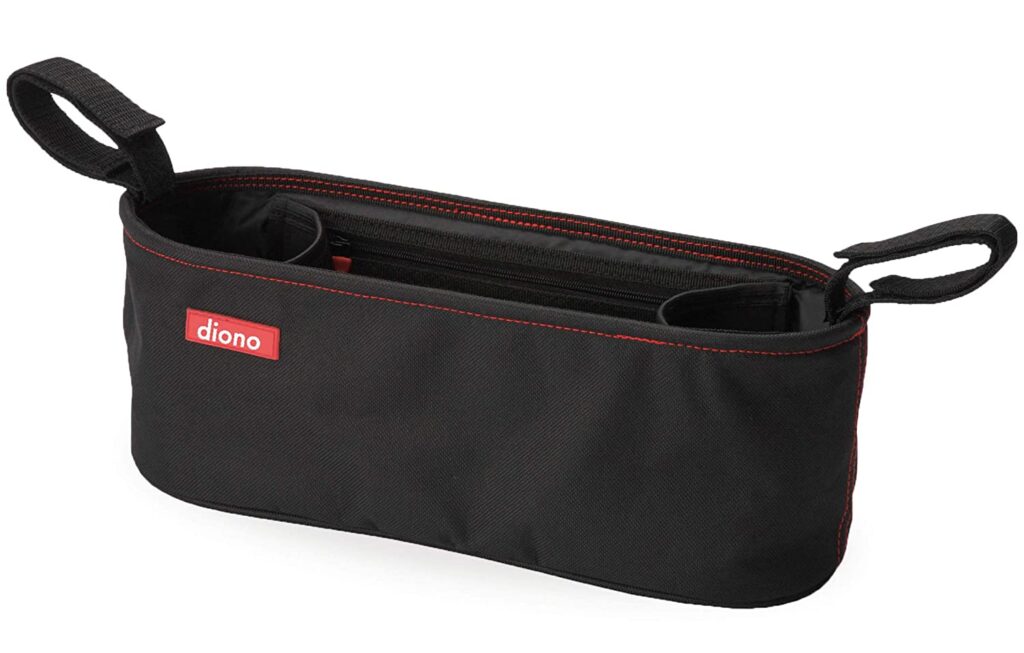 7. Snack Bag
Snacks, Snack, Snacks!  That's all we hear while we are walking from ride to ride while at Disney World. Purchasing every meal and snack can get expensive, so having a few snacks and water bottles has been extremely helpful for us in keeping those hungry bellies satisfied.  I usually take a small cooler bag with a long strap and hang it from the stroller's handle.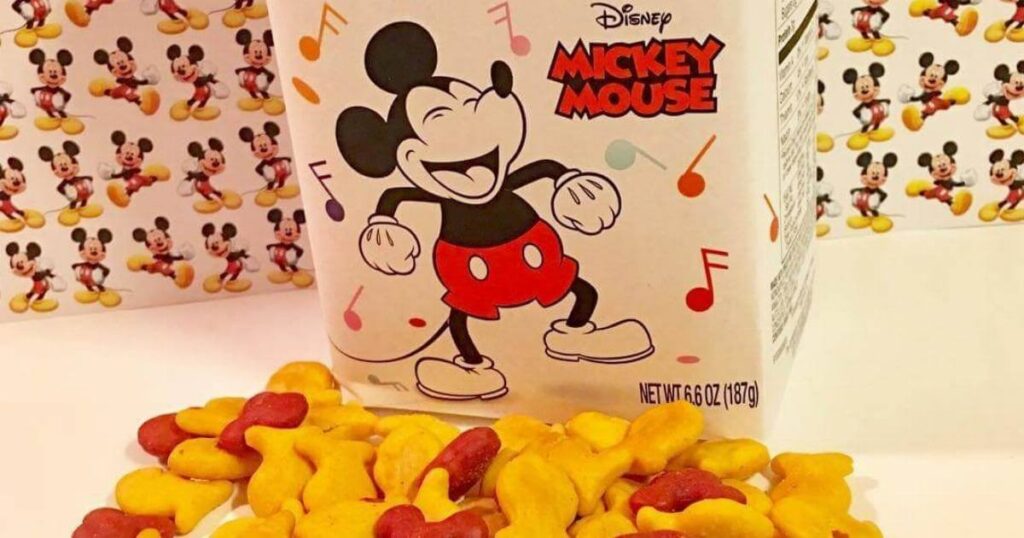 8. Larger Diaper Bag Or Book Bag
Most moms wouldn't dare leave home without their diaper bag and taking it to Disney World is no exception. My diaper bag is usually filled with extra clothes, diapers, wipes, hand wipes, bottles, formula, sunscreen, small first aid kit, and/or anything else I may need for the day. I prefer using a diaper bag, even when my boys got older, so I can easily keep organized with the help of all the compartments and pockets.
We like to hang the diaper bag from one of the mommy hooks. It frees up the storage space on the bottom of the stroller and allows for easy access to items I may need more frequently.

9. Personal Smaller Bag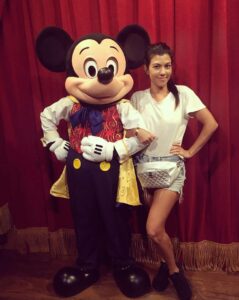 Thank goodness fanny packs are back in style, am I right? Just strap that little bag around your waist or across your body and hit the lines. I keep my valuable items, such as my wallet, phone, keys, and tickets in a smaller personal bag so I can just grab it and go. Having this smaller bag on me is also essential in case I get separated from my family or need to hit the snack cart alone. But don't panic, if you don't have a cool fanny pack, any smaller purse or bag will do.
10. Rain Cover
Mid-day showers are very typical in Florida. Being from the sunshine state, I know that the weather could be very unpredictable. But that didn't stop me from getting caught in an unanticipated downpour on one particular day. The day began to turn a bit gloomy so we parked our stroller in stroller parking, covered it up the best we could and hit a ride. By the time we came out of the ride it wasn't raining, but everything was soaked! A quick rain shower had come by, and while we were mostly spared, our stroller wasn't.
My last tip for Disney stroller packing, is to pack a rain cover for your stroller. It's compact, can go in your diaper bag or in the undercarriage basket, and it keeps all your belonging dry, including your children. Unfortunately, our stroller was so wet that we couldn't use it for the rest of our trip (even after hours of trying to blow dry it, literally). Thankfully we were able to rent a Disney World stroller and we finished out our trip without many complaints from tired kids.  But boy, did we miss our spacious stroller.
Packing your stroller for Disney World can seem tedious but using these 10 tips can hopefully make the process easier for you.  What is your favorite item to pack in your stroller for trips to the Disney Parks? Tell us in the comments below.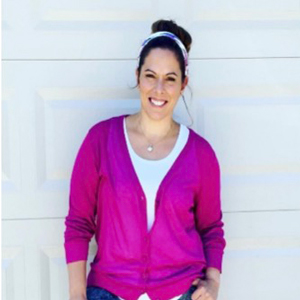 Written by
Lourdes Molina
Contributing Writer
Lourdes is a Florida native who spent many weekends vacationing at the Disney World parks. Now a mom of two boys, living outside of the Charlotte, NC area, she has loved experiencing the Disney magic through the lens of her boys. She looks forward to their annual trip to Florida to see family and of course her old pal Mickey Mouse.