Disney World is truly a foodie's haven, offering sweet and savory fare that can't be found anywhere else. Disney's world-class chefs and culinary teams are always developing new and limited-time treats to satisfy the taste buds of their global visitors. 
But when it comes to desserts, which ones have stood the test of time and remain the best of the best? Today we're counting down our list of the five best desserts in Disney World! 
5. Fresh Fruit Waffle Sandwich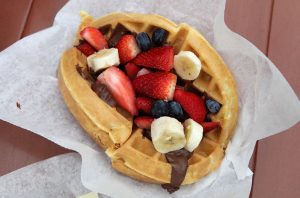 Head over to Sleepy Hollow in Magic Kingdom to find this delicious and unique treat. A thick Belgian-style waffle with chocolate-hazelnut spread and strawberries, banana and blueberries on top makes for a filling and decadent treat any time of day. Don't forget you can place a mobile order to save time.
4. School Bread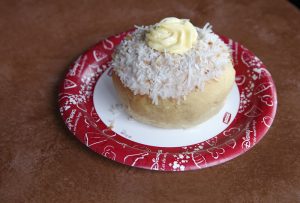 Kringla Bakeri Og Kafe in EPCOT's Norway Pavilion offers a mouthwatering array of Norwegian baked goods. One of their most popular treats is the School Bread: a sweet roll filled with custard and dipped in coconut. The unique combination of flavors makes for a deliciously sweet treat, and at $4.49 it is also a budget-friendly one!
3. Cinnamon Roll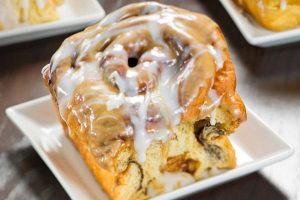 If you like sweet treats (and using antlers in all of your decorating), then you'll love Gaston's Tavern in Magic Kingdom's Fantasyland. This quick service location offers such popular treats as LeFou's Brew, which is a frozen apple juice with a hint of toasted marshmallow and topped with passion fruit-mango foam; but the real star of the show here is the huge cinnamon roll. Served warm with a mouthwatering drizzle of icing, this cinnamon roll is large enough to share…though you might not want to!
2. Mickey Bar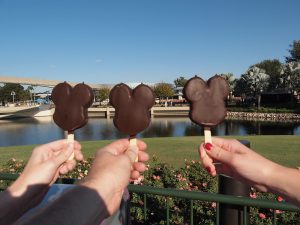 Is it really a Disney World vacation if you don't get a Mickey Premium Bar? Deliciously cold and creamy ice cream covered in a chocolate shell, this famous treat is the perfect way to cool off on a hot day. They are also conveniently found all throughout Disney World at various outdoor stands or resort quick service locations, making it easy to grab one on-the-go. That first bite is a Disney World experience in and of itself.
1. DOLE Whip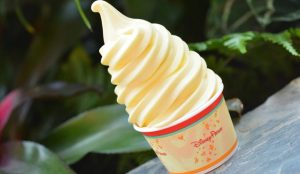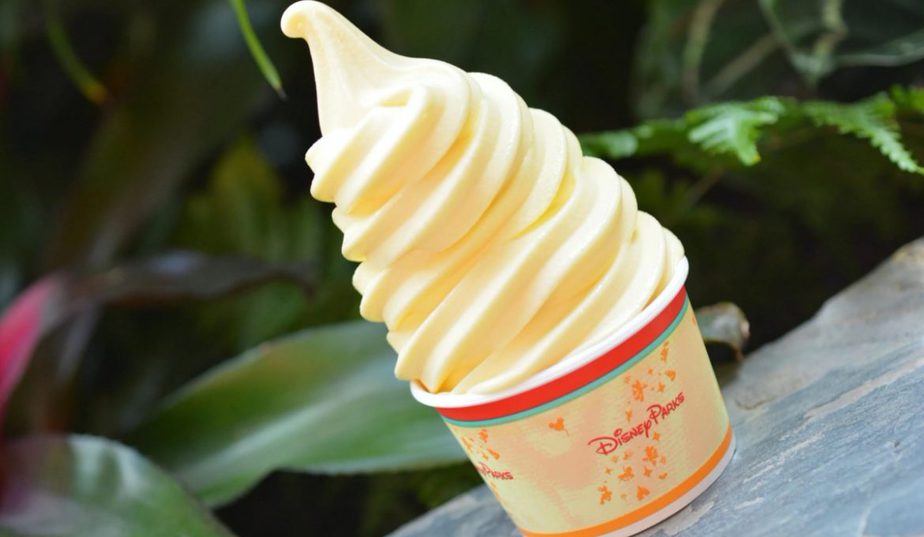 It might come as no surprise that our number one Disney World dessert is the DOLE Whip. Creamy, sweet and citrusy, this treat always hits the spot. 
The DOLE Whip is available in many different versions: in a cup, as a float with Pineapple Juice, Orange flavor, with a swirl of Vanilla DOLE Whip, with a swirl of Raspberry, and many more. This sweet treat is versatile and refreshing no matter how it's served. Limited-time flavors are also frequently featured at the various retailers that offer DOLE Whip across Disney World. For a list of all the locations that offer DOLE Whip, check out this list.
What is your favorite dessert in Disney World? Let us know in the comments!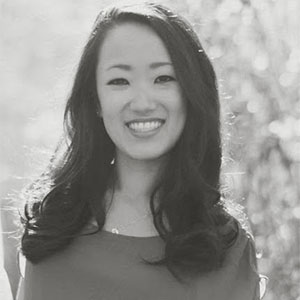 Written by
Leia Cullen
Leia is a proud mom of two boys. She has been in love with Disneyland and Disney World since her first visit to the parks many years ago, and she continues to relive the magic now with her family. She is passionate about creating helpful content that shares news or information about all things Disney, in the hopes it helps others create their own magical moments.