What better place to spend your golden retirement years than the Walt Disney World Resort? DVC is a great option for those who are retired. The privacy of DVC villas and suites is unmatched by any other Disney World resort. Enjoy a serene vacation and relax during this time in your life. You earned this! While just about anywhere at Walt Disney World is a good place to be during your retirement, there are a few stand out DVC resorts that are sure to be extra magical for this carefree time in your life. Read on for our best DVC resorts for retirees picks.
1. Disney's Old Key West Resort
Disney's Old Key West resort's theme is all about the Florida Keys. Stepping into this resort might feel like stepping back in time to your summer vacations spent at your aunt's beach house. This is a laid-back resort with a beach feel, and it's spaciousness gives it a secluded and private vibe.
The villas are the highlight of this DVC. The grand villa includes amenities such as a kitchen, washer, dryer, and 3 separate bedrooms. There is also one and two bedroom villas, as well as a deluxe studio room with two queen beds.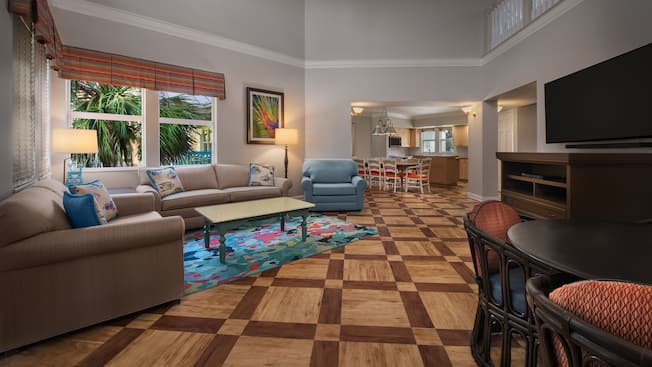 After your time at the parks, unwind with a dip in one of the four pools this resort has to offer. There are campfire activities nightly between 6 and 7pm. Experience a movie under the stars on select nights beginning at 8pm. There is an exercise room for all of your fitness wants and needs. One highlight of Old Key West is that they offer guided fishing excursions for a fee. The community hall is another fantastic amenity with daily activities and events.   Between bike rentals, the volleyball, basketball, and tennis courts, you will never run out of things to do!
2. Disney's Polynesian Villas & Bungalows
If you are looking for a resort with a bit more liveliness and pep, you might just fall in love with the DVC Villas and Bungalows at Disney's Polynesian Resort. This resort will be a bit busier as it is a full-service deluxe resort geared toward families with children. However, the DVC villas and bungalows still have their relaxing, laid-back feel.
The villas sleep up to five adults and have both standard and lake views. There is only one room within the villas, but two luxury bathrooms. If you are looking for more space, give the bungalows a try. They sleep up to 8 adults and have two bedrooms, a living space, and a sprawling deck over the lake. These bungalows are on the water, literally, and make for a unique and luxurious experience.
Many of the same amenities are a feature with this resort: fishing, movies under the stars, volleyball courts, and pools. Also enjoy boat rentals, and get a front seat view to the nightly Electrical Water Pageant. There are two sit-down restaurants: Ohana and Kona Cafe. There is also a quick service dining location, pool bars, and the famous tiki bar "Trader Sam's". The wide variety of dining locations is definitely a perk for this resort, perfect for any foodie. There are also lakeside beaches throughout the resort complete with hammocks and plenty of space to relax and watch the sunset.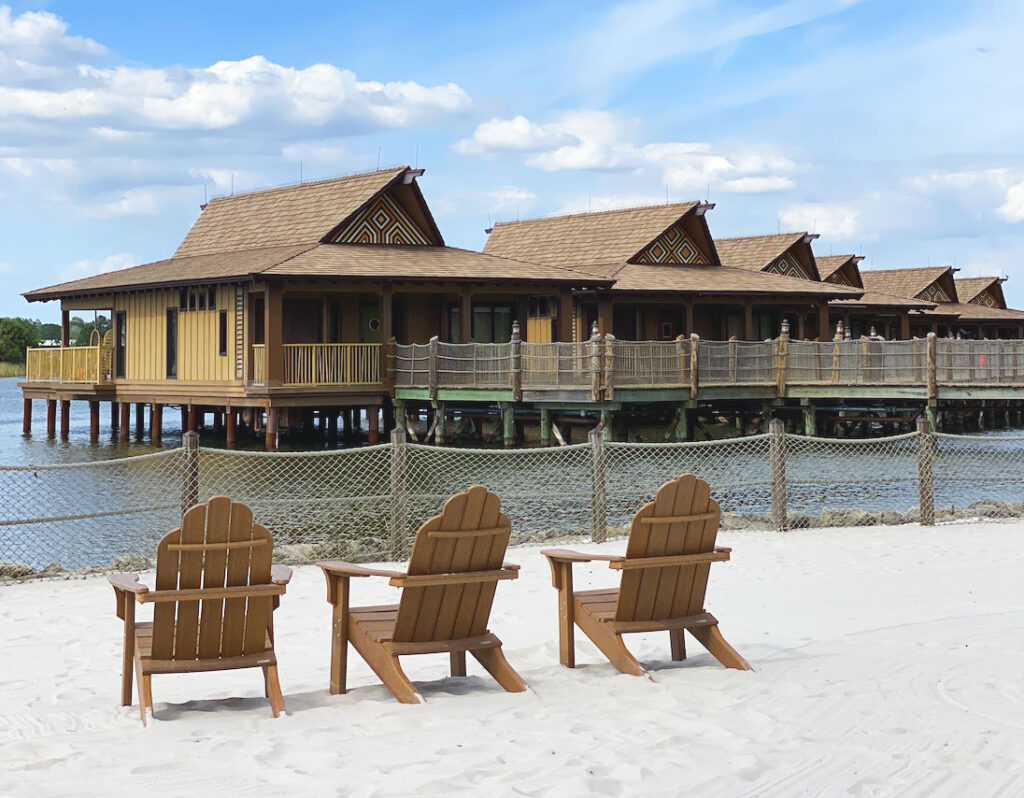 Disney's Vero Beach Resort
Perhaps you are looking for less of a Disney Parks vacation are more of a beach vacation? Not many people know that Disney has a beachside resort on Vero Beach, located about an hour from Cocoa Beach, Florida and about an hour from the Disney Parks. If you want a vacation full of sand and sun, this is definitely the Disney Resort for you. Lots of quiet spaces and private beachside balconies are the crown jewel of this resort. Come during turtle nesting and maybe you'll be lucky enough to view some baby turtles making their great ocean journey.
The rooms here range from deluxe standard rooms that sleep up to four, to one and two-bedroom villas with ocean, pool, or landscaping views.
If you are spending your retirement golfing, then this resort is surely for you as it is located near many challenging golf courses. There is also an on-site mini golf course, fishing, water sports, tennis lessons, bike rentals, basketball courts, pools, a fitness center, a community hall with daily crafts and activities, and of course the Atlantic ocean and beautiful beaches. With this resort being roughly an hour drive from the Disney Parks, you can spend a day at Magic Kingdom and then retreat to your relaxing, calm, beach resort.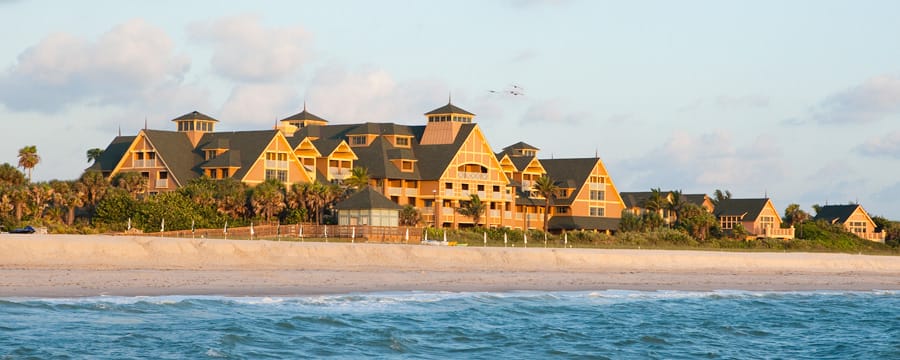 Disney's Aulani Hawaiian Resort
If Hawaii isn't on your retirement bucket list then it needs to be! Did you know that Disney has a resort in Ko Olina, Hawaii? Disney's Aulani Resort is absolute tropical paradise. Take a once-in-a-lifetime vacation to paradise using DVC points.
From standard hotel rooms, up to 3-bedroom grand villas, you can't go wrong with any of these offerings for Disney Vacation Club. Choose from garden views, pool views, or even ocean views. These rooms are decorated like a Hawaiian dream and include amenities such as a fully equipped kitchen and washer and dryer. Experience a home away from home like no other.
There could be paragraphs upon paragraphs written about all of the recreation that this Hawaiian resort has to offer. I'll keep it brief by mentioning it's white sandy beaches, community hall, Hawaiian luau-style dinner shows, fitness center, golf courses, nature tours, and excursion opportunities, and full-service spa. Many dining opportunities lie within this resort, including character dining, fine dining, and quick service dining. You will never have to stray off property unless you want to! If there is any a time to take a luxury Hawaiian vacation, it would be your retirement!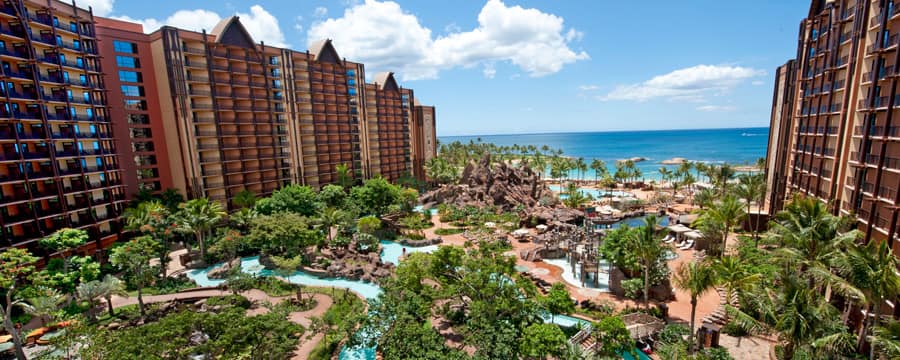 Which DVC Resort would you want to spend your retirement? Let us know in the comments!
Featured image by Disney
Written by
Megan Woodard
Contributing Writer
Megan was born into a Disney family. Her first trip to Disney World was when she was only 18 months old. Now as an adult, Megan loves to share the magic of Disney with her two toddlers. Keeping up with Disney news and Disney World knowledge is a fun hobby for Megan. Disney World is her favorite place to be and continuously brings back her childhood joy.