Resort Overview
If you love the romance and charm of the Florida Keys, but Walt Disney World is your destination, Disney's Old Key West Resort is the place for you. The "original" Disney Vacation Club Resort reflects the heritage of Florida. The resort was modeled after the famous vacation destination of the Florida keys from around the early 1900s. From the Hospitality House and Conch Flats General Store to the pastel-colored buildings throughout Disney's Old Key West's neighborhoods, there is the tranquility that beckons "Welcome Home."
Because Disney's Old Key West Resort was the first Disney Vacation Club Resort, the villas are more spacious, making it an appealing resort for those who like or need more space. The room selections include Deluxe Studios, which sleep up to 4 adults; 1 bedroom villas, which sleep up to 5 adults; 2 bedroom villas, which sleep up to 9 adults; and three-bedroom grand villas, which sleep up to 12 adults. Disney's Old Key West Resort is one of my favorite DVC Resorts. A vast complex of over 25 acres, Disney's Old Key West Resort has a convenient internal bus system and access to water transportation leading to shopping, dining, family-friendly activities, live entertainment, and more at Disney Springs.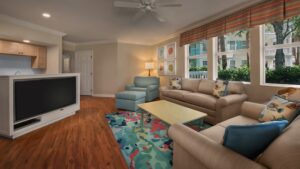 Grab A Bite To Eat
Quick Service
A perfect place to find burgers, salads, desserts, snacks, and beverages is Good's Food to Go. You can grab 'n' go or find a shady picnic table to sit and eat. This quick-service eatery is located near the main pool and dock.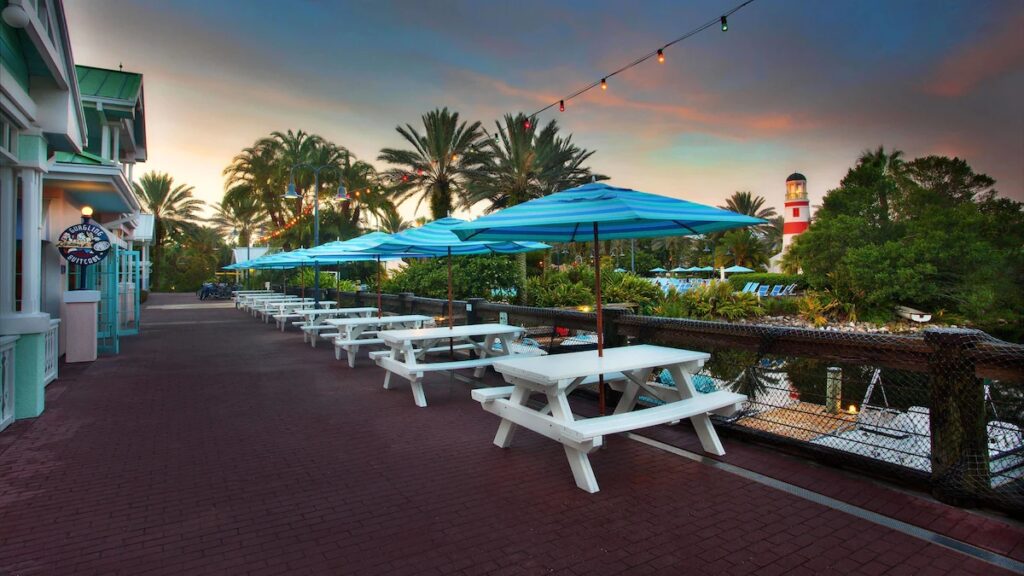 Table Service
Olivia's Café, a nautical-themed restaurant, serves breakfast, lunch, and dinner featuring hearty home cooking. Scrumptious brunches are served on the weekends. Reservations are recommended. What is the backstory of Disney's Old Key West's Olivia's Café? Well, Olivia lived in a small cottage along Turtle Krawl in Key West, and she loved to cook. Passersby would smell her cooking, and she would invite them to eat. As more people stopped, she added chairs until she opened her café. Disney's Olivia's Café captures Olivia's home cooking spirit. I highly recommend the Banana Bread French Toast!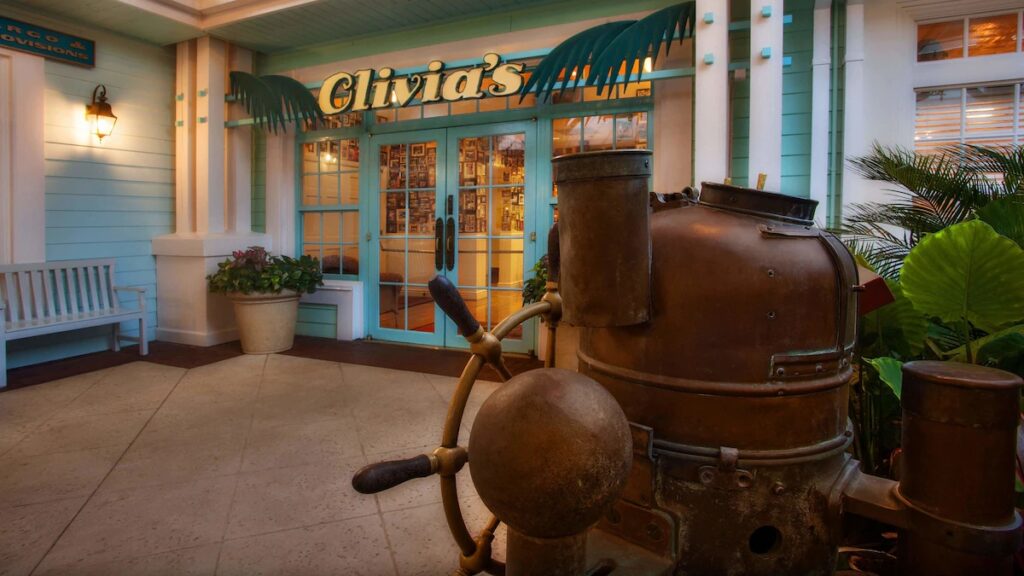 Other Offerings
Located outside of Olivia's Café and near the main pool is the Gurgling Suitcase Libations & Spirits, a cozy little Key West-style bar serving your drink of choice, including wine and beer. If you are hungry, the lunch and dinner menu is available from Olivia's Café.
Pizza, hot dogs, sandwiches, salads, and kids' meals can be found at the Turtle Shack Poolside Snacks located near Turtle Pond Pool.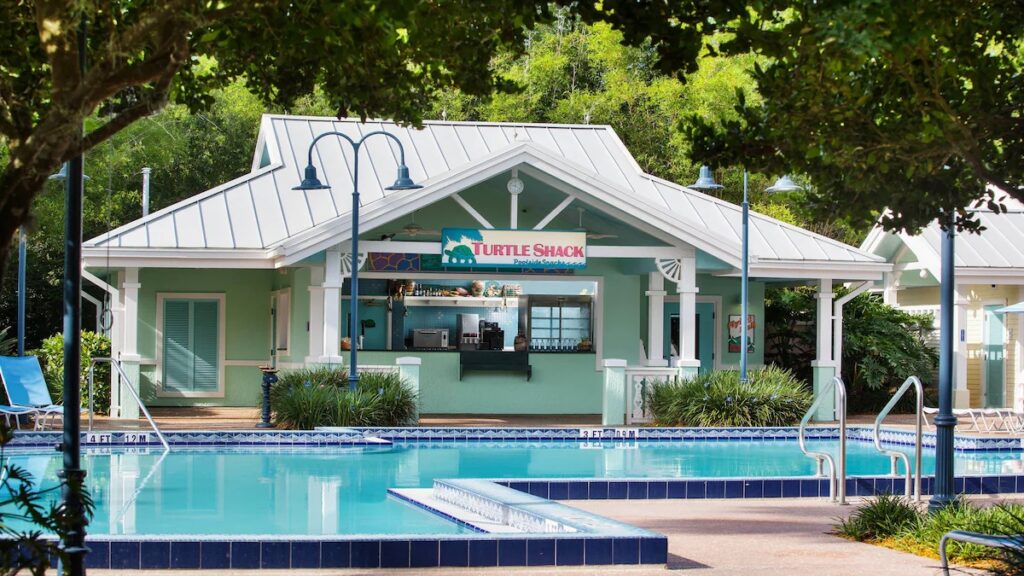 Pools
There are four heated pools throughout the vast Disney's Old Key West complex. The largest, the Sandcastle pool, is located near the Hospitality House. The name comes from the enormous sandcastle that houses the pool's 125-foot-long waterslide. There is also a whirlpool spa and a dry sauna inside the pool deck's lighthouse, the only dry sauna at a Disney resort.  Also near this main pool is a kiddie pool for the littles. The three leisure pools are on Miller's Road, South Point Road, and Old Turtle Pond Road. Each pool area also has a whirlpool spa.
Hours and lifeguard availability vary by pool and are subject to change. All Disney resort pools provide complimentary towels for use at the pools.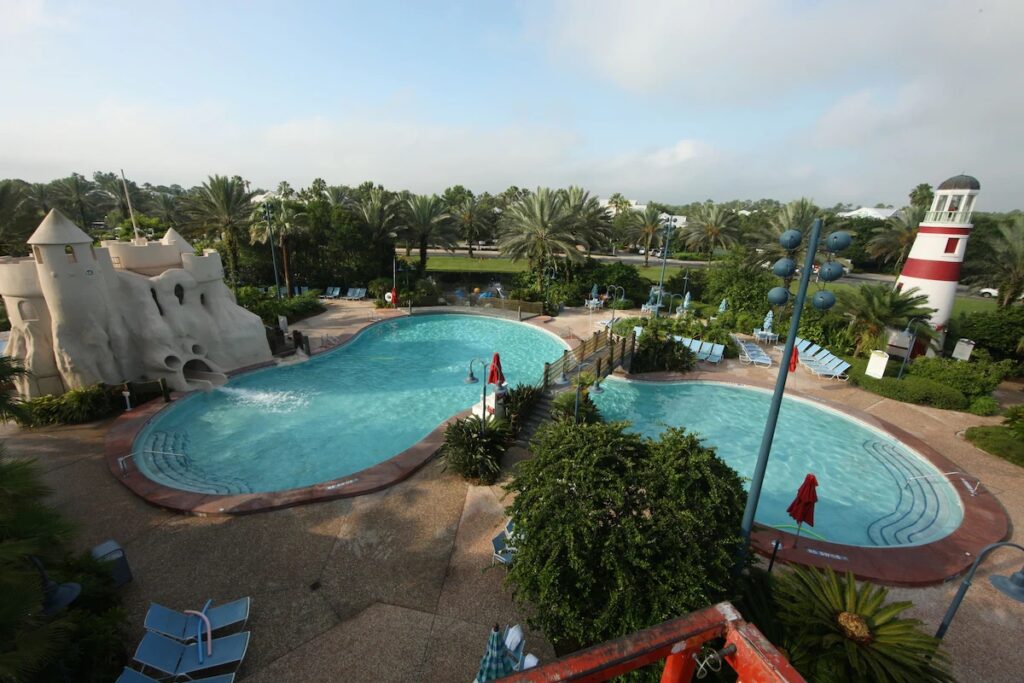 You Won't Want To Miss This
There is something for everyone at Disney's Old Key West Resort. The recreational opportunities are incredible! Here is a quick rundown so you can plan your stay.
Fun and games await you at two arcades, The Electric Eel game room is part of the Hospitality House complex, and the Flying Fish game room is near the Turtle Shack Poolside Snacks. If the parks are not enough, stay fit in the Old Key West Exercise Room. The Conch Flats Community Hall offers more fun and games, including foosball, pool, ping pong, and shuffleboard. This is also where you check out tennis, basketball, and volleyball equipment. DVDs can be rented here, and it is a great place to create one-of-a-kind crafts. Celebrate family time around the campfire, roasting marshmallows, and stay for a movie! Movies Under the Stars is held on select nights as weather permits. Check with the front desk or your Recreation Calendar for movies and times. Let the littles burn off some energy at one of the three playground areas near the main feature pool, the pool area at Old Turtle Pond, and the pool area at South Point.
At Hank's Rent 'N Return, you can rent a bike or a bicycle built for 2 or 4! There are basketball and volleyball courts located near the Hospitality House. A 1.37-mile-long jogging path, beginning at Conch Flats, winds along the shimmering canal and the fairways of Disney's Lake Buena Vista Golf Course. At Disney's Old Key West marina, you can enjoy a 2- or 4-hour fishing excursion during a guided catch and release outing. Reservations are required. One of the things I enjoy while staying at Disney's Old Key West Resort is taking a complimentary water taxi to Disney Springs via Walt Disney World Water Transportation. And last but certainly not least, don't forget to do some shopping at the Conch Flats General Store, where you can find Disney merchandise, necessities, snacks, and souvenirs.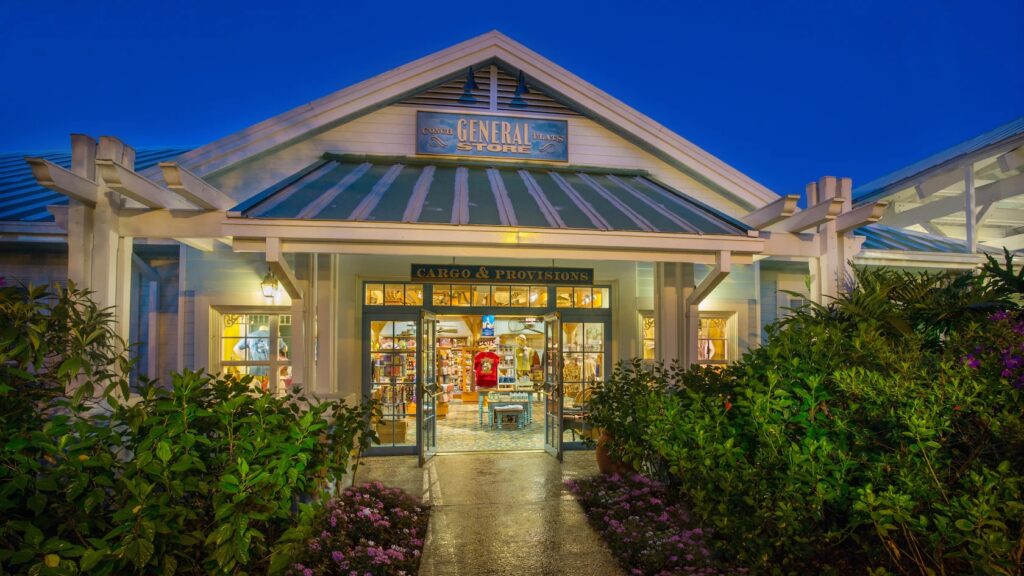 Did You Know?
The "Family Tree" is behind the Sandcastle pool, planted when the resort first opened. As it grows, it signifies the growth of the DVC family.
To the left of the check-in desk is a small lounge called Papa's Den, filled with books on shelves. Legend has it that famed author Ernest Hemingway wrote his novel "A Farewell to Arms" while living above a showroom of a Key West Ford dealership. Disney Imagineers fashioned Papa's Den after the writer, including the framed pens by the fireplace signifying Hemingway's writing.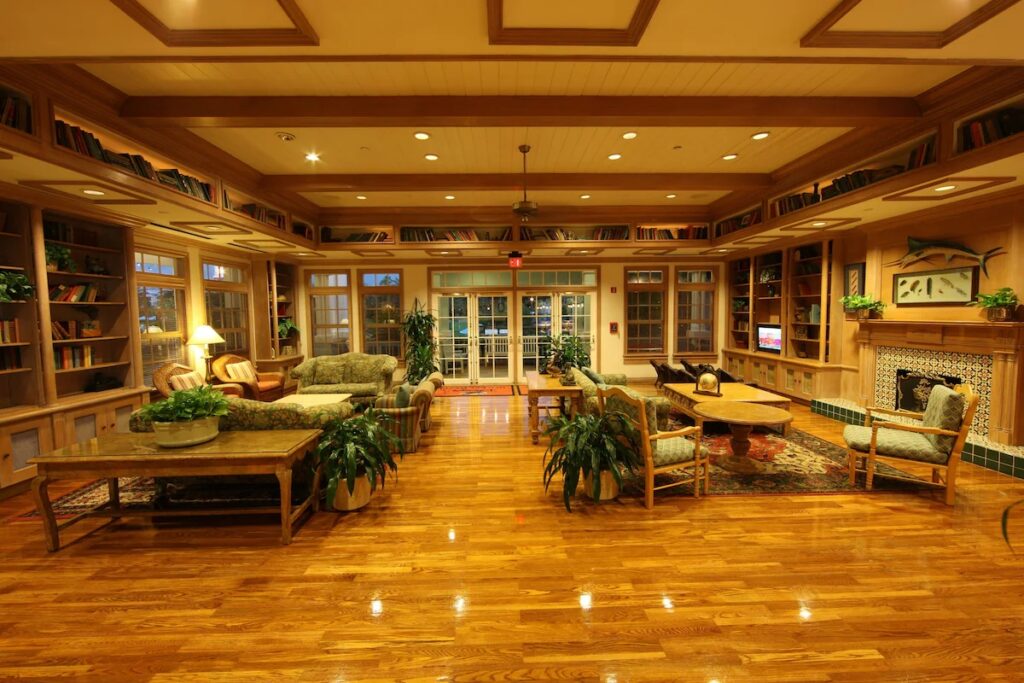 Want to stay at Disney's Old Key West Resort on your next Disney World vacation? DVC Shop can help! Check out our rental services!
Feature Photo: Disney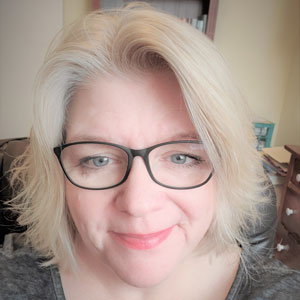 Written by
Tracy Engstrand
"All our dreams can come true if we have the courage to pursue them." – Walt Disney Tracy not only believes this but lives her life trying to exemplify Walt's positive attitude. Walt Disney World is a destination for Tracy and her family at least twice a year and it's a new adventure every time. Her favorite resort at the present time is Animal Kingdom Lodge, and her #1 bucket list item is an Alaskan Disney Cruise.