If you enjoy staying at the BoardWalk Villas, or strolling along The Boardwalk, you probably were familiar with the Boardwalk Bakery as a quick service food option with a nice variety of baked goods and a few quick service sandwiches or salads as well as a Disney mug refill location. Over the summer the bakery was closed for a short while and was being re-imagined and is now The BoardWalk Deli. These "Deli-cious" Meals are inspired by delis of the American Northeast.
While on a holiday decoration visit to The BoardWalk Villas, I decided to pop in and see what they have done and look at the new menu options, as well to see if they still had my favorite, Key Lime Pie.  While the basic look feels the same, updates seemed to mostly been made to the menu. The menu is now displayed on screens within a wood frame. I was there during mid-afternoon, so the lunch and dinner menu was on display. In addition to the new sandwiches and salads being offered, there are several alcoholic beverages in addition to the coffee, specialty coffee and soda. The Disney Mug Refill Station is still available. The good news is there are still a nice variety of baked goods that we've come to enjoy over the years.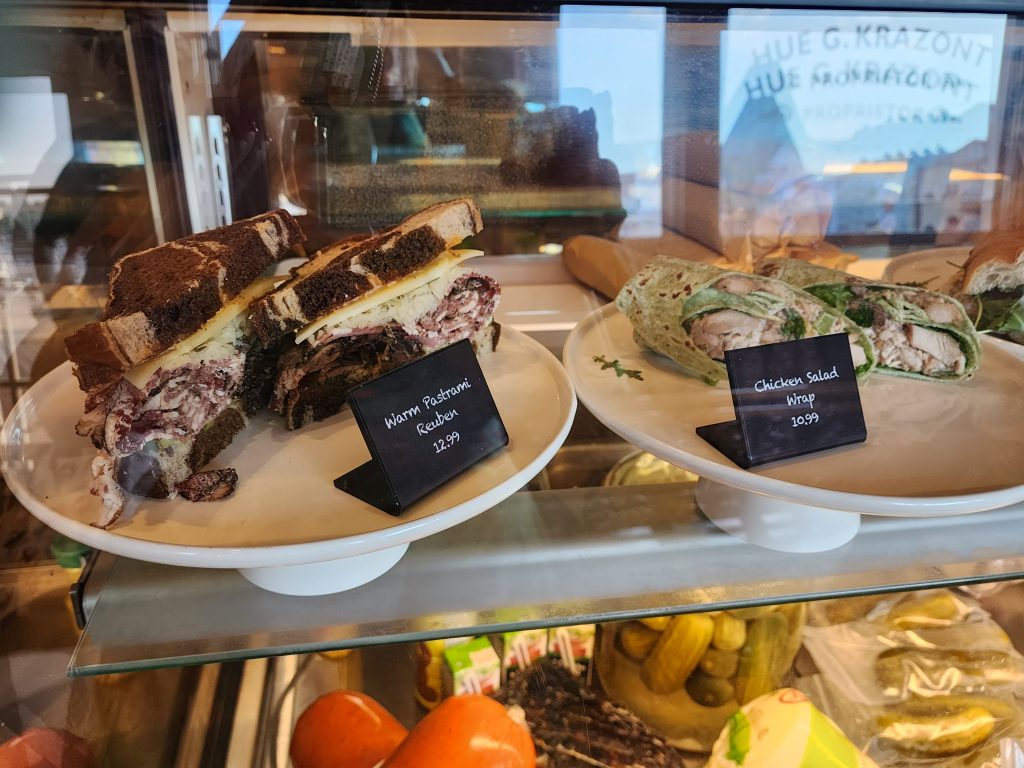 A few display sandwiches are in the case and after seeing them, I wished I was a bit more hungry and will definitely be back to try the Warm Pastrami Reuben. All of the sandwiches can be made with gluten free bread as well, as well as a few of the bakery options. My husband choose a gluten free blueberry muffin and I was happy as they still carry my favorite, Key Lime Pie.
Lunch And Dinner Options Look Yummy!
For lunch and dinner the sandwiches choices include a Warm Pastrami Reuben, an Italian Sub, a Chicken and Walnut Salad Wrap, a Roasted Chicken Sandwich and Grilled Cheese Sandwich and Tomato-Basic Soup, as well as two salad options, Caesar Salad with Grilled Chicken and Mixed Berry Salad. All entrees average $10-13. There are also a few side options as well and kids meals offered.  Lunch and Dinner options are available from 11:00am-10:00pm.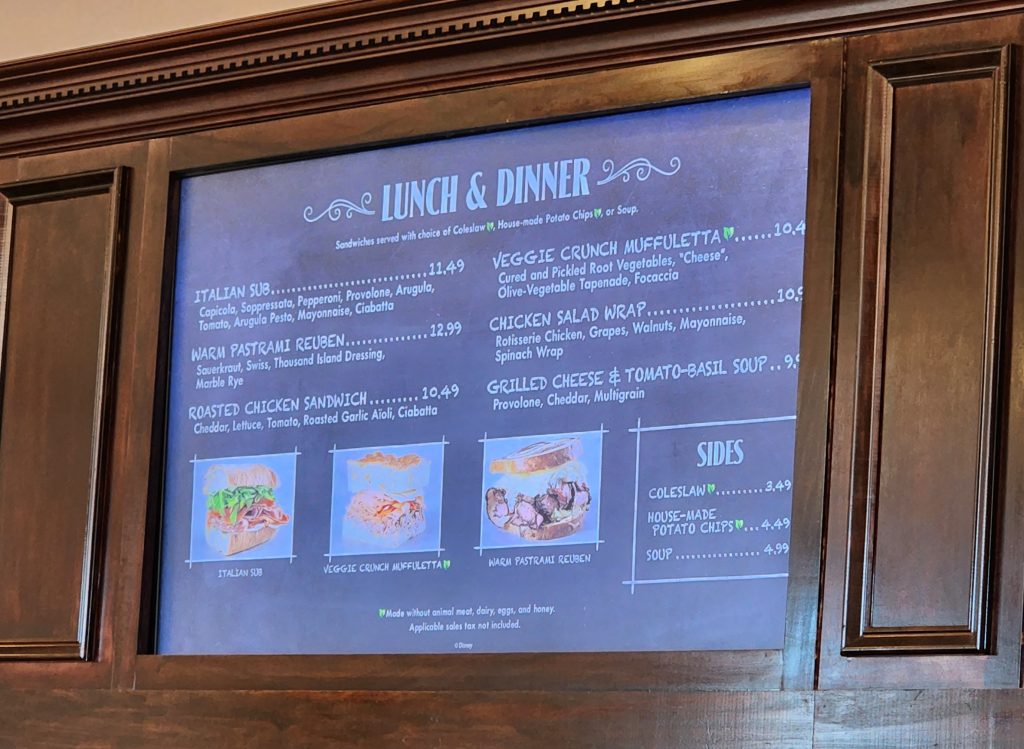 Bagels and Bakery Treats For Breakfast
Since the breakfast menu wasn't showing, I looked at the My Disney Experience App and it shows two Bagel Breakfast Egg Sandwich options and two Bagel Salmon options. There is also a Plant-Based Ciabatta Breakfast Sandwich available in addition to a variety of Cinnamon Rolls, Croissants, Danish, muffins, scones and fruit options. The prices run from about $7.50-10 for the sandwiches and average $4-7 for the bakery options. Breakfast runs from 7:00am-11:00am.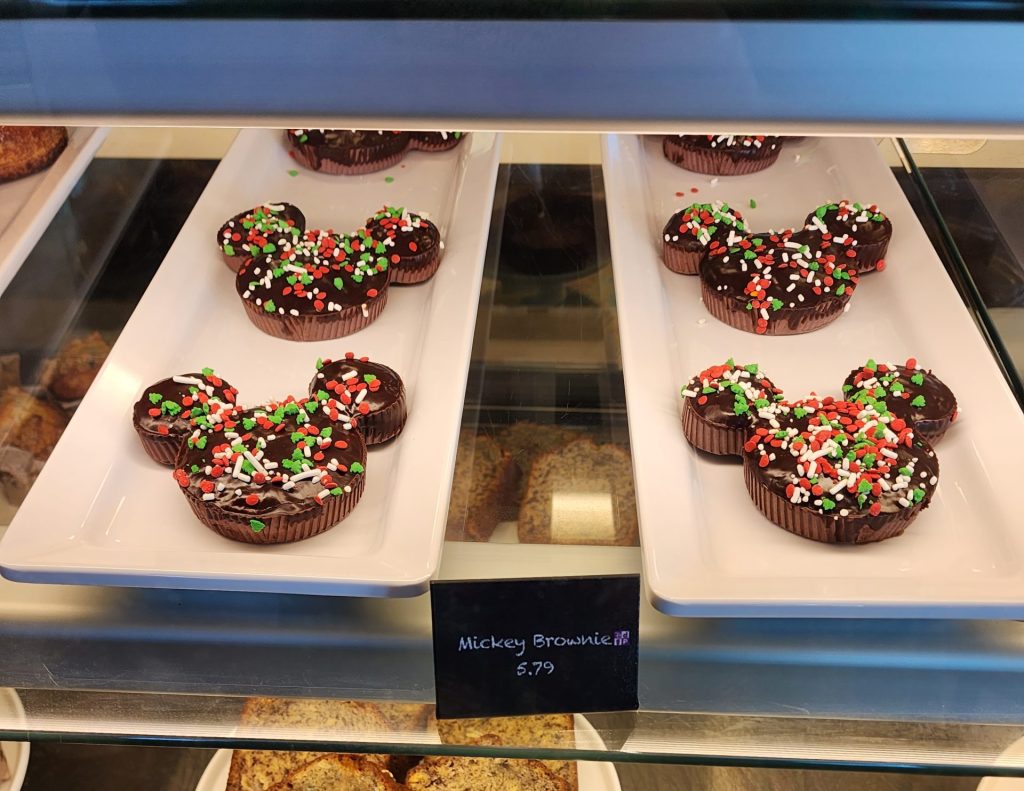 Beverage Options Have Been Expanded To Include Alcohol
In addition to juice, milk and soda options, you can now find specialty coffees and several alcoholic beverages. This will be a nice option when wanting to enjoy a few minutes watching the boats and surrey's pass by or if you enjoy a leisurely stroll along the boardwalk.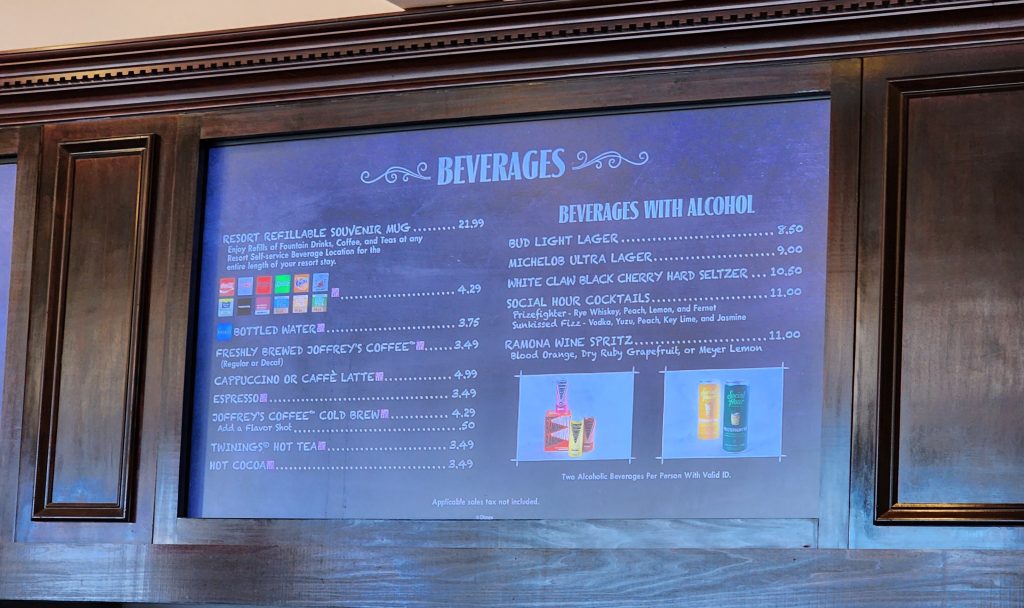 Holiday Gingerbread is honoring the BoardWalk Deli
After we ate our snack we went into the Boardwalk Villas to see the holiday displays and decorations. What fun it was to see the BoardWalk Deli featured this year, especially since we had just been in to get a treat. We enjoyed seeing Mickey and Minnie busy baking some of those treats we had just looked at a few minutes before. There is also a table that sell treats in the lobby.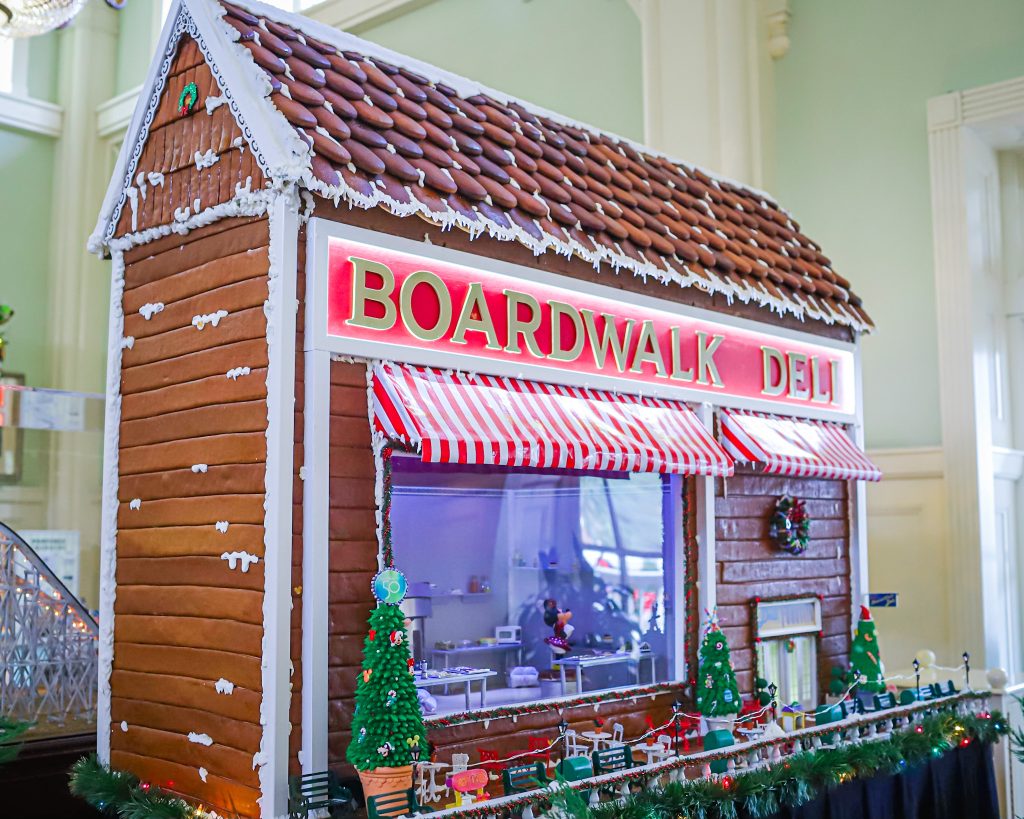 If you're not staying at the Boardwalk, but are at Hollywood Studios or Epcot, it's an easy walk or boat ride from either park to visit the BoardWalk Deli and it's a nice break from the hustle of the parks. If you've not been able to stay at the BoardWalk Villas, check out the DVCShop.com for rental availability and book a villa to try this location.
Written by
Karen Fountain
Contributing Writer
Karen has been a Disney fan her whole life and has been visiting almost yearly since 1997, when her daughter turned 4. She has become an avid cruiser with Mickey as well. Born and raised in the Washington, D.C. area, she recently she sold her business and with her husband, decided it was time to make the Orlando area their new home. They love being able to pop over to Disney on a whim and enjoy lunch or dinner at Disney Springs or catch a concert at Epcot.