One of the highlight attractions in both Disneyland Resort and Walt Disney World Resort during the holidays are the remarkable gingerbread displays throughout the resorts. These displays are something that many avid Disney goers look forward to every year, with people flocking to the resorts to get a look.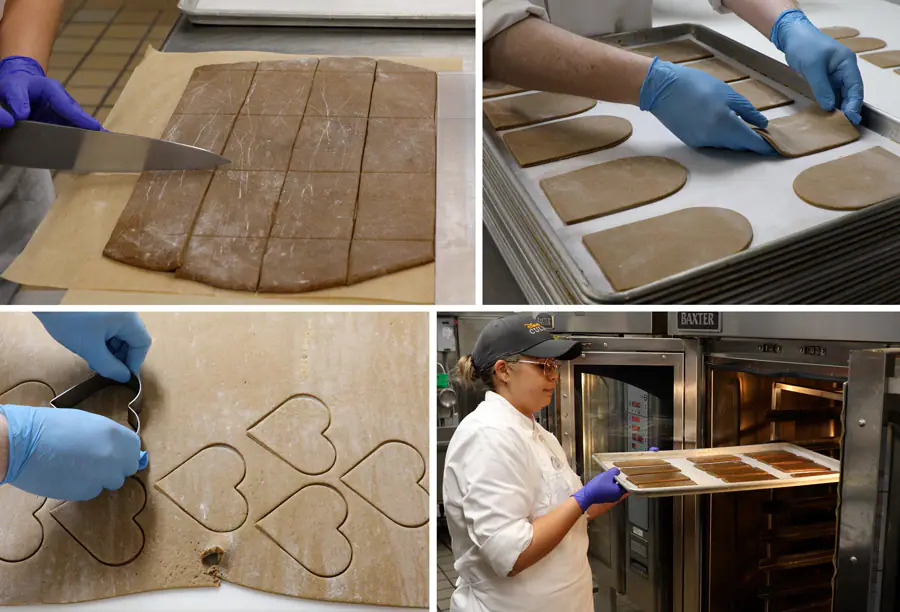 The Disney pastry teams in both Florida and California spend countless hours crafting these incredible gingerbread displays adding the tiniest details to make the magic come alive. Not only do they create these displays, but the pastry teams work daily on the treats at many of the resort dining locations that are available daily during the holiday season.
Knowing which resorts have gingerbread displays and what treat offerings are available can be very important to your planning if the viewing of these is a favorite past time to you and your family. Here is the full list of Disney's gingerbread displays and special holiday treats for 2022!
Disneyland Resort
Disneyland Park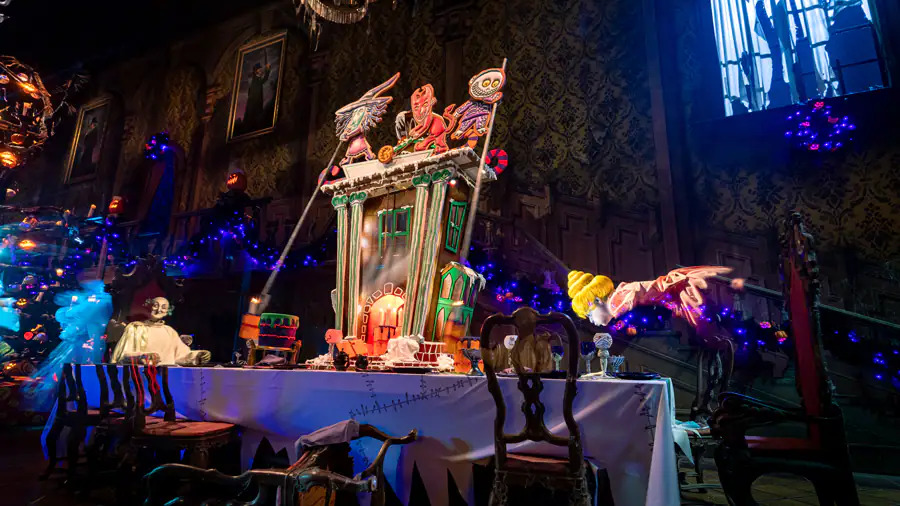 The Haunted Mansion Gingerbread House is a special addition to Disneyland Park's Haunted Mansion holiday overlay. Every year Jack Skellington transforms The Haunted Mansion into a christmas themed version of the attraction that is inspired by "Tim Burton's The Nightmare Before Christmas."
Many may be surprised to learn that the gingerbread display on the table in the attraction is in fact real gingerbread. The display contains three moving elements and takes 20 days and 300 pounds of gingerbread to bring to life. Spot it in the attraction from now until January 8, 2023.
Disney's Grand Californian Hotel & Spa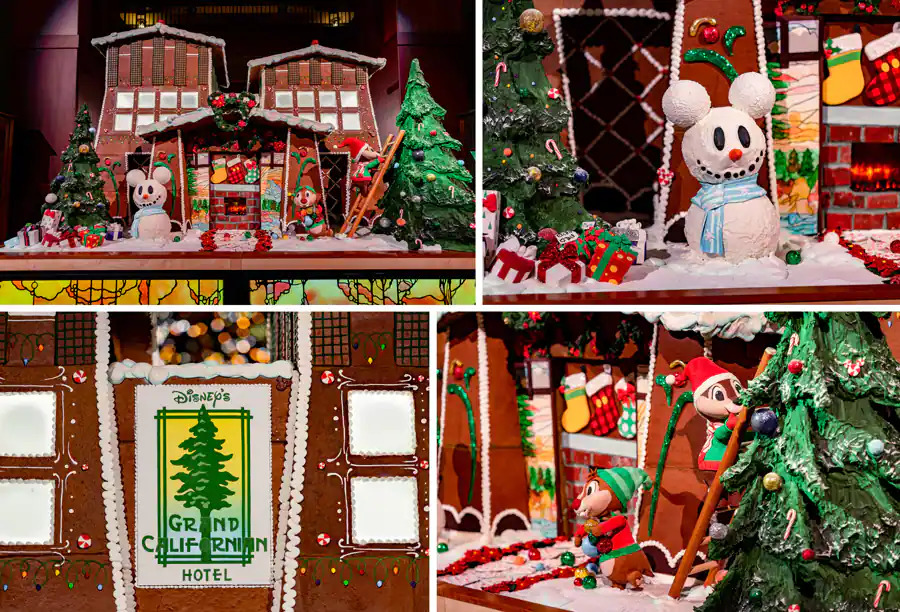 Disney's Grand Californian Hotel & Spa will be brining back the "Grand" Gingerbread House on November 14th. The remarkable gingerbread display is actually a replica of the hotel itself. Guests will find it in the lobby of the resort. It stands at 7 feet tall and 12 feet wide. In order to create this masterpiece the pastry team uses over 600 pounds of gingerbread, 600 pounds of powdered sugar, 250 pounds of fondant, and a bit of pixie dust as well! This display also features 25 hidden Mickeys, see if you can find them all!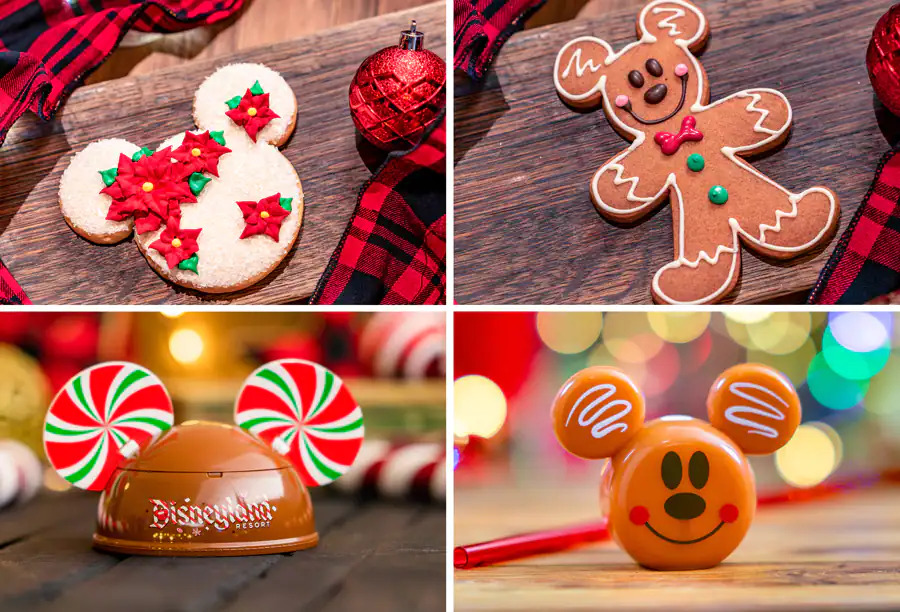 While you are enjoying your time in Disney's Grand Californian Hotel & Spa, be sure to stop by the GHC Holiday Cart for some limited edition merchandise items and specialty holiday treats, including:
Mickey Gingerbread
Poinsettia Cookie
Snowman Cookie
Christmas Cookie
Hanukkah Cookie
Holiday Cookie Box
Assorted Macarons (New)
Kwanzaa Sweet Potato Loaf (New)
New Year's Cookie (New)
Crisped Rice Treat
Hot Chocolate
Hot Apple Cider (Available with Bailey's Irish Cream, Captain Morgan, Grand Marnier, or Rumchata)
Waffle Shot (Available with milk, low-fat milk, chocolate milk, or eggnog)
Waffle Shot (Available with Bailey's Irish Cream, Captain Morgan, Grand Marnier, Rumchata, Amaretto, Butterscotch Schnapps, Rumple Minze, Crown Royal Apple, Skrewball Whiskey, Fireball Whiskey, Louis the 13th)
Walt Disney World Resort
Disney's Grand Floridian Resort & Spa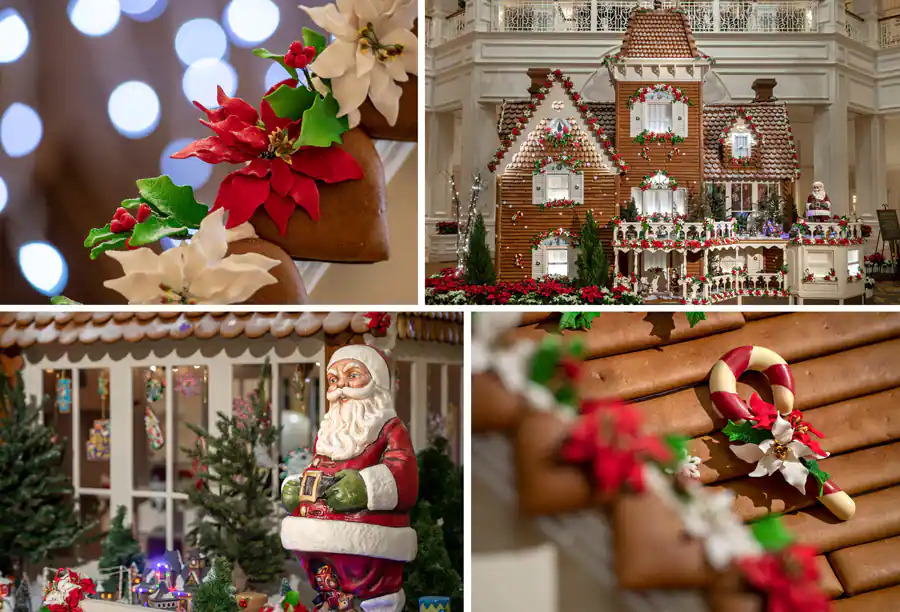 The most famous of the holiday displays in Walt Disney World Resort is the gingerbread house at Disney's Grand Floridian Resort & Spa. Guests will be able to admire this display beginning November 9th.
Disney pastry chefs create this display using a classic Austrian gingerbread recipe. All of the tiny adornments make this gingerbread house classically beautiful such as edible snowflakes and sugar poinsettias, even a chimney that puffs out clouds of cinnamon. There is even an 85 pound chocolate Santa! Oh yeah, and every chocolate figure such as the nutcrackers, snowmen, and nutcrackers have been hand painted by the bakery team.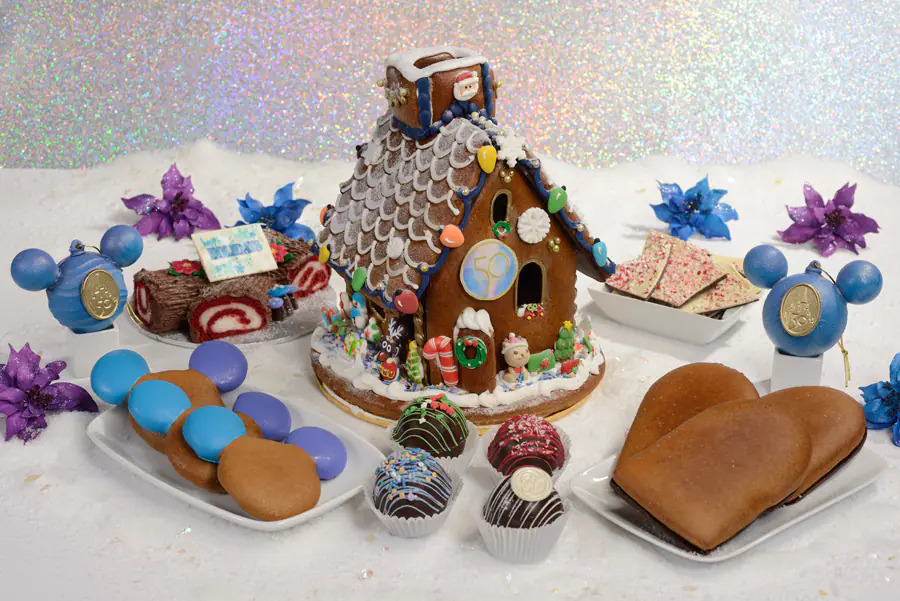 Since we are still celebrating Walt Disney World's 50th anniversary, the holiday treats at the Gingerbread House are inspired by the EARidescent look that has been featured in all of the Florida parks. Be sure to grab something from their menu, such as:
Freshly baked, homemade items, such as Gingerbread Mickeys and Shingles, Stollen Bread, Brownie Christmas Tree, and Chocolate Peppermint Bark
House-made Gingerbread Ornaments and Gingerbread Houses
New items like the Gingerbread Latte Whoopie Pie and Hot Cocoa Bombs
Assorted Gingerbread Cookie Bags, Marshmallow Pops, and Caramel Pecan Fudge Bar
Gluten-friendly, plant-based, and no sugar added treats
Grand Floridian Combo Box featuring assorted fan favorite treats, including the Chocolate Mickey Ornament, exclusive to the Combo Box
Disney's Animal Kingdom Lodge
Disney's Animal Kingdom Lodge will be featuring a different kind of gingerbread display this year. On November 23rd guests will be able to see a life size baby gingerbread giraffe and baby zebra. Last year the lobby featured the life size baby "gingeraffe" and this year the pastry team is adding a gingerbread zebra as well.
On December 6th there will even be a "gingeraffe" cookie that guests will be able to purchase!
Disney's Beach Club Resort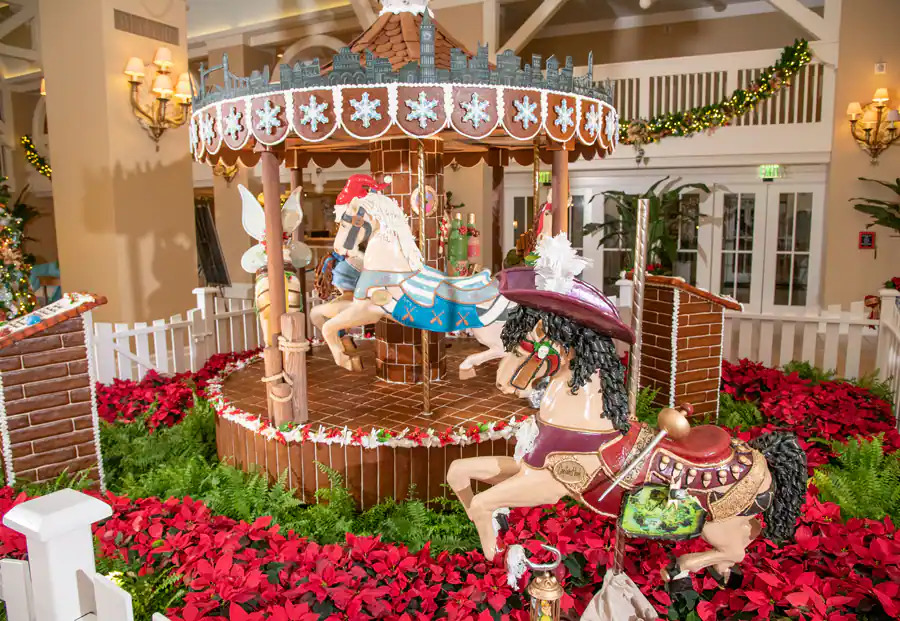 Another classic holiday display will be returning this year, the life-size carousel! This life-size carousel is an absolute marvel and has been since its debut in 1999. It is made with chocolate, sugar, fondant, features gingerbread shingles and snowflakes and the most amazing part is that it is completely functional. That's right, it actually spins! This year, the hand painted horses will each represent a different Disney princess.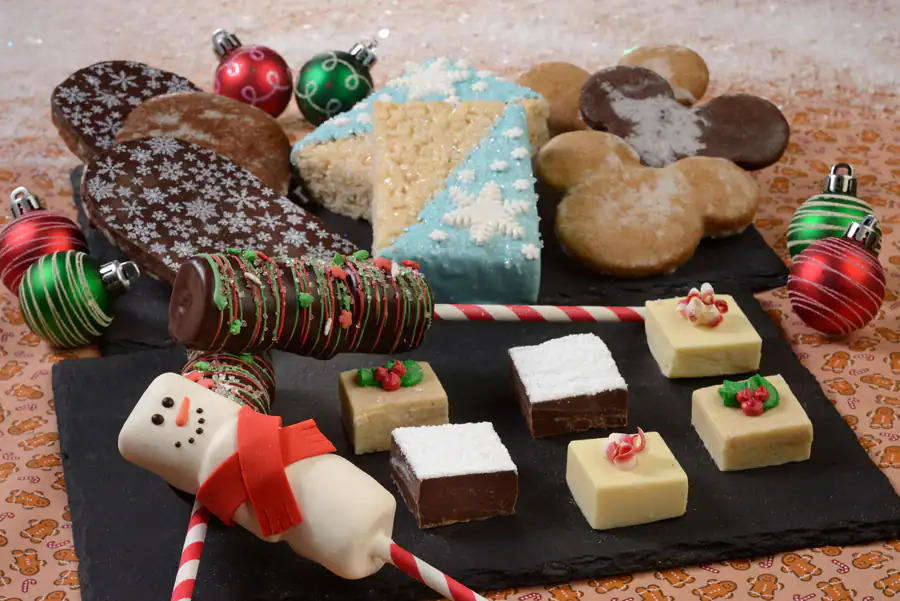 Be sure to finish off your holiday viewing by purchasing limited edition merchandise and treats including:
Signature Stollen Bread
Candied Pecans (Plant-based)
Trio of Fudge
Chocolate Covered Marshmallow Snowman
Crispy Rice Treat
Chocolate Mickey Cookie (New)
Peppermint Bark
Gingerbread Shingle
Chocolate Gingerbread Cookie (Gluten-Friendly)
Gingerbread Cookie (Gluten-Friendly)
Disney's BoardWalk Inn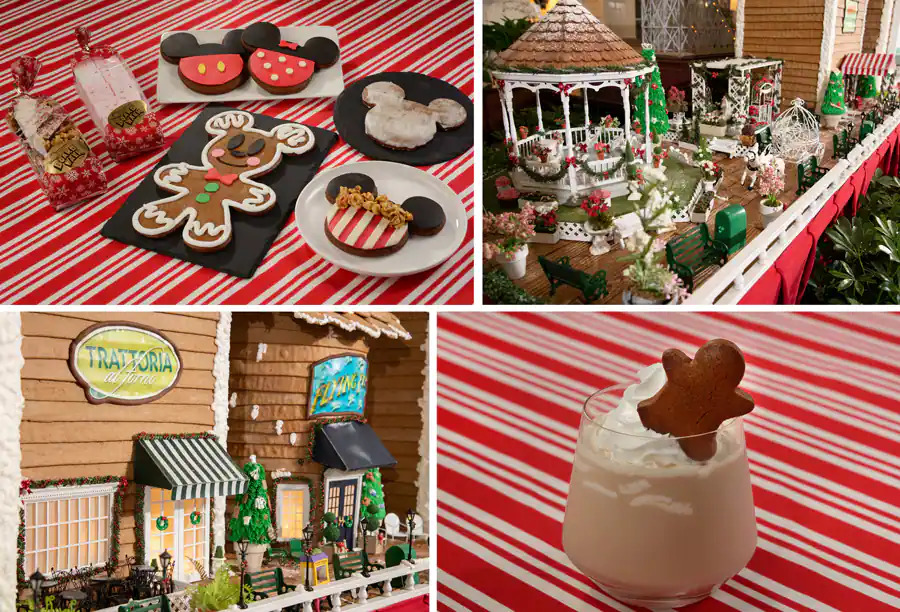 Returning on November 17th is Disney's BoardWalk Inn's display. This display is a miniature replica of the BoardWalk Deli, even including the benches that guests sit at to enjoy the view of Crescent Lake!
The following treats will also be available for guests to purchase before leaving the resort:
Mickey and Minnie Sugar Cookies
BoardWalk Mickey Sugar Cookie (New)
Giant Gingerbread Mickey Cookie (New)
Gluten-Friendly & Plant-based Gingerbread Mickey Cookie
Artisan Peppermint Marshmallows (New)
Carnival Bark (New)
Gingerbread Frost Cocktail
Disney's Contemporary Resort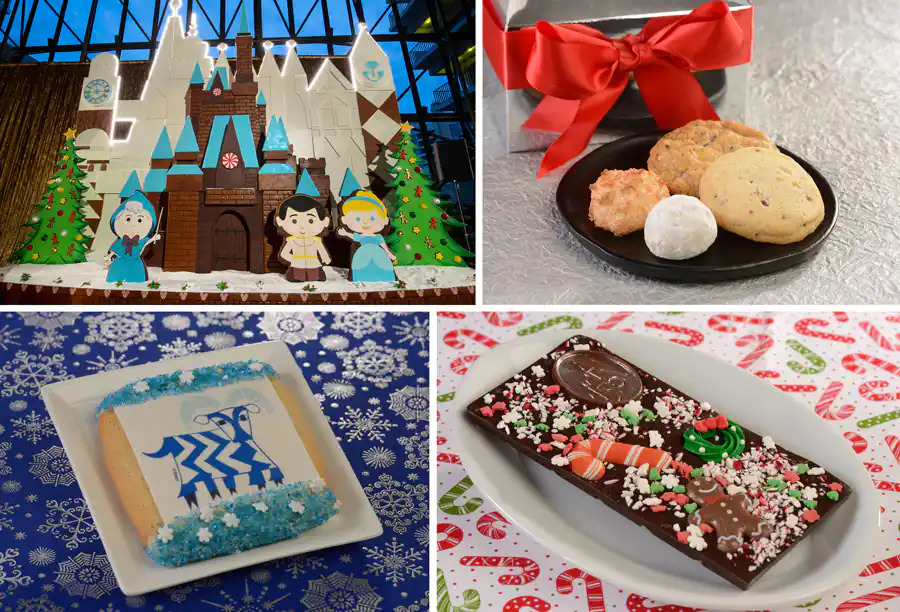 The gingerbread display at Disney's Contemporary Resort will be opening for guests on November 11th at 11:00 AM, which is very fitting since this is the 11th year that the Contemporary Bakery team has created the display. This creation is a Cinderella Gingerbread Castle that will also be featuring some 50th anniversary pieces this year. In addition, see if you can find the 11 hidden 5-legged goats!
Just like with the other resorts, be sure to grab some limited-edition merchandise, as well as some holiday treats, including:
50th Anniversary Gingerbread Castle Brick (New)
Family Tradition Cookie Box featuring a Coconut Macaroon from Chef Jeff's family, a Sugar Cookie from Chef Kelly's
family, a Butterball from Chef Amber's family, and a Kitchen Sink Cookie representing all the Cast in the Bakery coming together to bring this display back! (New)
Chocolate Peppermint Cookie
Linzer Cookie
Gluten-friendly 5-Legged Goat Sugar Cookie (New)
Dark Chocolate Peppermint Holiday Bar (New)
Hot Cocoa Bombs (New)
Frozen drinks with optional alcohol floaters:
Frozen Coquito with a rum floater
Frozen Hot Chocolate with peppermint schnapps
Frozen Apple Cider with a fireball floater
Various Resorts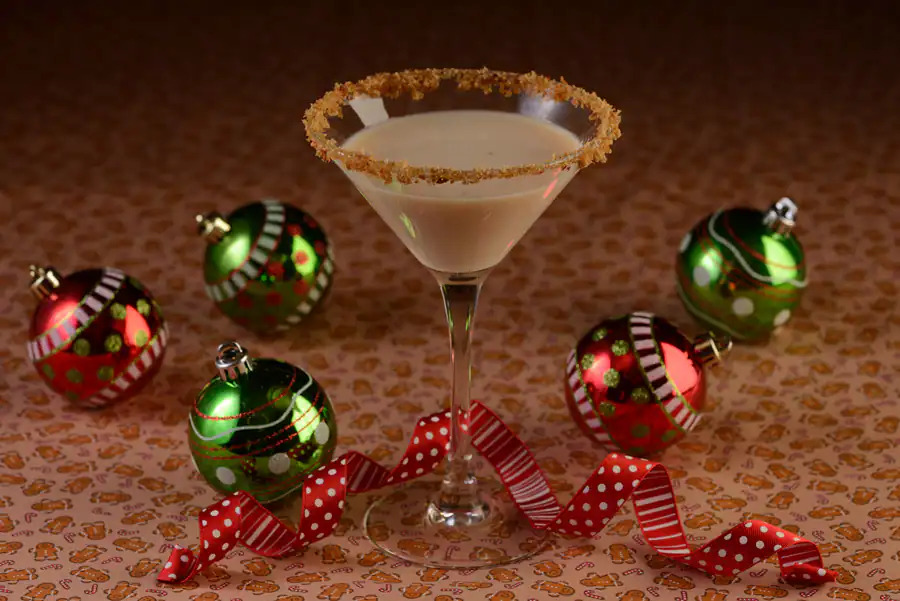 Several resorts will be featuring a new decadent adult beverage. The new Gingerbread Martini is a concoction of Absolut Elyx Vodka, Rumchata Cream Liqueur, and gingerbread spice featuring a rim of gingerbread, freshly baked in the Resort Bakery. Disney describes it has "the perfect blend of sugar, spice, and everything nice!" Here are all of the locations that you can find this delicious drink:
Grand Floridian Café at Disney's Grand Floridian Resort & Spa
Cítricos at Disney's Grand Floridian Resort & Spa
Enchanted Rose at Disney's Grand Floridian Resort & Spa
Boma: Flavors of Africa at Disney's Animal Kingdom Lodge
Sanaa at Disney's Animal Kingdom Lodge
Chef Mickey's at Disney's Contemporary Resort
Outer Rim at Disney's Contemporary Resort
Cape May Café at Disney's Beach Club Resort (dinner only)
EPCOT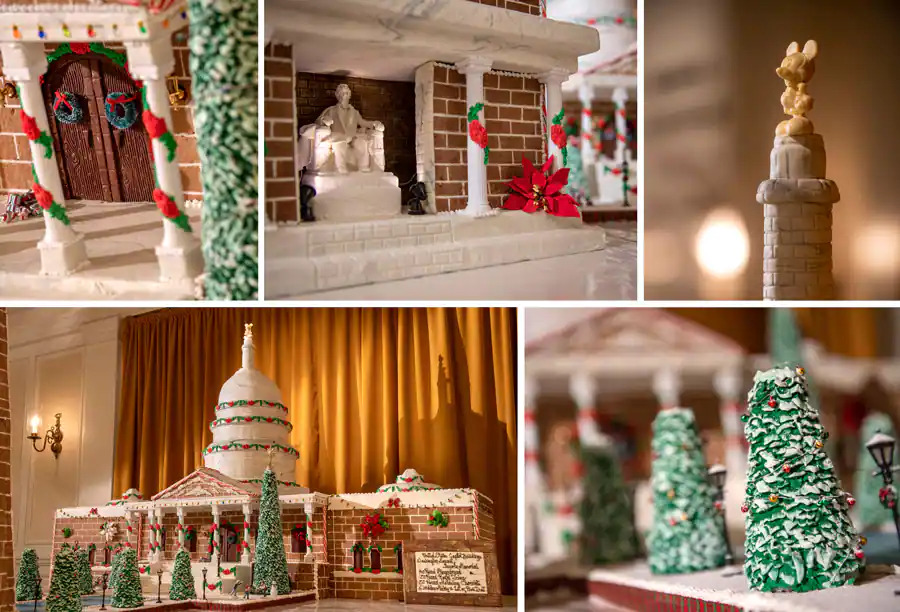 One of the theme parks will also be getting some gingerbread love this year. On November 25th EPCOT's American Adventure will be featuring some unique gingerbread displays. There will be gingerbread recreations of classic American monuments such as the Lincoln Memorial, Martin Luther King, Jr. Memorial. In addition, there will be a gingerbread recreation of the American Adventure building with Regal Eagle Smokehouse: Craft Drafts & Barbecue, and a Festival Kiosk.
Disney Cruise Line
The holiday displays will also be making their way across the sea on the Disney Cruise Line fleet. All five of the ships have their own pastry teams that will be creating gingerbread displays. Each display will be unique to the individual ships. The teams host a little competition as well to see which ship's pastry team creates the best gingerbread house!
Happy Holidays!
The return of the gingerbread displays and holiday treats at the resorts and parks means that the Christmas season is fully here! The most wonderful time of the year is always better at Disney, especially when staying on Disney property.
Have you seen the gingerbread displays in previous years? Which one is your favorite? Which holiday treat are you looking forward to the most this year? Let us know in the comments below!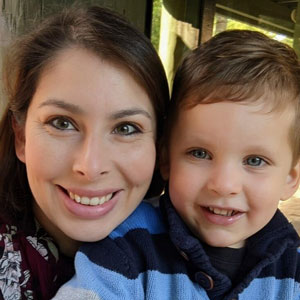 Written by
Rachel Van Norman
Contributing Writer
Rachel fell deeply in love with all things Disney as a little girl. Now as a wife and a mother herself, she shares this Disney obsession with her son and everyone around her. From her love of princesses to eating all the Disney food, Rachel spends her time radiating Disney magic and keeping everyone up to date on Disney news.