If you have ever been to Disney with children, then you are very aware of what a Disney tantrum is! A Disney tantrum seems like that inevitable break down that results in kids (and sometimes adults) crying, screaming and losing their pixie dust! Disney World is the most magical place on earth, but for young children and even adults it can be a tad overwhelming at times. There is so much to see and do, so many characters to hug, favorite attractions around every corner. Missed nap times, low on snacks, no cold water and more can all lead to the dreadful Disney tantrum that no parent wants to deal with! So here are some tips and tricks on how to avoid a Disney tantrum!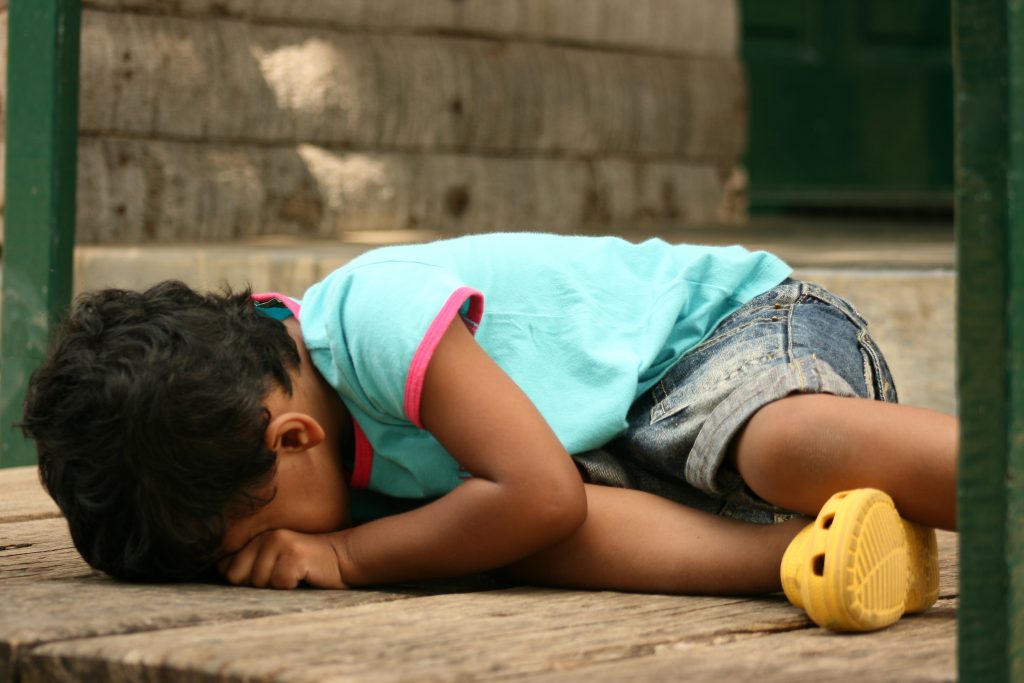 Pack & Prepare
The first step in hopefully dodging a Disney tantrum is packing and preparing! Make sure you pack plenty of snacks along with some frozen and non-frozen water bottles that will last you the day. There are water bottle re-fill areas around the park just in case you run out. Keep everything in a backpack you can wear on rides, you don't want to be mid-wait and hangry starts to kick in! Being hungry and thirsty are some main culprits of the Disney tantrum, so be sure to pack and prepare to avoid these problems.
Also pack for the weather. Sometimes at night a sweatshirt is needed, or pack a blanket for your stroller babes. If you're going during the hot months, consider buying cooling fans. This can make a big difference when heat exhaustion starts setting in. Don't forget your rain ponchos for those pop up Florida showers. Always being prepared for the weather will assure everyone is comfortable. No child can be on their best behavior if they're chilly, over heated, or wet from the raindrops.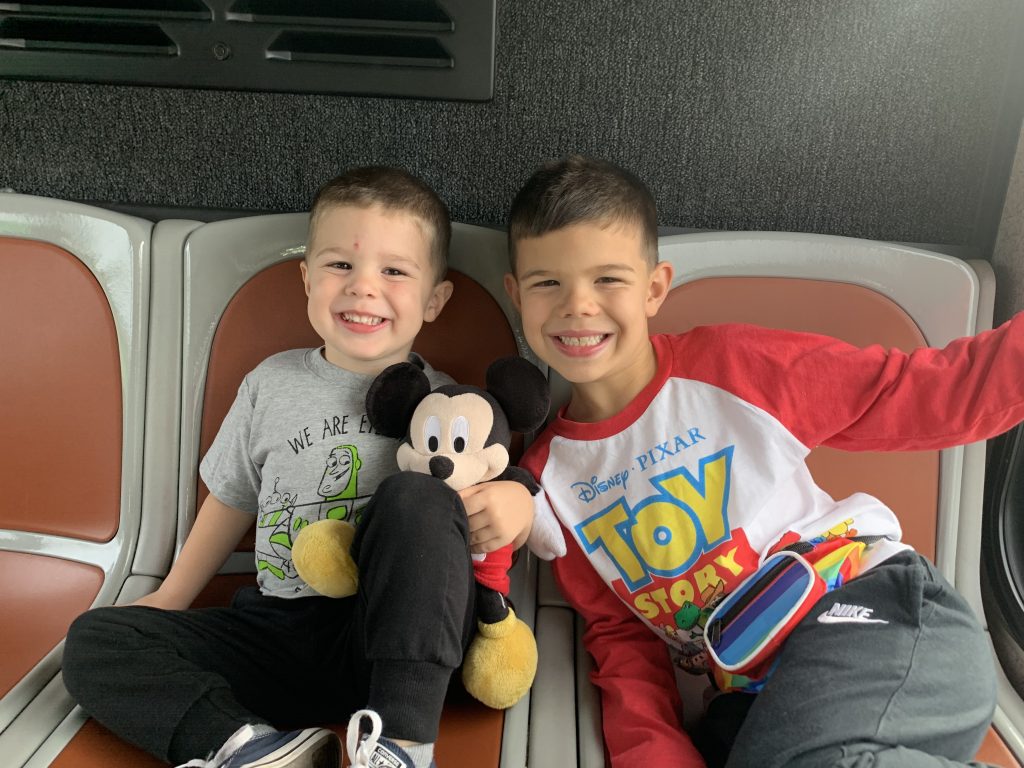 Know Your Limits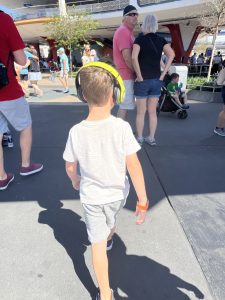 I recently brought my toddler to Disney this past February. I did not take into considerations his limitations due to him being more sheltered because of the pandemic. He was overwhelmed on almost every ride. Loud sounds and bright lights scared him. Eventually, we smartened up and stopping taking him on rides (other than It's A Small World– he loved that one!) and he and we had the best time ever! He loved just seeing everything through the comfort  of his stroller, or our arms. It isn't worth pushing anyone past their limits. Make sure you listen to your littles when they say they don't want to go on an attraction or see a certain show. Rider switch is available for families on several rides, so one person can stay back while the rest enjoy, and then you can switch and get a chance too.
Don't Skip Naps!
This may be the most important; do not attempt to skip anyone's nap! Disney tires anyone out, especially little ones. There are so many bright colors, things to see, noises and a lot to take in. Add the heat in and this all wears a child out quickly. It's ideal if your child will nap in the stroller, but if not an afternoon break at the hotel for a nap, and returning for the evening is worth it. Missing out on a few hours while your little one naps is better than dragging a screaming kid out before the fireworks show even starts! If they do nap in the stroller, take this time to grab a treat for yourself, or take your older kids on the rides the little ones can't go on. Slowing down at Disney is never a bad thing, and it will prevent some serious meltdowns.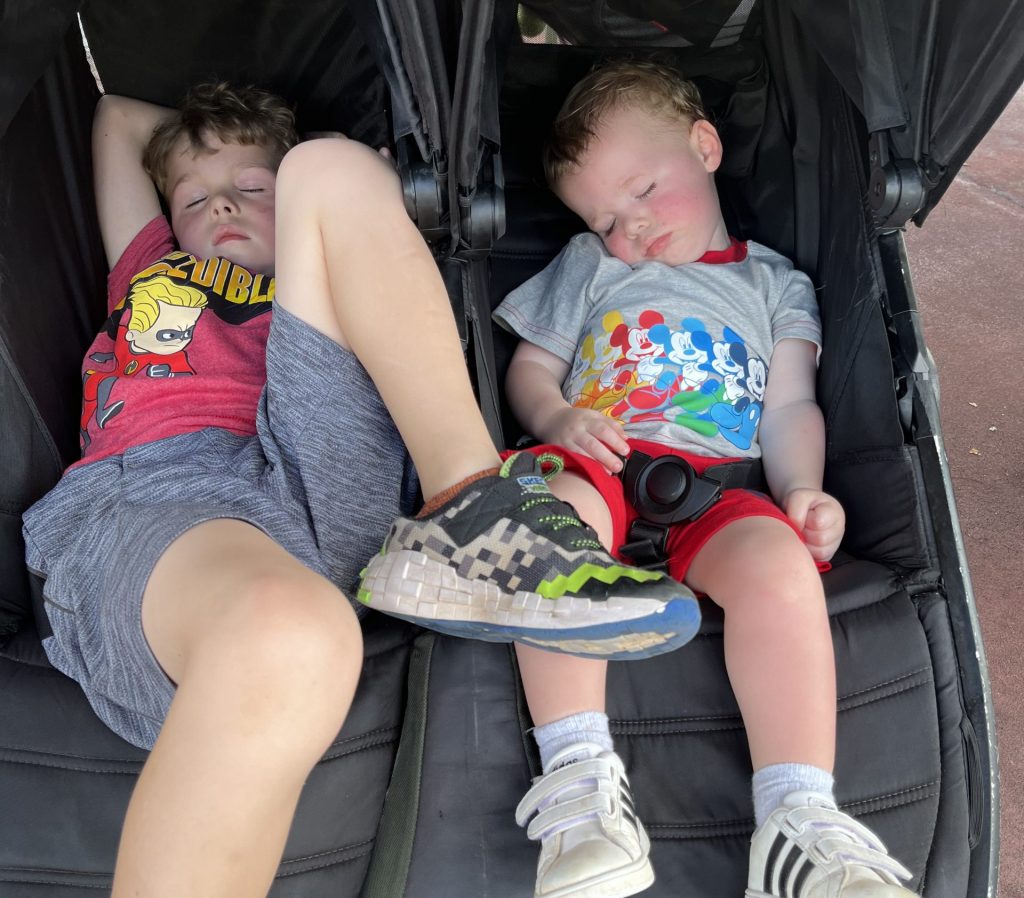 Prepare Your Kids For A Lot of No's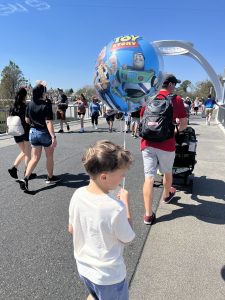 Any parent who has been to Disney knows there are toys, plushies, balloons, the infamous bubble wands and more, for sale around every corner. Letting your kids know what they can and cannot have BEFORE you go into the parks is a good way to hopefully prevent some tantrums. If certain things are not in your budget, it is okay to say; "not this time" and feel guilt-free. It will allow your child to know beforehand the answer is already no. Before we went to Disney I asked each of my child one thing that they want the most, and I allowed them this one item. There was a million things they didn't get, but choosing that special one made all the difference!
Sometimes a Disney tantrum is out of your hands; it's been a long wonderful day and someone trips and falls, or their favorite character isn't at the park that day, or a ride has some mechanical issues right before you're about to go on. Somethings will be out of your control, but packing plenty of snacks, clothes for all weather, along with listening to your kids boundaries and preparing them ahead of time will certainly decrease your chances. Disney is only fun if everyone is happy, so relax, take your time and have a magical time without any Disney tantrums!
Featured Photo: Disney
Written by
Erin Bonsall
Contributing Writer
Erin is a stay at home mom of 4 little boys outside Charlotte, NC. She remembers one magical Disney trip at a young age, but having children made her want to bring her own kids to the happiest place on earth! One trip 7 years ago started a love for everything Disney! Now her family visits Disney World as much as possible and it is their favorite place to make magical memories!