Frontierland is one of Magic Kingdom's six lands and situated near the back of the park. Frontierland celebrates the wild west of American past and the pioneer homeland. There are several fun attractions and offerings in Frontierland. Here are a few of my favorites!
Tom Sawyer Island
Located across the Rivers of America, Tom Sawyer Island is only accessible via one of the rafts or the Liberty Square Riverboat. Because of this, it is often an overlooked attraction. But Tom Sawyer Island is not an attraction that should be skipped! This island is basically a giant playground for kids and adults. There are multiple paths, caves to explore, a fort, barrel bridges, and more. Tom Sawyer Island is a fun place to explore and it feels like you are wandering about the wilderness. This attraction is for guests of all ages, but guests should be aware the island is not handicap or stroller accessible and might not be suitable for those with mobility struggles.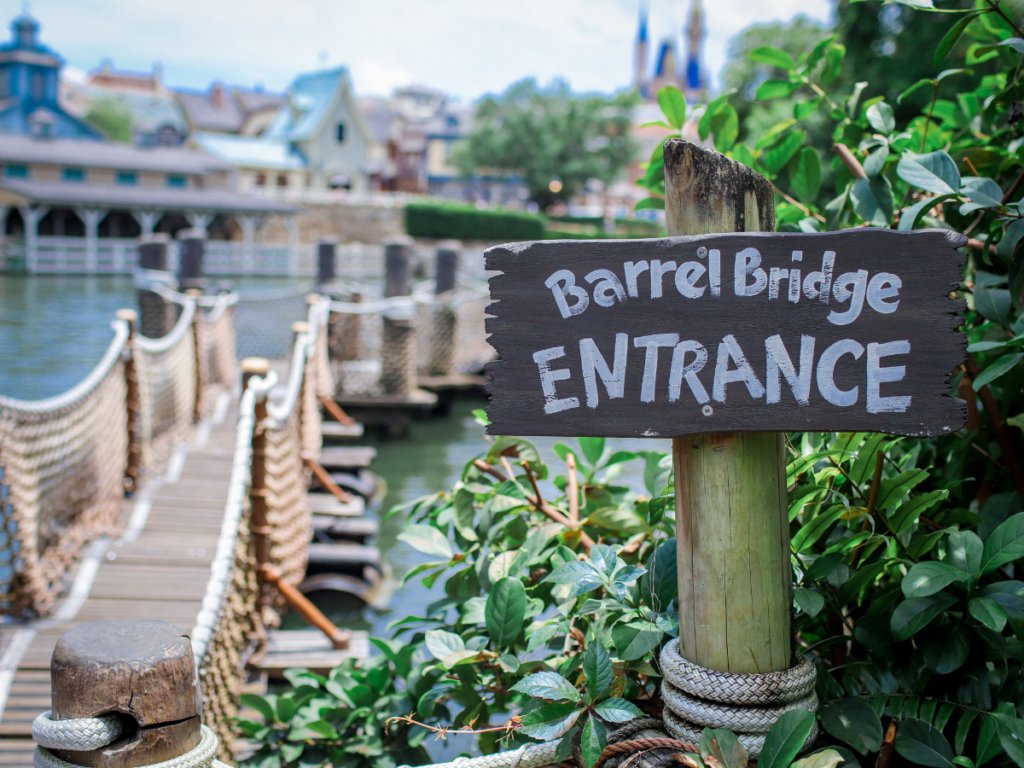 Splash Mountain
Splash Mountain is a log-flume style thrill ride that tells the tale of Briar Rabbit and his adventures in the Briar Patch. This attraction is unique because of its visual storytelling and several drops. The largest drop being around 5 stories high. You will want to catch this attraction while you can before it is transformed completely. Splash Mountain is scheduled to undergo a major renovation to become Tiana's Bayou Adventure. Splash Mountain is currently set to close on January 23rd, 2023.
Country Bear Jamboree
One of Disney World's many animatronic shows is the Country Bear Jamboree. This attraction was an opening day attraction for Magic Kingdom, and was one of the last projects that Walt Disney himself worked on. This attraction was originally meant to be an attraction for a ski resort that Walt was planning before his death. This attraction is true to its name: A country jamboree featuring several audio-animatronic bears. The show is humorous, charming, and a Disney classic. It is definitely one of my favorite attractions in Magic Kingdom.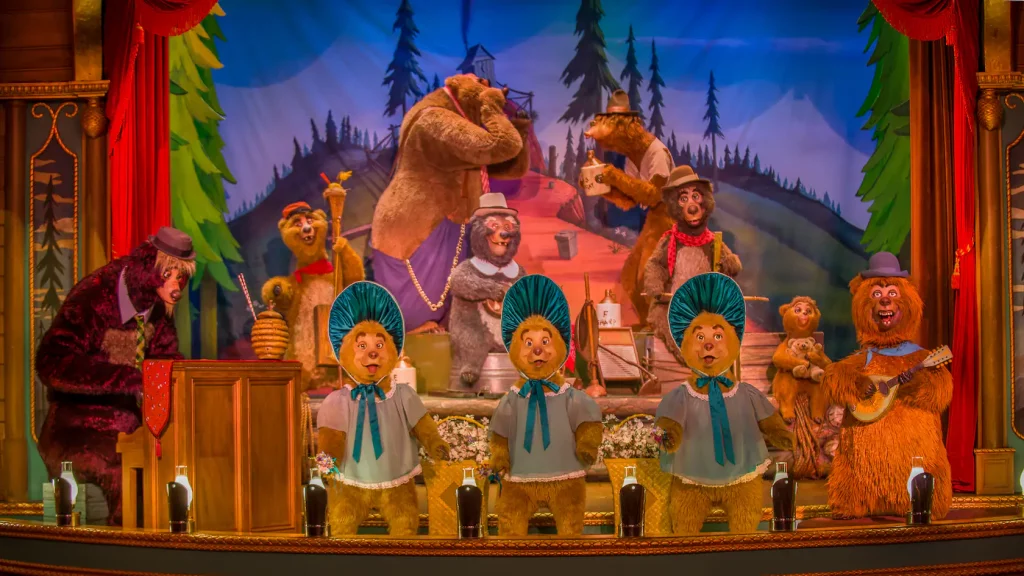 Frontierland Shooting Arcade
One of my favorite ways to fill time in all of Magic Kingdom is the Frontierland Shooting Arcade. This attraction is projectile-free shooting gallery featuring a detailed backdrop and nearly 100 targets. This attraction is safe and uses infrared lasers to shoot targets rather than pellets. This attraction charges a small fee to pay, currently priced around one dollar. I love the detail that went into designing this shooting gallery, and I love that some of the shots are more challenging than others which makes it fun for all ages and skill level.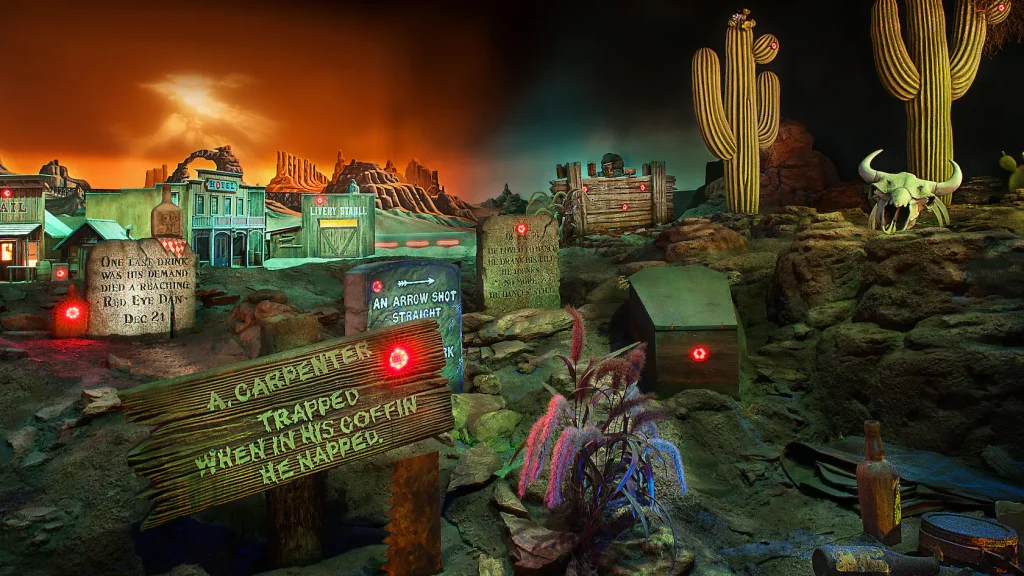 Pecos Bill Café
Pecos Bill Café is not only my favorite place to eat in Frontierland, but also one of my favorite places to eat in all of Magic Kingdom. Pecos Bill serves up southwestern style fare like fajitas, carnitas, nachos, and tacos. My favorite thing here is The Walking Taco: ground beef, rice, beans, cheddar, jalapeño, tomato, sour cream, and corn chips served in a bag. Pecos Bill Café is also very atmospheric and styled like an old west saloon.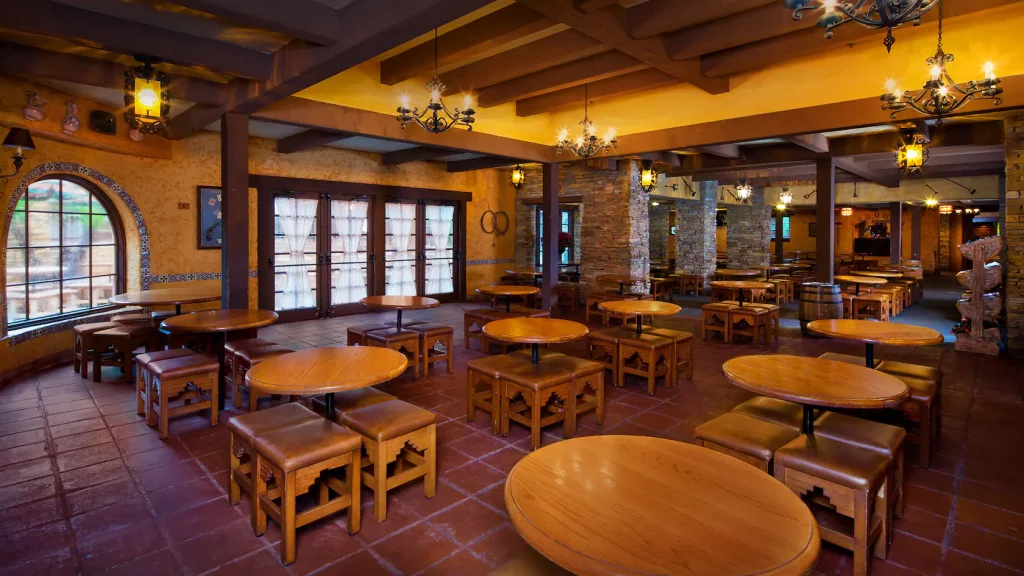 There are so many things to do and see in Frontierland. What are you favorite things to do in Frontierland?
Featured Photo: Emily Murray.
Written by
Megan Woodard
Contributing Writer
Megan was born into a Disney family. Her first trip to Disney World was when she was only 18 months old. Now as an adult, Megan loves to share the magic of Disney with her two toddlers. Keeping up with Disney news and Disney World knowledge is a fun hobby for Megan. Disney World is her favorite place to be and continuously brings back her childhood joy.