Take a relaxing boat ride with rare sights on the Rivers of America when you ride the Liberty Square Riverboat!
Liberty Square Riverboat Details

| | |
| --- | --- |
| Walt Disney World Resort Park | Magic Kingdom |
| Location in Park | Liberty Square |
| Height Restrictions | Any Height |
| Age Interests | All Ages |
| Thrill Type | Slow Ride |
| Hours | 9:30 AM to 7:00 PM |
| Wait Times | Low |
| Lightning Lane | No |
| Accessibility Information | May Remain in Wheelchair/ECV |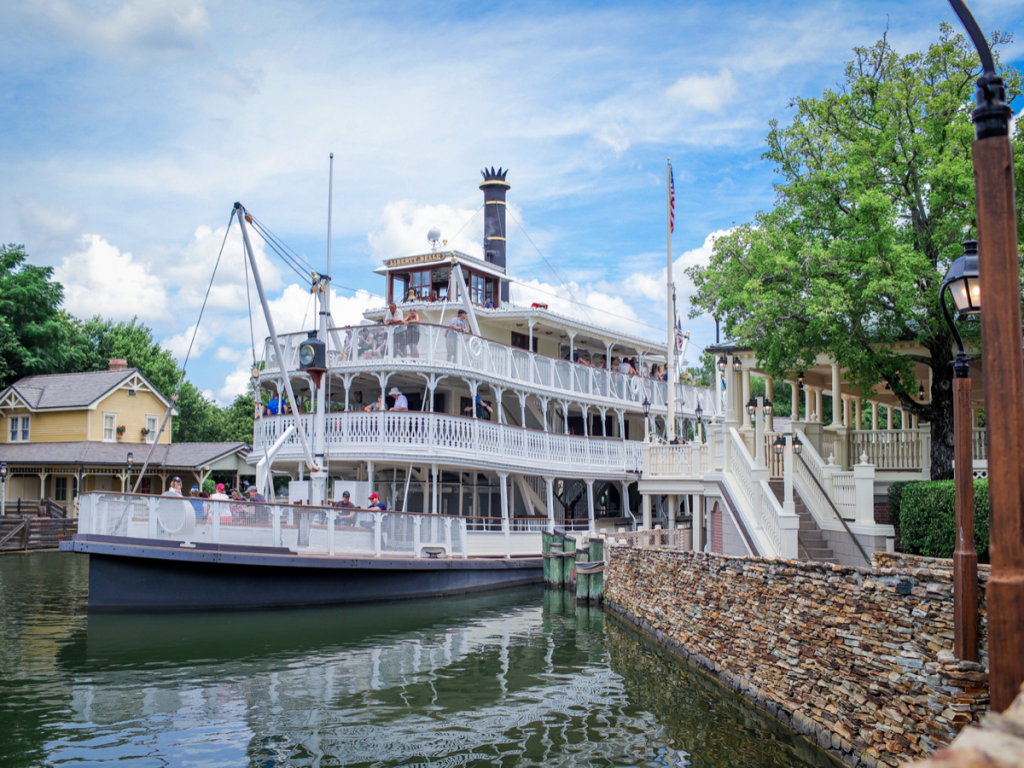 Attraction Overview
Hop aboard the Liberty Square Riverboat at Magic Kingdom for a relaxing boat ride. On this 17-minute trip on the Rivers of America, you experience this part of the park like never before. This tour of Liberty Square and Frontierland is about a half-mile long. Because this boat ride takes you around Tom Sawyer Island, it is narrated by the novel's author: Mark Twain. During your ride down the river, the classic American novelist shares his own memories of growing up on the Mississippi.
In addition to nostalgic stories from Mr. Twain, the Liberty Square Riverboat provides views that you and your family just can't miss! Experience the beginnings of the American frontier such as an early American settlement, an idyllic Native American village, and woodland animals. You will also come upon iconic locations from Tom Sawyer like Harper's Mill, Fort Langhorn, and Wilson's Cave Inn. On top of all these sights, you see news sides of Big Thunder Mountain, Splash Mountain, and Haunted Mansion.
The Liberty Square Riverboat uses a real steam engine to give tours on the Rivers of America. The water from the river is converted into steam which provides power to the boat's paddlewheel. Even though a steam engine is used, the Liberty Square Riverboat does operate on a track. With 4 decks on this 47-foot boat, it can move lots of guests around the river.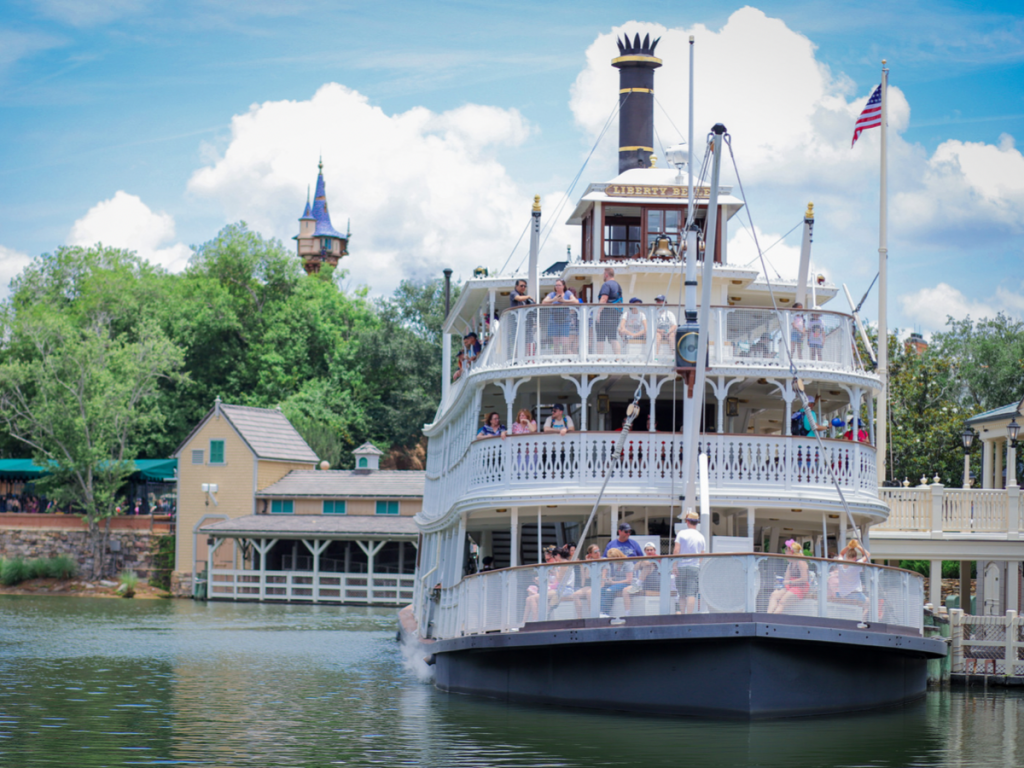 Map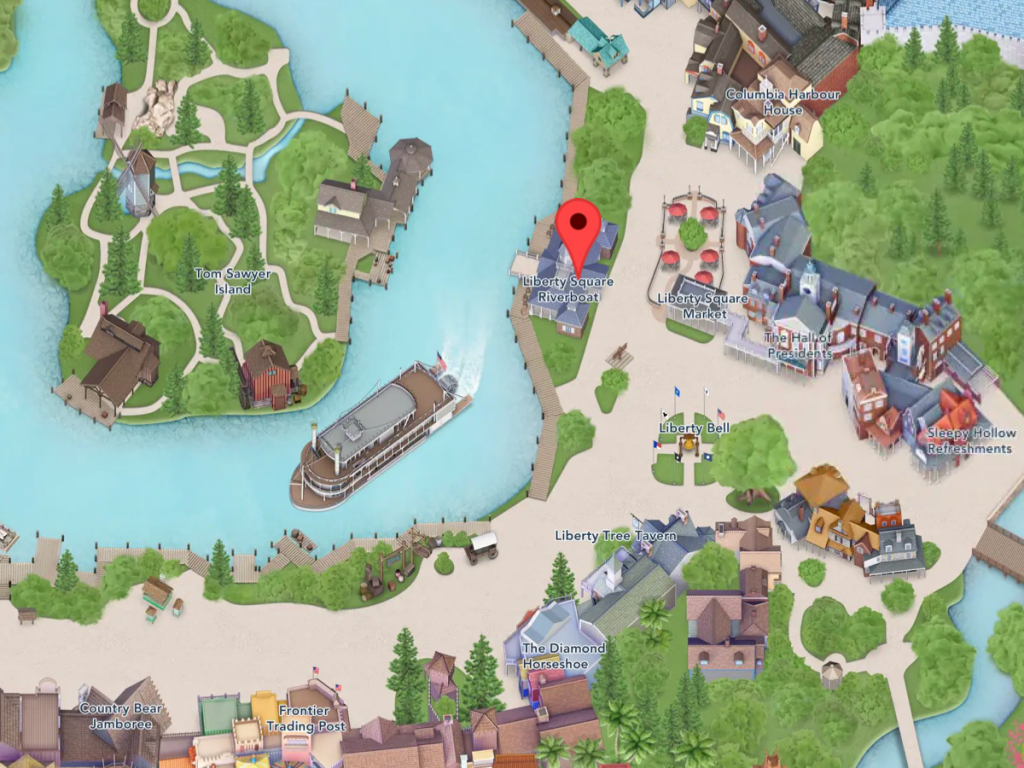 Location & Wait Times
The Liberty Square Riverboat is located in Liberty Square at the Magic Kingdom. The entrance is located along the river next to the Haunted Mansion. It travels around Tom Sawyer Island on the Rivers of America. Along this path, you experience both Liberty Square and Frontierland. This ride is about 17-minutes long. Despite this, the Liberty Square Riverboat departs every 30 minutes (on the hour and half hour). With this schedule, the longest you will have to wait is likely 30 minutes or less.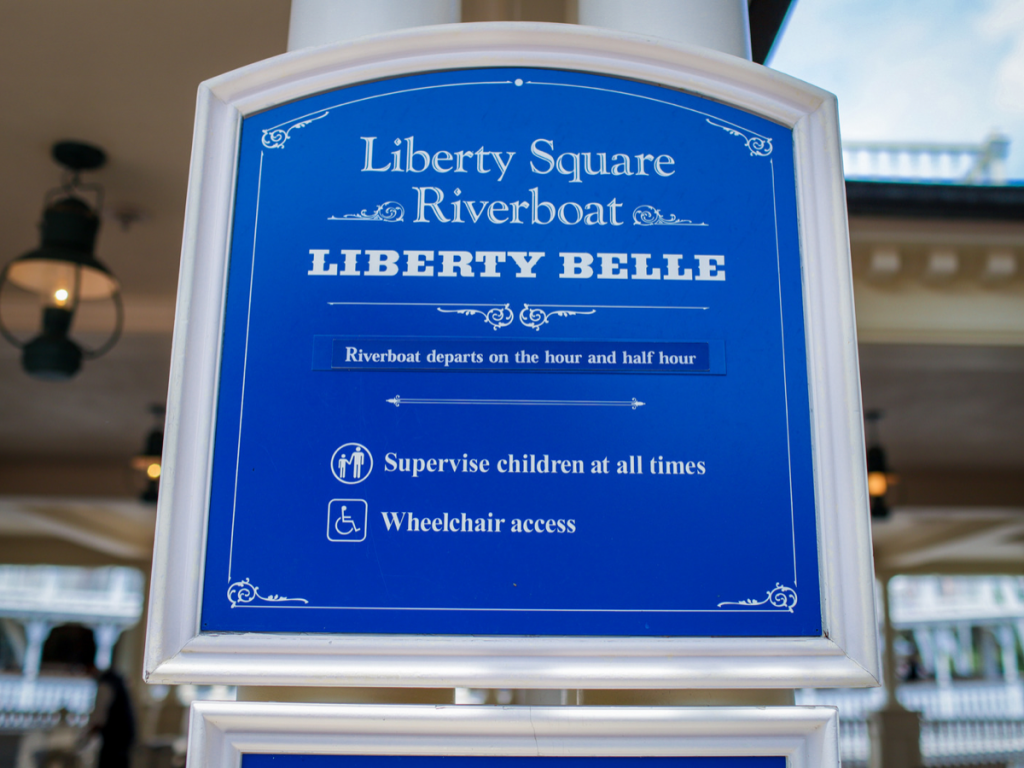 Queue Experience
There is no true queue for the Liberty Square Riverboat. Instead, there is a small holding area where you can wait prior to boarding. To enter this waiting, look for the awning pictured below. This is the entrance to the attraction which can be found next to the queue entrance for Haunted Mansion.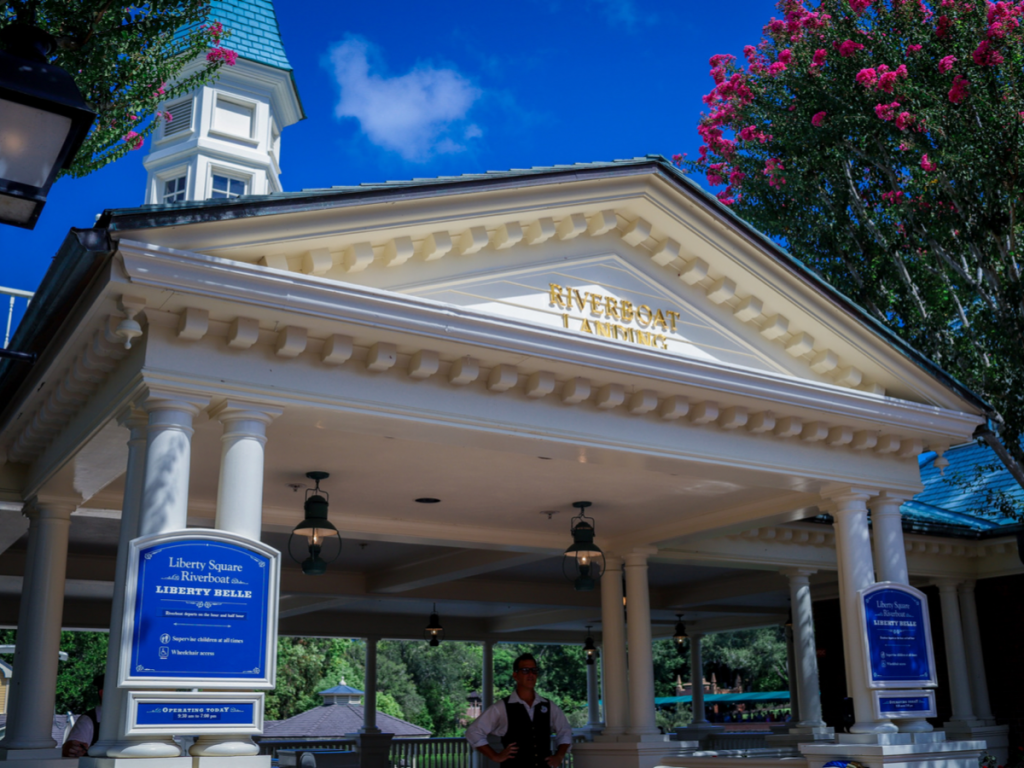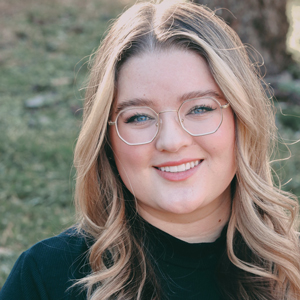 Written by
Emily Murray
Contributing Writer
For as long as Emily can remember, Disney has played a huge role in her life. Her infatuation with Disney resulted in many hours spent rewatching Toy Story and creating multiple powerpoints to convince her parents to book yet another vacation to the "Most Magical Place on Earth". In 2015, Emily followed one of her dreams and moved to Orlando, Florida where she spent just over five years working for the mouse in three separate roles. Emily is passionate about writing and using words creatively and concisely. She loves to make others laugh and hopes to sprinkle a little bit of magic into everything she does.