Disney's Vero Beach Resort is just one of three Disney resort locations not situated around Disney parks. Joining both Disney Hilton Head Island Resort and Disney Aulani Resort, Disney's Vero Beach belongs to this collection that offers guests a beautiful retreat along a stunning coastline. In just a short two-hour drive from Walt Disney World, guests can arrive at Florida's Treasure Coast and relax in the sweeping views of Atlantic Ocean and its soft sand beaches.
The location of Disney's Vero Beach Resort is unique as the beach that is utilized for recreation and relaxation is also shared with a 3 different species of sea turtle who are classified as endangered – loggerhead, green, and leatherback turtles. These turtles return each year to make nests and lay eggs, making the 5-mile stretch of beach that includes Disney's Vero Beach Resort one of the most important in the western hemisphere.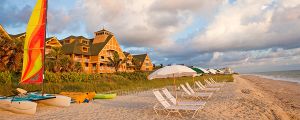 Members of the Disney Conservation Team Wildlife inspect the beach each morning to identify where nests have been made and to see if they have spotted any hatchlings! Once a nest is identified, the area is roped and protected, signaling to guests where it is located.  The nesting season can begin as early as April and last until September and after a 2-month incubation period, hatching is usually witnessed June through November. Seeing the newly-hatched turtles make their journey towards the water is a memory sure to last a lifetime!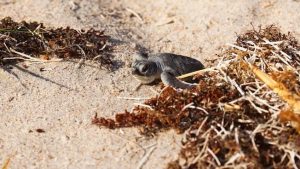 Disney's Vero Beach Resort is committed to helping with the conservation efforts of the sea turtles that return to their beach. In addition to ensuring there is minimal impact on the turtles' nests, there are no exterior lights that face the beach and the interior rooms that face the ocean have been treated with tinted glass ensuring any light from inside does not escape. Artificial light is known to impede on the mama and baby turtles' natural instinct to follow the moon's reflection off of the ocean in order to return to the water. Disney has also contributed more than $4.7 million to help sea turtle conservation efforts around the world. Part of these initiatives include tracking sea turtles which in turn allows conservationists learn more about their behavior and discover how to better protect these endangered sea animals. Their progress is tracked by a preprogrammed microprocessor that is carefully attached to the turtle's shell that communicates with satellites orbiting the earth. The data is then transmitted, decoded, and then the turtles' locations are mapped and the distance swam measured.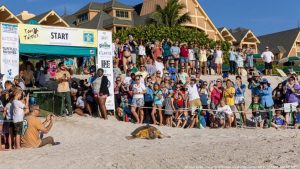 To celebrate and announce the tracking of turtles in a fun way, Disney has been Working with Sea Turtle Conservatory (STC) to run the Tour de Turtles for the last 15 years from Disney's Vero Beach Resort. Beginning August 1 each year, STC tracks the distance traveled by individual turtles for approximately 3 months. The turtle that swims the farthest distance is deemed the winner!  The Tour de Turtles website graphs the distances swam by each turtle and when you click on the turtle's image, a map of its migration is also shown. Two of the turtles that are being tracked from their year's Tour de Turtles release on August 1 were named Neytiri and Ronal after characters from the upcoming movie "Avatar: The Way of Water."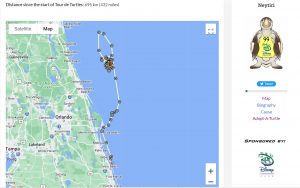 If you'd like to visit Disney's Vero Beach during nesting season, let us help you plan your accommodations to the Floridian coast by booking a confirmed reservation or creating a custom stay. If you aren't able to make it to Disney's Vero Beach Resort during nesting season, but you're interested in donating to the conservation cause, families can adopt a turtle for $30 at any time. In return, you receive  a personalized adoption certificate, a Sea Turtle Conservation Guide, a membership window cling, a sea turtle sticker and bookmark, a hatchling magnet, and a one-year subscription to STC's membership publication. Is watching the sea turtles hatch on your bucket list? Let us know in the comments below!
Featured image by Disney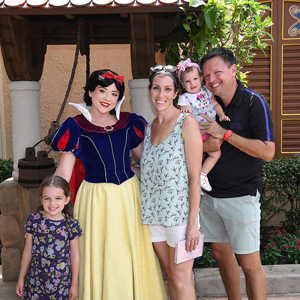 Written by
Shelley Wehler
Contributing Writer
Shelley is a stay-at-home mother of two girls living outside of Charlotte, North Carolina. Her love of all things Disney has grown even more as she sees the magic come alive through the lens of her young daughters. She spends her free time keeping up with the latest in Disney news and daydreaming of her next trip to the parks!