It's the spookiest time of the year at Disneyland Resort. With all the frights and fun, comes festive Halloween eats and treats. Let's take a look at a few of the spooky, yet delicious food and drink items you can find at the parks during the 2021 Halloween season.
Jolly Holiday Bakery Cafe
The Jolly Holiday Bakery and Cafe, located right off Main Street U.S.A. has stellar views of Sleeping Beauty Castle and other entertainment offerings. It is one of my absolute favorite stops for treats and comfort food. This year they offered quite a few festive options. A Magic Key discount can be used on all items purchased at The Jolly Holiday.
Mickey Bat Cookie
The Mickey Bat Cookie is a shortbread soft cookie dipped in dark chocolate, decorated with orange frosting and featuring a vampire Mickey face. This cookie is $4.49 before a Magic Key discount. 
Mini Pumpkin Cheesecake
The Mini Pumpkin Cheesecake is a classic pumpkin cheesecake with a special Disney twist, of course. It is decorated with a chocolate spiderweb and white chocolate medallion with a Pumpkin Mickey face on it. This treat is $5.99.
Mummy Mickey Macaron
This spooky treat is a Cookies and Creme filled Macaron which has been shaped into Mickey's head and decorated has a Mummy with 2 chocolate eyeballs. The Mummy Mickey Macaron is $5.99 before any discounts.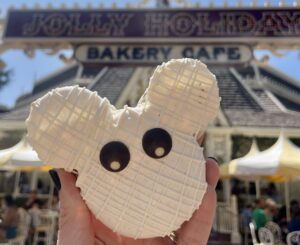 Candy Palace And Candy Kitchen
Candy Palace and Candy Kitchen is the ultimate place to satisfy your sweet tooth. Take a look through the glass windows and you can watch Cast Members hard at work creating and decorating delicious confectionaries right before your eyes. Watch Cast Members create treats such as the Minnie Witch Cereal Treat which is inspired by Minnie Mouse and her purple witch costume. This treat is made of Rice Crispy Cereal, layered with milk chocolate, covered in sugar, topped with a Witch hat and chocolate candies as Minnie's signature Polka dots. If you want a Mickey sweet instead, they offer a Mickey Mouse shaped cereal treat. It is covered in orange sugar, complete with a dark chocolate spiderweb. The Mickey and Minnie Cereal treats are $6.49 before any discounts.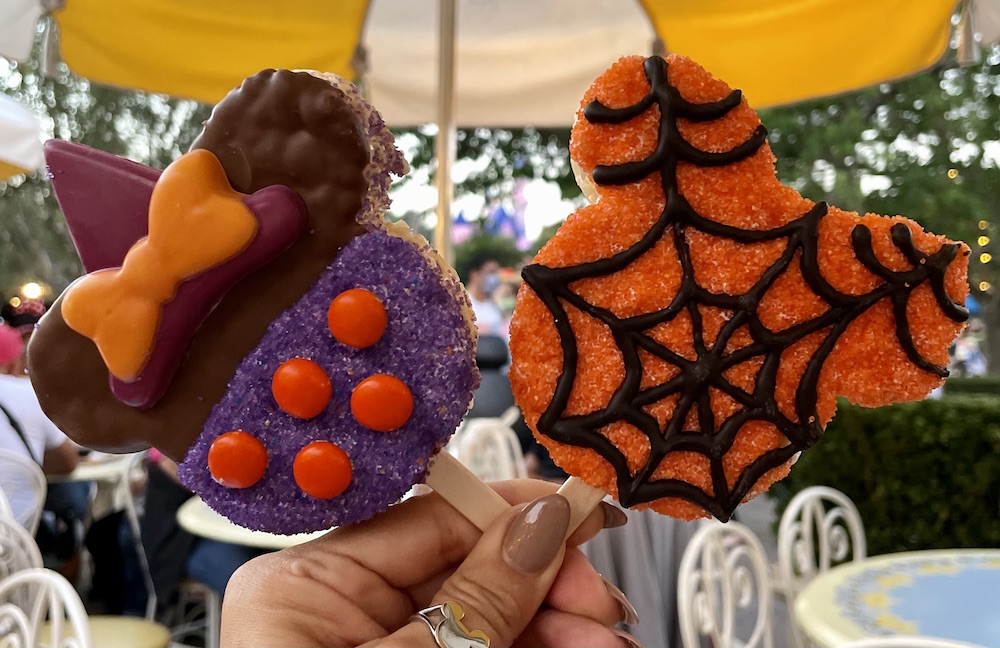 Royal Street Veranda
Head to New Orleans Square and mobile order some Pumpkin Spiced Fritters from Royal Street Veranda. These fritters are round, warm, and covered in pumpkin spiced sugar with a cream cheese dipping sauce. You get 3 fritters for $5.99.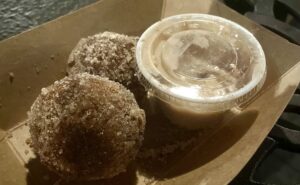 River Belle Terrace
Be sure to make reservations for River Belle Terrace or join the walk-up list so you can get your hands on the Pumpkin Spiced Monkey Bread. This warm and gooey fall treat is perfect to share with friends and family. Enjoy this sweet and sticky pastry with notes of cinnamon and spice, and topped with a large dollop of cream and pumpkin sauce. The Pumpkin Spice Monkey Bread is $8.00.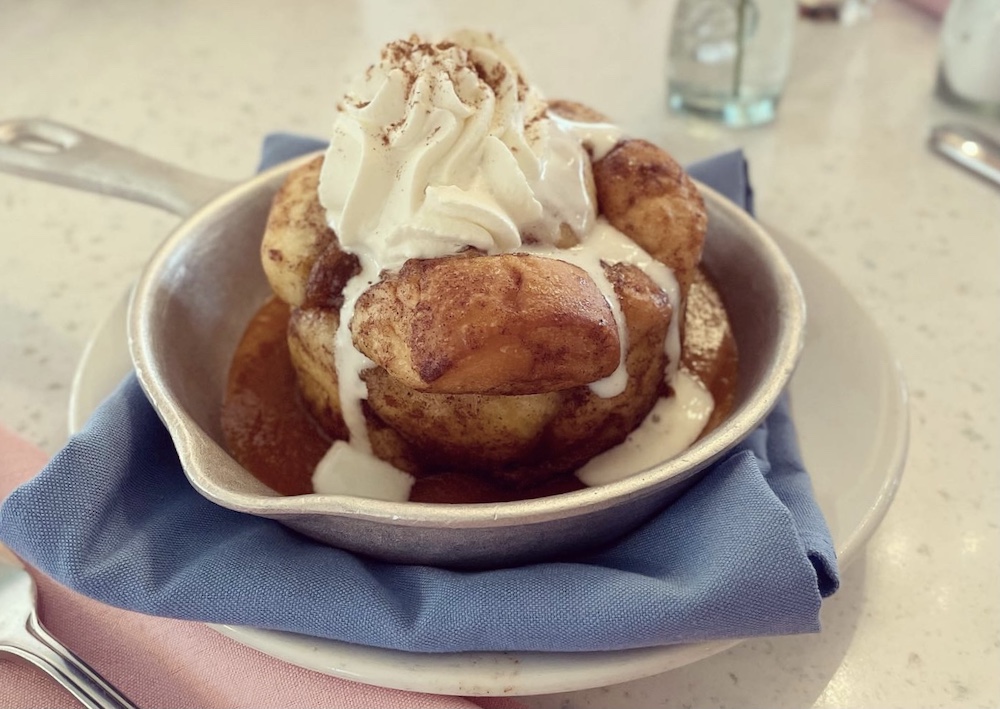 Stage Door Café
If you are looking for some spice this spooky season at Disneyland, look no further. The Stage Door Café has something for you. The Spicy Corn Dog is a beef hot dog, battered and fried, covered with cheese sauce and crushed red hot chips. The Spicy Corn Dog is $8.49 and is served with a small bag of chips.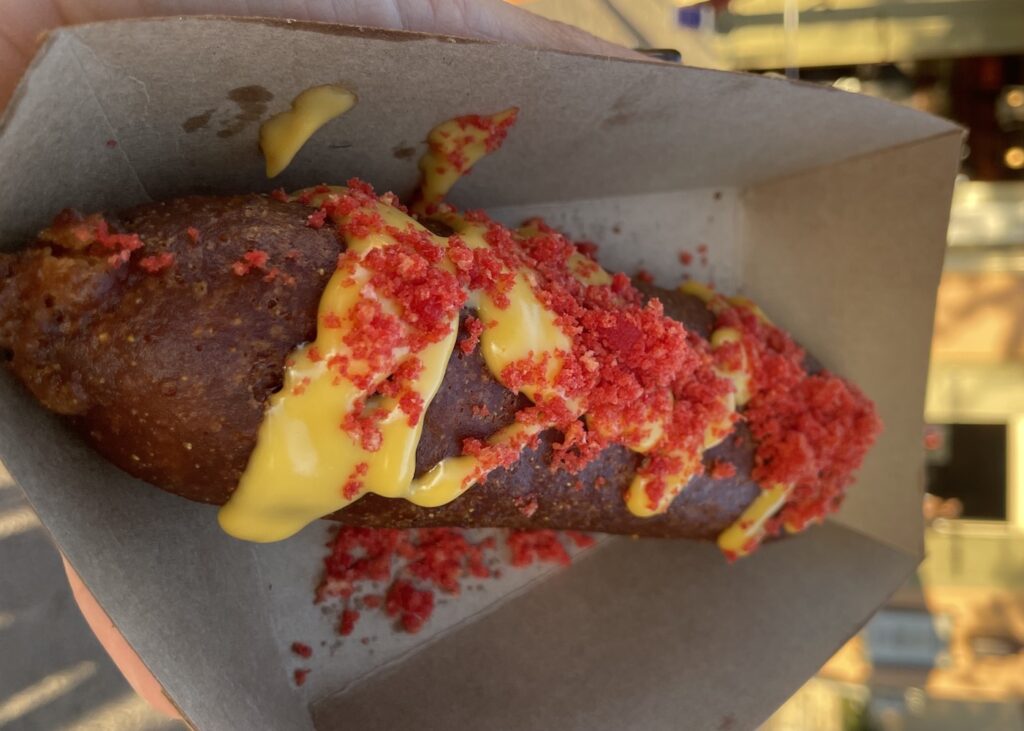 Schmoozie's
Schmoozie's, located in Disney's California Adventure Park, is known for their fruit smoothies and shakes. Try a very cute and festive Halloween Minnie Mouse shake. The Mint-Chocolate Chip flavored cookie shake is topped with purple whipped cream and cookie ears. This shake is complete with an orange bow and orange sprinkles on the cup. Get this cold treat for $8.49.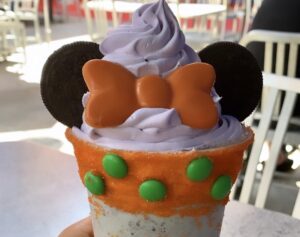 Flo's V-8 Café
Stop at the classic Route 66 inspired diner for some scary decorations and a bite to eat. The Spicy Chicken and fries is a seasonal offering currently at Flo's. This meal includes steak fries and mango-habanero chicken tenders, drizzled with ranch and topped with green onions. Get this scary good meal for $11.49. A Magic Key Discount can be used.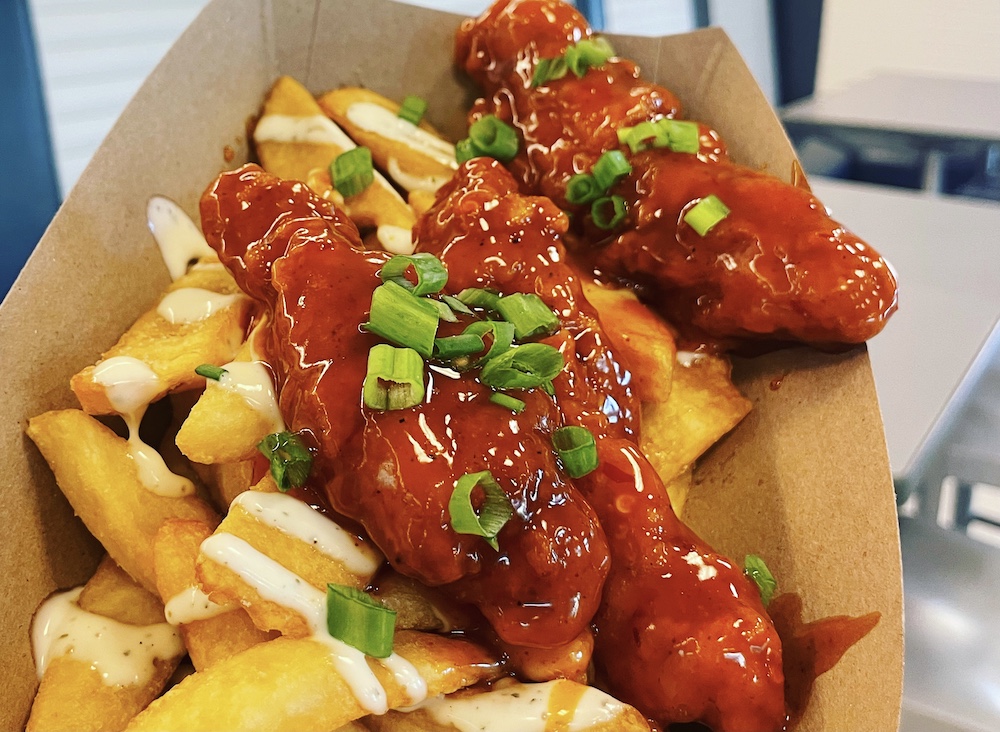 The Halloween season at Disneyland and Disney California Adventure is the perfect time to try new festive eats and treats. These creative and fun foods are just one of many ways Disney makes this time of year at the parks memorable. I like to make a list of the foods I want to try and cross off as many as I can. What Halloween foods have you tried or can't wait to try? What has been your favorite so far? Let us know in the comments below!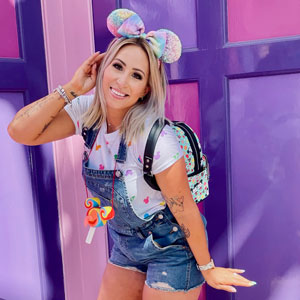 Written by
Brittney Malina
Contributing Writer
Brittney has been going to Disneyland since she was 3 years old. She has had a deep love for all things Disney ever since. Now as a wife and mother of two, she gets to share the love with her family and re-live the Disney magic through her children's eyes. Brittney is a Legacy Passholder and you can find her walking down Main Street, U.S.A. with a churro or iced coffee in hand.