Halloween Time at The Disneyland Resort is a frightfully fun experience unlike any other! From spooky decorations, festive treats, hundreds of jack-o-lanterns, ride overlays and characters in costumes. Halloween Time at the Happiest Place on Earth is something you don't want to miss! The spooky festivities began on September 3, 2021 and goes through October 31, 2021.
Halloween Decorations, Pumpkins and More!
The Disneyland Resort is known for it's spook-tacular Halloween decorations. You may spot some before you even enter the park! Disneyland Gates welcome guests with giant pumpkin heads of some of the most beloved Disney characters: Mickey and Minnie Mouse, Donald Duck, Pluto and Goofy! If you head over to Disney California Adventure Park, not only will you see a giant Oogie Boogie above the park gates, you'll hear him too, as he talks to guests while they pass by.
Take A Walk Down Main Street, U.S.A.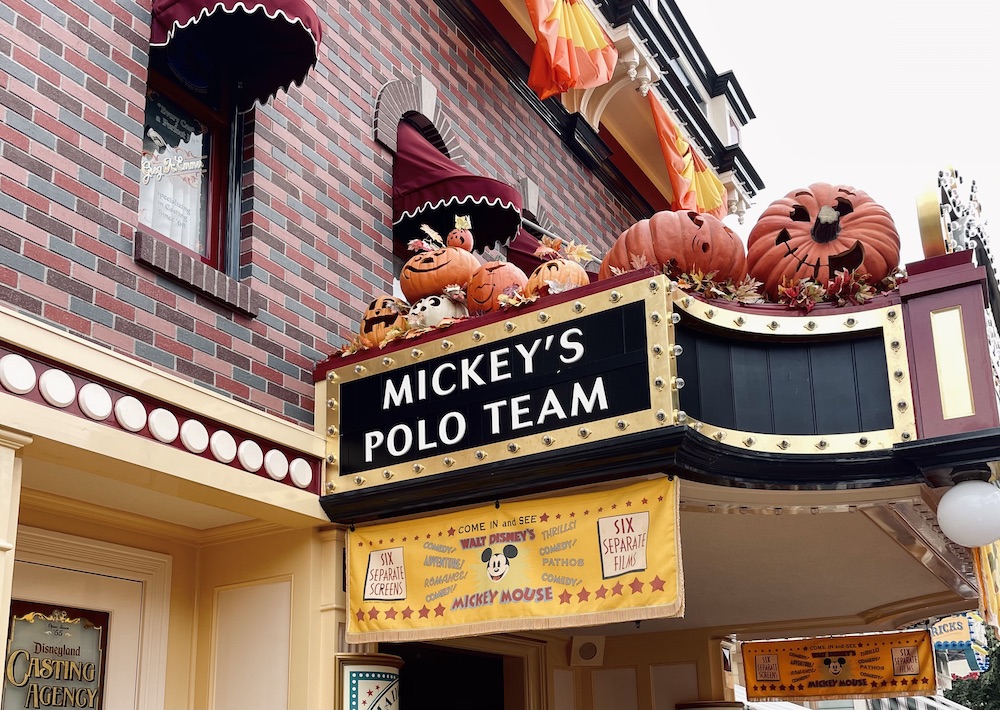 When you walk through those magical gates and head towards Main, Street U.S.A. one of the first things that will most likely catch your eye is the giant Mickey pumpkin. The famous pumpkin is part of The Main Street Pumpkin Festival. The giant Mickey pumpkin weighs in at 3,400 pounds! It is 12 feet tall and 14 feet wide. It also has two faces! When you enter the park he is smiling at you, when you leave he is winking. The giant pumpkin is giant one of hundreds located on Main Street. There are over 500 hand carved pumpkins located in store fronts and atop of buildings. No two pumpkins are alike. If you head towards Sleeping Beauty Castle, you will notice the partners statue of Walt Disney and Mickey Mouse surrounded by pumpkins. Each pumpkin is carved with a special character that represents one of the lands inside Disneyland.
California Adventure With A Spooky Twist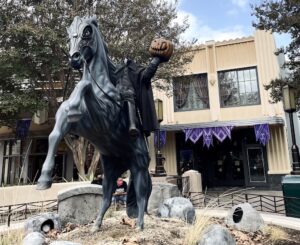 Oogie Boogie sits atop the entrance of Disney's California Adventure and greets guests before they enter the park. After entering the park and you walk down Buena Vista Street, you'll be sure to run into the Headless Horseman from The Legend Of Sleepy Hollow right outside Elias & Co.  Cars Land completely transforms during Haul-O-Ween. You'll experience ride changes, spooky decorations, and Cars in costumes! Lightening McQueen becomes a superhero and Mater becomes a Vampire. Look for the spider car outside Flo's V8 Cafe, Gas cans with spooky faces as well as the giant cones at Cozy Cone. You may spot classic movie posters with a Cars Haul-O-Ween twist.
Spooky Ride Overlay
During the Halloween season there are a few rides that get a spooky makeover! One of the most popular being the Haunted Mansion Holiday, when Christmas and Halloween collide! Jack Skellington arrives at Disneyland park on September 3, 2021 and stays through January 9, 2022. The Haunted Mansion is decked out with Christmas and Halloween decor, you'll spot eerie characters along with pumpkins and Jack in a Santa Claus suit. Don't forget to check out Lugi's Honkin' Haul-O-Ween, Mater's Graveyard JamBOOree and Guardians of the Galaxy- Monsters After Dark over at California Adventure.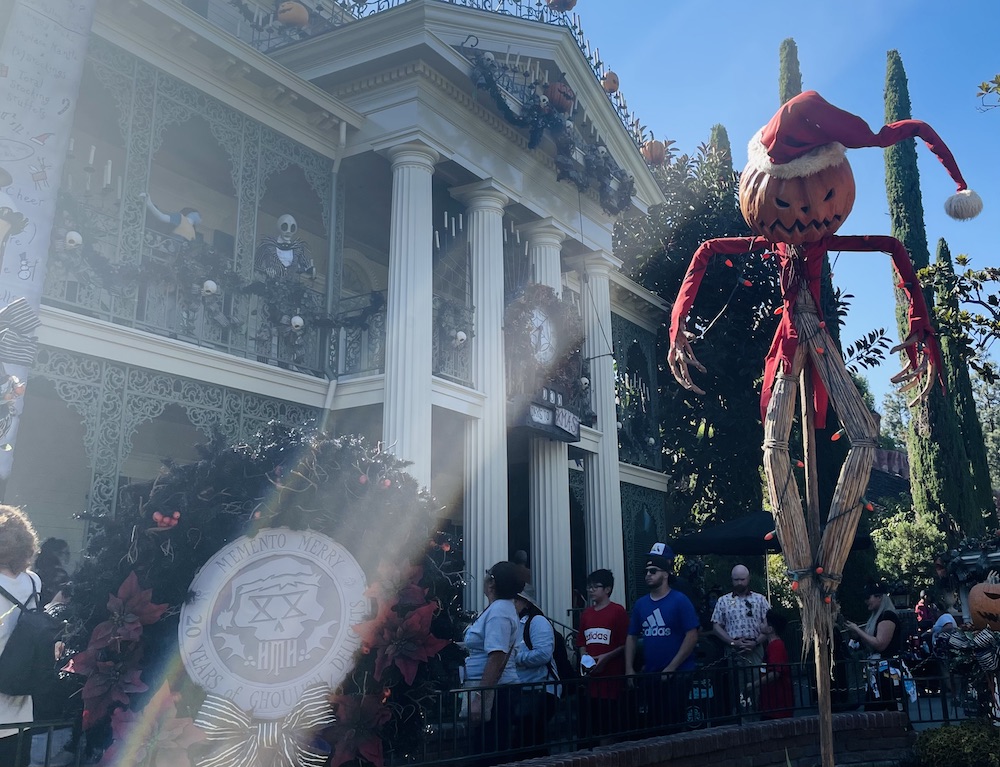 Characters In Costume
It is always such a treat to see Mickey, Minnie, and the rest of the gang inside the parks! During the Halloween season, you will see them in their most festive attire! Minnie Mouse wears her purple witch costume and Mickey wears his coordinating purple suit. You may spot Goofy in a spooky skeleton get-up, Donald Duck as a pumpkin, or Chip and Dale with bat wings!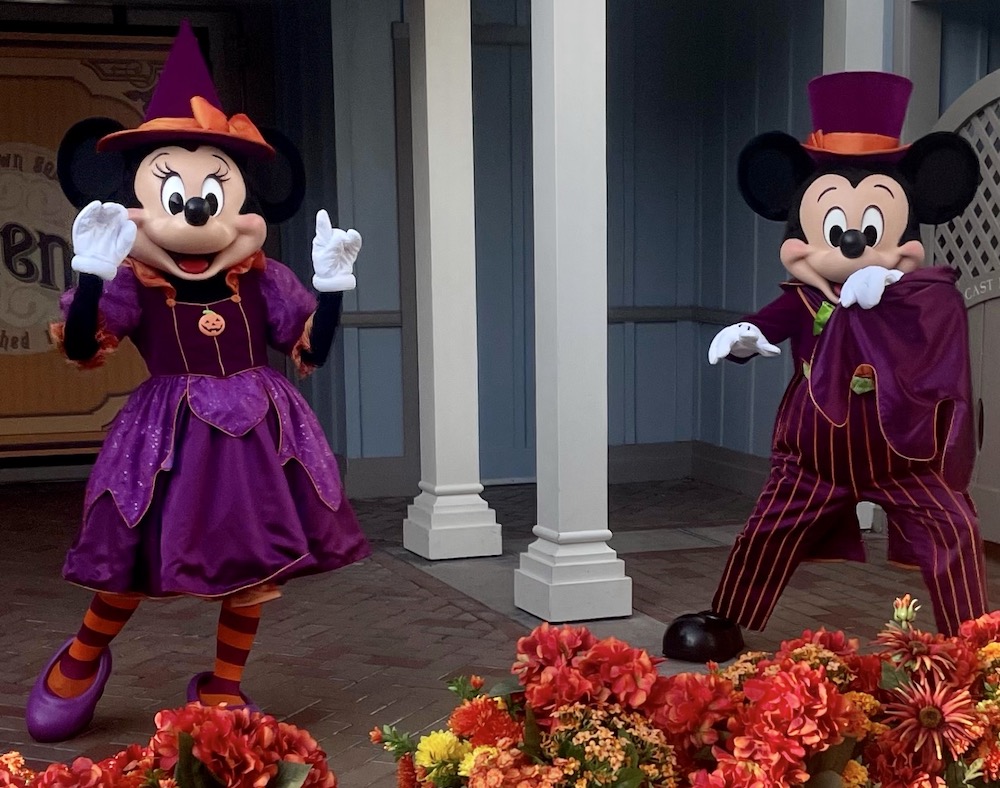 Frightfully Fun Events
During the Halloween season Disney offers a variety of spooky events and shows that'll be sure to keep guests entertained and full of the Halloween Spirit!
Oogie Boogie Bash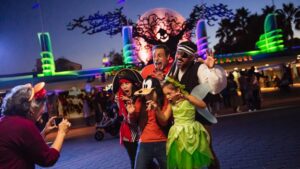 One of the most popular events is the now sold out, Oogie Boogie Bash. This is a special ticketed event takes place at California Adventure Park during select days September-October. On the select days California Adventure closes early and guest without tickets have to leave the park or may hop over to Disneyland with a valid ticket or Magic Key pass. The Party runs from 6:00-11:00PM,  guests are allowed to enter the park at 3:00PM. During Oogie Boogie Bash, guests have the opportunity to meet villains such as Oogie Boogie, Cruella, Agatha, Sid, and Maleficent. There are Treat Trails throughout the park where candy is handed out and can't forgot the spooky cavalcade known as The Frightfully Fun Parade.
Halloween Screams
Enjoy this spectacular night event full of frightful sights and sounds. Halloween Screams is a projection show hosted by the King of Halloween himself, Jack Skellington! The show is filled with projections of some of your favorite Villains, eerie music and even flames! Friday-Sunday the show includes fireworks. The show can be watched in front of Sleeping Beauty Castle, on Main Street and It's a Small World. Halloween Screams begins at 9:00PM and is 10 minutes long.
Halloween Cavalcade
During select times during the day you can catch Mickey Mouse and the rest of the cavalcade in costume as they parade down Main Street. You may even catch a glimpse of a few villains, along with Donald Duck, Pluto, Goofy, and Chip N' Dale. They are usually carrying Mickey shaped Trick-or-Treat buckets.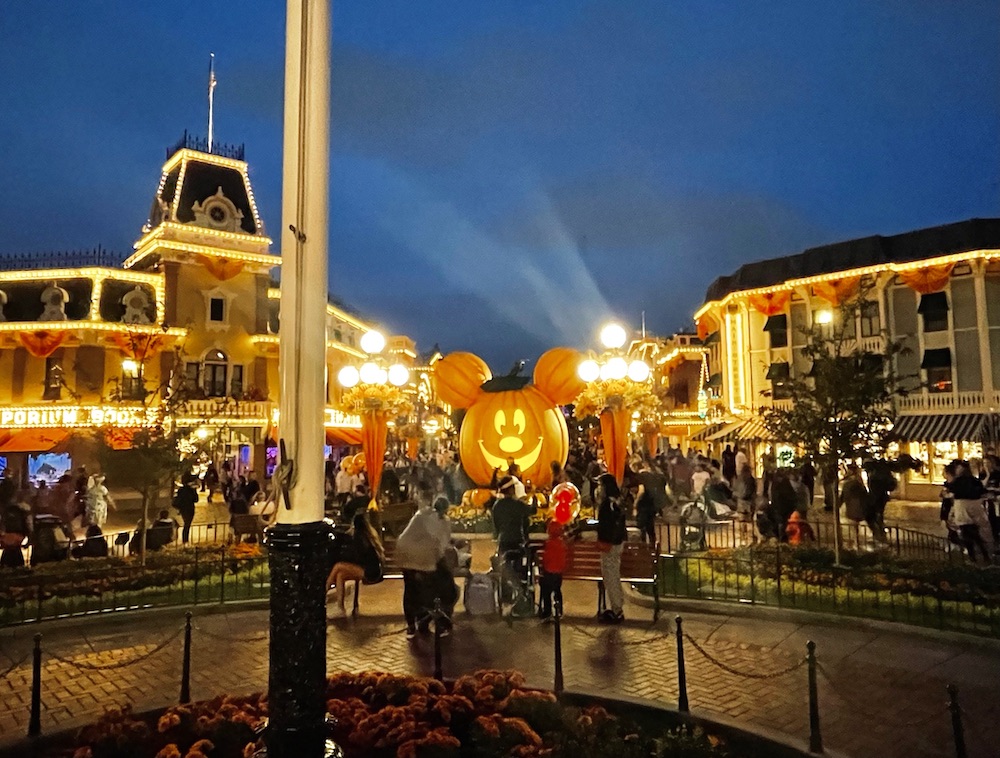 There is so much to do and see during Halloween at the parks. The Happiest place on earth with a spooky twist! Have you been to The Disneyland Resort during Halloween? If so what is your favorite part? Let us know in the comments below.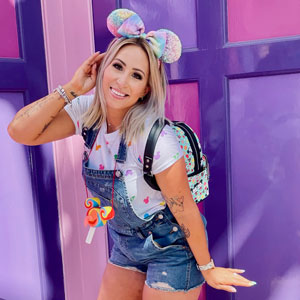 Written by
Brittney Malina
Contributing Writer
Brittney has been going to Disneyland since she was 3 years old. She has had a deep love for all things Disney ever since. Now as a wife and mother of two, she gets to share the love with her family and re-live the Disney magic through her children's eyes. Brittney is a Legacy Passholder and you can find her walking down Main Street, U.S.A. with a churro or iced coffee in hand.