Rice cereal treats are a long-time favorite for people of all ages and have been a classic Disney World snack for as long as I can remember! While they are easy to make, they are delightful to eat and the variations are endless. Last year, the DVC Shop team created a video of how to make Mickey-shaped cereal treats for Halloween. While rice cereal is the staple of the original recipe, did you know you can use any cereal that you'd like? This Halloween we would like to present a few variations of this popular snack by using Cocoa Pebbles, Apple Jacks, and regular Rice Krispies with an added pumpkin spice flavor.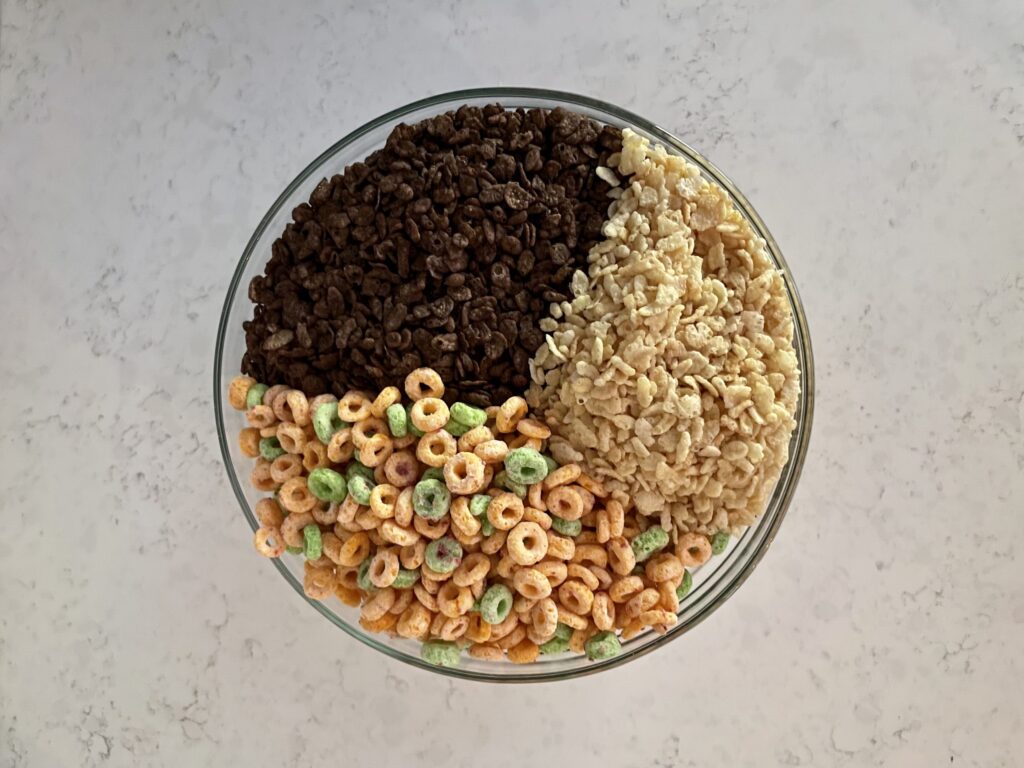 White Chocolate Mickeys With Cocoa Pebbles
Surprised that I could not find Cocoa Krispies at three different stores, I gave Cocoa Pebbles a try and was delighted with the result! They not only look more spooky for Halloween, but they are a chocolate-lovers dream! Follow the standard recipe for rice cereal treats, only substituting Cocoa Pebbles, cut with a Mickey-shaped cookie cutter, and you have a delicious dessert or after school snack.
Recipe
6 ½ cups of Cocoa Pebbles
10oz of large marshmallows
¼ cup of butter + additional for greasing baking dish
Melt butter and marshmallows in a pan over low heat or in a large bowl in the microwave. When using the microwave, heat for 60 seconds and stir. If the mixture needs additional time to reach an ooey-gooey consistency, heat in 15 second increments, stirring each time making sure not to overcook the marshmallow.
Combine cereal with marshmallow.
Grease 9 x 13 dish with butter and scoop mixture into dish. Butter the head of a rubber scraper and smooth mixture flat by pressing down gently.
Let set for at least 1 hour. Use Mickey cookie cutter of any size to create a fun Disney-themed treat! If you wish, add a stick for easy handling.
Apple Jacks With Pumpkin Spice-dipped ears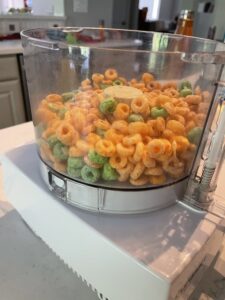 Our second variation uses Apple Jacks instead of rice cereal. I love these Apple Jacks Mickey treats, because the colors and flavors are perfect for Halloween! Use the same recipe as above substituting the Apple Jacks for Cocoa Pebbles or Rice Krispies. The only other modification I used was to pulse the Apple Jacks in the food processor a few times since the "o's" are a bit larger. I divided the 6 ½ cups into 2 batches and pulsed 5 times and that seemed to be the right amount. You don't want to pulse too many times or the cereal will pulverize. The results – a colorful and flavorful treat perfect for this time of year!
Pumpkin Spice Cereal Treats
This flavor might just be my favorite. If you love pumpkin pie or pumpkin bars, you have to try making the cereal treats with the ingredients below! Much of the recipe is the same, but adding the pumpkin and pumpkin spice adds an orange color and fall flavor making these perfect for Halloween.
Recipe
6 ½ cups of rice cereal
10oz of large marshmallows
¼ cup of butter + additional for greasing baking dish
¼ cup of pureed pumpkin
½ teaspoon of pumpkin spice
1  cup mini marshmallows
For this recipe, melt the marshmallows and butter in the same way at the first recipe listed (in a pan over low heat or in a large bowl in the microwave).
When melted and blended together, gently stir in the ¼ of pureed pumpkin and ½ teaspoon of pumpkin spice.
Now it may seem like it's overkill to add more marshmallows, however, you will need to add the extra marshmallow to regain the stickiness after adding in the pumpkin puree.
Spread into a pan and let set before cutting out your Mickeys!
Decorating Your Treats
Not only can you vary cereals, but once made, the possibilities to decorate your cereal treats are also endless!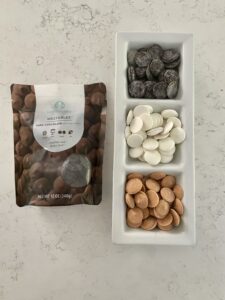 Choose different colors or flavors of melting chocolates – I found these tasty melting chocolates at Michaels. They melted well and have a rich chocolate flavor. I was fortunate to stumble upon Pumpkin Spice flavored chocolate melts when I was originally looking for just orange-colored melts and I consider that wonderfully serendipitous. You can definitely taste the flavor, so if you love it, indulge! If you dislike it, stick with regularly flavored chocolates.
Dip the whole cereal treat or just the ears – Whether you dip or spoon on the chocolate, find the easiest method for you! Line a baking sheet with wax paper and let the chocolate set before serving.
Add sprinkles – Sanding sugar tends to work very well, but regular jimmies would also look great! Be sure to add immediately after covering in chocolate before it begins to harden.
Zebra stripe a 2nd chocolate flavor to add more color – Spoon a small amount of chocolate on a spoon and shake in a diagonal pattern over the treats to achieve a striped appearance.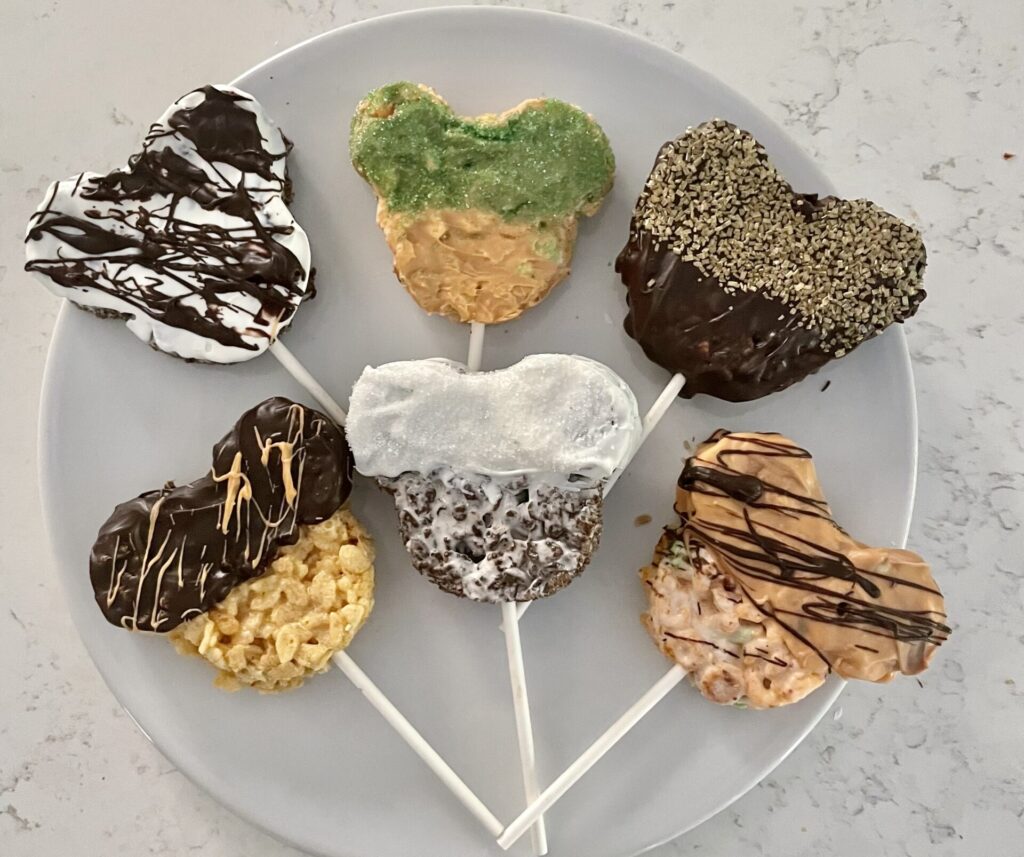 Which flavor would you like to try this Halloween?  Do you another flavor variation of cereal treats that you like to make?  Let us know in the comments below!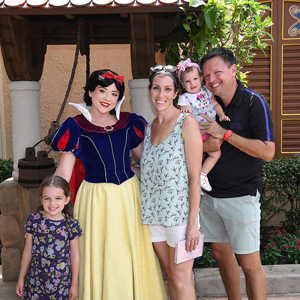 Written by
Shelley Wehler
Contributing Writer
Shelley is a stay-at-home mother of two girls living outside of Charlotte, North Carolina. Her love of all things Disney has grown even more as she sees the magic come alive through the lens of her young daughters. She spends her free time keeping up with the latest in Disney news and daydreaming of her next trip to the parks!