Just a few days ago, Walt Disney World announced that face coverings in outdoor common areas is now optional for guests and they have stopped temperature screenings at the entrance to all of their parks. However, the relaxed mask guidelines have been in practice at Disney's Blizzard Beach Water Park since it reopened back in March. I recently visited the ski resort themed water park with my family, and we found that the enhanced safety requirements were easy to follow and didn't take away from our fun in the sun!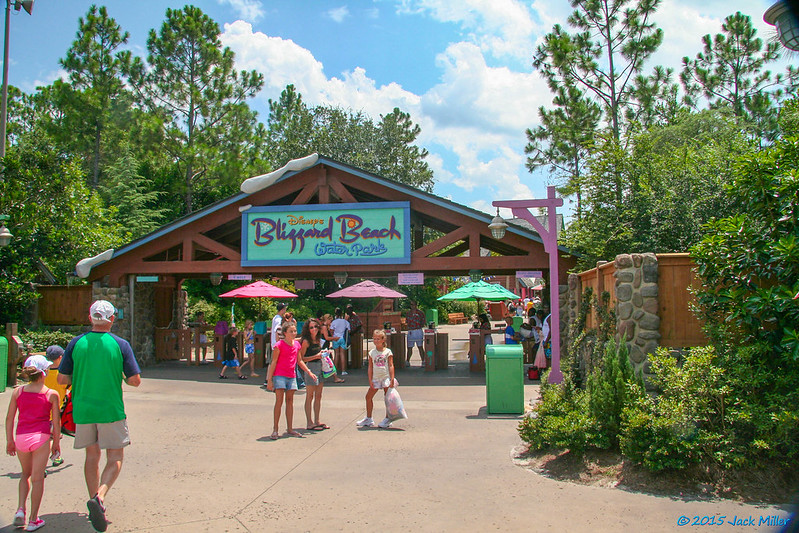 Planning Your Day
Unlike the four Disney World theme parks, a reservation is NOT required to visit Blizzard Beach. They are limiting capacity, so it is possible that the park could reach capacity on busier days, especially with the summer fast approaching. If the park reaches capacity, then Disney will post an alert on the My Disney Experience app to notify guests. I would recommend arriving at the park early, just to make sure it doesn't reach capacity and to avoid long lines at some of the most popular slides.
Currently, the park is operating every day from 11:00 am to 6:00 pm, weather permitting. My family visited on Mother's Day weekend and arrived around 10:30 am in order to get a good spot where we could set up camp for the day. There was a decent crowd at the park that day, but it was nowhere near as busy as it usually is this time of year. Since reopening two months ago, the park has not yet reached its daily capacity.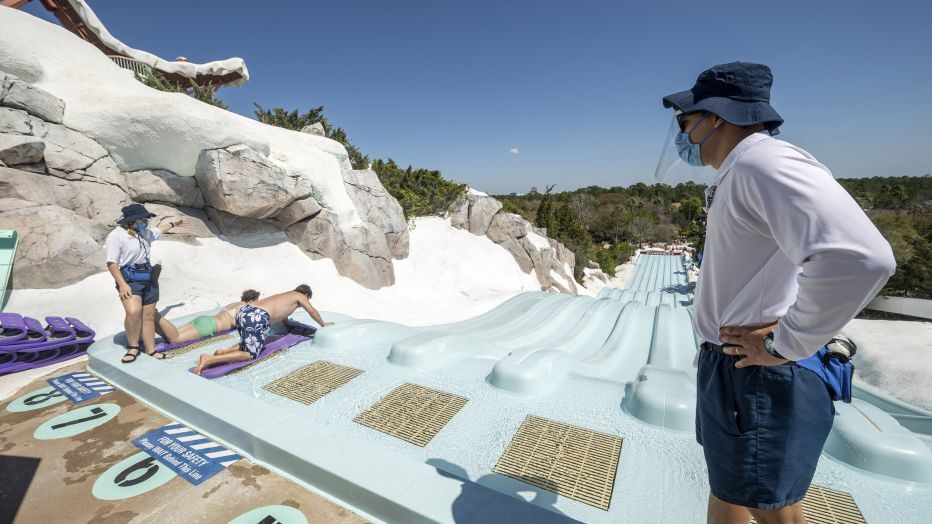 To Mask Or Not To Mask?
At Blizzard Beach, face coverings are required in restrooms, dining locations, merchandise locations, locker rooms, and when you enter the park. If you are in the water or walking to an attraction, then wearing a mask is not required. Actually, for safety reasons, masks are not even allowed in the water. Disney does have cast members stationed outside of restrooms to make sure that every guest that enters is wearing a mask. In a few common areas, I also saw some cast members with disposable masks to hand out to guests, if they forgot one in their beach bag.
When I was walking to our first attraction of the day, I felt a bit strange not wearing my mask, just because I've gotten so used to it over the past 14 months. I did notice a few people wearing their mask in line for a ride and then they would slip it into their pocket before they got into the water.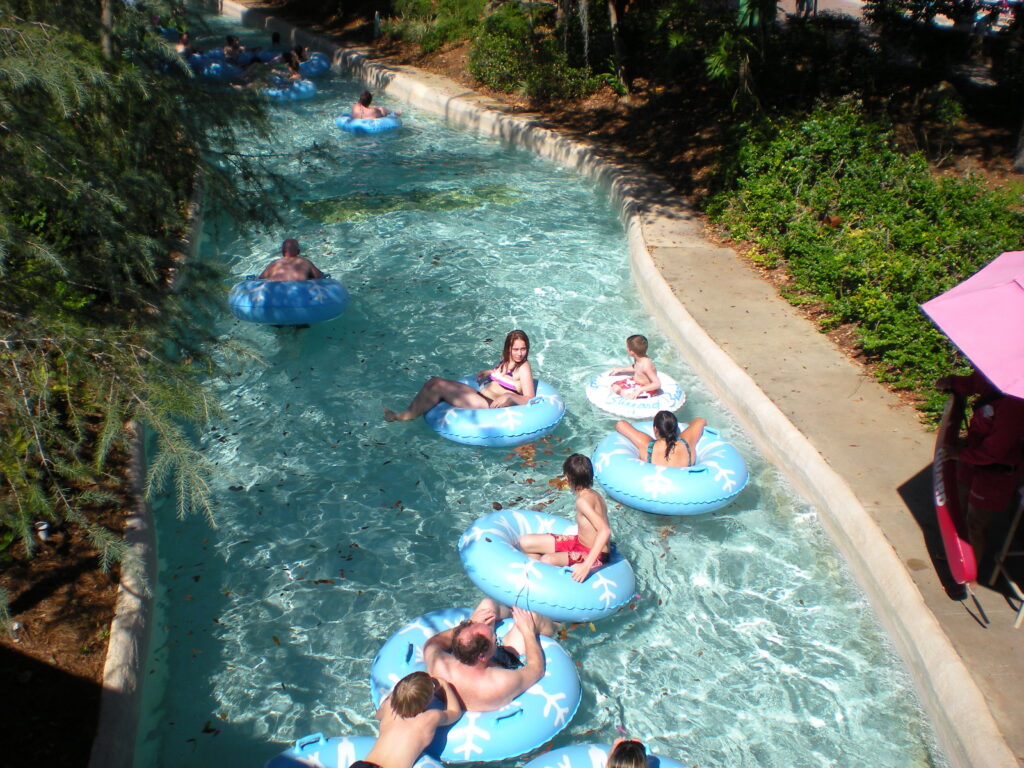 Social Distancing
In every queue, there were physical distancing markers to ensure that each party remain 6 feet away from each other. Since my visit last weekend, Disney has announced that they are going to be reducing physical distancing in phases. Another social distancing effort at Blizzard Beach is that all of the beach chairs around the park have been positioned to keep a minimum of 6 feet between you and other parties. There are multiple signs requesting that guests do not move the chairs, since they have been specifically laid out. Each grouping contains four chairs.
One of the most difficult places to socially distance was in Cross Country Creek, the park's lazy river. At each landing, there were signs alerting guests of the rules for floating around in the river. Each guest must be in a tube and you must practice social distancing, which can be a bit tricky when the current is just taking you wherever it wants. When you are exiting the lazy river, it is requested that you turn your tube over; Disney is relying on the chlorine in the water as a disinfectant.
On the flip side of that, when you are entering the lazy river, you should only take a tube that is upside down with the handles submerged in the water. Lifeguards are monitoring the river to ensure that guests are adhering to the safety guidelines. Cross Country Creek can get a bit crowded in the middle of the day, so there were a few times where guests had to wait at the landing in search of an empty tube before they could jump in.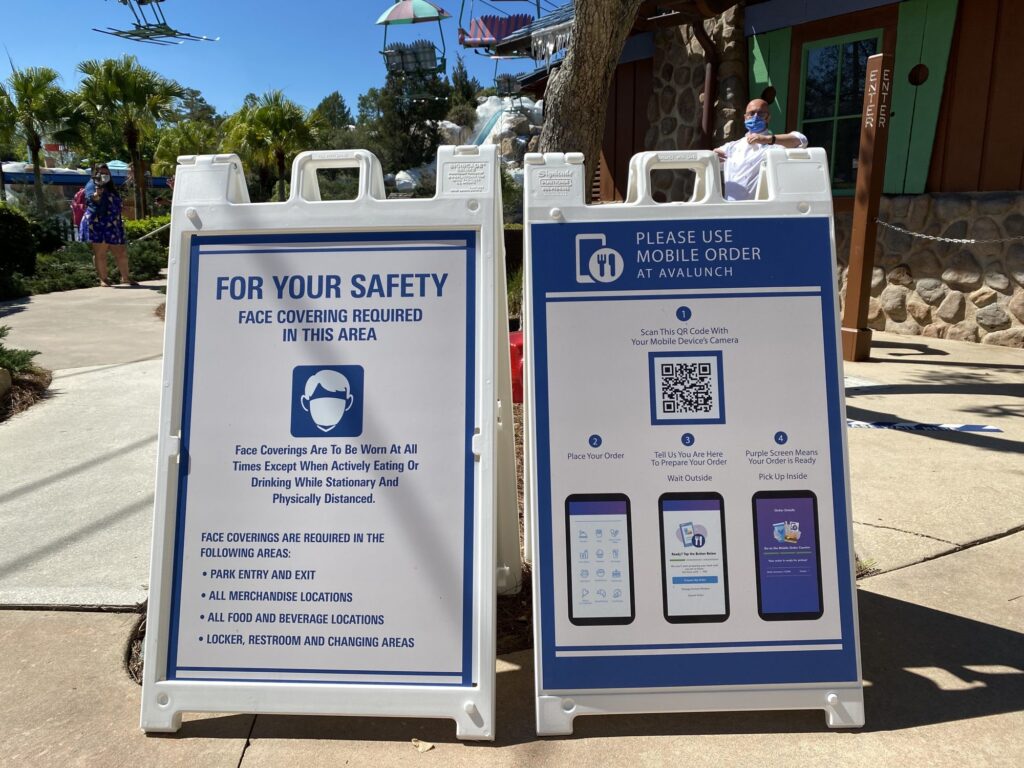 Dining
As previously mentioned, guests are required to wear face coverings when visiting a dining location. And just like in the attraction queues, there are physical distancing markers in the restaurant queues as well. However, in order to minimize the number of guests waiting in a physical line at their quick-service locations, Disney is encouraging mobile ordering at the park's three largest eateries: Warming Hut, Lottawatta Lodge, and Avalunch. Mobile ordering on the My Disney Experience app will not only save you time, but it will also keep you safely away from the crowds. At peak times, the outdoor seating at Lottawatta Lodge can get a bit crowded. To avoid having to hunt for a table, I would recommend bringing your food back to your family's beach chairs and having a picnic there instead.
Overall, a day at Disney's Blizzard Beach can still be a nice blend of relaxing and fun, even with the COVID safety protocols. Everything is clearly marked and there is signage throughout the park to remind you of the guidelines. There hasn't been any word yet on when Disney's other water park, Typhoon Lagoon, will be reopening. But hopefully with summer just around the corner, it will be sometime soon. For now, Blizzard Beach is the perfect place to cool off from the Florida heat without having to worry about getting a mask tan line.
Featured image by Yvonne Oelsner, Flickr.com
Written by
Erika Lucas
Contributing Writer
Erika has lived in Orlando her whole life, so she was practically raised at Walt Disney World. While in college, she worked for Disney in roles ranging from character attendant to VIP tour guide. Nowadays, she spends her days planning her next trip to the parks or dreaming about setting sail on another Disney Cruise.