Walt Disney World is full of heavily themed restaurant experiences that not only serve delicious food, but offer a lively atmosphere and fun time as well. There are several restaurants at Walt Disney World that are extremely unique in their experiences and keep guests coming back time and time again. If you are the type of person who appreciates themed dining then you will love these five restaurants at Walt Disney World with a lively atmosphere.
1. Hoop-De-Doo Musical Revue – Fort Wilderness
Pioneer Hall at Fort Wilderness Campgrounds is home to the Hoop-Dee-Doo Musical Revue. This lively dinner show is a Disney gem, and having operated since 1974 it is one of the longest running dinner shows in the United States. This show is incredibly popular, so be sure to book your reservation as soon as you are able to as there are only three shows per night. The show itself is two hours long, and includes an all-you-care-to-enjoy meal of fried chicken, BBQ ribs, tossed green salad, cowboy beans, cornbread, macaroni and cheese, and more. Hoop-Dee-Doo Musical Revue also includes bottomless draft beer, wine, and sangria for guests age 21 and over.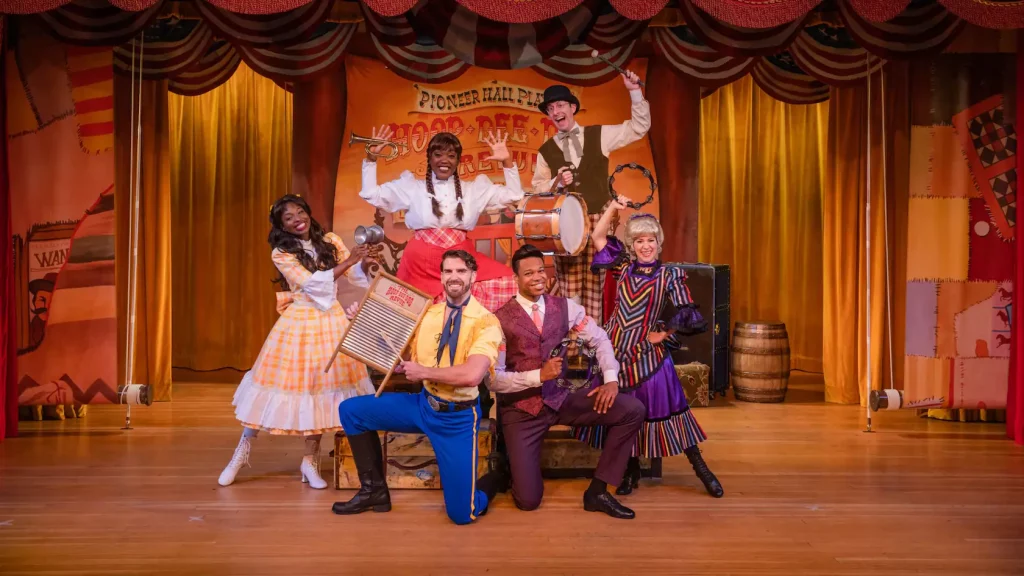 The cast of the dinner show is not only extremely talented but very energetic as well. They really make the dining hall come alive and the audience participates throughout the show. Many consider this dining experience to be a Disney must-do!
2. Chef Mickey's – Contemporary Resort
There are several character dining experiences throughout Walt Disney World, but Chef Mickey's is one of the most popular, and for good reason! Chef Mickey's is located inside Disney's Contemporary Resort and has great views of the monorail whizzing by. This is a character dining experience for both breakfast and dinner, and includes the "Fab Five" of Mickey, Minnie, Goofy, Donald, and Pluto. Characters will come to your table for an interactive meet and greet, and guests will have plenty of time to take photos. Periodically throughout the meal, Mickey and friends will lead guests in a celebration and invite them to sing and clap along!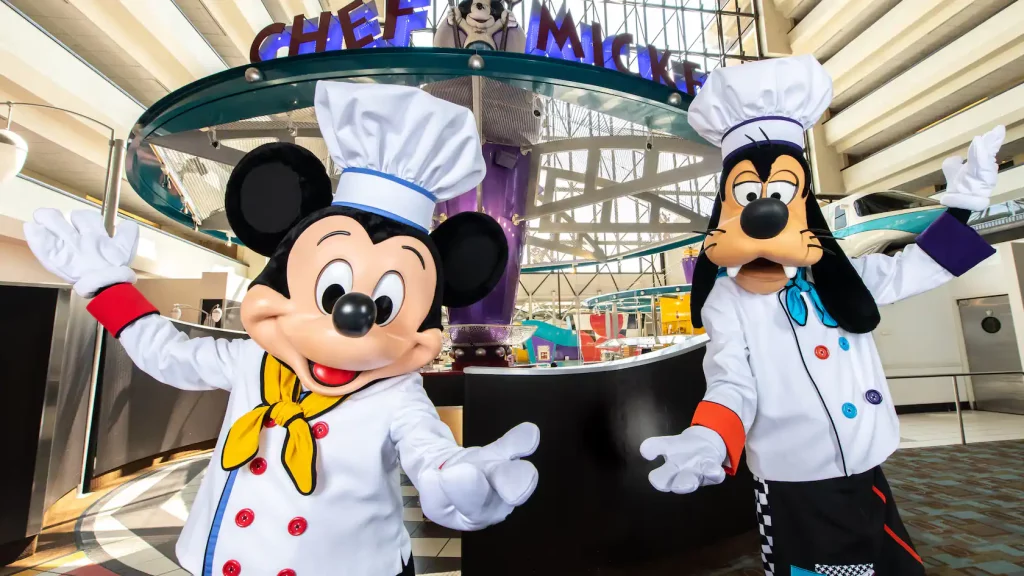 Chef Mickey's is an all-you-care-to-enjoy dining experience with a buffet. The breakfast buffet offers several selections of pastries, waffles, eggs, and breakfast meats. The dinner menu consists of salad, pork, pasta dishes, and several desserts.
3. 'Ohana – Polynesian Resort
Located in the main building of Disney's Polynesian Resort, 'Ohana is a dining experience that comes alive in two very different ways. For breakfast, 'Ohana is joined by Lilo, Stitch, and their friends. Guests can enjoy the fantastic view out of the 'Ohana's large windows while they meet and greet with their favorite characters. For dinner, the lights are dimmed and the night comes alive with music and fun. Guests will be entertained as if they are truly part of the family at this lively restaurant experience.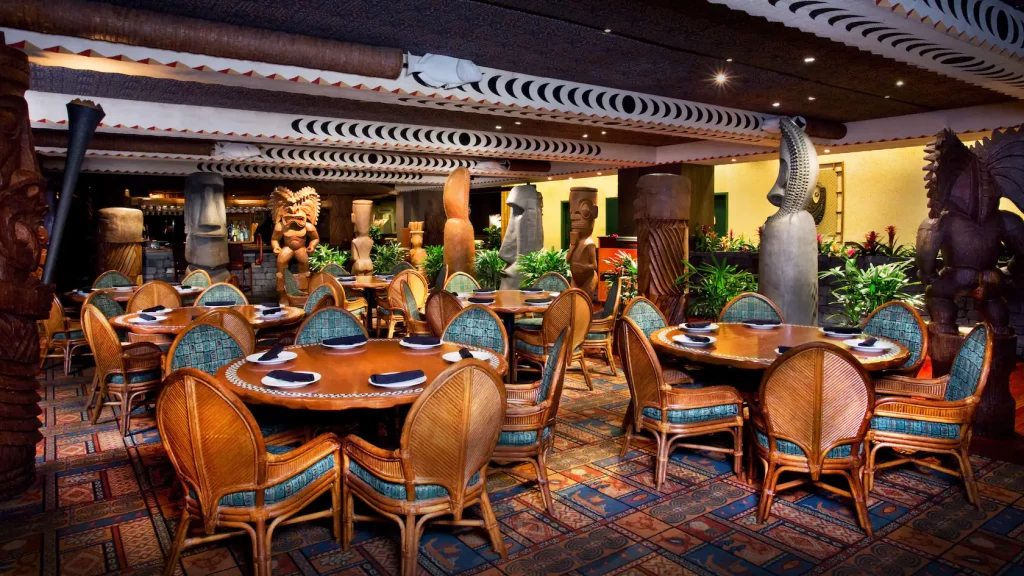 'Ohana serves it's meals family-style. The food is inspired by the islands of Hawaii, and the dinner menu is a meat-lover's paradise. Delicious offerings of chicken, steak, shrimp, and Hawaiian noodles are never-ending in this all-you-care-to-enjoy meal.
4. Jungle Skipper Canteen – Magic Kingdom
Looking for an adventurous meal? Jungle Skipper Canteen is located in Adventureland at the Magic Kingdom. This restaurant is themed after the classic Disney attraction Jungle Cruise. Jungle Cruise is known for their skippers who tell corny jokes and bring the experience to life. The servers and cast members at Jungle Skipper Canteen aim to keep this spirit alive and treat the dining experience similarly. The restaurant itself is modeled after the skipper's headquarters in the jungle, and the theming is incredibly well-done with things to look at all around you. Your servers are expected to joke with you and make the experience funny and memorable. If you enjoy friendly banter, you will probably love this dining experience.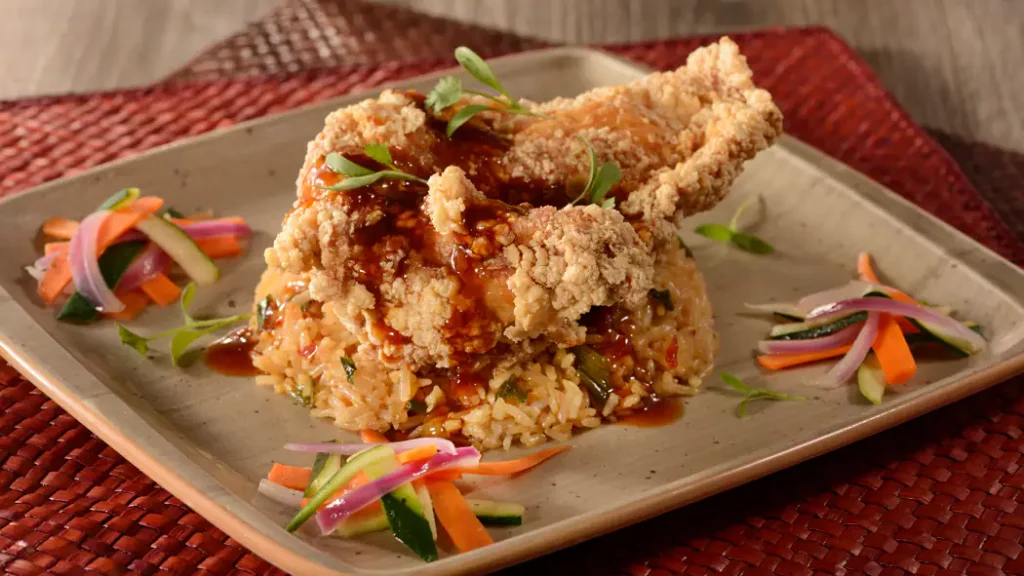 The menu at Jungle Skipper Canteen is inspired by foods of Asia, South America, and Africa. Delicious entrees of curry, fish, pork, and chicken can be enjoyed. Indulge in tropical desserts like coconut bars and mango and lime sorbet.
5. Biergarten Restaurant – EPCOT
Located in EPCOT's Germany Pavilion, Biergarten Restaurant is a fun experience for all. Designed to feel like a German festival, the long picnic-table seating paired with the authentic German buffet makes for a unique dining experience. Guests are entertained by a live polka band as they dine, laugh, and socialize with other guests in this party-like atmosphere.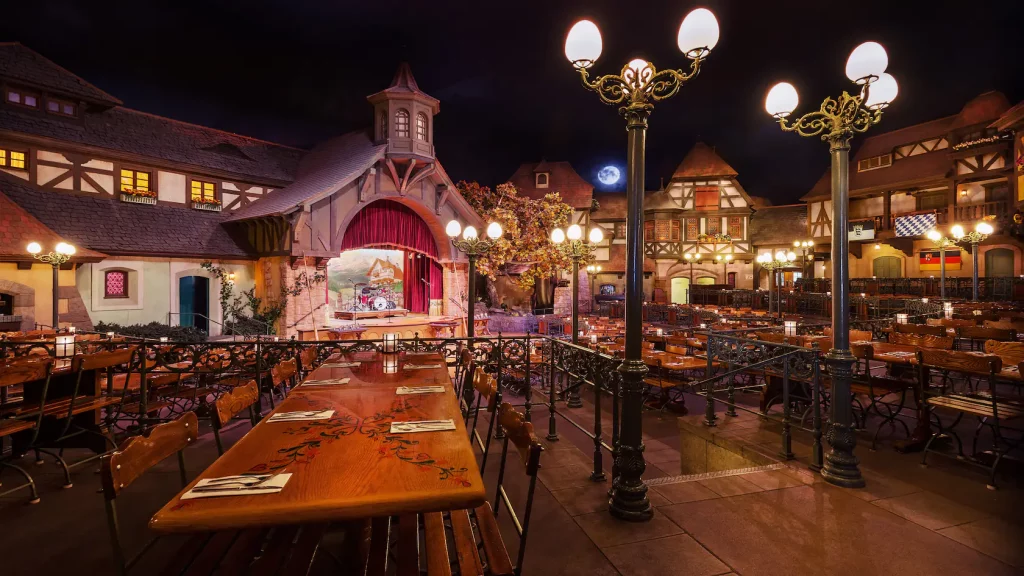 The German buffet consists of schnitzel, sauerkraut, spätzle, sausages, and assorted desserts. Of course, there is a large selection of German beer for guests over the age of 21. This authentic and exciting experience shouldn't be missed!
Do you prefer an exciting and lively dining experience? Or a more laid-back and calm dining experience? Let us know in the comments below.
Written by
Megan Woodard
Contributing Writer
Megan was born into a Disney family. Her first trip to Disney World was when she was only 18 months old. Now as an adult, Megan loves to share the magic of Disney with her two toddlers. Keeping up with Disney news and Disney World knowledge is a fun hobby for Megan. Disney World is her favorite place to be and continuously brings back her childhood joy.