Welcome aboard for an exotic adventure for your taste palate! Entering the Jungle Navigation Co, Skipper Canteen will bring you into an immersive experience that's an extension of the famous Jungle Cruise attraction. Once you take a seat, you can choose from an a la carte meal or a three-course meal hosted by a skipper who's ready to tell you jokes and serve you food from all over the world.
Jungle Navigation Co. LTD Skipper Canteen Details

| | |
| --- | --- |
| Walt Disney World Park | The Magic Kingdom |
| Location in Park | Adventureland |
| Dining Experience | Casual |
| Hours | 11:30 am – 7 :00 pm |
| Price Range | $15-$35 a person |
| Type of Cuisine | Indian, Asian, and Latin |
| Mobile Order | Not available  |
| Reservations | Highly recommended, walk up available |
| Allergy-Friendly | Allergy-friendly menu available  |
Overview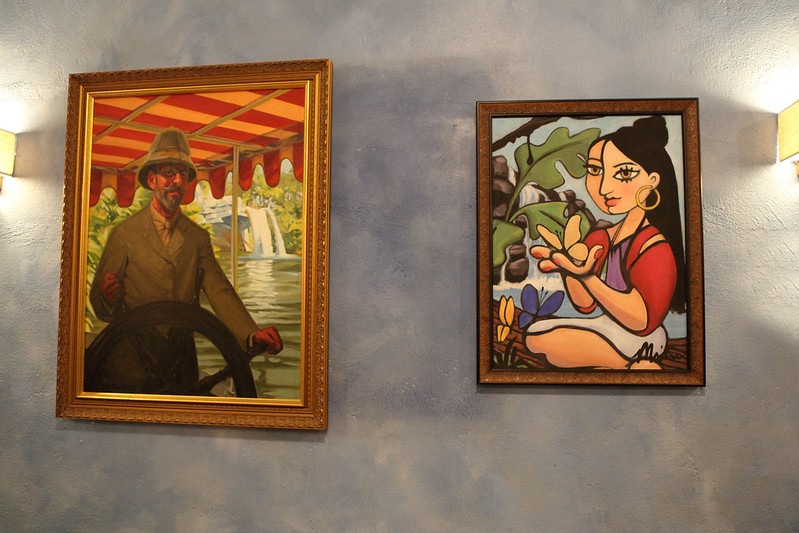 For an adventure like no other, your dining experience starts as you enter the doors of the Skipper Canteen. When you walk in, you will see the Jungle Cruise attraction history you all know and love. You'll find artwork, jokes, riddles, and props throughout the restaurant that show you how the beloved attraction came to be, even with its fictional background story. 
There are three main dining rooms: The Skippers Mess Hall, Jungle Room, and the S.E.A. Parlor. When dining, your server will not only be responsible for taking your order, but he'll also be your storyteller. With an immersive script about the exotic food offerings at the Skipper Canteen, or talking to you about your future adventures, your server will keep you entertained throughout your meal. The Skipper creates a fun experience for adults and children who love being part of the story.
Menu
When it's time to order, make sure you bring an adventurous appetite. You can enjoy a wide variety of entrees here, such as Curried Vegetable Crew Stew featuring seasonal vegetables and pineapple tofu to even a "Hardy Har Char" Siu Pork served with vegetables and jasmine rice. The menu at Jungle Navigation Co. Skipper Canteen offers a wide variety, including allergy-friendly and plant-based options. Additionally, you can find a pairing menu of alcoholic beverages such as wine and beer (not included with your meal).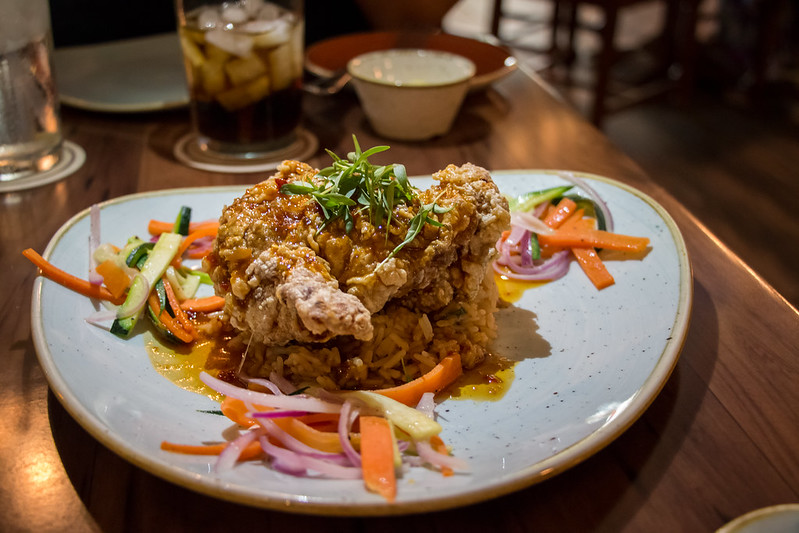 Appetizers
Jungle Green Salad
From the depths of the Jungle…Skipper Bill's Iceberg Wedge with Shishito Peppers, Radish, Hearts of Palm, Cucumbers, and Pistachios with an Ají Pepper-Yogurt Dressing – $10.00 
Falls Family Falafel
A secret recipe of Chickpeas, Garlic, Onions, Lemon Juice, and Herbs served with House-made Edamame Hummus and Toasted Pumpkin Seeds (Plant-based) – $10.00
Lost and Found Soup
Chef's Seasonal Soup prepared with the freshest unclaimed cargo! Please ask your Skipper for today's selection – $9.00
Orinoco Ida's Cachapas
House-made Corn Pancakes, Beer-braised Pork, Roasted Corn, Fresno Pepper Salsa, and Avocado Cream –  $13.00
Entrees
Dr. Falls Signature Grilled Steak
Adobo-seasoned New York Strip, Chorizo Hash, Collard Greens with Caramelized Onion Purée, and Crispy Farofa – $34.00 
"Tastes like Chicken" Because it is!
Crispy-fried Chicken with Sweet Chili Glaze, Stir-fried Vegetables, and Seasoned Rice – $24.00
Curried Vegetable Crew Stew
A favorite of the Crew Stew Crew (especially Stu). Seasonal Vegetables and Pineapple Tofu in a House-made Curry Sauce served with Coconut Rice (Plant-based) – $19.00
"Hardy Har Char" Siu Pork
Char Siu-marinated Pork served with Seasonal Vegetables and Jasmine Rice – $25.00
Sustainable Fish
"Not Piranha," served on a Cassava Fritter with Wilted Greens and a Guava-Habanero Sauce – $31.00
Perkins Thai Noodles
Tofu, Seasonal Vegetables, and Rice Noodles tossed in a Spicy Soy-Chili-Garlic Sauce. A favorite of our friend Pamelia Perkins, Adventurer's Club President (Plant-based). – $25.00
Desserts
Coconut Bar with Pineapple-Basil Compote and Vanilla Cream
Vanilla Chiffon Cake with Coconut and Lime-White Chocolate Ganache – $8.50
Panna-Connie's Congo Lime Delight
Lime 'Panna Cotta' served with Mango-Lime Sorbet and Fresh Fruit (Plant-based) – $9.00
Kungaloosh!
An African-inspired Chocolate Cake with Caramelized Bananas served with Cashew-Caramel Ice Cream topped with Coffee Dust – $9.00
Map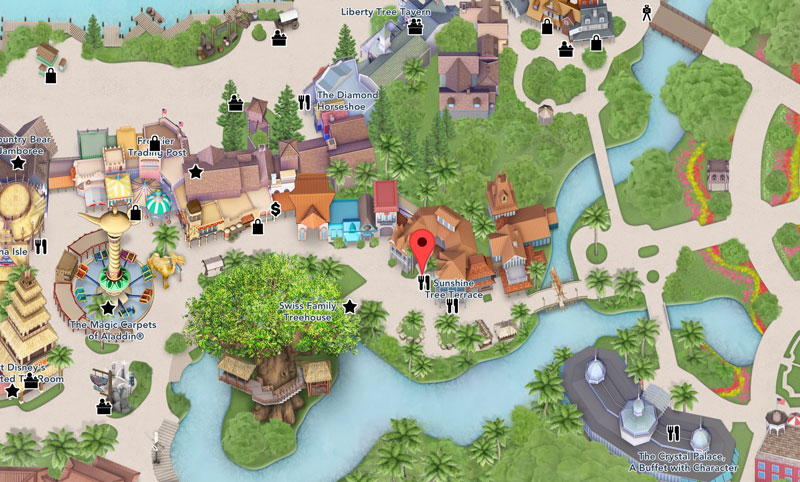 Bobby Asen
DVC Shop Contributing Writer